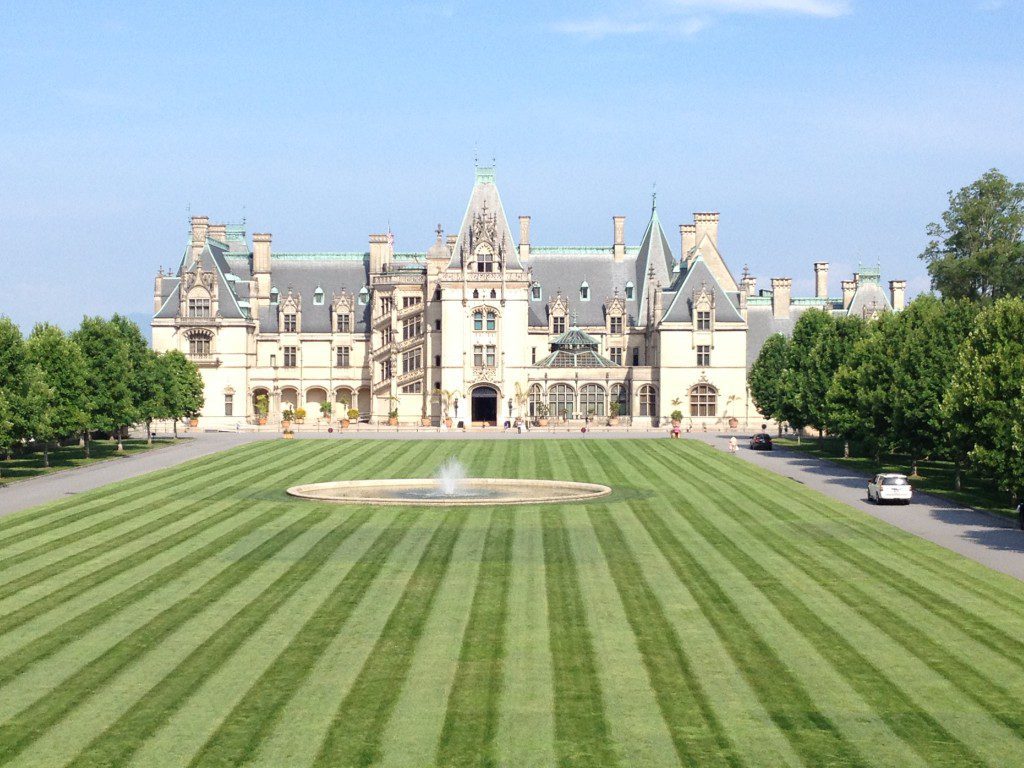 While showing off trip photos in recent weeks, people have been asking me to describe the Biltmore estate in Asheville, North Carolina. More than any other destination I've discussed among friends – this one really turns heads and causes a stunned reaction. Imagine every billionaire you've ever heard of, I tell them. Now pretend all of them pulled their money together to build a house – that's the Biltmore.
Built by George Vanderbilt in 1889, Biltmore is the largest private owned house in the United States. It's almost 200,000 square feet in size and has 250 rooms. Nobody has actually lived in the home however, since 1956. It's said that building the gigantic estate depleted Vanderbilt of his inheritance. Gee – ya think?
The estate sits on 8,000 acres of land. It's a national historic landmark.
While the house is really quite incredible – it begs the question, why? Why on Earth would anyone need or want a place so huge? This coming from someone that believes people should be able to do whatever they want with their own money. But, seriously – this place is beyond ridiculous. Ridiculous enough that around a million people drop by to check it out annually.
Speaking of ridiculous – avoid a visit during the Summer months. There's no air conditioning inside Biltmore. Even on what was a beautiful 75 degree morning in Asheville during my tour – it was quite toasty inside. One tour guide said the house reached 109 degrees last year over the 4th of July holiday.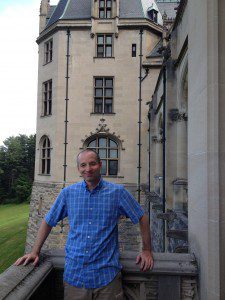 Seems like we always come back to talking about whether an attraction allows photos or not. The Biltmore does not. At least not inside. To my delight, there are a handful of places where savvy tourists can be seen sneaking around taking pictures. Although, with most people wearing the audio tour headphones – I imagine it might be a bit chaotic if people were snapping photos all over the place as well. The lighting is awful, too so none of your photos would probably turn out anyway.
Just in case you're wondering – like some sort of tourist diva – I never touch those gross audio tour headphones that have been worn by thousands of strangers. I just walked through the house, making up my own stories about what probably happened in the different rooms.
The most impressive part of the home for me was actually the basement. There was a massive 70,000 gallon pool (though no water was in it – guess they figure visitors would hop in after sweating to death upstairs.) The game room and bowling ally down the hall were also quite cool.
Of the entire Biltmore estate – the gardens are what I enjoyed the most. The plants and flowers were all well managed and the lake surrounded by mostly paved pathways is peaceful and picture perfect. There are some walking trails through the wooded areas as well. On the other side of the property is a hotel and winery where tourists can plop down more money to help pay off Mr. Vanderbilt's 250 room castle.