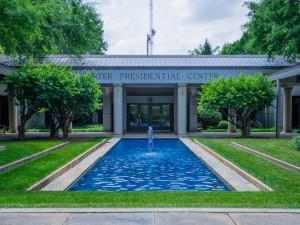 While I never discuss my political thoughts in these stories, I'll be completely honest and tell you up front that Jimmy Carter is not exactly my favorite President.  We'll leave it at that. The good news is, if you find yourself in the same boat – no worries. You'll still enjoy a visit to the Jimmy Carter Library & Museum in Atlanta, Georgia.
The physical setting in which the library and Carter Center are placed is gorgeous.  During my visit, I saw numerous people, locals I assume, walking, biking and jogging.   Apparently people even go fishing here!  As far as surroundings go – the place is just terrific.
The museum is well thought out and very interactive.  The Carter legacy displayed though much of the museum is largely dedicated to things the President has done since leaving The White House.   For example, you'll pass by an entire display of books that the former President has penned and be amazed at how many different titles this guy has cranked out over the years.
You can view Mr. Carter's Nobel Peace Prize up close which is pretty cool.  He also has a Grammy for a spoken audio book recording nearby.
As with most Presidential libraries, you'll find a replica Oval Office, decorated the way Carter had it while he lived in Washington DC.
One interesting exhibit that I found to be quite nice was a tribute to all of the Presidents who have Presidential museums around the country.  In a fairly large space of the museum – there are platforms that show the other 12 Presidents and where their libraries and museums are located.