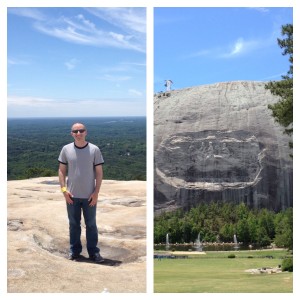 You've heard me use the phrase "road quirk".  That's my fun way to describe things that are sort of unusual, unique and often silly but still make for a great photo-op or an amusing story for parties.  Stone Mountain Park in Atlanta is definitely "road quirk" but it's also definitely cool.
Stone Mountain is located just outside of Atlanta, Georgia.  In fact, you can easily see downtown Atlanta while on top.  It's a wonder you can't see the Statue of Liberty or the Golden Gate Bridge while on top of that thing, too.  Of course, it's not really as high as some of the more well known mountains in the world but it's the peculiar location that causes awe.
It's as though God accidentally dropped a giant mountain while in route to someplace else and was just too lazy to come back and pick it up.
Being good Americans – we don't rest until we find a way to make money off of everything, including out of place rock formations.  The folks in Atlanta formed Stone Mountain Park – a theme park and recreation area that surrounds the mountain.   You can take a train around the property. (Though cool, it's incredibly bumpy and the seats are very uncomfortable – but kids will love it.)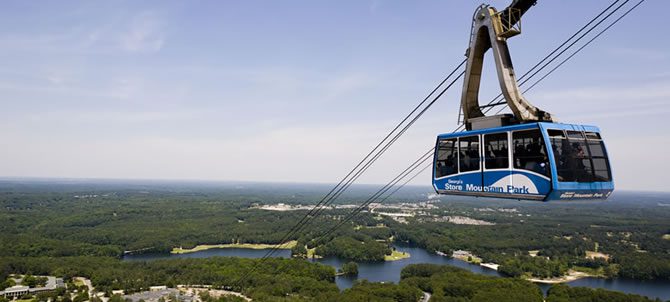 There are distinct carvings on the rock that look out into a wide open area of land where visitors were gathered for small picnics and tossing around footballs.   It wasn't until 1972 that the carving was complete after a series of setbacks and artist changes that date back to 1923.   The people featured on the rock carving are Stonewall Jackson, Robert E Lee and Jefferson Davis.  The guy who was originally asked to do the project was fired in 1924. So instead he went on to complete a little ditty called Mount Rushmore.  Oh, snap!
The most bizarre part of the entire experience is actually getting to the top of the mountain.  Oh sure, you could hike – but who has the time?  There's a trolly car that takes you to the top and returns you back to the ground.   It is on a cable that at first glance doesn't appear to be strong enough to hold the giant car you'll be riding on.  Rest assured – it's safe.  One engineer actually explained to me that they have x-ray machines inspect the entire line of cable on a regular basis to look for damage.   Regardless, it was a bizarre ride.
Here's a video riding the trolly car on the way down to the bottom of the mountain.  You'll at one point see another car coming up to the top of the mountain.
Once at the top, you are free to roam about and explore.   The views are really impressive and many visitors seemed to just sit down and take it all in.   This is not an excursion for slick shoes or high heels.  Don't go up there without tennis shoes on or you might just slide right down the mountain side.
It ended up being a really fun afternoon and one of those great discoveries that nobody ever mentions when talking about Atlanta.  I'm not sure why – what a fun sight!