If you're looking to find filming locations near Atlanta, you've probably heard of Covington, Georgia. The town has been featured in plenty of television shows and films over the years and attracts visitors looking to find a little piece of Hollywood without having to travel all the way to California. Georgia is one of the busiest states for filming with lucrative tax incentives and a wide range of landscapes.
If you've seen shows like Dukes of Hazard, The Vampire Diaries, In The Heat of the Night, or The Walking Dead – you've seen Covington. That's a small sampling of the more than 100 different productions that have used the town square, local neighborhoods, and of course the iconic courthouse downtown as backdrops for the small, and big screen.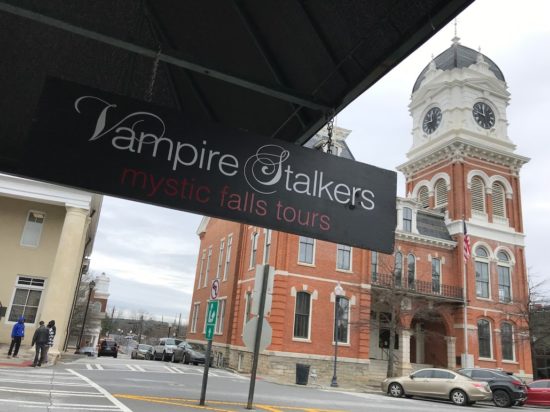 You could say that Hollywood has always been a part of Covington. As far back as 1940 when Gone with the Wind hit theaters, guess what town played a prominent role in the classic film?  Covington is home to The Twelve Oaks Bed & Breakfast which was a private residence about the time Margaret Mitchell wrote her iconic book. In 1939, Mitchell spotted the gorgeous property in the Atlanta Journal and sent a clipping to the film's set designers in Hollywood. The note attached from Mitchell said "I like this for Ashley's home."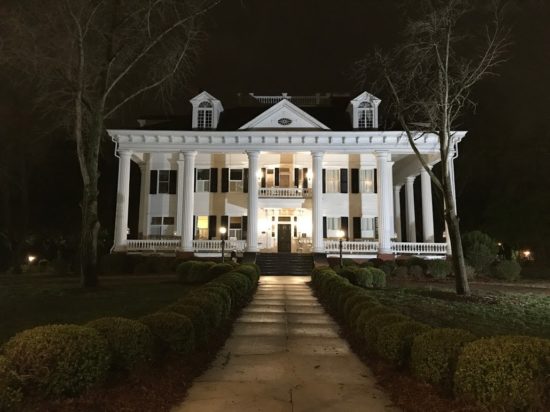 I was fortunate to stay in the house for two nights and one of those nights – had the entire place to myself. It's a stunning property and operated by a great family and staff. You're literally spending the night inside a part of movie history. Not just Gone with the Wind!, Many other films and shows have used Twelve Oaks – its exterior and interior – for scenes.
Having the place to myself I was able to tour all of the rooms and each one is just incredible. Here's a photo of the room I stayed in on the third floor. (Note that there are no elevators, so you'll be hauling your luggage up the giant staircases if you choose rooms on the second or third levels.)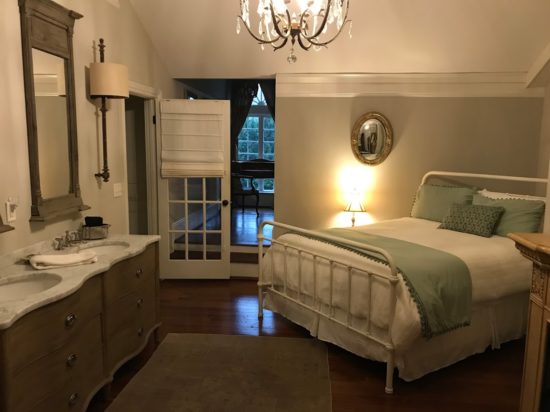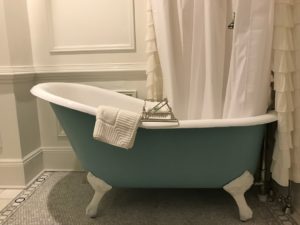 It should be noted that breakfast was great, too!
You're likely interested in seeing some of the "Hollywood-magic" up close. You can take a self-guided tour around Covington using maps and guides from the local Chamber of Commerce. There are also guided tours available for die hard fans of shows like The Vampire Diaries. That program brings fans to Covington from all over the world. While I've never honestly seen an episode – I can attest to the fact that people love visiting to see where their favorite characters live or scenes from various episodes.
During my visit I didn't actually see any production taking place, but I know that I missed some action by just one day.  Barricades were still set up on one of the major roads in town where a scene had been filmed. It seems to be hit or miss, but apparently it does happen fairly frequently.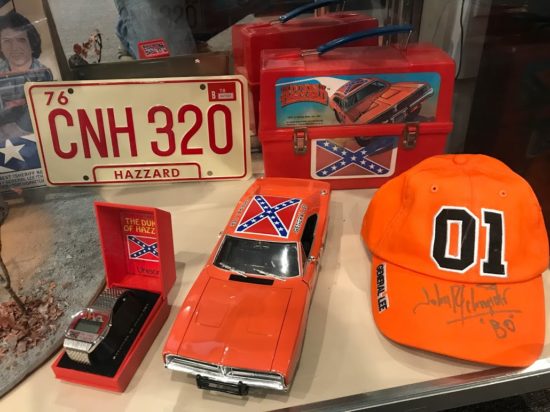 The merchants and locals are just what you'd expect in a mostly quiet southern town. They're friendly, quick to flash a smile, and speak with a bit of an endearing twang. For a town this size, the restaurant scene is quite impressive. Oddly enough, the last meal I enjoyed inside an actual restaurant before the Covid-19 pandemic arrived, was here in Covington. The restaurant was City Pharmacy, located on the downtown square. The restaurant was formerly a family-owned pharmacy for 70 years until the 1990s. The menu and overall experience are what you'd expect in nearby Atlanta, but a pleasant surprise to find here. In fact, every place where I grabbed a bite to eat was above any expectations. From a quick homestyle lunch at The Town House Cafe to a delicious calzone at Amici – I spent plenty of time eating well during my visit.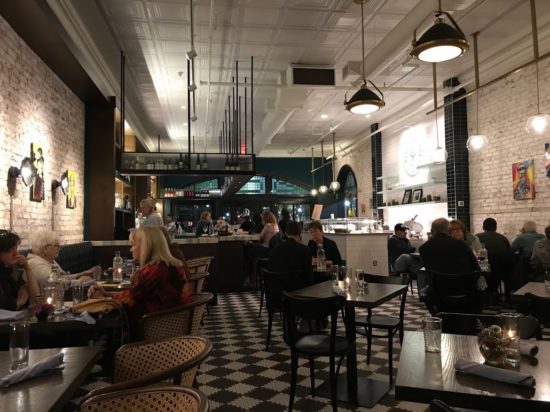 Be sure to pop into the Chamber of Commerce and learn about all of the other activities you can enjoy in the area. From ghost tours, to bike trails and golfing – it really is a terrific spot to escape from busy Atlanta!