It's Thursday night in Seneca and portable tables instead of cars fill the entire street known as Ram Cat Alley. A lively band at one end of the block with locals dancing the night away as others mingle amongst neighbors and new friends. People are popping in and out of the small town shops and restaurants that have stayed open late for this weekly celebration. The sun is now setting earlier this time of the year, but it's still easy to see all of the handshakes and hear the laughter from a community coming together just for the heck of it. Welcome to some of the most inviting small towns in South Carolina.
In Oconee County, life seems to be a little more laid back. During my week of exploring the region, never once did I hear someone honk their car horn. Folks hold the door open for you here and tend to look you in the eye when you talk. Don't be surprised when someone walking by says hello. By the end of the week, I was waving out of the car window at total strangers just to fit in.
Frequent travelers through the southeast already know what a great place this is but it's largely a secret to most of the U.S. Oconee County and its lakes, waterfalls, mountain views, and small town charm is likely somewhere in the middle of a road trip to more popular tourist hot spots.
8 Things To Do in Oconee
If you're visiting Oconee County for the first time, you'll want to plan ahead to make the most of your own experience. I spent an entire week exploring the small towns and peaceful wilderness in-between and barely scratched the surface. However, I checked plenty of items off the list that should help you get started with your travel plans.
1. Chasing Waterfalls
It will come as no surprise that I spent much of my visit to Oconee finding some of the area's most beautiful waterfalls. Many of the waterfalls in Oconee are relatively easy to find and only require an easy or moderate hike to get there. Parking can be an issue so starting your adventure early in the day is a good idea. In the cooler months, you may find that you have the waterfalls to yourself – especially in the morning.
You'll have no trouble finding parks to explore – they are everywhere in this part of the state. Oconee State Park is a great spot to spend a day (or a weekend) with its well kept hiking trails and secluded rental cabins that date back to the 1930s. Tucked away in the Sumter National Forest, this is also where you'll find Yellow Branch Falls – a series of cascades that are largely fed by recent rainfall. You'll hike about three miles round trip.
My favorite of all the waterfalls I viewed during my visit was Brasstown Falls near Long Branch, South Carolina. The trails to find this beauty were recently updated, making it much more accessible with the addition of viewing platforms and stairs. This waterfall is easily the biggest bang for your buck in Oconee as even a novice hiker can safely get there and back. And even with a lack of recent rain, it's still gorgeous. Just be sure not to miss the upper falls as the trailhead initially splits into two. In total, you'll see three waterfalls on the trail.
The county's tourism website has a full list of waterfalls in the region along with hiking guidance.
2. Walhalla Performing Arts Center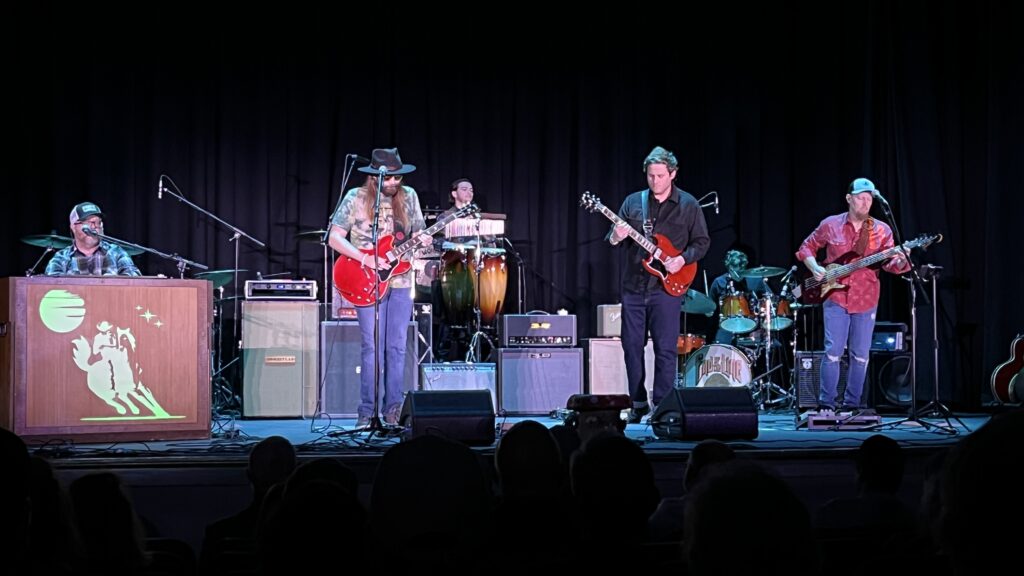 If you think great music can only be enjoyed in big cities, you would be wrong. Among the small towns in South Carolina where you can find a great show is the town of Walhalla. In the early 1990s, a group of locals here set out to restore a vacant school building and its auditorium. Fast forward to present day and this 450 seat concert venue routinely sells out for performances that range from top notch tribute bands to well known musicians. The theater has recently hosted acts like Wynonna Judd, Bill Medley, Travis Tritt, Tanya Tucker, and Lorrie Morgan.
Tickets are reasonably priced and the sound system is surprisingly fantastic. I was able to enjoy a tribute to The Allman Brothers Band during my visit. Not only was the program excellent, it was enjoyable getting to meet many of the locals that routinely attend the shows. (Assuming, of course, that there isn't a Clemson football game on TV at the same time.)
The Walhalla Performing Arts Center sells tickets online and their website offers the upcoming list of live shows.
3. A Night Out on Ram Cat Alley
Seneca is a former textile town within Oconee County and is currently revitalizing itself as a tourist destination. It's an easy drive from Clemson University and several of Oconee's popular lakes. Ram Cat Alley earned its nickname from the many cats that once gathered near the local meat and fish markets in the early 1900s. Today, it serves as the town's historic district and main hub of shops and dining.
In the warmer months, the street is shut down to vehicular traffic and reserved for pedestrians to gather and dance to the music of local bands on Thursday evenings. The weekly event is known as Jazz on the Alley, though it's not only jazz music that you'll enjoy. The street is now listed on the National Register.
You can find fine dining at Vangeli's Bistro, grab a delicious dessert at Cardamom Bakeshop, or enjoy one of the many other locally owned food options within walking distance.
4. See Where Deliverance Was Filmed
I admit, I only just recently watched Deliverance and it may be one of the worst movies I've ever seen. However, it's still considered an iconic film and this is the region where most of it was filmed. While I didn't hear any banjos playing during my visit, I did see the Chattooga River that Burt Reynolds and company floated down in 1972. The river, which creates a barrier between South Carolina and Georgia, is now a popular spot for kayaking, canoeing, and rafting – thanks largely to the notoriety it received from the film.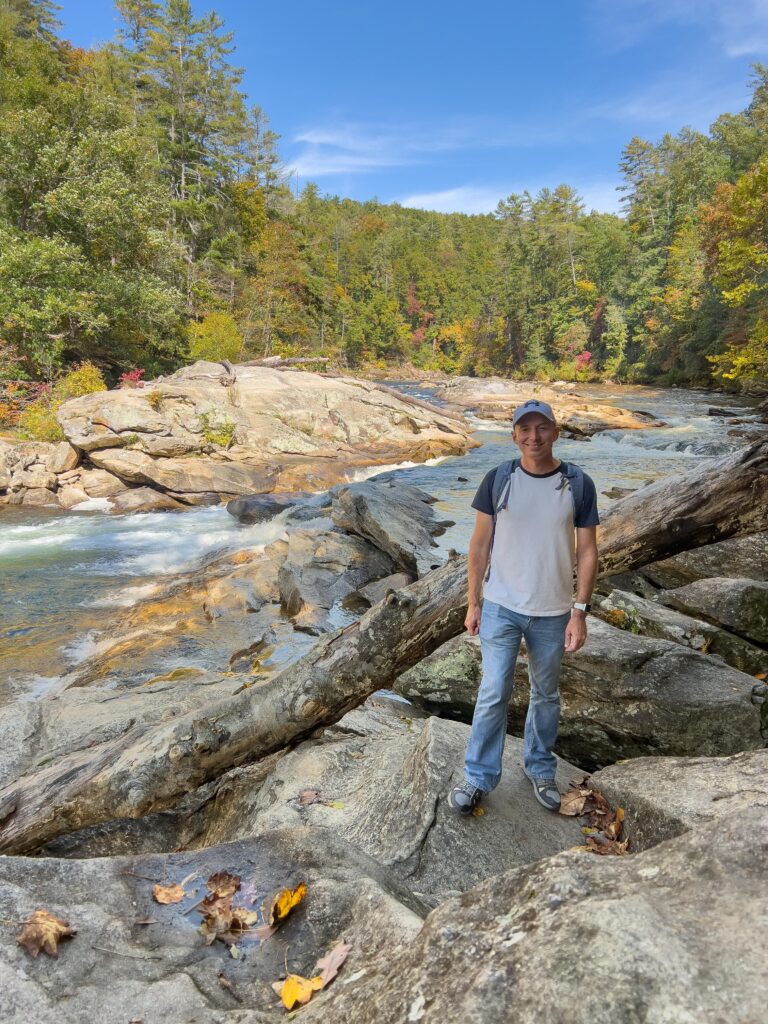 If you're not brave enough to kayak it (no judgement, I wasn't either) you can catch a glimpse of Bull Sluice from a hiking trail off of Highway 76. This is the rapid that was prominently featured in the movie. In low water it doesn't appear so menacing but in high water it's considered a Class IV rapid and quite dangerous to a novice. There's a short trail from the parking lot to the site.
5. Take a Tour of Lake Jocassee
In 2012, National Geographic named Lake Jocassee one of the "50 last great places" in the world. (One of just three spots located in North America.) A guided tour is the perfect way to explore and appreciate this 9,000 acre reservoir that now covers what used to be a town. On the south end of Lake Jocassee is Devils Fork State Park where Jocassee Lake Tours launches several pontoon boat excursions.
The boats can seat about a dozen guests and each trip is narrated by a seasoned naturalist. Not only will you learn all about Jocassee's history, you'll see how it helps in the process of creating clean nuclear energy. On a four-hour tour, you'll explore many of the lake's popular spots that include waterfalls, coves, and beaches. Your guide will point out native plants and species – including birds that you're likely to see during your visit.
6. Quick Stop at Stumphouse Tunnel
You've likely heard the phrase "bridge to nowhere" – a phrase to describe wasteful government spending, or in some cases, a literal bridge that can take you to a place nobody wants to go.
Construction on the Stumphouse Tunnel began prior to the Civil War as a project for the Blue Ridge Railroad to connect Charleston with other midwest cities. The project was barely started when the state pulled funding. The tunnel is a chilly 50 degrees all year long. You can walk about a quarter of a mile into it before you reach a locked metal gate.
These days the Stumphouse Mountain Bike Park is a popular destination for bikers and features a state of the art biking facility in Walhalla. The park is part of the sprawling Palmetto Biking Trail which extends over 500 miles across South Carolina.
7. Stay in A Treehouse at Wildwater
Everyone is looking for unique lodging these days and a tree house certainly qualifies as unique! A minimalist tree house is one of the rentals available with Wildwater – an outdoor adventure company with a campus in Oconee County. Even if you don't want to stay on property, you can still enjoy a whitewater rafting experience, learn to stand up paddle board, enjoy a zip line experience at the Chattooga Adventure Center.
If you're only passing by, pop into the Chattooga Whitewater Shop for a look around and a cup of coffee. Next door, you can grab a bite to eat at Humble Pie – a local restaurant serving up pizzas, salads, and sandwiches.
8. See The View from Chattooga Belle Farm
One of the best views in Oconee County can be found atop the mountain at Chattooga Belle Farm in the town of Long Creek. You can stop in for a glass of wine, some local produce, or just a snack for the road. It's impossible to miss the outdoor event space that overlooks a gorgeous vineyard with breathtaking mountain views and well worth a detour to see it.
If you need some additional inspiration for a visit to Oconee, check out their Instagram account or tourism website.
Additional photo credits to Bobby Holliday.