It had been nearly 30 years since I last visited San Francisco and it was an absolute blast getting reacquainted with the Bay Area. If you read my piece Is San Francisco Really All That Bad? you know that I was a little hesitant making it one of my stops during my epic California road trip. However, it turned out to be a wonderful visit and I enjoyed many really cool experiences that I wanted to share with you!
1. Photograph The Golden Gate Bridge
If I only did one thing while I was in San Francisco, this was what I wanted to spend a day doing. If you don't enjoy photography, you may want to skip it. But there's never been a more beautiful bridge built in this country and it's really amazing to capture in pictures.
You can see it from dozens of spots around the city but a few of the best and easiest to get to locations include: Crissy Field; Baker's Beach; Marshall's Beach; and don't forget the overlooks on the north side of the bridge in Marin County.
If you're lucky, you'll see just the right amount of fog to make for some awesome photos. Sunset photos on the beaches give the bridge a beautiful glow that looks great as well. Be sure to wear hiking shoes if you're headed to the beaches as many of them will have rocks you'll have to walk on to get some really good shots!
2. Eat Sourdough Bread on Fisherman's Wharf
It's not an official visit to San Francisco unless you stop by Boudin on Fisherman's Wharf and enjoy some delicious sourdough bread! Boudin has been around since 1849 and serves up fresh bread and baked goods along with incredible sandwiches. During my recent visit I ordered what turned out to be the greatest French dip sandwich I have ever eaten!
If you're not hungry and still want to experience the bakery, you can look through the windows on the street and watch the employees work their magic!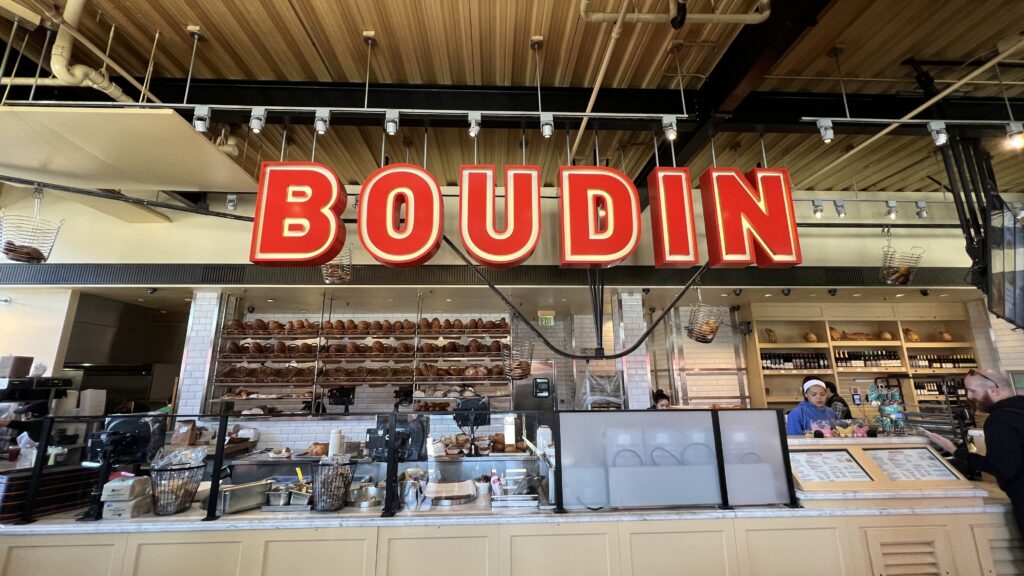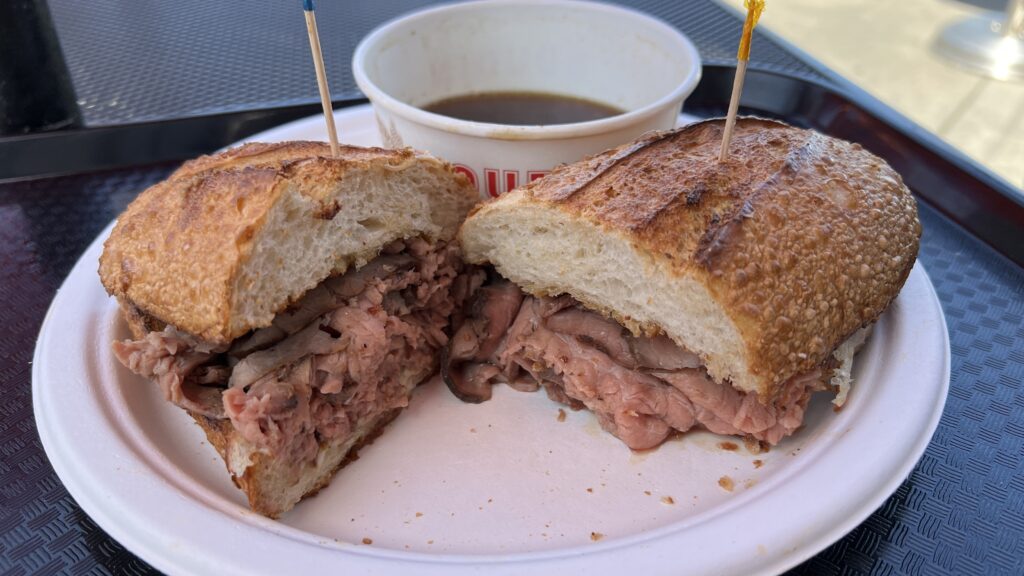 3. Explore The Walt Disney Family Museum
One museum that tends to fly under the radar for most tourists is the Walt Disney Family Museum. If you're interested in the history of the Disney family, particularly Walt's rise to fame, this place is a real treasure trove of exhibits and information. You can follow Walt's path from the early days of living in Marceline, Missouri to his first drawings for local newspapers.
The museum has all sorts of unique Disney artifacts including some of Walt's personal items like his personalized bowling ball bag and the watch he used to wear. Some of the early drawings of now famous Disney characters like Pinocchio are really cool to see as well.
Check out this video tour below from my visit to the Disney Family Museum in April 2023.
4. Visit The Presidio Tunnel Tops
Recently built on top of the Presidio Parkway tunnels is a beautiful public park with stunning views of the San Francisco Bay and of course the Golden Gate Bridge. You'll find a playground for the kids; picnic tables; open green space; and during certain times find food trucks serving local favorites!
The Presidio Tunnel Tops is part of the Presidio National Park site and is within walking distance of the Disney Family Museum!
5. Take A Ferry To Alcatraz Island
For decades, a visit to Alcatraz has been a must-do when exploring the San Francisco area. It's still a unique experience that's worthy of your time. Admission to the island itself is free but the ferry ride costs about $50. (Discounts are available for kids and military.)
Once you arrive on the island you're free to explore for as long as you wish. You can enjoy a self-guided audio tour of the prison or a ranger led tour. Once you've had your fill of exploring, hop back on a ferry which docks about every 30 minutes.
6. Golden Gate Fortune Cookie Factory
Since 1962, Golden Gate Fortune Cookie Factory has been making custom fortune cookies, by hand, in the heart of San Francisco's Chinatown. It's a tiny storefront with a variety of fortune cookies for sale but the real treat is getting to watch them make the actual cookies.
There are two workstations where employees will take the flattened cookie off a machine, insert the fortune, and then fold it. As you walk in, you're likely to be handed a fresh, unfolded cookie! (Minus the fortune!)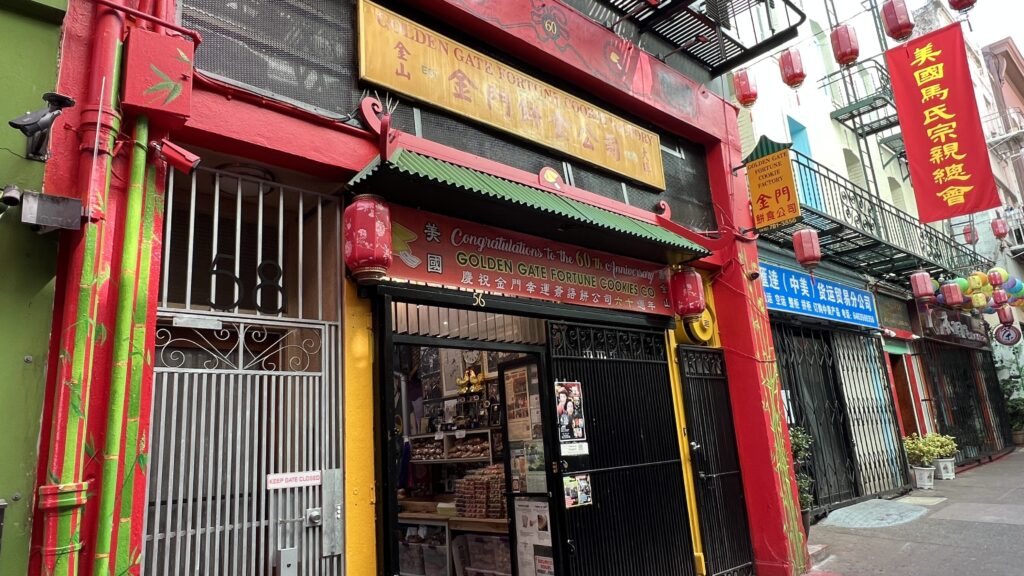 7. See The Yoda Fountain
Star Wars fans rejoice! You can actually visit the offices of Lucasfilms in San Francisco. I'm actually not the biggest fan of Star Wars but I recognize the cool opportunity this is for die hard fans. You'll stop at the security checkpoint at the Letterman Digital Arts Center and request a photo op with the Yoda Fountain located in the plaza. They'll let you know that you can park for free for about 15 minutes.
Grab a photo at the fountain and then if you're lucky, step inside the main lobby at Lucasfilms to see some rare costumes of Darth Vader and various Star Wars memorabilia. (I'm not gonna lie – I didn't know what most of it was but the "fans" that happened to be there seemed pretty excited!)
8. Pose For A Photo with the Painted Ladies
If you lived through the 80s or 90s – you were probably watching the popular TV sitcom, Full House. That show put a major spotlight on a series of homes in San Francisco known as "The Painted Ladies". The term, though coined in 1978 about these homes in San Francisco, actually applies to any Victorian style home that's repainted in three or more colors to embellish the details of the house.
The "painted ladies" featured in the opening credits of Full House are still a popular photo op for tourists and can be found near Alamo Square. About 50,000 of these homes were constructed in San Francisco between 1849 and 1915.