St. Louis, Missouri is a wonderful destination for families, couples, and solo travelers looking for midwest road trip ideas. You'll love the history, diverse neighborhoods, great restaurants, and lots of free attractions that would cost you a fortune in most other cities. If you're taking a road trip to St. Louis or just looking for unique things to do in St. Louis this weekend, consider experiencing a handful of the more quirky experiences you can enjoy for a most memorable visit to the Gateway City.
1. Watch The Sun Rise Under The Gateway Arch
Okay so this requires you to get out of bed early even though you're probably on vacation or supposed to be enjoying an a "relaxing" getaway, but it's totally worth it. If you're already staying downtown, take a walk over the Arch grounds about 20 minutes before sunrise. If you're driving down, consider doing this on a Sunday as you can park for free anywhere downtown and it will be less crowded. If you're looking at the Arch from dead center on the Missouri side, the sun will rise beyond the left (or north) leg. You'll have plenty of time to walk about the park and capture some great photos with hardly anyone there but a few joggers and other early risers.
2. Ride The Wheel On The City Museum's Rooftop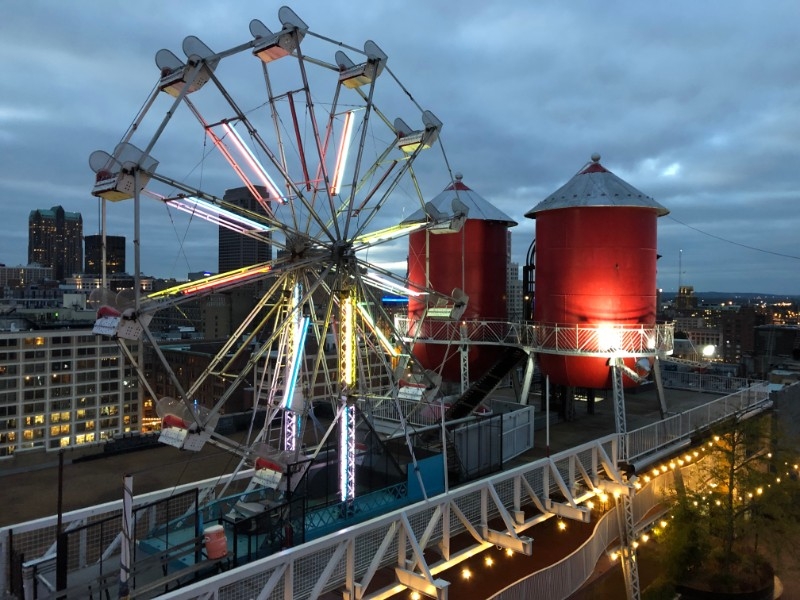 You've never viewed a city quite like this! The City Museum is one of the most popular attractions in St. Louis for good reason – there's no way to perfectly describe it. But, if you need any proof of its quirkiness – just look up to see the school bus, giant slides, and yes – a Big Eli Ferris Wheel all up on the rooftop! While the museum is definitely geared toward kids, that doesn't mean adults won't have a great time exploring as well. You can visit the museum's website for hours and occasional "adult only" events.
3. Explore Forest Park in a Paddle Boat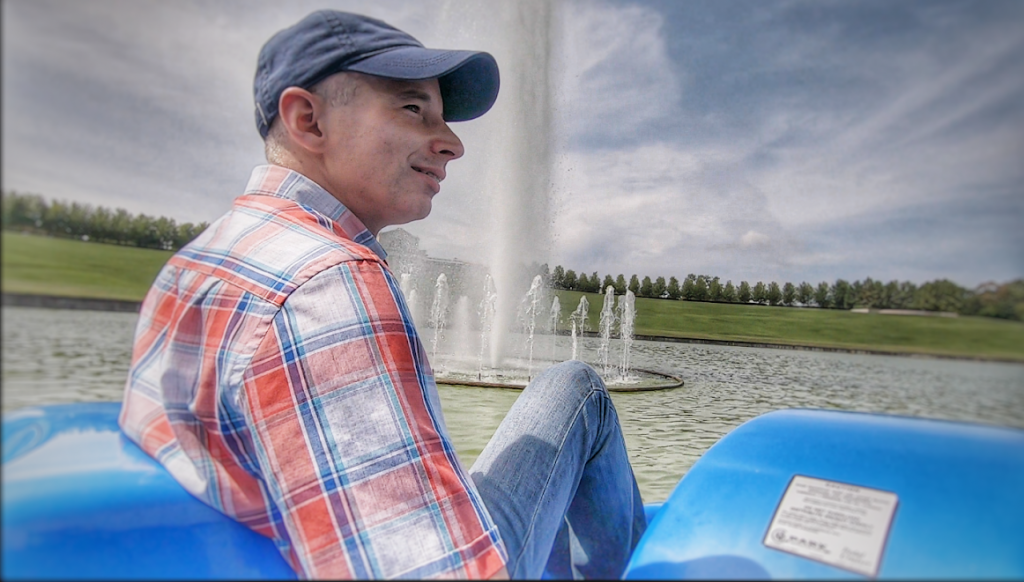 Paddle boats (or "pedal boats") have long been a staple of Forest Park, which many consider to be the crown jewel of St. Louis. It's larger than New York's famous Central Park and routinely wins awards as best city park in America. It's home to many of the city's best (and free) attractions including the world famous St. Louis Zoo. Most locals will remind you it's the site of the 1904 World's Fair where everything from Dr Pepper to the electric typewriter made their debut.
The paddle boats give you a chance to explore some of the waters within Forest Park including the historic Grand Basin which looks up at the St. Louis Art Museum. (The Art Museum is one of just a handful of structures that remain from the World's Fair.) I will warn you – navigating these boats is much harder than it appears! Best to have a co-pilot to help you pedal! (You can watch my history lesson on the paddle boats – along with my struggles – in the video below!)
4. Whisper To Someone At Union Station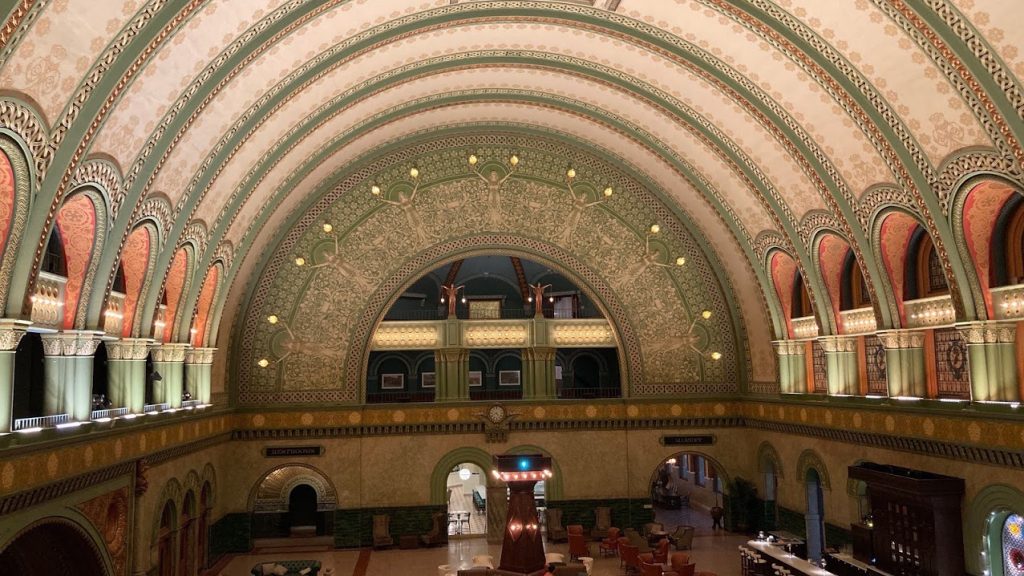 At one time St. Louis Union Station was the busiest train station in the entire world with as many as 100,000 travelers passing through each day. These days, the building is a hotel with an aquarium, mini-golf course, and restaurants. However, inside the beautiful Grand Hall you'll find a unique piece of construction – an archway that surrounds the doors on the entry level. Stand on one side of the entrance and talk to someone else on the other side by talking directly into the wall. The sound magically carries all the way over!
Be sure to enjoy the awesome light show in Grand Hall after you're finished. It runs each night, for free, starting at 5:00pm. You'll see one of the dozens of themed light shows that are projected on the ceiling and around the entire hall. It's amazing!
5. Sample Thin Crust Pizza
St. Louis style pizza has a unique thin crust that's typically the depth of a Saltine cracker and crunches when you eat it. All around the city and surrounding counties you will find various recipes – many of which include a type of cheese that's native to St. Louis called "provel". First used in 1947, provel is a mix of provolone, Swiss, and cheddar cheese. It's gooey and sort of tangy. Some people love it, others hate it. Of course there are also many places that serve their pizza with either a mix of provel and mozzarella or just old fashioned mozzarella.
While you're likely to be told that IMOS is the most notable restaurant chain that serves this type of pizza, there are likely a couple hundred restaurants in the area that serve it. For your visit to St. Louis, I'd suggest visiting The Hill neighborhood and finding a place to try it!
6. Hear The Organ at the Fabulous Fox Theater
One of the most beautiful and historic theaters in the world is located in St. Louis. The Fabulous Fox is one of just three of the original Fox Theaters still standing. In the early 1900s, William Fox built beautiful movie palaces in San Francisco, Detroit, Atlanta, Saint Louis and Brooklyn. Before and after movies, or during intermission, an organist would play music for the audience. The same organ still plays for guests as they enter the Fox Theater for concerts or musicals – and its sound is both haunting and beautiful. You're likely to get chills or at least feel your jaw hit the floor the first time you walk in the lobby and on to your seats.
I've listed "seeing a show at a Fox Theater" as one of the 100 Things To Do in America Before You Die. If you're looking for things to do in St. Louis for couples – seeing a show at the Fox is a great date night!
7. Meet A Clydesdale
You've probably seen the world famous Budweiser Clydesdales at a parade or featured in one of those heart-melting Super Bowl advertisements. However, did you know that St. Louis is their official home? You can mingle with the Clydesdales in two different locations: Grants Farm in St. Louis County or at the Anheuser-Busch headquarters downtown. Both places offer free admission and tours and give you the opportunity to see these gorgeous animals up close.
8. Stand In A Long Line For Frozen Custard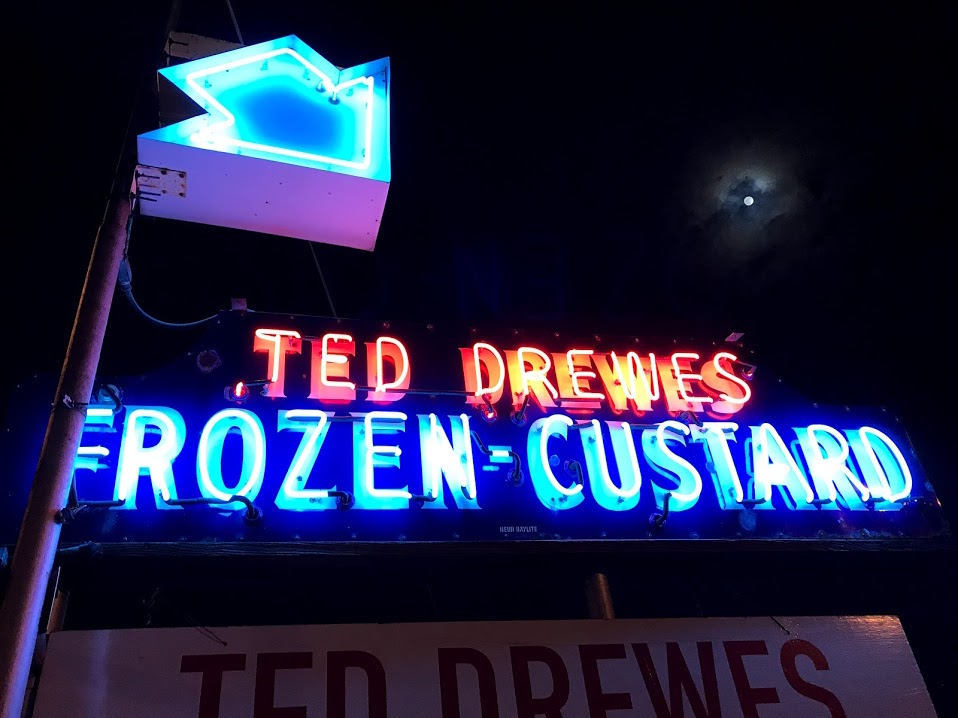 You haven't experienced St. Louis like a local until you've visited Ted Drewes on a warm summer night and witnessed hundreds of people lined up into the street – all for frozen custard. As you approach the location, located on historic Route 66, you're likely to think you're witnessing a mob or something sinister. Nope. Just St. Louisans getting their sweet fix. FYI: the lines move at incredible speed so don't be afraid to park across the street and sprint across the busy road, dodging traffic, just like we all do.
9. Stare At A Giant Eyeball
You won't need your glasses to see the gigantic eyeball sculpture at Laumeier Sculpture Park in St. Louis County. The massive eye which was constructed by artist Tony Tasset in 2007 has a circumference of 452 inches and is made of fiberglass, steel, and oil paint. After taking a selfie which is sure to creep out your Instagram followers, take a relaxing walk around the 100+ acres of the county park. Admission is free and features more than 70 sculptures.
10. Clock The Speed Of Saint Louis Drivers

When the St. Louis Science Center expanded years ago they added an enclosed bridge from the old planetarium over to the new building across from Forest Park. Within the walkway you'll find radar guns that track the speed of vehicles motoring down highway 40 in both directions. Look down, you're sure to see at least a few locals gun it just to give the kids a thrill. (Wait, you mean I'm the only one that does that?)
If you're looking for things to do in St. Louis with kids, the Science Center is a good bet. While you're there, take in one of the great films shown in the Omnimax Theater and let your kids explore the fifth largest science museum in the United States. Did I mention admission is free?