Any place that was good enough for Frank Sinatra – I'll gleefully add to list of my favorite travel destinations. Palm Springs has a rich history as a winter escape for the wealthy and famous. But it's also ideal for regular folks like you and me. Known for frequent sunshine, great restaurants, endless shopping, and many other fun things to experience, it's a great spot to spend a weekend! You can spend 2 days in Palm Springs, 3 nights in Palm Springs, or an entire month here!
Here's a look at some of the things to do in Palm Springs and how I spent my time as you start planning your own road trip here!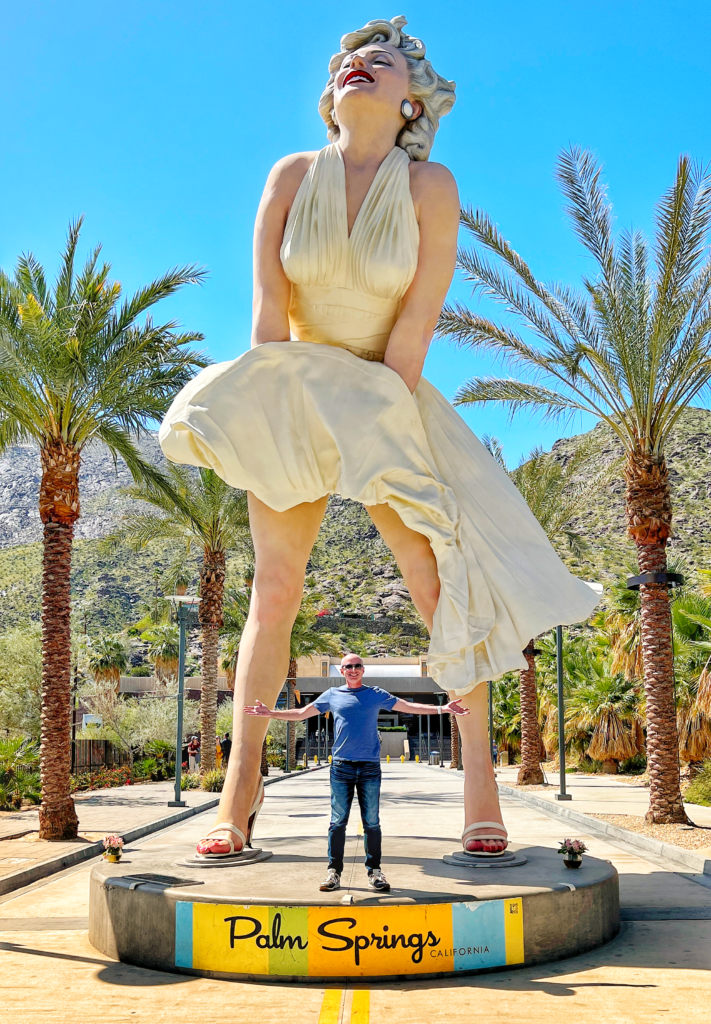 If you've followed my travels for any length of time – it's obvious that my first stop in Palm Springs was going to be at the gigantic tribute to Marilyn Monroe. There's a little bit of controversy locally about whether the statue should be here – but it's abundantly clear that visitors absolutely love it. It's located within its own plaza not far from the Palm Springs Art Museum and a block away from all of the downtown shops and restaurants.
If you're lucky – you'll wind up handing off your camera off to some older woman like I did, who proceeds to yelled out posing suggestions along with a dozen other ladies waiting to take pictures. Either way – it's a great spot to start your Palm Springs adventure!
Famous & Mid Century Modern Homes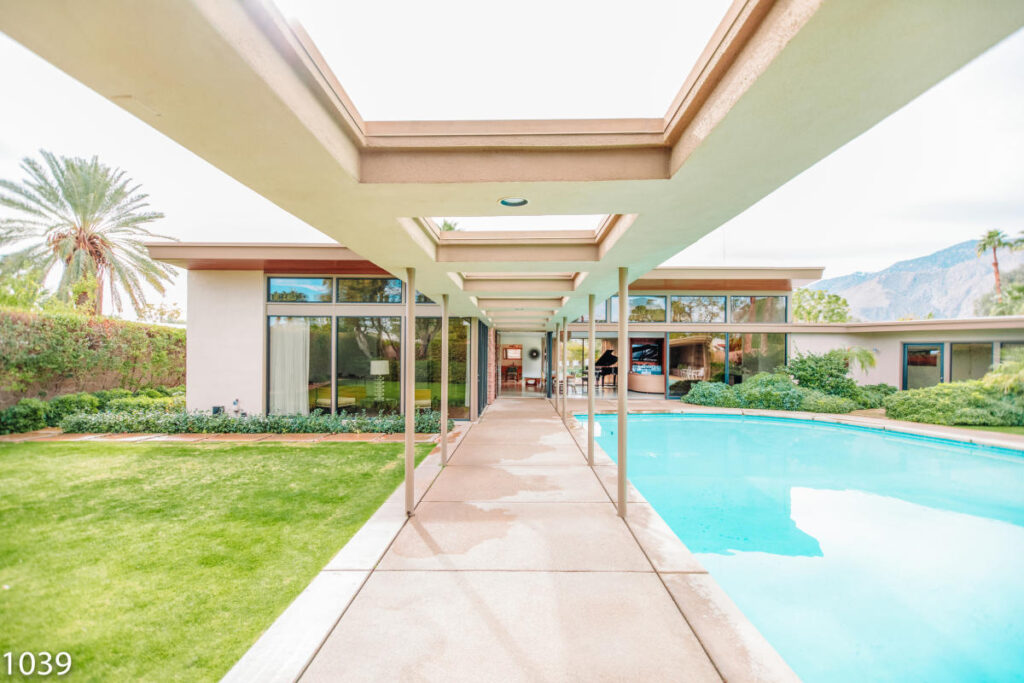 One of the things that excited me most about Palm Springs was the mid century modern architecture that routinely pops up all over the city. For many years, I lived in a mid century modern home in the midwest and always appreciated other homes and buildings with similar styles. Not only will you see it all over Palm Springs but you can take your own self-guided driving tour of "desert modern" architecture. (You can find a driving map at: psmodcom.org)
You'll find lots of fantastic structures along the way including a former home of Frank Sinatra included in the mix!
Speaking of famous folks – there's another self-guided driving tour you take to see the former homes of many Hollywood legends who escaped to Palm Springs for a winter getaway. Many of the notable names are stars of yesteryear – Jack Benny, Liberace, Elvis, Zsa Zsa Gabor, Dinah Shore, and others. You can find both maps at the Palm Springs Visitors Center.
Don't Skip The Tram!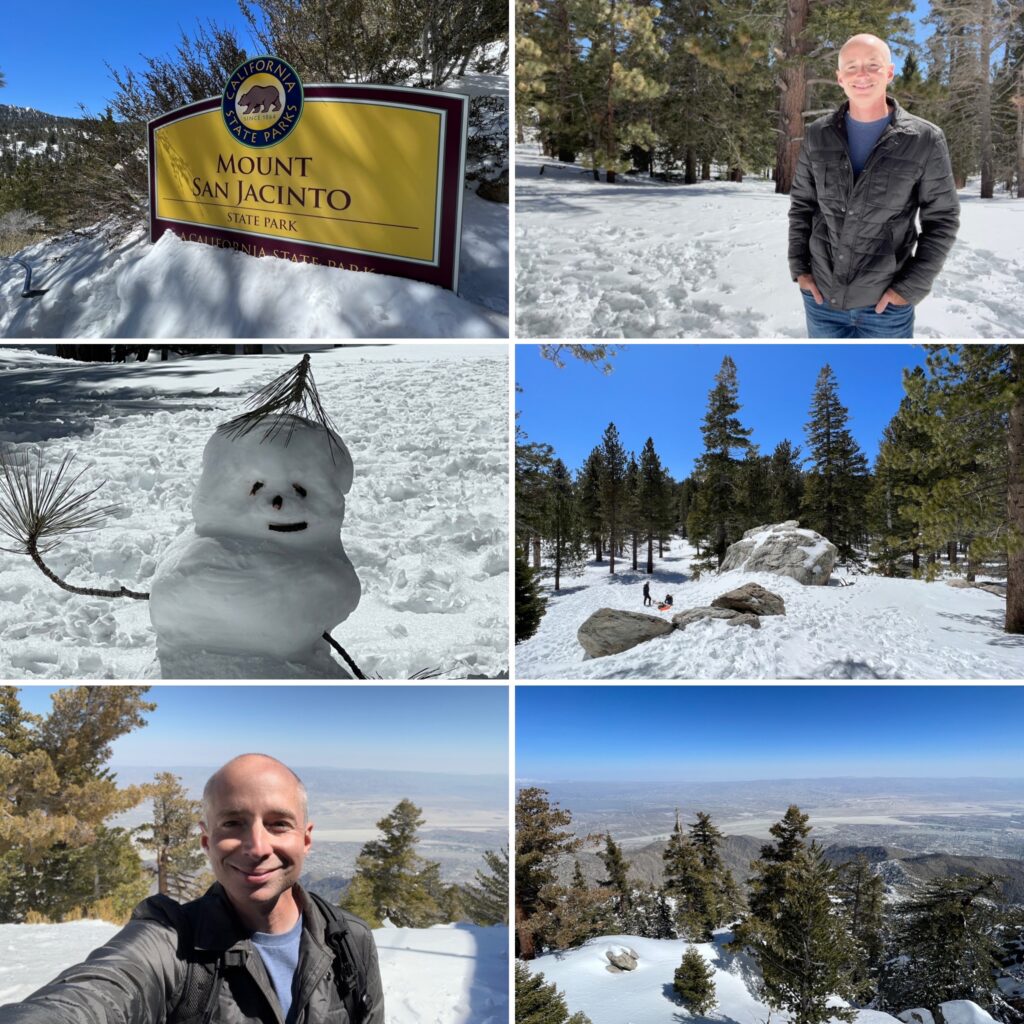 The local attraction that my California friends told me about most was the Palm Springs Ariel Tramway. You hop on a tram (it's large enough to hold about 40 people) that takes you near the top of San Jacinto Peak. It's the largest rotating aerial tramway in the world!
As a midwest native it was beyond amusing watching people enjoy snow for the first time. (It's all fun and games until you have to shovel your way out of the house.) But visitors genuinely seemed to enjoy the experience and the hiking trails up top. The view of the city and desert below is spectacular. Quite a juxtaposition standing on an icy patio while looking down at the bottom where it was 75 degrees.
If you plan to do some hiking make sure to bring proper shoes because the trails do get slick if there's snow.
Margaritaville Was Home Base!
I'm a big fan of the Margaritaville franchise and was thrilled to learn that Palm Springs has its own Margaritaville resort. The location itself is quite historic. Formerly The Riviera Hotel – once a favorite hangout spot for members of the famous "Rat Pack" – the updated resort is the first Margaritaville property to open on the west coast.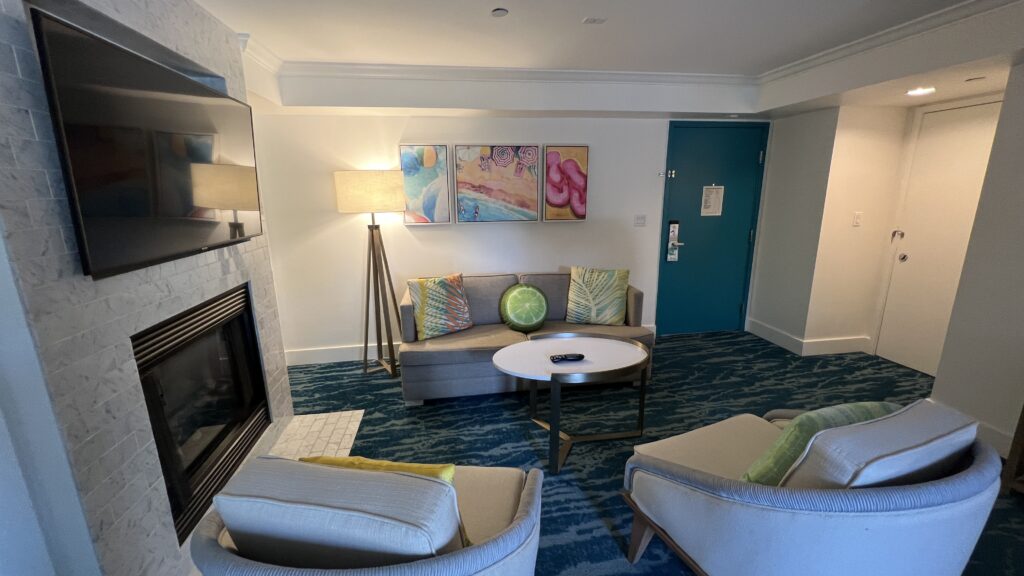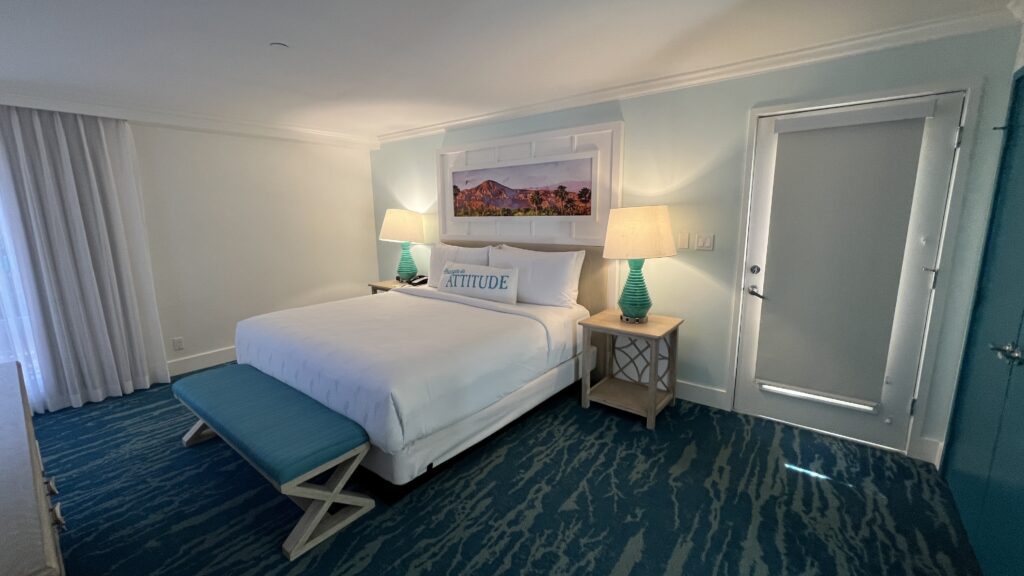 The beauty of the Margaritaville brand is that it's welcoming for everyday travelers that may not be willing (or able) to fork out the bigger bucks for some of Palm Spring's higher end hotel properties. The good news is – quality here hasn't been sacrificed in the slightest. It made for a perfect "home base" during my visit to Palm Springs. It's in a great location, a short drive to most of the area's attractions and a perfect place to "chill" (something Jimmy Buffet would approve of) at the end of a long day of exploring.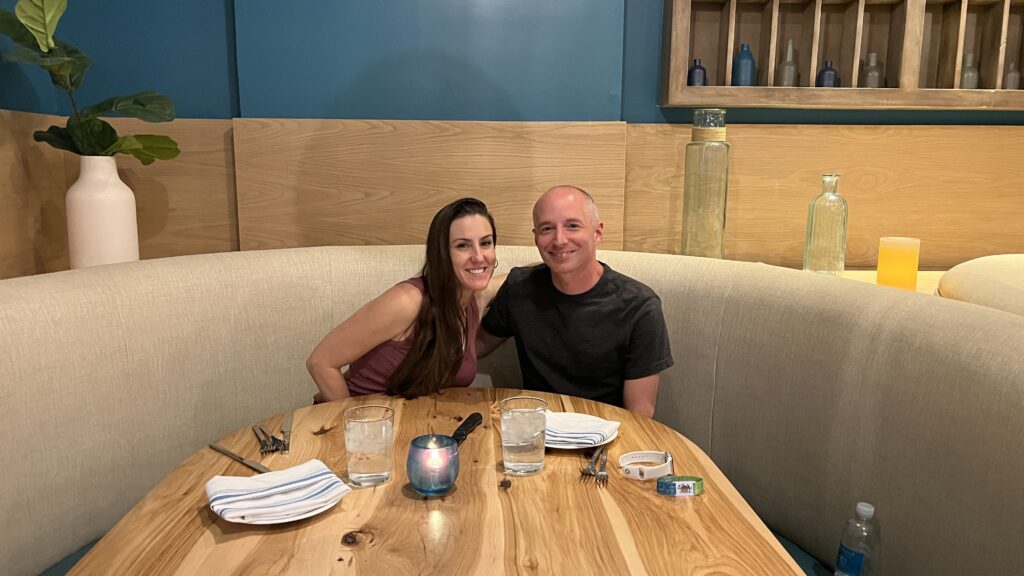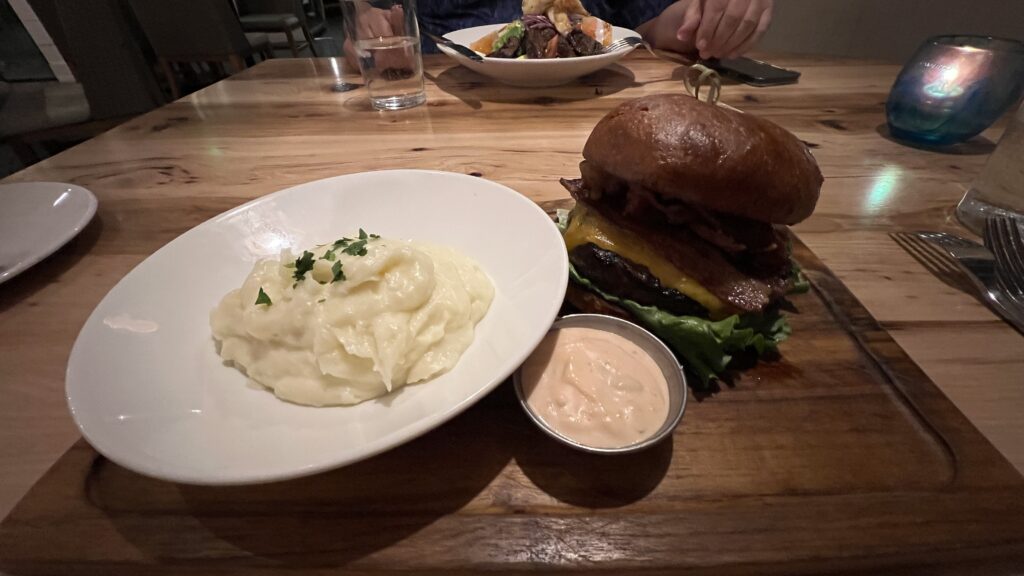 There's a huge pool area with bars nearby for your favorite tropical drinks. The resort offers bike rentals, and several places to grab meals during your stay. The dining options at Margaritaville Palm Springs were well beyond my expectations – if I'm being honest. The dinner menu at JWB Grill included steaks, chicken, and seafood along with chef inspired desserts. Everything we tried over the course of two days was absolutely wonderful!
Best part of the visit – the staff was absolutely amazing! Everyone was so kind – from the front desk clerk to the servers we met at dinner.
Other Activities In Palm Springs to Consider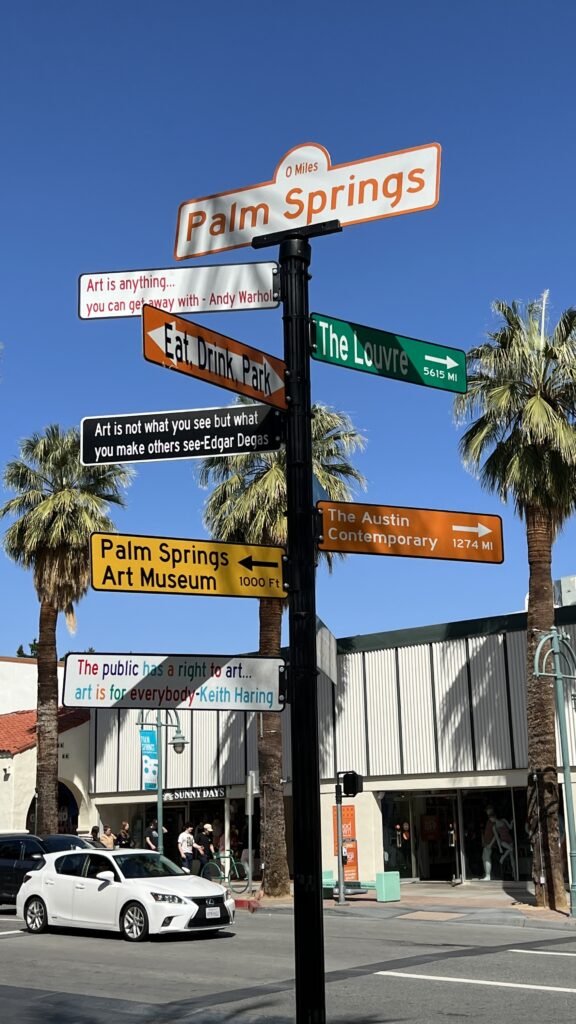 Palm Springs Art Museum
Keeping with the modern theme – the Palm Springs Art Museum has some incredible paintings and sculptures that fit into that late 50s – early 60s vibe. It's located right down the street from the Marilyn Monroe statue you're likely to spot when you roll into town.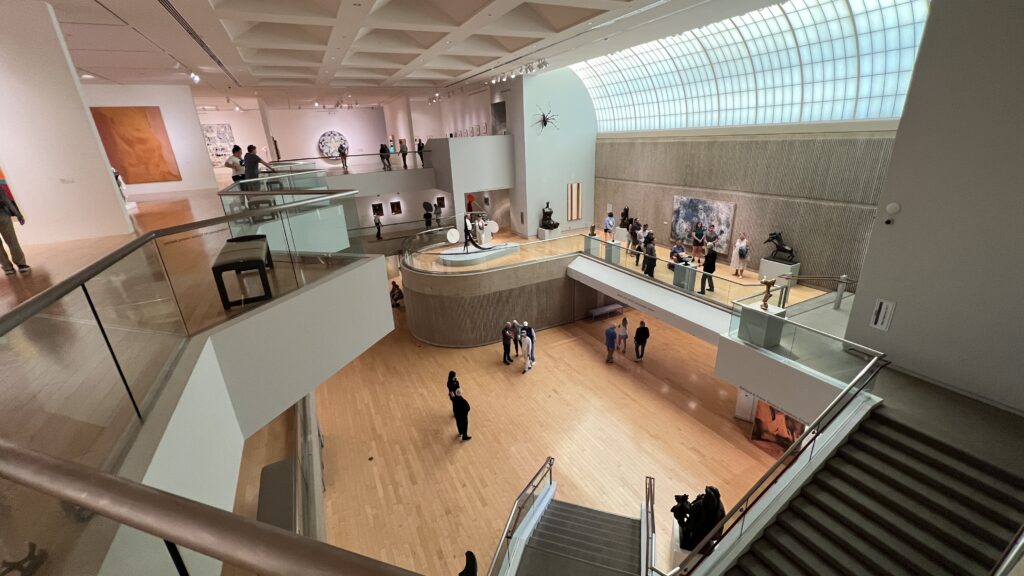 Indian Canyons Hiking
The Indian Canyons has more than 60 miles of walking and hiking trails. For experienced hikers, the trails are not too difficult. You'll want to hit the trails as early as possible because they'll be much tougher when the desert heat starts to bake you! There is an admission fee (currently $12) and you can hop on a ranger led tour to learn about native plants and history.
Palm Springs Air Museum
The Palm Springs Air Museum, is a non-profit educational institution dedicated to sharing the stories of World War II and the roles of American combat aircraft and the pilots who helped win the war.
Shopping & Restaurants
Downtown Palm Springs is extremely walkable and loaded with unique boutiques and fabulous dining options for lunch or dinner. Every Thursday night is the Palm Springs Village Fest with live entertainment and food vendors. While you're exploring, be sure to look down at the Palm Springs Walk of Fame that honors more than 400 celebrities!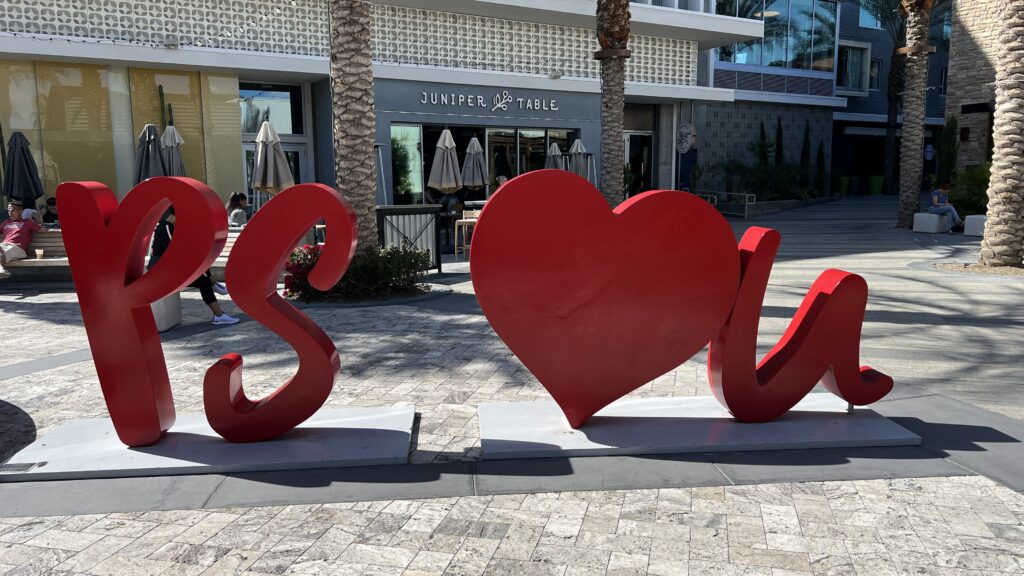 For a Palm Springs road trip of your own you can find other ideas and more details on lodging information, restaurants, and events by browsing: visitpalmsprings.com