After escaping the frigid temperatures of the mid-west, I thought it might be a good idea to thank God for warm weather.  So off to church I went.
In the Orange Beach/Gulf Shores area, you can praise the Lord in a bar with a rock band, as waves crash and sand blows a few yards to your back. The historic Flora-Bama (which is technically in Perdido Key, Florida) offers Sunday morning church services that are wildly popular, with a little more praise, and a little less party than usual.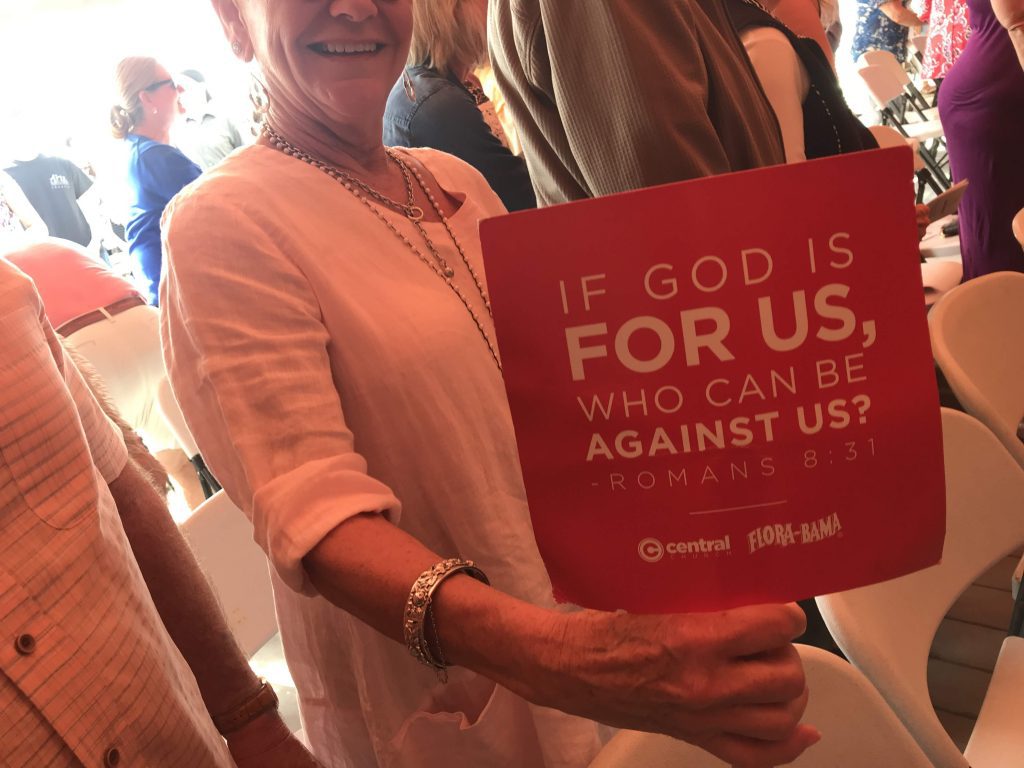 The setting may seem a bit out of place if you know anything about the establishment and its long history of being "party central" to generations of locals and tourists along the gulf coast.  In 2017, the Flora-Bama was named "Best Beach Bar In America" by MSN.
Under a large tent, nearly every seat is taken with about 30 minutes to go before service begins.  An eight-piece band starts jamming on stage as guests greet one another while searching for an empty white folding chair. 
Much of the audience is made up of snow-birds, which is code for "retired people" who trek south for the winter.   One Minnesota couple behind me moaned about living through blizzards and surviving the latest polar vortex. They swapped weather tales with a couple from Louisiana that shared tips for avoiding hurricanes.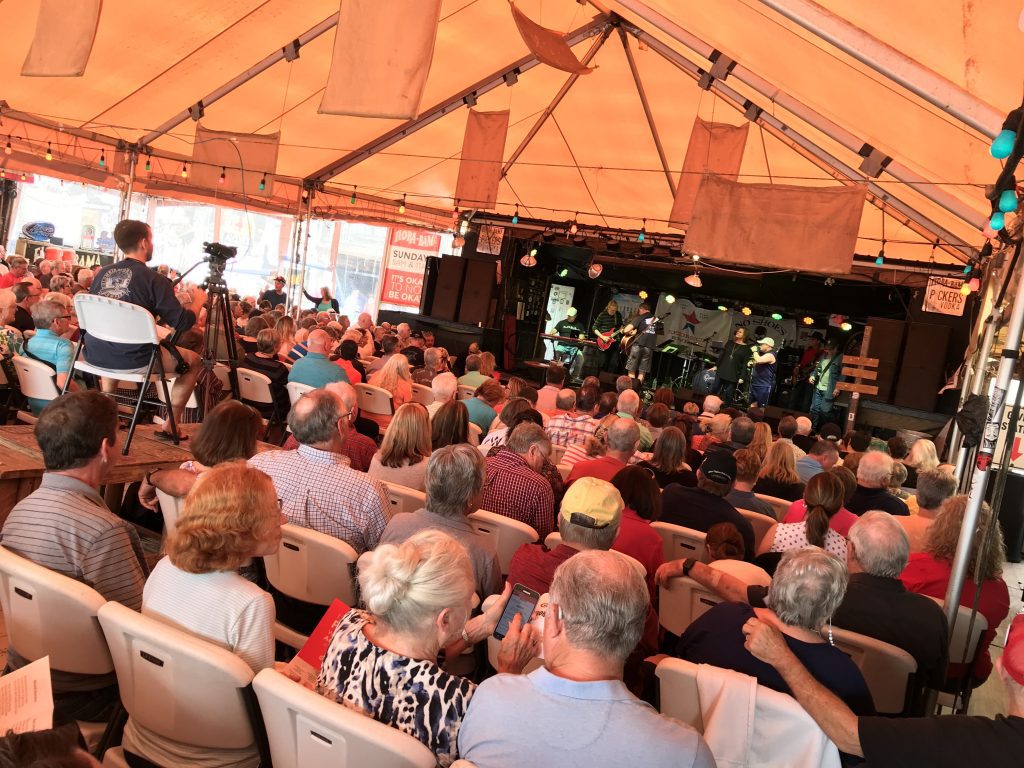 The guy next to me was from Wisconsin and attends church here every weekend he's in town. "Why would I want to be in -13 degrees?" he asks.
The entire room is full of people that are genuine in their excitement to be attending church.  There's an open bar.  The dress code ranges from "business casual" to "my entire outfit cost $9.00"  Within earshot, a woman is sharing a story when curse words start flying out of her mouth.  Say what you will about the non-traditional setting – but at least no one in the audience is pretending to be something they're not.  
The preacher, a young guy wearing shorts and flip flops welcomes the large crowd.  His announcements include a reminder that all of the church services are available online and can be seen in other parts of the massive establishment in various overflow sections.  "Hello to everyone watching us up in the bra room", says Pastor Dan.  This marked the first time in history that bras and Jesus were discussed in the same breath in church.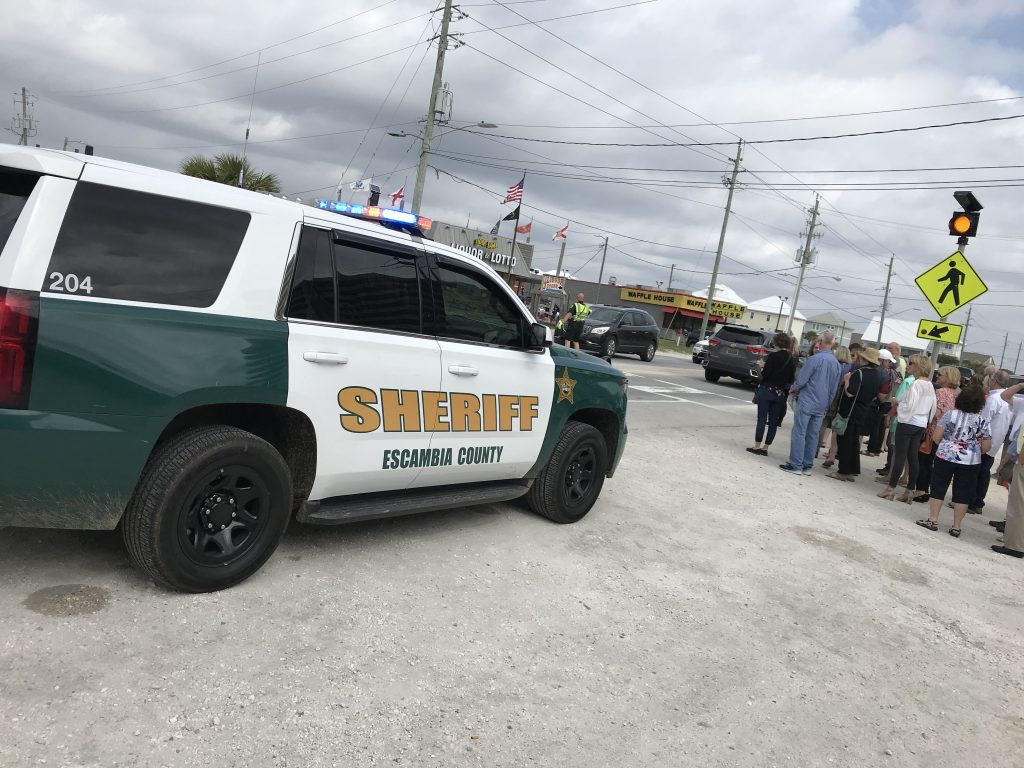 The crowd stands and sings a few songs, ending with the popular hymn, Amazing Grace.  There is no denomination, or right way or wrong way to worship.  Everyone seems to do their own thing.  Some politely stare ahead, with drink in hand.  Others need their hands free to wave them in the air and sway to the music.  Everyone seems to be getting just what they need out of the church experience. 
The guest speaker for the service was New York Times best-selling author Andy Andrews.  Mr. Andrews, the author of numerous thought provoking books is a huge hit and shares some hilarious stories from his past.  He talks about his young son earning a speaking role in a Christmas pageant where he portrays one of the three Kings that present gifts to Mary and Joseph.  After the other two boys announced their gifts – gold and myrrh, Andy's son exclaimed: "Frank sent this".   
After an enlightening and humorous message about finding your purpose in life, Mr. Andrews delivers the line that everyone takes with them out the door.  "Your life is a sunrise, not a sunset".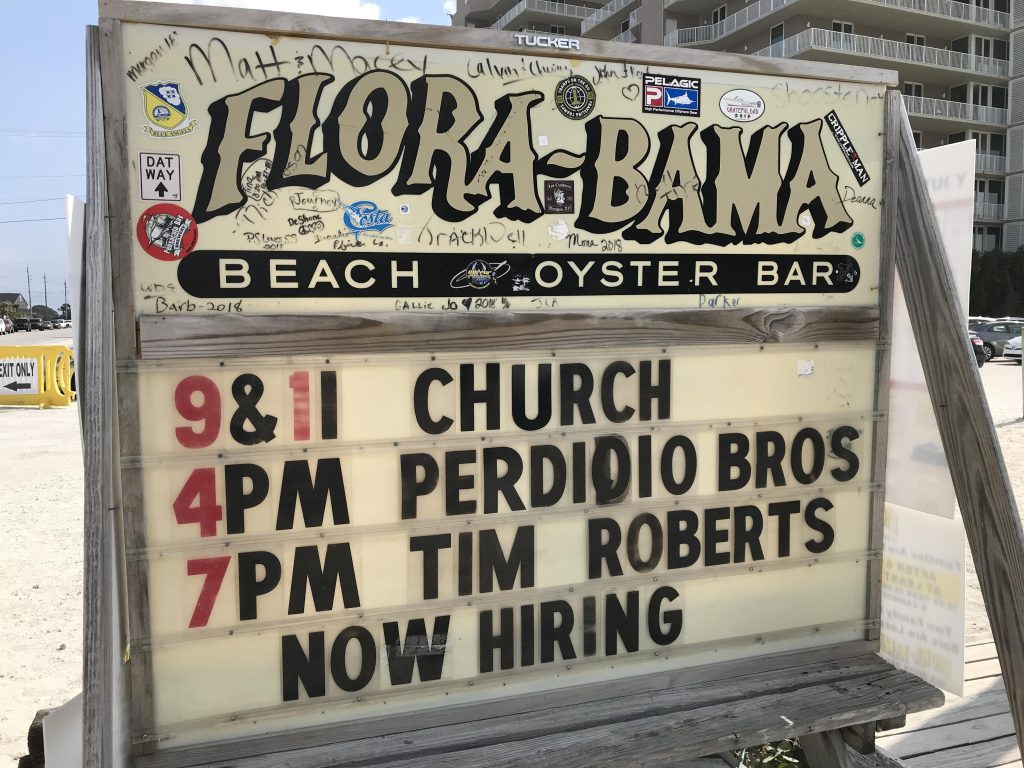 Once the service concludes, guests help organize the folding chairs and make lunch plans with old friends or new ones they've sat next to for the last hour. A Highway Patrol car outside helps direct traffic and guide folks back to their cars across the street.
What's my conclusion after attending my first church service in a bar? If the goal of worship is to leave you inspired and just a little bit happier than when you arrived – mission accomplished. After all, God knows the words to every Kenny Chesney song.