Like you, I searched for information on how to hike to the Hollywood sign and came up with all sorts of suggestions – some great, some pretty terrible. Hiking to Hollywood sign has always been on my own personal travel "bucket list". Thankfully, I was finally in southern California long enough to accomplish the uphill trek to the world's most famous giant letters! (They're each 45-feet high, in case you were wondering.) And I want to help you get there, too!
There seems to be a lot of misconceptions when it comes to actually getting to the sign itself. The fact is – yes, you can legally get close to the sign and no, it's really not that difficult if you're open to a moderately challenging hike. While there are several trailheads that will get you there – I'm going to share with you the one that I used and explain why I think it's the best route for people that actually enjoy a nice hike.
And no, you don't need a "guided tour". You can do this on your own. (I was stunned how many people were being led by tour guides to the top as I was making my way back down to the trailhead. No idea what they charged – but you can definitely do this for free and it's not that difficult if you follow my instructions!)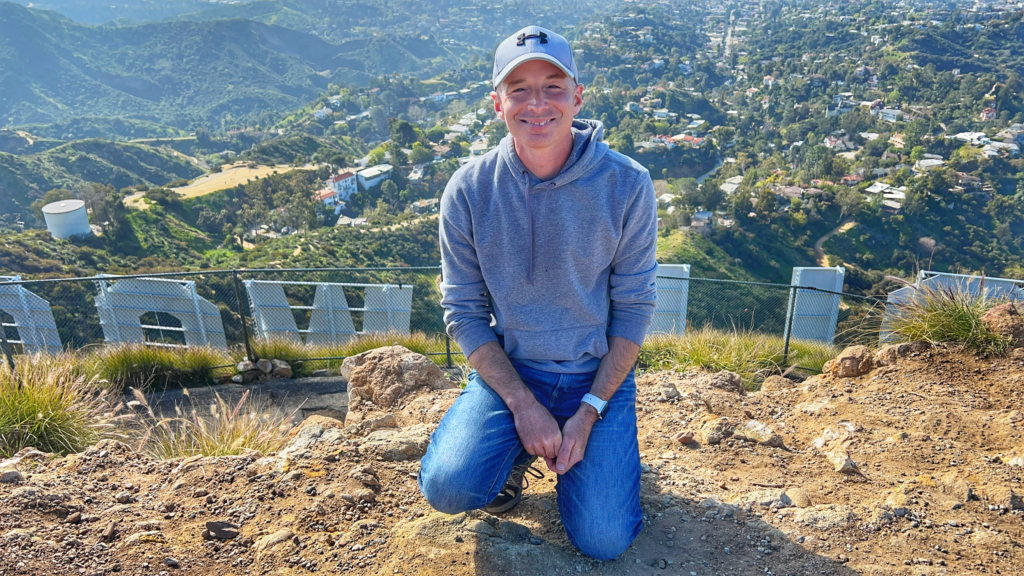 First order of business – you'll want to do this early and on a weekday if possible. Weekends are crazy busy, especially if the weather is pleasant. I set out on a chilly Tuesday morning in March and arrived at the trailhead around 7:30. I was the first car to park and had the trail mostly to myself with the exception of a few friendly neighbors out walking their dogs.
The address you'll want to put into your GPS is: 6101 Innsdale Drive in Los Angeles, CA. 90068. (Yes, I know there are other trailheads – you don't need to e-mail me and let me know.) The reason I selected this particular spot is because free street parking is relatively easy early in the morning, it's a happy medium between shorter and longer hikes, and most important – this trailhead provides the most unique views of the sign from various angles almost all the way to the top of the hill.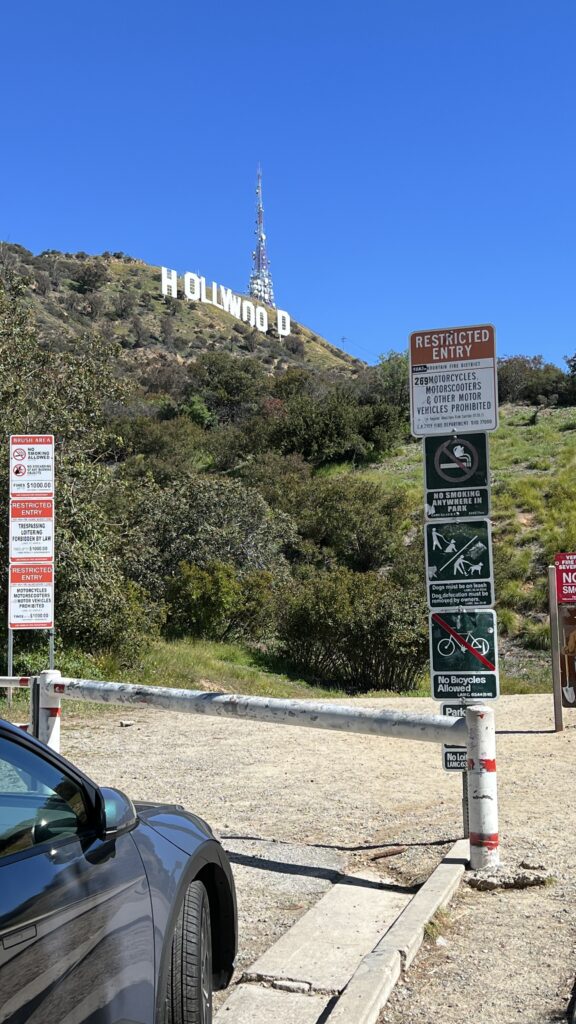 When you arrive at the Innsdale Trailhead there's a gate and some signs about not smoking. (As seen in my video posted below.) Follow the dirt path until you reach a barrier where the trail dumps you out into a residential area on Mulholland Drive. Yes, it seems a little weird but you'll simply turn left and walk onto the street for just a bit which leads to an actual gate with a locking door. The door will be open during normal trail hours, so just open it and walk in to the next part of the trail.
*IMPORTANT* From this point, if you veer left up the steep driveway, there's a great photo opportunity with the sign… however, this does not lead up to the top of the mountain. You'll need to come back down and take the road to the right (that sits just below) which will take you all the way to the top. If you stay on this restricted service road you will not get lost. (Walking is perfectly fine, but you can't access it by car in case you're looking for a simple shortcut to the top!)
Depending on your speed, you should be able to get up to the top of Mount Lee in about 45-60 minutes. In total, from the trailhead to the top and back should take you no longer than 2 hours. Maybe more if you take a lot of photos! Don't rush unless you're pressed on time – it's a once in a lifetime opportunity for most people to be this close to the world's most famous sign! Did you know that the original letters were actually 50 feet tall and spelled out "Hollywoodland"? The plan was to build small houses around the sign but it never happened.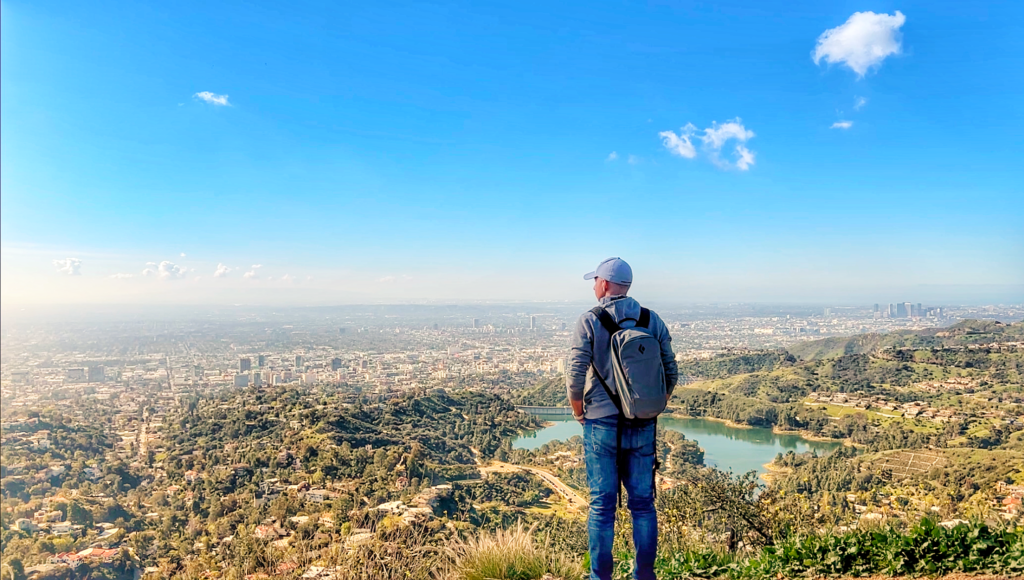 The letters are secured with fencing about 50 feet up the hill so you can't touch them or pose next to them. However there's an additional viewing point directly above the trail where you can see the back of the sign, almost in it's entirety and amazing views of Los Angeles County. You'll see an incredible view on the other side of the mountain as well just before you round the corner and reach the back of the letters.
I advise going early because once the other tourists arrive, the top viewing area becomes crowded and it's tougher to get nice photos without other people being in your shots. Though I shared my time on top with a nice father and daughter who were visiting from South Carolina – the area started to become pretty busy and congested by the time I started hiking back down.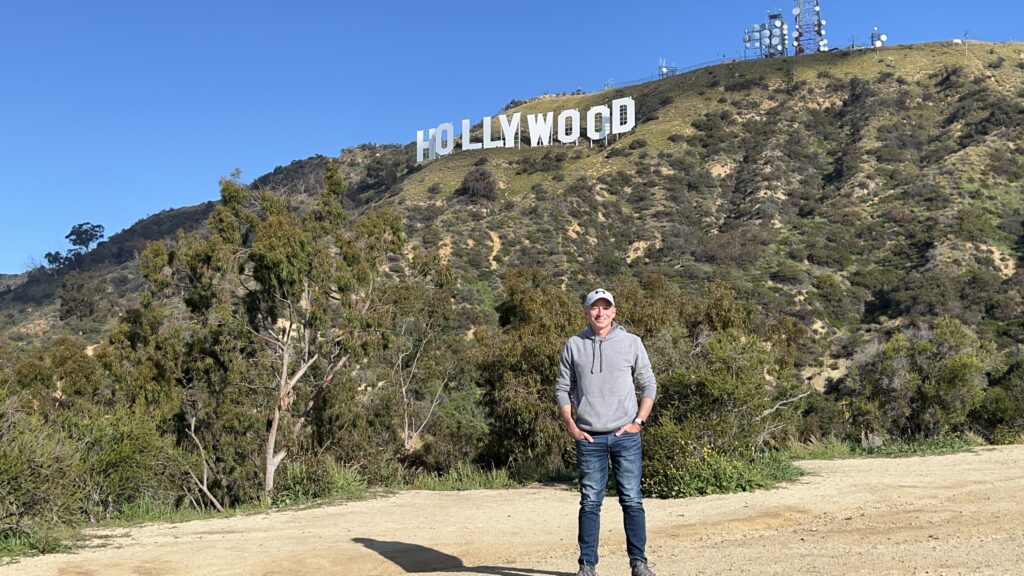 Once you're finished soaking in the views, you'll take the same path back down to the original trailhead once you're finished. If you want to keep hiking, there are other paths up in the hills that can extend your time on the mountain. Be aware of your surroundings as rattlesnakes are prevalent in warmer weather.
Enjoy your hike! This is a wonderful unique experience and an easy way to hike up to the Hollywood sign!