If you're hoping to visit St. Augustine, Florida but only have one day to check things out – the truth is, you'll be able to do quite a bit. St. Augustine, known as both the oldest city in Florida and often referred to as the oldest city in America, is extremely walkable and pretty easy to navigate. In this post, I'll share some of the experiences I was able to accomplish and make a few suggestions to get you the most out of your time here.
1. Jump On That Trolley!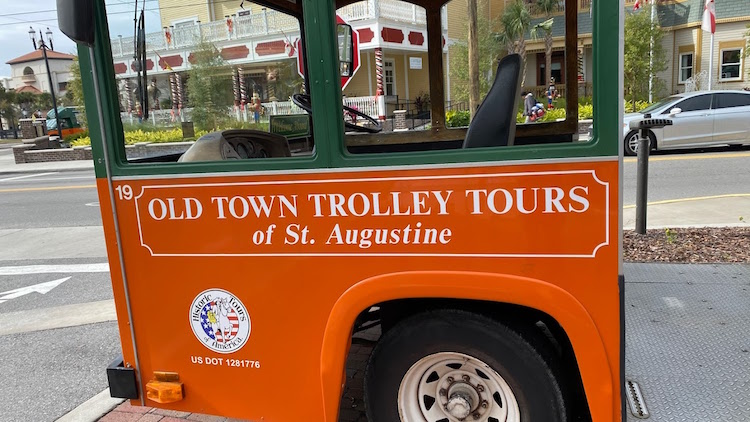 This is a no-brainer. The Old Town Trolley is without a doubt the best way to make the most of your limited time in St. Augustine. You can hop on the trolley, jump off at any of the more than 20 designated stops, and then get back on again whenever you want. (Last pick-up is at 4:30pm, so be sure to start using it early in the day to get your money's worth.) It takes about 70 minutes to go all the way around if you're wanting to get an overview of the city before you begin to explore.
You'll get some great knowledge about the city's history and plenty of sightseeing suggestions from your guide along the way. As much as I hate the stereotypical cheesy tour guide, the guides for Old Town Trolley were pretty good.
2. Climb To The Top Of St. Augustine Lighthouse
Get yourself a workout by climbing the 219 steps to the top of the St. Augustine Lighthouse. You'll be rewarded with a beautiful panoramic view of the area and the Atlantic Ocean. The original watchtower was erected in 1586, and became a lighthouse in 1824. In 1871, the current tower was built. Your ticket also gets you admission to the Keeper's house museum and several other sites on the property. If you're looking to visit quickly – the trek to the top (and back down) is relatively quick depending on crowd size.
3. Explore Historic Buildings Around Town
You could spend an entire week trying to see all of the beautiful old buildings around St. Augustine. To get a good sampling of historic sites – consider popping into Flagler College (which used to be a ritzy hotel that welcomed celebrities and even former presidents until World War II) and taking a peek around the courtyard and lobby. A full tour is offered twice per day if you're interested. Other notable historic buildings to keep on your radar include the oldest house of the English era, the nation's oldest wooden schoolhouse, the Alcazar Hotel, and the Cathedral Basilica of St. Augustine.
4. Walk On The Oldest Street in America
Aviles is the oldest street in America – and the early home to St. Augustine's arts district. The street dates back to the 16th Century and was known as "hospital street" as the second Spanish military hospital was located here. These days, you'll find a handful of shops and amazingly, most tourists have no idea of the street's significance.
5. Walk Through The Gates Of St. Augustine!
This one won't take but a minute but it's worth it! The original "gates to the city" on the north end of George Street were nearly destroyed by city planners that wanted to rid the area of this "eyesore". Thankfully a few locals stepped up to demand the gates remain as is. They were constructed in 1808 and at one time were the only way to enter St. Augustine.
6. Take A Chocolate Tour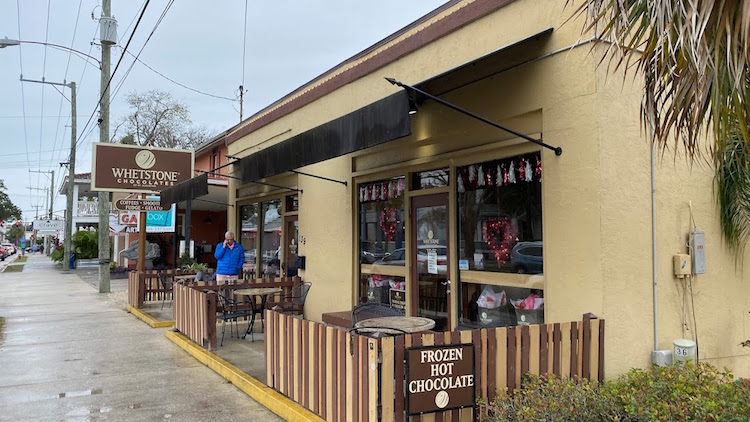 If you only have one day to explore St. Augustine, you'll have to make some decisions about what types of tours you want to spend your time on. It was an easy choice for me to pick the tasting tour offered by Whetstone Chocolates on King Street. It lasts about an hour and gives you a brief understanding of how chocolate is produced and the various methods used by Whetstone that sets them apart from some of the more well-known chocolate producers.
"I have to apologize for the freshness of the chocolate. It was made yesterday."

Whetstone Chocolate Tour Guide
The tour guide, who sounded a bit like Tim Conway from The Carol Burnette Show, was pretty amusing. It's not a large factory but you get a fun look at how their chocolate is produced. By my count, you get at least six samples. Their products are often on the store shelves within a week or two as opposed to other companies that generally take as long as six months to get into stores. Plus you get to wear a hair net!
7. Sneak In A Meal Or Two!
I didn't have a lot of time to check out the local cuisine – but none of you come to my site for restaurant recommendations anyway. The kind folks at the St. Augustine Convention & Visitors Office were nice enough to offer me a gift certificate to enjoy one of the area's local eateries. I chose a place called Amici – a highly rated Italian restaurant in St. Augustine Beach. I'm a sucker for good lasagna – and this place nails it. Sorry I can't transport the taste or smell – but I think the photo will work for now. Shout out to my fun server, Andrew!
8. And Of Course, Check Out The Beach!
During my visit, I stayed a short walk away from the water at a place called Our Beach Cottage. It's maintained by the historic St. Francis Inn in St. Augustine. The house is located just six miles from that location and less than 15 minutes to downtown. It had a full kitchen, two bedrooms and bathrooms, a living room, a sauna, and dining room table. The parking was simple, too – a long lot that could easily fit several cars if need be.
Breakfast is offered each morning at the St. Francis Inn – though I decided to utilize the kitchen instead. The house was super clean and the staff was incredibly friendly.
Hopefully you've picked up a handful of ideas to fill your 24 hours in St. Augustine but rest assured – there are lots of other things to do if time permits. From the local alligator farm to Florida's oldest tourist attraction – The Fountain of Youth, you're sure to have a terrific time enjoying this beautiful and friendly Florida town.