Elvis Presley was first heard on local radio here on July 7, 1954.  It wasn't long after that WHBQ broadcast – the whole world linked Memphis, Tennessee to the King of Rock and Roll.  For over 60 years, everything else this town has had to offer has been a sidebar.  What's fascinating is that decades later – in many ways – Elvis still comes first.
While tourism officials here do their best to promote the many great perks of another US town on the rebound with noticeable revitalization efforts underway – tourists are still posing for photos with the Elvis Presley statue on Beale Street, dropping by in bus loads for a visit to Sun Studio and of course – stepping inside Presley's beloved Memphis home,  Graceland.
While the rest of the city's attractions may play second fiddle to the Elvis connection – that doesn't mean none of them aren't plenty worthy of a top billing.  Everything from the newly renovated National Civil Rights Museum to the Stax Museum Of American Soul Music give Memphis bragging rights.   Their exciting NBA franchise, The Memphis Grizzlies (that were in the heat of a playoff battle during my visit) or the Cardinals minor league affiliate – Memphis Redbirds offer fun options for sports fans.   Memphis loves to boast of its BBQ but the truth is all sorts of unique and independently owned dining options line Main Street downtown and through out the greater Memphis region.
Local historian, Jimmy Ogle pointed out the new Bass Pro Shop downtown housed in a former sports arena that's the shape of a giant pyramid.  "A lot of people will flock there from out of town and turn around and go home.  But those that actually venture down the street – are amazed to find that downtown Memphis is full of incredible restaurants, first class attractions and nice people."
Mr. Ogle is well known to many in Memphis. He rattles off city history faster than a Google search and doesn't hide the fact that he loves his home town.  He gives free walking tours and people show up in droves to hear him talk.  He shares so much information it's absolutely impossible to retain it all.   If the idea is to leave people with the impression that Memphis is not just another town in the south – mission accomplished.
I'm pretty sure I was born to live in the south.  I'm always so happy when I visit places like Memphis where people will actually look into your eyes, say hello to a stranger and strike up a friendly conversation.
There are a significant number of poor people living in this city and it's obvious as you explore downtown.  I saw more than a handful of what I assumed were homeless individuals. At one point, I witnessed one man reach into a trash can, pull out a discarded fountain soda cup and walk away drinking what was left in the container through the used straw.  It was a real wake up moment – as I held onto a new t-shirt I purchased on Beale street, I was watching a man who couldn't afford a soda.
Despite the handful of times I was approached for a request for spare change – I was never concerned for my own safety walking around after dark in downtown Memphis nor did I find the begging I referenced to be so intrusive that I wouldn't return for another visit.
Touring downtown and talking with people like Craig Unger, the General Manager of the Memphis Redbirds baseball team – I witnessed a city that was slowly, but surely getting things back together.  Unger points out a plot of land for a new hotel from a second story suite at the Auto Zone ball park that is already causing a domino effect of sorts – in terms of bringing new businesses and infrastructure to Memphis.
Music is such a huge part of Memphis history and culture that nearly all of the major tourist attractions have something to do with blues, soul or rock and roll.   Sun Studio is the top attraction in Memphis according to Trip Advisor and rightfully so.   Gibson Guitar has a factory tour (though don't go after 2pm or you won't see any one actually working – lesson learned), there are multiple soul music museums around town and of course the famous Beale Street offers live music.
One of the museums I experienced during my recent stop in Memphis was the Stax Museum of American Soul Music.  While the actual recording studio was demolished years ago – the collection features artifacts from the artists that recorded songs there and some fun treasures – like a one of a kind vehicle owned by Issac Hayes.  (Complete with a TV in the front and fridge in the back – unheard of in those days.)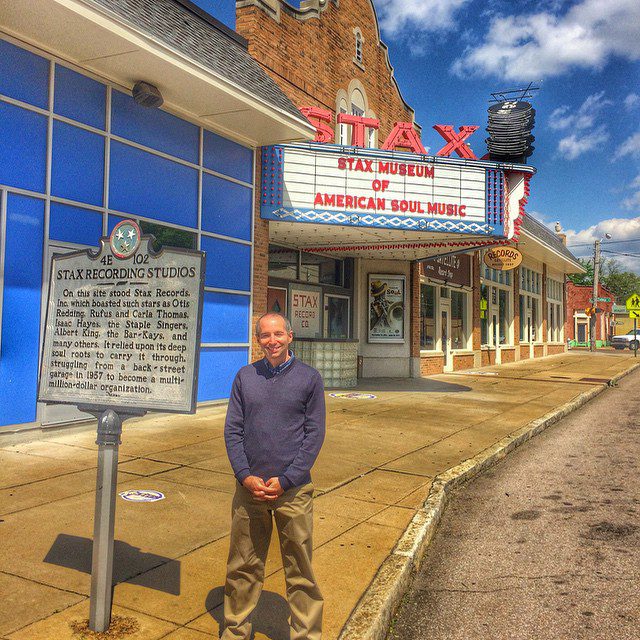 The Stax Studio was perhaps the only place in Memphis during its prime where both white and black locals could mingle together – with none of that racial tension that was so prevalent at the height of the civil rights movement.  Tim Sampson, the museums communications coordinator explained the beauty of Stax:  "Once a musician walked through the door – they were here to play music.  They didn't care what color you were or about anything going on outside – it was pretty awesome."
Seeing Memphis claw it's way back to the top is also "pretty awesome".
Top 3 Memphis Suggestions:
Sleep Inn At Court Square – affordable and awesome location downtown Memphis.  Incredibly nice staff and hotel is walkable to all sorts of things downtown.
Walking Tour With Jimmy Ogle –  Jimmy is one of those characters that is almost impossible not to like.  He gives free walking tours of Memphis – often in various locations around town.  You will be completely blown away by how much he knows about the area and you'll walk away thinking that the whole world couldn't have survived without Memphis.  This guy sells it – big time.
Bang A Drum – While not a "tourist attraction" – a music lover will get a kick out of visiting the Memphis Drum Shop a short drive from downtown.  Owner Jim Pettit has built a reputation as the go-to guy for drums for some of the biggest names in the music industry.  The store has every kind of drum, symbol, cow bell and any other instrument you can create a beat with.
If you're planning a trip to Memphis – be sure to check out Holly Whitfield's "I Love Memphis" blog – she updates it daily with things going on around town to help you feel like a local.
For other Memphis attraction tips and city info visit: Memphistravel.com