After a week in Lafayette, it's no wonder this vibrant Louisiana town is often called the "happiest city in America".   The constant sound of native music, the sight of neighbors and friends dancing in the parks, and of course, the smells of freshly cooked Cajun cuisine.  It's the artists, the history, and above all – the colorful characters that make Lafayette a destination worth visiting and enjoying.
Prior to Lafayette – I was a picky eater, a man without rhythm, and a soul that was starting to doubt my optimistic view of the world.   In less than a week – I found myself on the dance floor, trying new foods and reassured that there are plenty of reasons to be happy about life in 2017.
Here are a few of the highlights of my visit to Lafayette, Louisiana.
I Played A Wash Board 
I've always lacked the ability to play an instrument.  My last grasp at becoming a musical genius – adult piano lessons, wound up being a waste of time and money.  Turns out – I was aiming too high.  (And spending too much.)
For less than $200 – you can purchase your very own musical washboard.  The washboard was an engaging and vital piece of the Cajun musical trio I witnessed at the legendary Blue Moon Saloon.  While watching Grammy award winner Chubby Carrier and his Bayou Swamp Band – it was the gentleman strumming away filed down spoons that caught the attention of most in the room.
The contraption fits over your shoulders and makes you appear a bit like a police officer on a riot line – but it works.  Standing on stage after the show, with only the faint sounds of an Earth, Wind & Fire song in the background to feel the mood – I finally discovered an instrument that I can play.  Sort of.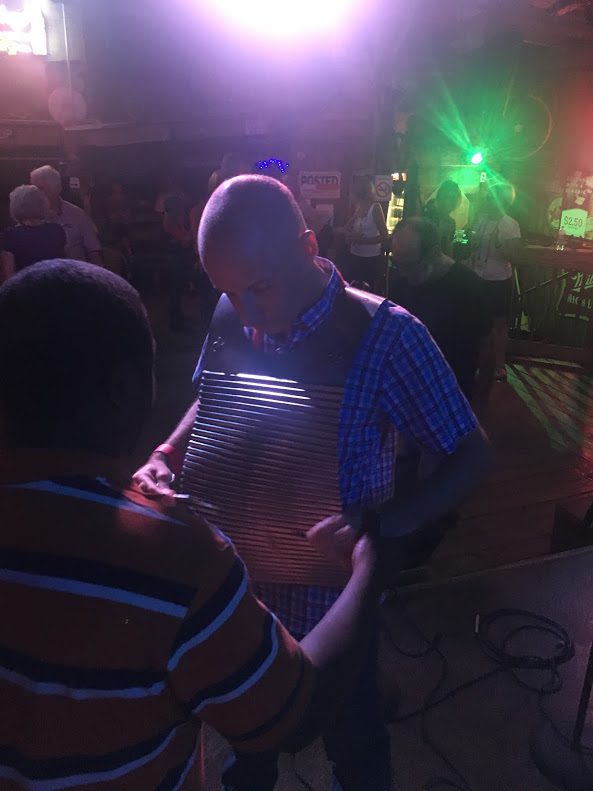 Creative Cajuns
Chances are if you call Lafayette home – you know how to make things.  It was as though everyone in town could paint a picture or build something that's one of a kind.
Bruce Odell is a three-time U.S. Pottery Olympics champion.  Pat and Andrew Juneau are constantly making art in their home about 30 minutes outside of town.  Paula McDowell makes jewelry.  I had the chance to watch all of them work their magic in person and sample a small flavor of how art helps add to the happiness of Lafayette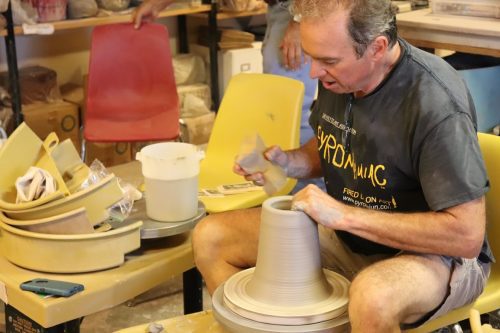 At the Juneau family residence, which is more like one big art studio with a bedroom hidden away someplace, Mr. Juneau takes requests for metal shapes from a group of travel writers.  One by one, he quickly draws flowers, letters and animals before cutting the personalized gifts to those of us in his workshop. (I walked away with a metal Christmas ornament in the shape of Louisiana.)
Plus, you've not lived until you whack a piece of warm metal into your own custom spoon.  Another gift from the Juneau clan.  Ah, the perks of being a travel journalist.
Every Day Is A Festival.  (Or At Least It Seems That Way.)
Flipping through a guidebook of annual festivals, I started to figure out how people in this town stay so happy.   I mean, what's not to smile about when you're dancing to live music, enjoying deep-fried novelties and soaking in a sunny Louisiana afternoon.
The Acadien Et Creoles Festival was in progress at Girard Park during my visit.  The festivities begin on Friday afternoon with a traditional "cutting of the Boudin".  Media gathered around a table near the performing stage to witness a handful of organizers, scissors in hand, cut the Cajun sausage.  And just like that – the party begins.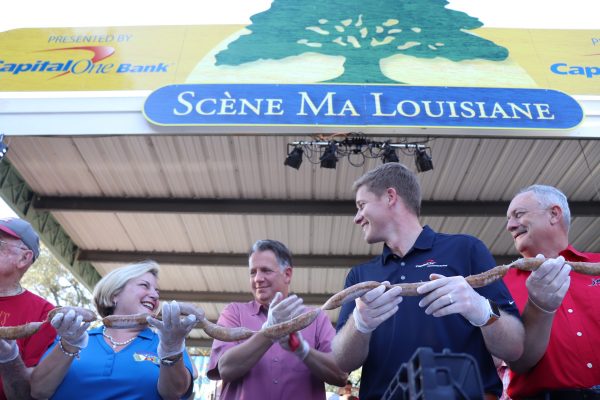 Bring Your Appetite 
No matter where you go in Lafayette (or Louisiana for that matter) – you should probably only dine on water and Saltine crackers the week before your arrive.   The good folks of this southern state love to eat – and more important, they love to share their cuisine with guests.
In my book, 100 Things To Do In America Before You Die – one of the uniquely American experiences I suggest everyone should have is: "Try Louisiana Food".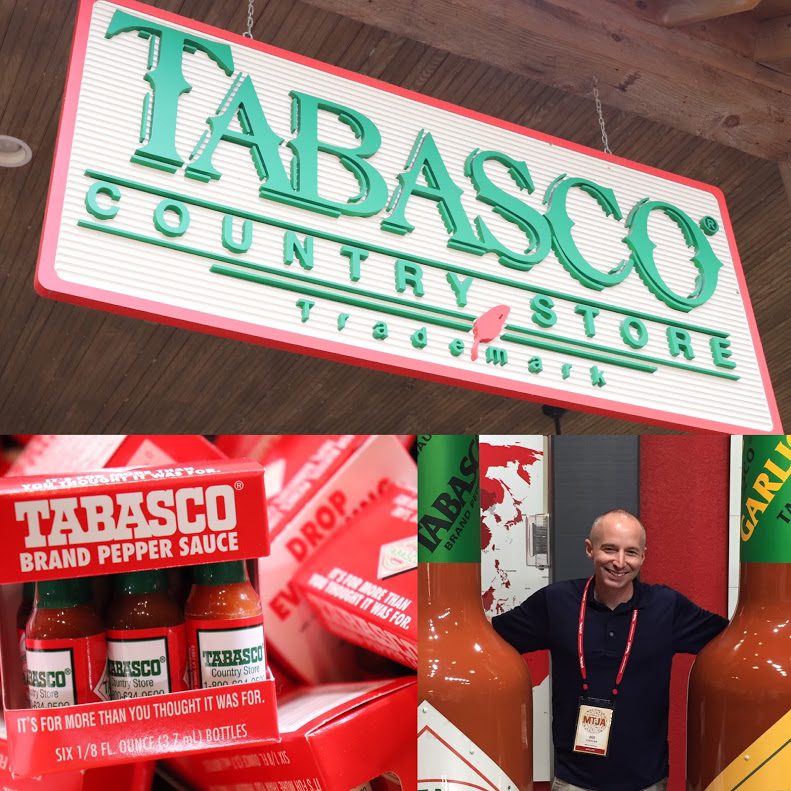 If you've never had this opportunity, brace yourself for an entirely new delight on your tastebuds.  And if you're like me – and hate alligators – there's great pleasure in eating them deep-fried.  (Yes, it tastes like chicken.)
Gator Done 
Gator Done – see what I did there?  A trip to the Bayou isn't complete without an up close look at a Louisiana swamp.  With any luck, you'll run into some interesting characters – both in your boat and under the water.
For an early-riser, consider a sunrise swamp tour.  For the rest of us normal people – a simple ride through the swamp in search of wild life will give you a great thrill and plenty of opportunities to get great photos or video.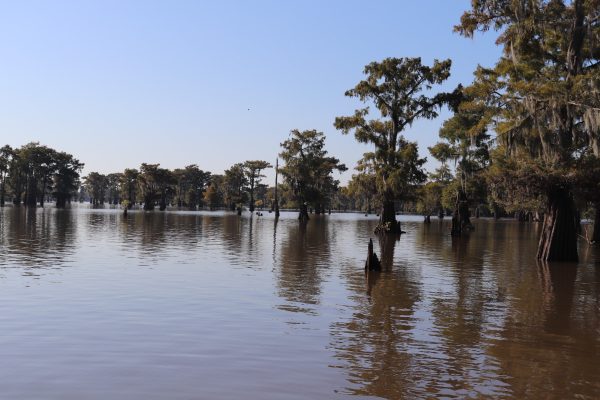 To add Lafayette to your next road trip across America – check out: lafayettetravel.com for more information.
Watch this episode of Rediscover America with highlights of Lafayette, Louisiana!