Everyone knows that Arkansas has been the butt of jokes since it became a state in 1836. The stereotype of the average Arkansas resident is largely ignorant and most definitely unfortunate.
Little Rock, the state's capital and largest city is experiencing a revival that can largely be traced back to 2004 and the opening of the William Jefferson Clinton Presidential Library. There were a handful of possible sites around the country but Clinton chose the state where he rose to fame as a Governor and beloved local politician.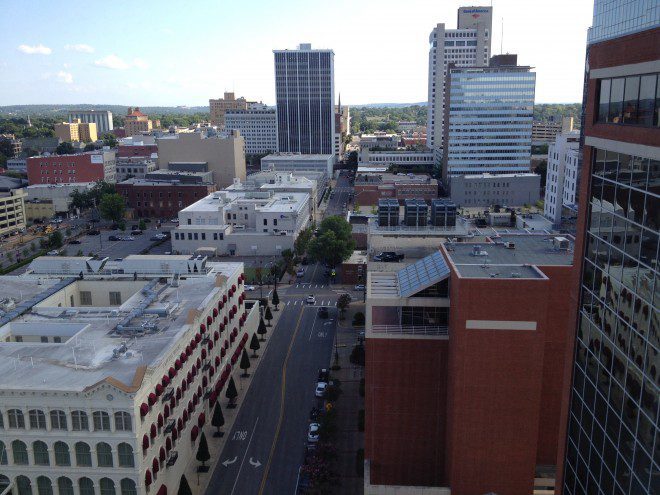 At nearly every stop along the way – business owners and residents will tell you that without the Clinton library being built here – Little Rock would be a very different place in 2014. Looking out from the library's second story windows facing downtown – a staffer points out building after building that's been added to the skyline over the last 10 years.
For two days, I explored the city of Little Rock and saw first hand that there's a lot to love.
Thank you to the Little Rock Marriot for hosting me during my visit. The hotel has undergone a recent multi-million dollar renovation and is in a perfect location for getting to hotspots around town.
Starting Over
Scattered about town are plenty of examples where local residents have taken it upon themselves to turn around Little Rock. One of many great success stories include Rock Town Distillery. Started by Phil Brandon who had been laid off by a long time employer and made the jump from a 9-5 job in technology to operating the first legal distillery in Arkansas since Prohibition. It's won numerous awards and honors since its founding in 2010.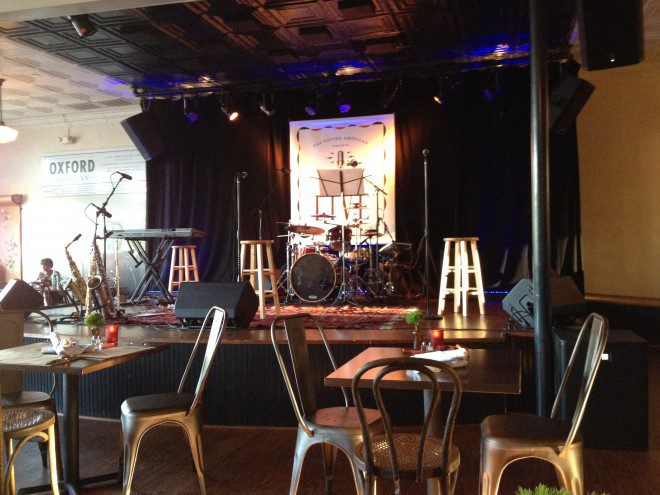 South Main Street features a re-birth of another Little Rock neighborhood. Anita Davis has been a leader in the positive changes seen here in recent years. Her quirky Esse Purse Museum & Store, the only one like it in the country, is part of a bustling section of town with new businesses and community projects. A fun community sculpture garden, dining options and more. According to locals, the business owners in this neighborhood work well together and cheer for the success of their next door establishments.
Down the street you'll find South On Main – a unique dining experience that features live music and entertainment, located directly next door to the headquarters of the American Oxford magazine. The magazine and restaurant co-exist through an interesting partnership where many of the performances tie into recent magazine content.
During our visit, the hall was standing room only with all age groups eating, drinking and tapping their toes to the act on stage.
Tour With A Twist
Without a doubt the most unique tour I've ever taken happened during my visit to Little Rock. Segway Of Arkansas is a small business operated by a jubilant 20 year resident named "Nez". Nez is excitable, full of passion about his city and despite a thick accent (he's originally from Turkey) he could easily go toe to toe with any history buff handing out Little Rock trivia.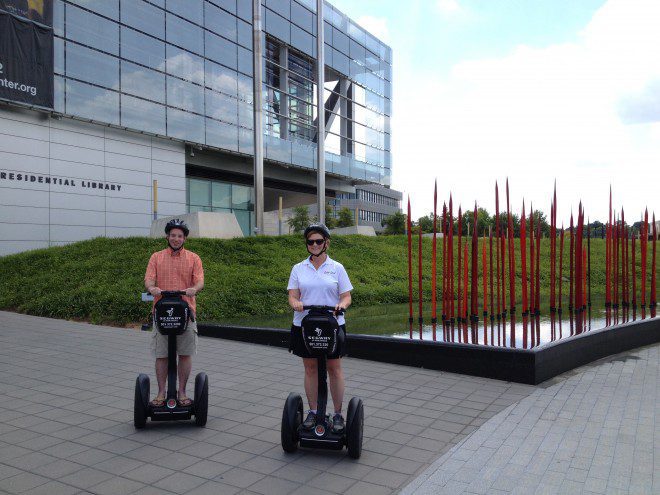 Learning to ride a Segway only took about 15 minutes – where confidence was key. (Nervously shaking or over reacting will cause the machine to mimic your moves – including falling to the sidewalk.) After a quick tutorial – we took our Segways across a pedestrian bridge over the Arkansas river and along pathways through parks not far from the Clinton library. Zipping past an outdoor theater and the Little Rock Public Market, the tour seemed like something every visitor (and local) should experience.
It's fun seeing a community showing pride in a re-birthed area of town. Here along the river, new sculptures are popping up, families are enjoying the beautiful parks and the city calendar is filled with activities for the area. The Little Rock Parks & Recreation department along with other city leaders and groups should be commended for additions like the the Arkansas River Trail, various pavilions and plazas as well as the Junction Bridge connecting North Little Rock.
In the evening, five of the six bridges that cross the river in Little Rock are lit up at night. Not just lit up – but equipped with colored LED lights that can be remotely adjusted for any occasion. The pedestrian bridges can even be rented for a party or meeting.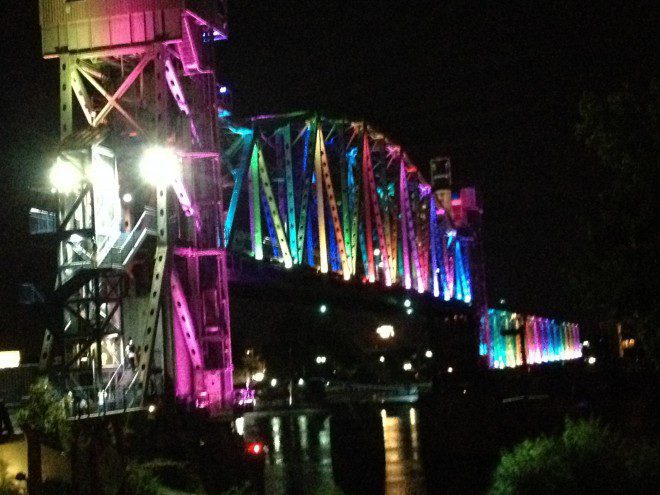 Charity & History
Walking distance from the Clinton Library is the headquarters for Heifer International. Housed in a stunning state of the art and energy efficient building, the worldwide charity organization is on a quest to end poverty and hunger. The "teach a man to fish…" philosophy that Heifer embraces is unique and quite frankly – brilliant. As many respected charities help to feed struggling families and communities – Heifer actually works to teach and train these same people to feed themselves. It's a fantastic model that other charities and welfare programs should take note of.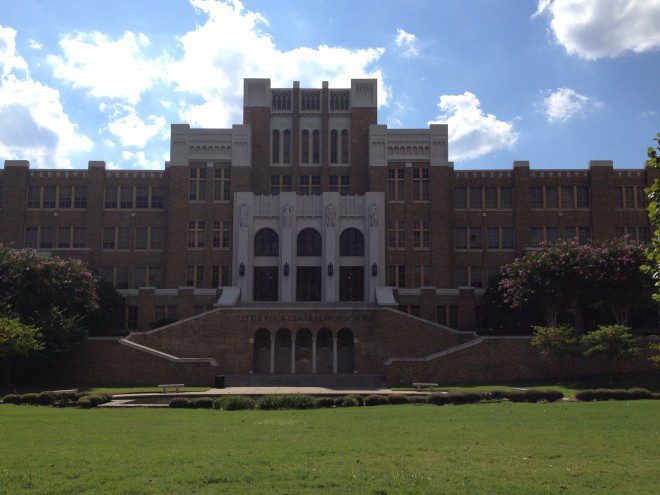 Across town – nine black teenagers made headlines around the world as they attended Little Rock's Central High School in 1957. Known as the "Little Rock 9" – these brave kids were pushed into the spotlight and subject to anger, violence and hatred by whites who were staunchly against desegregation. Knowing the story and pausing for a few minutes in front of the high school leaves you a bit pensive. The school is still open and a visitors center nearby pays homage to the history of the kids and those surrounding events.
Little Rock is also the birthplace of General Douglas MacArthur. The MacArthur Museum of Arkansas Military History is where the future General was born in 1880. You can tour the building and see military memorabilia including a cool collection of war posters and a rare US flag that hangs over the staircase.
Museum Of Discovery
I love meeting people that are fortunate enough to love what they do for a living.  The staff at the Museum of Discovery clearly fall into that category.  During my visit, we played games that measured brain activity (what a surprise – I lost) and learned how much energy it takes to power a fan and light bulb.  They also display the only moon rock in the state of Arkansas as well as a fun video showing ways to sneeze without spreading germs.
Don't Assume. Visit.
Arkansas is widely (and wrongly) viewed by many as a place with nothing but banjo playing hillbillies that certainly must still have to hunt for their dinner every night and probably only have black and white TV sets. The state indeed has an above average amount of poverty but in Little Rock – investments, tourists and dedicated residents have combined to make the state's capital a fun, lovable southern destination.