Maryland Heights bills itself as "St. Louis' backyard".  (Of course, if you're arriving from the west, would that make it the front yard?)  Either way, the community of 27,000 is one of the 88 different municipalities in the county that outsiders simply call "St. Louis".  However, if you plan to visit the region – it's good to know that there are real differences in each of these communities and some can offer more than others.
As the St. Louis Blues get set to start a new season as reigning champs of the NHL – they've freshened up from an exciting off season in one place – Maryland Heights.  Centene Community Ice Center, the brand new, state of the art sports facility is the new practice home of the Blues, and part of a growing list of top-notch attractions in town.   From the county's largest public park to new entertainment venues like Westport Social – this so-called "backyard" is becoming one of the most popular in the neighborhood.
Depending on the weight of your pedaling foot – Maryland Heights is about 25 minutes from most places in downtown St. Louis and an even shorter drive to historic St. Charles.  With 4,000 hotel rooms, plenty of dining options, and things to keep you busy – it's a perfect location for a local staycation or a home base during your visit to the region.  If you're flying in – Lambert Airport is an easy 15 minutes away and some of the local hotels offer free shuttle service.
Watch my video highlighting Maryland Heights:
So what are some of the highlights from my time in Maryland Heights?  I'm glad you asked.  Here are a few of my favorite attractions:
Creve Coeur Park
The largest public park in Saint Louis County is also one of the most popular in the region.  Known for being a great place to kayak, go for a run, or ride your bike – Creve Coeur Park is an all around awesome place to get outdoors and have fun with the entire family.  The park has a fascinating history as it was once used as an amusement park at the end of the 19th century and residents of Saint Louis used to travel to the area by cable car.
These days there are various shelters available for rent if you're looking to do a family picnic or gathering with friends.  They have four playgrounds and a spray fountain area for kids.  You can enjoy a disc golf course, fishing, tennis courts, archery, hiking, and of course – fun on the lake.
Go Ape!
Swing above Creve Coeur Park on a fun tree-top and ropes course.  The course includes zip lines, too!  A perfect activity for the entire family or a team building event.
Westport Social
Westport Social is a great place to hang out with friends or co-workers and grab a drink or tasty snacks!  The best part – all of the games!  Darts, ping-pong, basketball, bocce ball, karaoke, and more!  Live music most weekends, too.  The place is huge.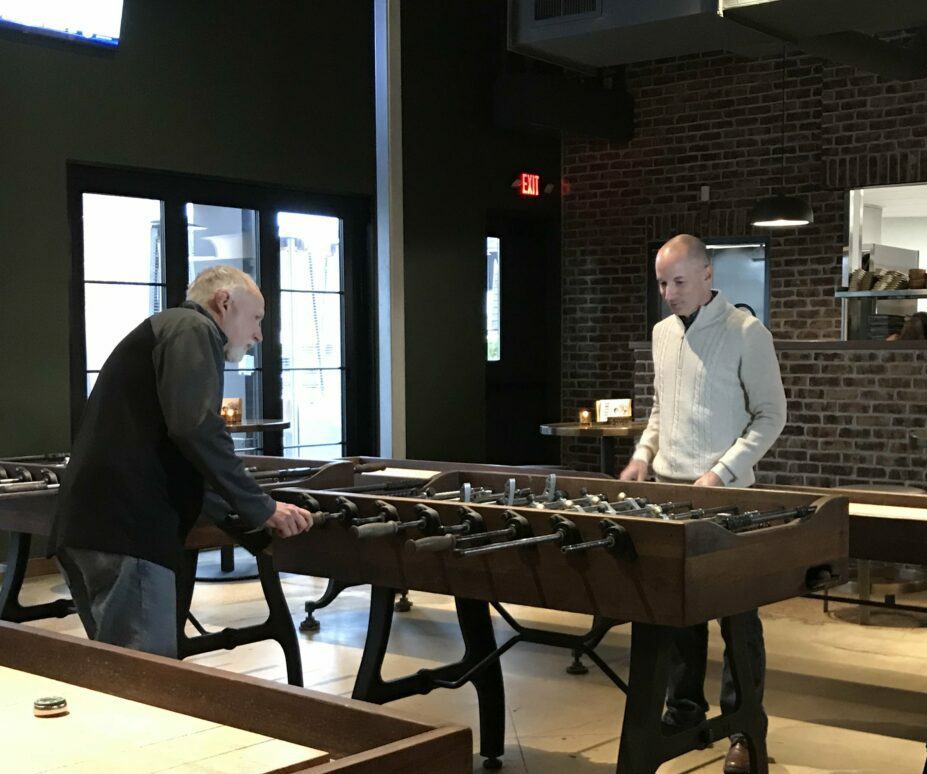 Westport Plaza
Long an entertainment staple in Saint Louis County – Westport is once again a popular gathering spot for dinner, drinks, and entertainment!
Centene Community Ice Center
The Saint Louis Blues now have their brand new training facility in the Centene Community Ice Center.  It's absolutely beautiful and a dream come true for hockey and ice skating enthusiasts.  Not only will it serve as the practice facility for the Blues, the center will offer lessons and welcome teams and tournaments to the region.
Other things to see and do:
Westport Playhouse – See a quality musical performance in the intimate theater at Westport Plaza.
Funny Bone Comedy Club – The most well known comedy club in the St. Louis area.
Hollywood Casino – The city's popular casino features restaurants and a hotel, in addition to shuttle services to Hollywood Casino Amphitheater for concerts.
Hollywood Casino Amphitheater – See some of the country's hottest touring music acts!
For a full list of things to do and places to stay in Maryland Heights – be sure to visit their tourism website:  visitmarylandheights.org