Propped up against the door of my suite at Bellasera Hotel, the local newspaper has "Pickleball Tourney Worth Millions" splashed across its front page as I head out to start my week in Naples, Florida.
More than a few times, residents here used the key word "paradise" when describing their home town.   City officials are hoping that the players participating in the U.S. Open Pickleball Championships have the same opinion by the end of the week.
Despite more than 800 participants from 39 states and 7 different countries – Pickleball is largely unknown to most Americans, including residents of Naples.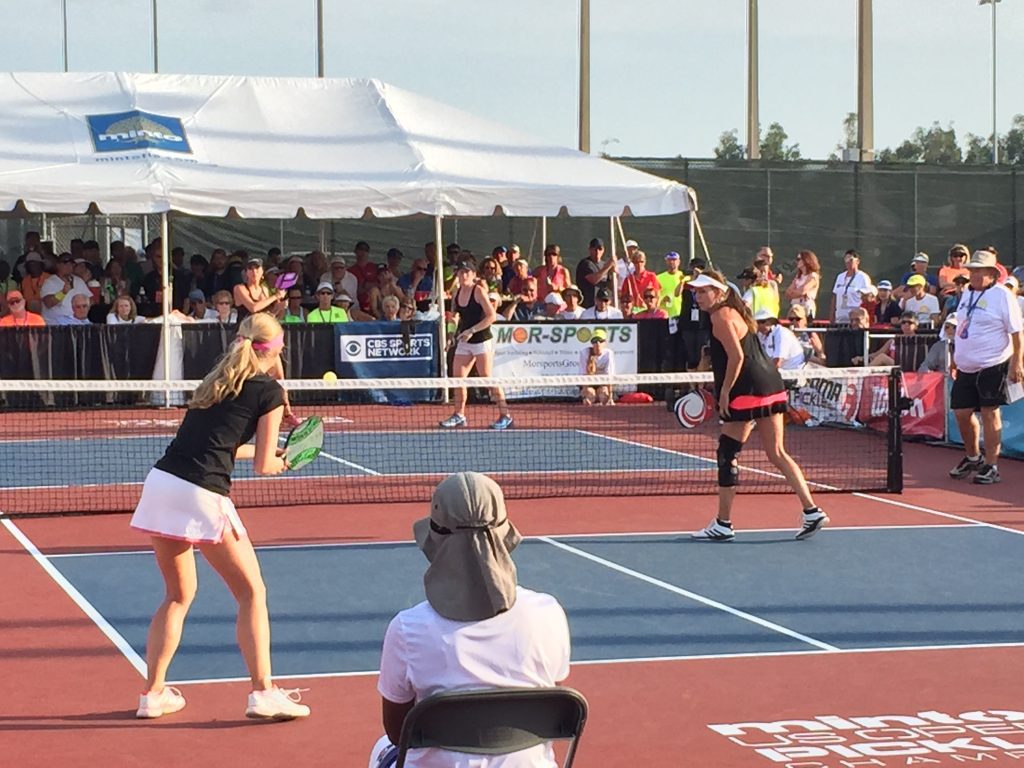 "I've heard about it, but what is it?" says the owner of a local pizzeria where I stopped to grab a bite to eat.  She looked puzzled as I described the rules of the game over a pepperoni slice.
Pickleball has been around, largely in schools, since the 60's while just recently rising to a new level of popularity.  The game now has its own governing body – the USAPA, an online Pickleball TV channel and even its own magazine.   Players play outdoors in places with warmer climates (Florida, California, Arizona) while the rest of the country plays a mix of indoors and outdoors depending on the weather.
The city of Naples took a gamble on hosting the first ever U.S. Open for Pickleball – and by most accounts, the wager paid off.
While there were a few hiccups along the way, the debut tournament was well received by both professional  athletes and other participants that played just for fun.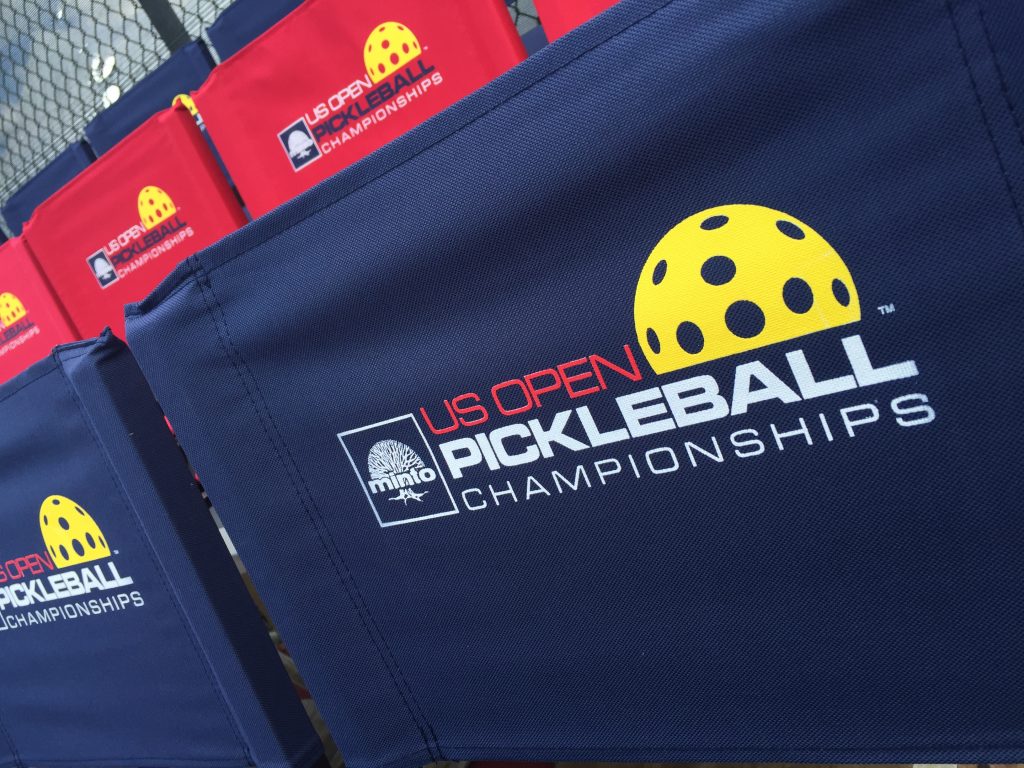 "We came down and looked at East Naples Community Park and saw the potential" says Chris Evon with Spirit Promotions.    We worked with the Naples CVB who understood the growth of Pickleball and three days after we made a presentation – offered us a three year contract.
Like any conference or sports championship – a hosting city has an opportunity to showcase itself to visitors from all over the country.  While Naples certainly boasts multi million dollar homes, expensive sports cars and fine dining – it can still be an affordable destination, especially for those that travel in groups.
Back at Bellasera Hotel, General Manager Brian Schomacker brags that his property is hosting many of the participants in the tournament.  The condo style suites with full kitchen and living space make the perfect accommodations for larger groups that want to visit Naples and play Pickleball.  At every turn, guests are sporting bright colored t-shirts that read "Pickleball Rocks" or logos with humorous takes on their sport with the funny name.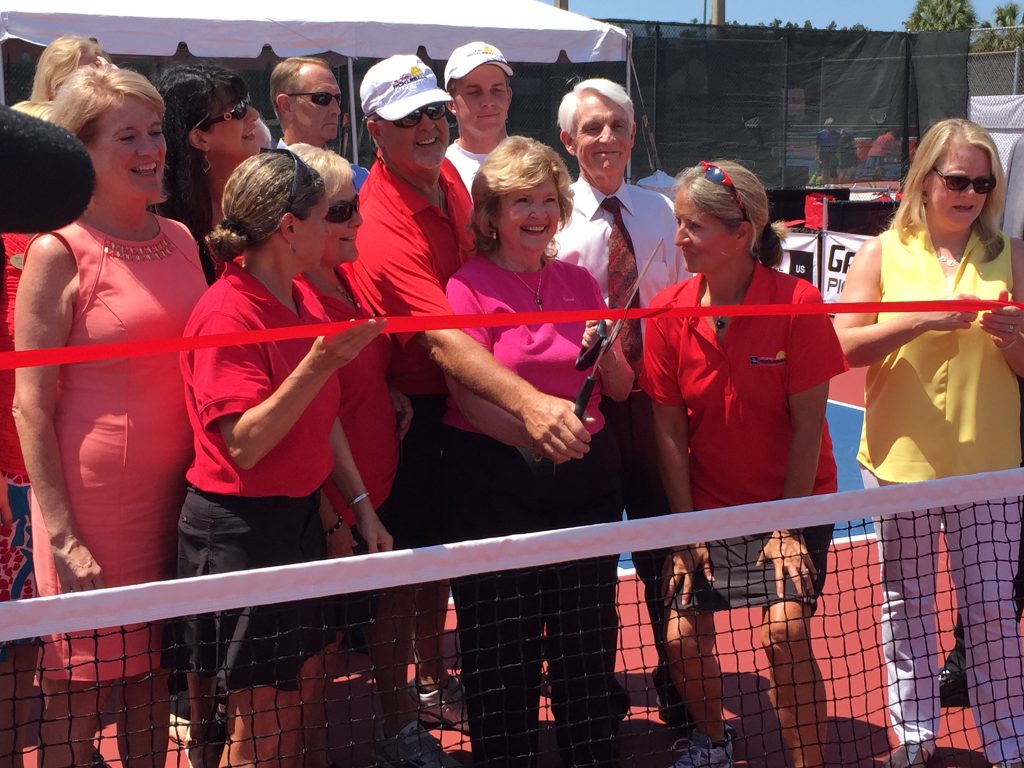 Walking around the tournament site, mingling with other visitors – it's fun to see just how far Pickleball has spread around the world.  While most of the players are from the United States – you do catch the occasional accent from somewhere across the ocean.
Bonnie & Phil Coburn traveled from Rochester, New York simply to volunteer.  "We learned to play Pickleball in 2008 while traveling  across the U.S. and staying in RV parks where everyone was playing the game. " says Bonnie.   "When we got back to New York state, we found a group of about 50 people to play with.  Today, it's grown to about 700 players and more than 50 venues"
It's that growth that makes the Naples investment such a smart one.  There is literally no end in sight for the number of new players introduced to Pickleball.  While Seniors are responsible for getting the sport on the map – younger and middle aged players are now helping to even the equation.  Up until lately, players over 55 dominated the number of people that called Pickleball their #1 sport.   Today, the number has dropped to 60 percent, by some accounts.
With dozens of brand new courts and a city full of things to see and do – Naples will certainly be a place for Pickleball lovers for years to come.