While I'm sure not every single brick along the King Street sidewalks was here when George Washington frequented Alexandria, Virginia – it's easy to picture what this small town looked like when he did.
In 1814, British forces made their way to the shores here in Alexandria and a controversial decision at the time to surrender property and goods ultimately preserved these historic neighborhoods.
Still in tact – the famous Gadsby's Tavern that President Washington would frequent on his way to Mount Vernon.  Not far down the road is the Carlyle House which was built in 1753 by the city's founder – John Carlyle.  There's also America's "skinniest house" – famous for being just seven feet wide.   The Spite House was built in 1830 just for (wait for it…) spite, in order to keep people out of what was once an ally where loiterers would gather.
We love "walkable" destinations and Alexandria most definitely is.  Most of the tourist action takes place along King Street where visitors can easily wander  to a nearby coffee shop or boutique.  Public transportation in this part of the country is light years ahead of the rest of America.  The Metro system that runs into Washington DC and the surrounding areas of the region is hugely popular and pardon the phrase – but, it all runs like a well-oiled machine.   A separate trolly takes locals and tourists up and down King Street, for no charge.   With Reagan Airport along the Metro route – there is absolutely no reason why a visitor would need a car while visiting old town Alexandria.
It's also a dog friendly town.  As in – everyone that lives here owns a dog.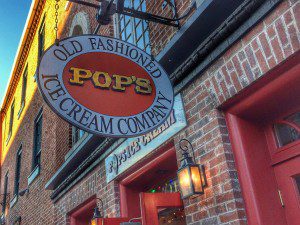 Well, that may be a bit of a stretch but people are in love with their animals.  The hotel where I stayed even allowed dogs in the rooms.
Weekend getaways should include a visit to the oldest farmer's market in the country – just outside of the Alexandria City Hall.  It started in 1753 and still continues each weekend.  The Alexandria tourism officials have created several walking tours as well – including a historic breweries tour where you can take in some history while stepping inside local pubs.
As with most historic tourism hot spots – Alexandria has plenty of small businesses where you can shop for  just about anything.   Lots of dining options as well.  During the few days in town, I dined on Italian, at a steakhouse and yes, there was ice cream.
The views near the water are fantastic.  Standing outside of the former torpedo factory turned art gallery, you can easily see some of Washington DC's most famous monuments and buildings in the distance.   Water taxi's  are available to take you to Mount Vernon where George Washington called home or perhaps you'd like to hop on a tour boat and see the DC skyline from the Potomac.   Bike rentals are available as well in designated locations around town if you'd rather see the sights on two wheels.
Bill interviews Claire Mouledoux of VisitAlexVA.com to talk about Alexandria as a tourist destination but also as a home base for people visiting Washington D.C.

http://billontheroad.com/wp-content/uploads/2014/12/Alexandira-Virginia.mp3
For more information about visiting Alexandria, Virginia you can visit: VistAlexVA.com or follow @AlexandriaVA on Twitter.