Renting a paddle boat in Forest Park should have been checked off my "to-do" list at some point in my teenage years.  Okay, twenties. Uh, thirties?
Just barely before climbing over the hill (my age, not the place with all the Italian food) I finally took a ride in the waters that have captivated locals since 1894.  Back then, they didn't have the fancy pedals – in fact, they were literal paddle boats unlike the ones they use today.
If you've ever been to Forest Park, known to most as the crown jewel of Saint Louis, Missouri – you've probably caught a glimpse of the iconic Boathouse.  These days it's run by a local barbecue restaurant and visitors are lined up, even before the gates are open.  With a distant view of the historic World's Far Pavilion and surrounded by tall grass and wildflowers, the Post-Dispatch Lake is home to waterbirds, songbirds, and even bald eagles.  Navigating around the 22-acre lake and its two small islands are kayaks, canoes, stand-up paddle boards, and yes – paddle boats.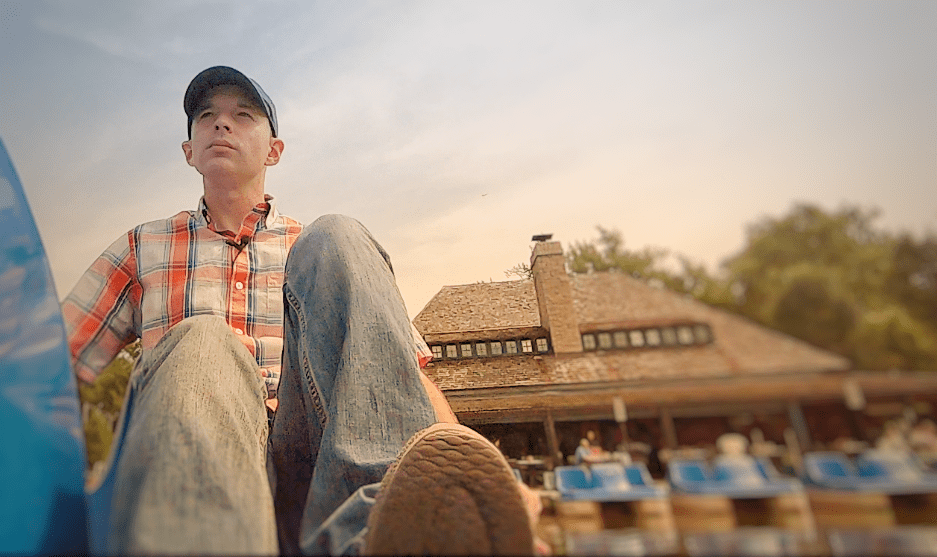 The very first thing I learned moments after departing from the Boat House dock is that operating a paddle boat is not for the faint of heart.  It's also probably not ideal for a solo ride.  It's a lot of work.  The boats don't just glide after a few pedals – you literally have to keep pedaling and pedaling.   I'm in pretty decent shape, a fairly active person and still (barely) under 40 – and I was drenched in sweat before I had even navigated 100 yards out into the water.   (Take my advice – bring along a partner and have them pedal with you – or for you.)
The water isn't too deep – about six feet in most places.  However certain spots drop down much deeper.  Avoid getting too close to the shoreline as you navigate the passageways or you might find yourself stuck in mud.
While pedaling through one of the two available routes, I couldn't help but think of the storied history of Forest Park and the lake itself.  Most locals know all too well the history of the 1904 World's Fair and all that was unveiled to the masses for the first time – like Dr. Pepper or the private automobile  But most know nothing about the history of the very lake which keeps their boats and boards afloat.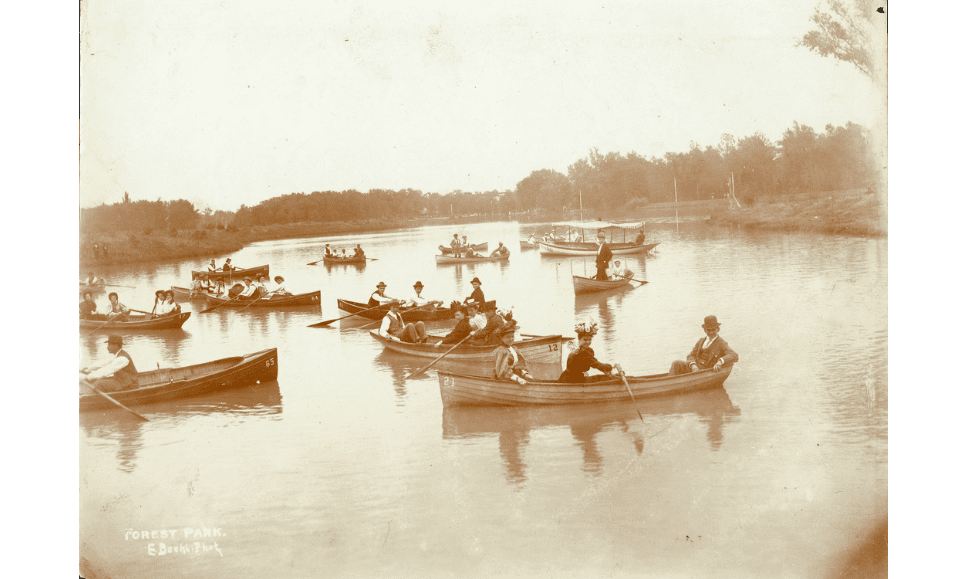 In 1893, Saint Louis went through an economic depression along with most of the United States.  A project inspired by the Saint Louis Post-Dispatch newspaper would bring contributions from civic groups, businesses, and private citizens to fund the creation of man-made lake in Forest Park.  Over 6,000 men used picks and shovels to work on the project and were paid $1.00 a day. The project helped otherwise unemployed residents survive during one of the most turbulent times in American history.   (Fun fact – the surplus money raised went to create another lake – this time in Carondelet Park.)
Now that I've finally started to get the feel for how to handle my boat – I make it to the grand prize – the historic Grand Basin, just downhill from the Saint Louis Art Museum.  Locals know it as "Art Hill" – a place where kids go sledding on the first snowy day of winter or where families sit in lawn chairs to hear a free concert by the Saint Louis Symphony.  In 1924, it was the place where hundreds of thousands gathered to welcome Charles Lindbergh after his historic "Spirit Of Saint Louis" solo flight from New York to Paris.
After narrowly missing a couple of nice ladies steering yellow canoes and getting my expensive camera wet from coasting too close to a roaring fountain, I decided it was time to head back.  I took the less scenic route which proved to be more peaceful.  The trees and tall flowers blocked most of the sound or any real view of  nearby trails.  Butterflies and ducks didn't seem to mind the company.  I slowed down just a bit to soak it all up.  The path eventually takes me under a pedestrian bridge I never knew existed.   The couple walking across it aren't quite sure what to make of the guy in the boat juggling three different cameras and a cell phone.  At least they didn't ask me what high school I went to.
Around one last corner and finally the Boathouse is back in view.  The smell of barbecue gets stronger and stronger as my legs muster the last remaining bits of energy to pedal this thing into the parked position.   With sunburnt arms, and legs of Jello, I climb back onto land – and proudly check off another must-do Saint Louis experience.
Now, if someone could just help me figure out where I put my damn car keys.
---
Boathouse Paddle Co. rents paddle boats, stand-up paddle boards, kayaks, and canoes from April through October, depending on weather.  Rentals are first come, first served.  Pets are welcome.
For more information: boathousepaddle.com
For an interactive map of Forest Park: forestparkmap.org