It's no wonder that Petit Jean State Park ranks as one of Trip Advisor's top 3 state parks in Arkansas.  And that's saying something considering Arkansas itself is billed as "the natural state".  Honestly, I didn't check to see where the park ranked among travelers – I just noted it was close to Little Rock, and that was good enough for me.  I set out to enjoy a day or two of "digital detox" – and it turned out to be the perfect spot.
The story of "Petit Jean" is pretty interesting.  In short – the tale goes that a young french girl snuck onto a ship dressed as a man to travel with her fiance and other explorers who came to the "new world" in the 1700's.  Even her fiance didn't know she was on the ship until she became ill and eventually died.  You can read the entire story here in the Encyclopedia of Arkansas.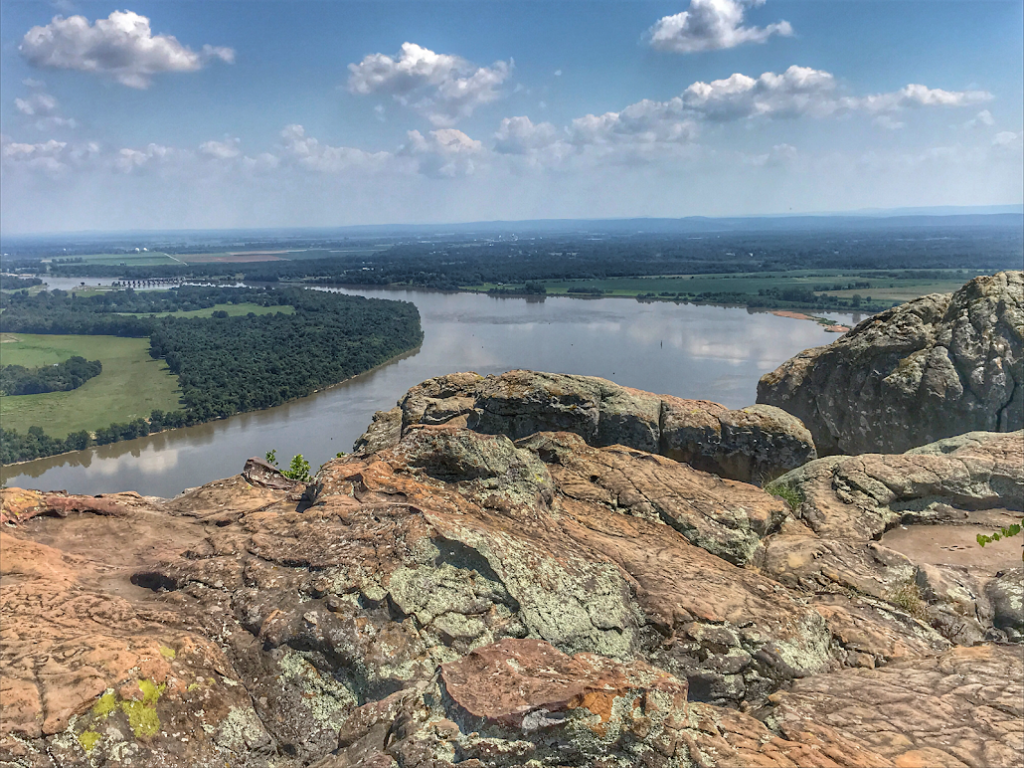 The park is exactly one hour from the state's capitol city, making it perfect for a day trip or an extra long weekend getaway after exploring Little Rock.   It has everything you'd expect from a park in this part of the country.  Great views, access to water, camping, hiking, and even a waterfall.  I stayed at the park's Mather Lodge – which was cozy, clean, and central to all of the park's outdoor activities.   The guest room was a step-up from typical lodge accommodations and provided a quiet place to rest and refresh.  (By "step-up" I basically mean it didn't smell like it was 200 years old like most lodges do.)
I'm not a fan of public swimming – but there was a very nice outdoor pool which even in mid September was being used as the weather was unseasonably warm.  The staff was friendly and helpful, though sadly, the on-site restaurant was nothing special.  (To be fair – most lodge dining isn't usually great.)   The Wi-Fi (even though I was supposed to be avoiding the internet) was pretty good – while the cell phone coverage was horrible.  (I tried to do one of my radio call-in's from just outside the lodge and finally gave up because the on-air hosts couldn't hear me.)   Be sure to bring some bug repellant – which is good advice for any park.  I found a small tick on my leg and thankfully saw it quickly.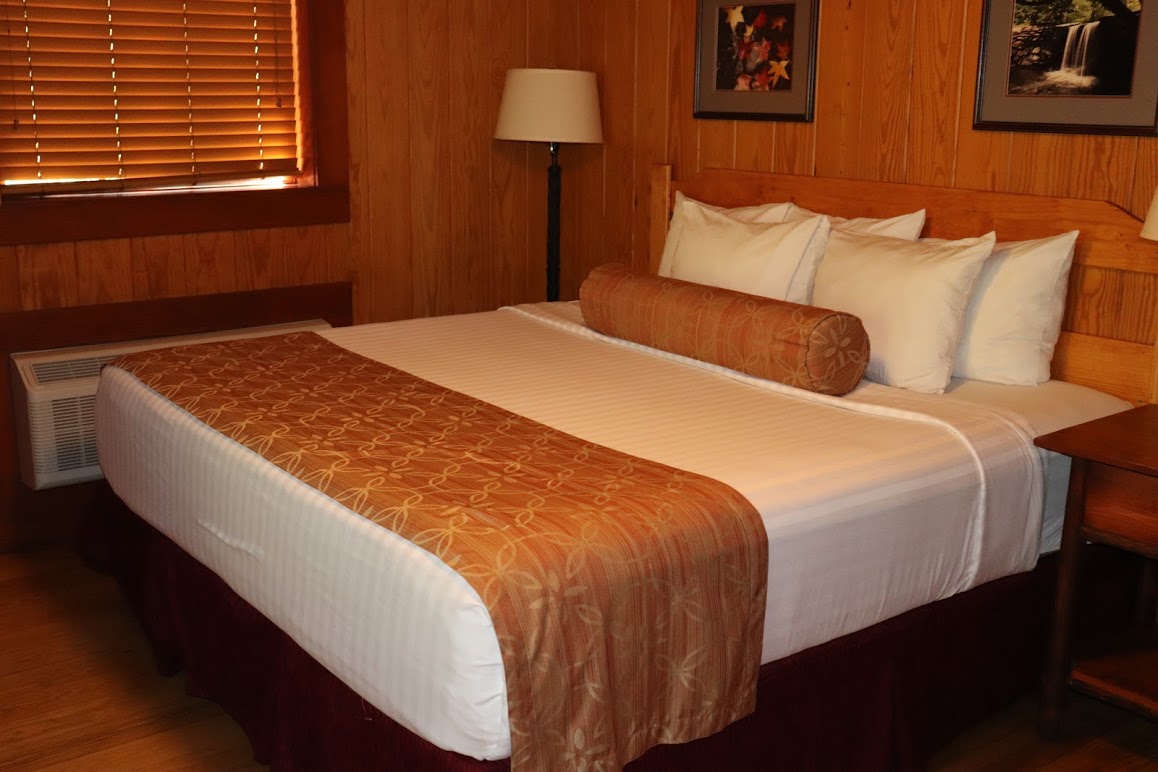 My friend from Little Rock was nice enough to drive up to the park on my second day and hike with me on the Cedar Falls Trail.  It's a moderate hike that leads to a 95 foot high waterfall.  As the lady at the lodge's front desk noted: "It feels like a mile to get down, and 20 miles to get back up."   There are lots of rocks and uneven sections of the trail – though anyone that hikes regularly would have no issues.  Even though it was a hot day, we found a pretty good amount of shade most of the way, making it fairly comfortable despite the temperatures hovering around 95 degrees.
I'm always delighted to see waterfalls – though I'd rank this one about 6/10.  (I don't actually have a standard rating system – I literally just made it up.)  I'm told that the best time to view it, naturally, is after a good rainfall.  So, plan accordingly if that's possible.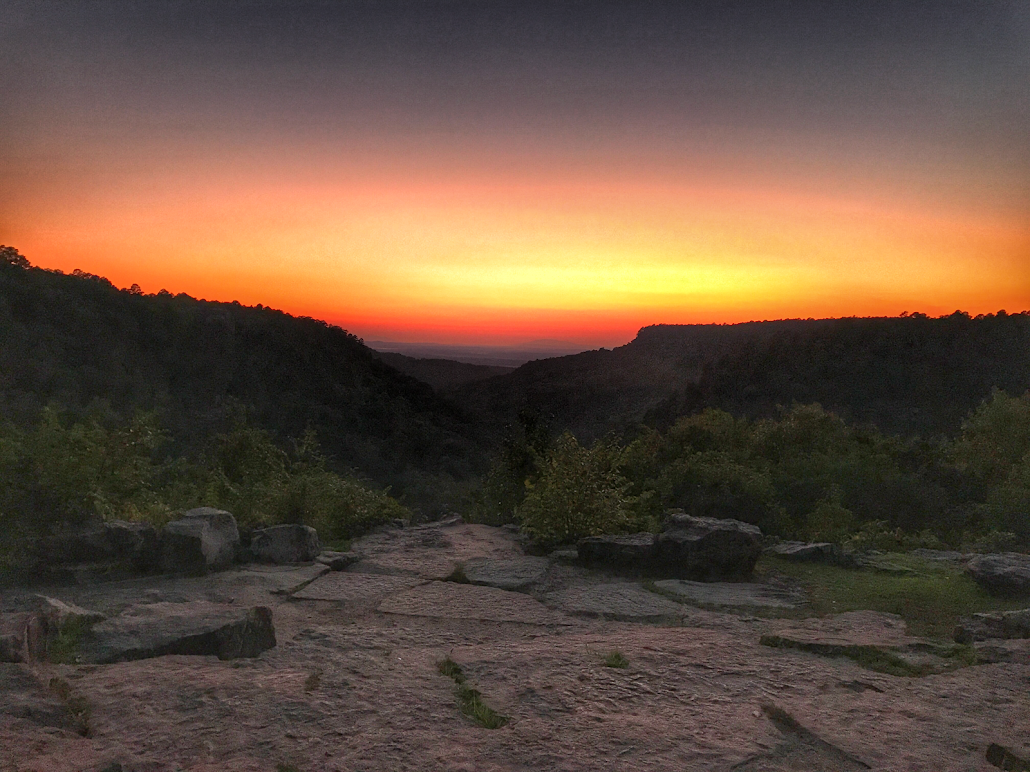 Speaking of plans – sunsets are pretty great at various spots within the park.  I actually caught my favorite photo of the sun setting just a few steps from my room at the lodge.  It was good enough to get some social media attention from Little Rock's local NBC affiliate that shared it with their viewers.
Overall, I really liked Petit Jean State Park and would definitely go back.  It gets high marks for not being too far away from the city, having clean and comfortable accommodations, and nice trails to get close to nature.
To make reservations or learn more about the park's offerings, visit the Arkansas state parks website.