Quincy, Illinois is one of the well-preserved historic river towns nestled along the banks of the mighty Mississippi River.  It's an easy day or weekend trip for travelers that live near Saint Louis (to the south) or the Quad Cities region (to the north).   I recently brought my Dad along for a day of exploring – and we had an absolute blast.
At 2,348 miles long – the Mississippi River has plenty of towns along its shores with great stories.  Quincy is one of the few that has preserved most of its original downtown buildings and the many lavish homes built here in the 1800's.  One of the best parts of the destination is simply walking or driving up and down Maine Street (no, that's not a mis-spelling) and viewing the beautiful residences.  More than a dozen home owners offer private tours of their homes throughout the year.
The riverfront with two separate bridges – one for arriving from Missouri and another for departing – has a nice park and river level access for boats.  On a beautiful day, it's a great spot to relax and soak up some rays of sunshine.  Quincy is one of the towns located on Illinois' "great river road".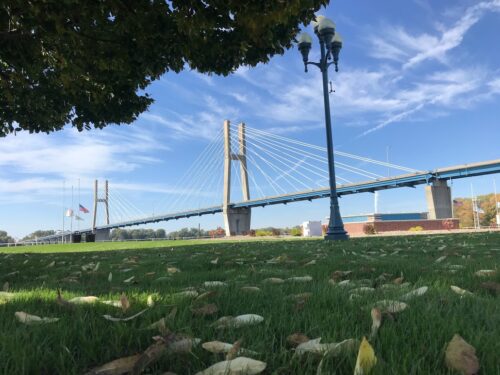 The town recalls its ties to Lincoln and the historic public debates with Frederick Douglas in Washington Park.  A sculpture marks the spot where the two men held the sixth of seven political debates. Surrounding the park are incredible structures, now inhabited by local businesses.  On one end, a beautiful theater marquee stuns while classic tin duster vehicles park across the street.  (The town welcomes 900 of the cool looking hot rods each fall – and they were zooming around town during our visit.)
If you're looking for a bite to eat – Quincy has its share of good food.  But, for a quick bite – and a cheap one at that – can't beat a sandwich at Winkings Market, the oldest grocery store in town.  For a sweet tooth – the Yum Factory, owned by a police officer turned baker – is full of great smelling goodies and candies.  While I didn't have a chance to try it personally – more than a handful of people suggested Tiramisu as a can't beat stop for Italian food.
Quincy's local visitor center, housed in the Villa Katherine Castle built in 1900, provides an abundance of ideas for things to see and do.  Be sure to check out their website for road trip ideas around the region as well as a list of top 50 experiences that includes staying overnight in a tree house.