On a recent drive through Tennessee I picked up a Country Music passport based on the popular documentary by Ken Burns.  You can find them at the state's welcome centers and rest stops.  Inside the 8 page brochure are some of country music's most famous and historic spots and attractions.  The idea is to visit – and then have your passport stamped at each spot.
Of course, over the years I've visited many of the places listed.  The Grand Ole Opry, The Birthplace of Country Music Museum, Graceland, Sun Studio, the Country Music Hall of Fame, the George Jone's Museum and others.  However, there were a handful of spots listed that I hadn't had a chance to experience.  So, for fun – I took an entire day and tried to see as many of these un-seen spots as I could before the sun went down.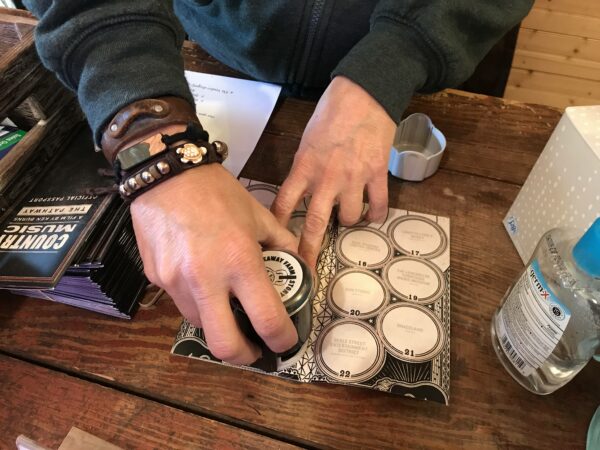 I started with the Songbirds Guitar Museum in Chattanooga, Tennessee.  While I don't really know much about guitars – I know enough to appreciate their value and the worth – both to the owner and musicians who play these instruments.  Speaking of owner – this particular collection is apparently the largest privately owned guitar collection in the world.  Only a portion of the collection is in the museum.  Don't worry – you'll see plenty.
There are over 300 guitars from the 1920's to present day and interesting history notes along the way on interactive Ipads.  The guitars are not meant to be famous because of their previous owners (though some were used by famous musicians) but rather their rareness and value.  Tucked away in the back are vaults where some of the most expensive and collectible guitars are located.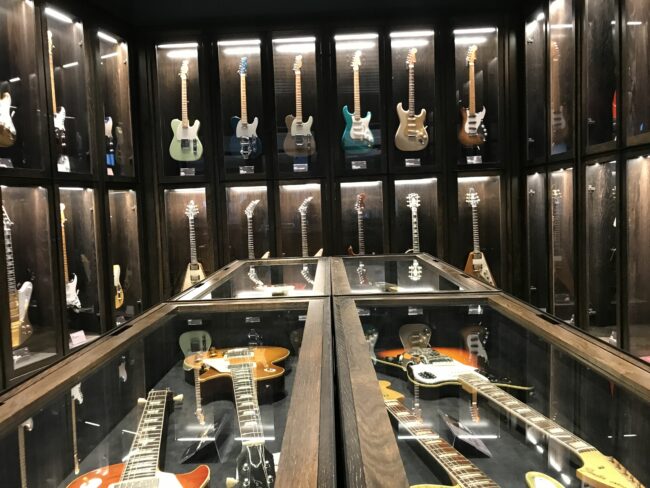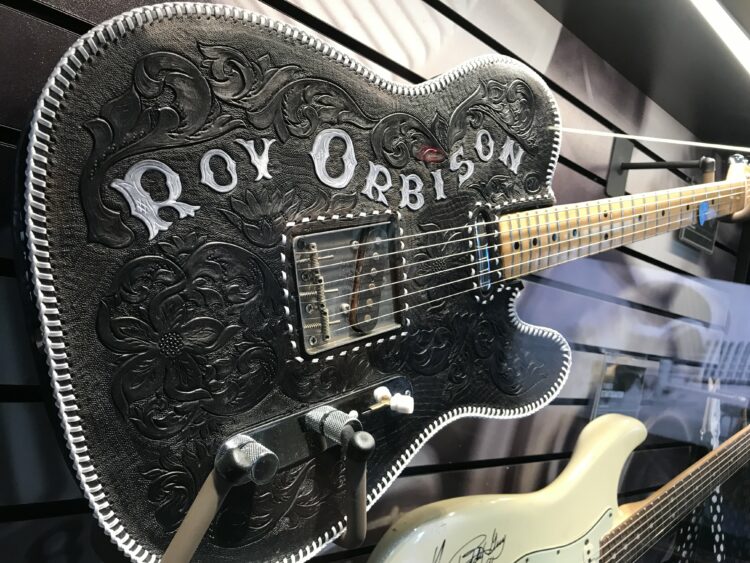 After a quick visit to Songbirds, it was off to my next stop – Storytellers Museum & Hideaway Farm.  This restored general store is now a museum dedicated to life of Johnny Cash.  Inside you'll see the bed from Cash's Hendersonville home, as well as other more amusing pieces of music history.  Ever wanted to see Elvis's bathtub?  Probably not – but it's there!  You'll also be treated to a live performance by Cash's nephew who regularly sings and plays guitar on the venue's stage.
A mile down the road is Hideaway Farm which is where Johnny Cash spent most of his down time.  He referred to it as "the center of his universe" noting the peaceful surroundings and an escape from his celebrity status.  The property is beautiful, the ranch home is incredibly modest considering who lived there.  You'll drive through security gates donned with musical notes.  On site is the car known as the One Piece At A Time car which was a hit Cash recording in 1976.  You'll also see the stage where Johnny Cash filmed his television show.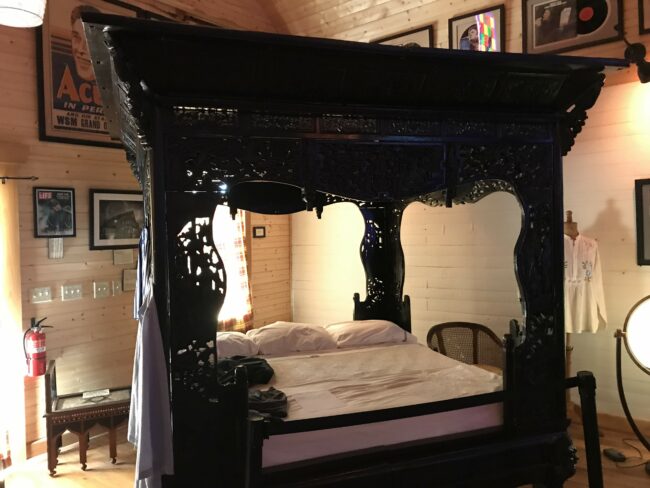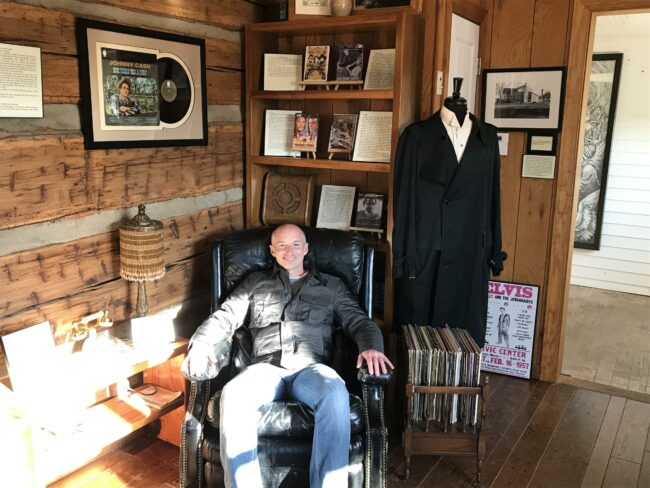 Inside the two story ranch house is more memorabilia including Johnny's worn down (but comfortable) black recliner that he used to relax and look out at the property.  It's worth noting that you'll need to visit the museum first before you get access to the ranch.)
Two stamps down – and the sun was starting to set.  It was about 4pm and I was about 40 minutes away from Loretta Lynn's Ranch in Hurricane Mills, Tennessee.  I arrived just as they were wrapping up tours for the day.  Still, I drove on through and was able to drive around the property, completely void of any visitors at this point and pulled right up to the gates of her plantation house.
I had no idea what a sprawling piece of property Lynn's ranch had become.  There was a track for racing, horses, shops, camping sites, and more.  I zipped along pretty fast, hoping to do one last stop before the sun went completely down.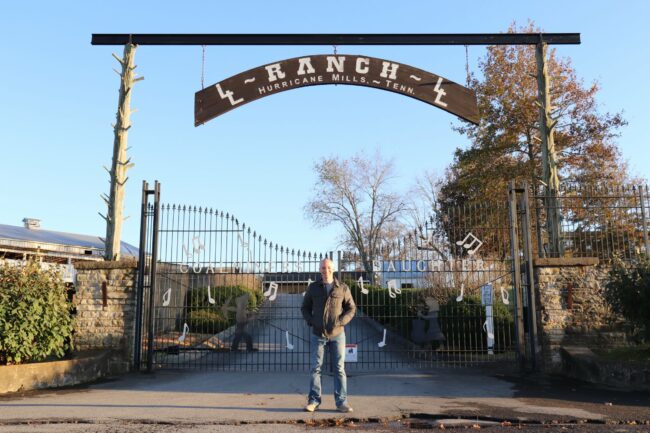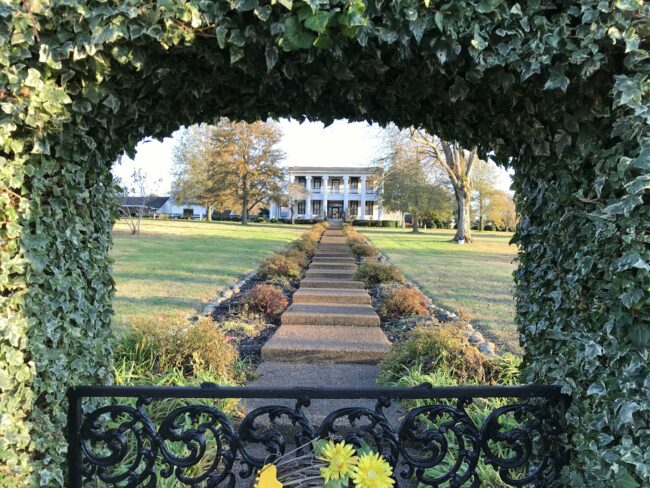 The closest site that's listed on the passport was the location of the plane crash that killed Patsy Cline.  Oddly enough, Loretta Lynn and Patsy were great friends so it seemed fitting.  It took longer than I had anticipated, mostly because of slow drivers on one lane country roads – but I finally made it.
The crash site is noted by a historical marker, a cross, and a pathway leads you into the woods where a large rock has the names of Cline and the others that died in the crash in 1963.   Some fans had recently left flowers and coins.   I made my way back up to my car with almost no light at all – and it was freezing cold and quiet – which made the stop a bit more eerie and somber.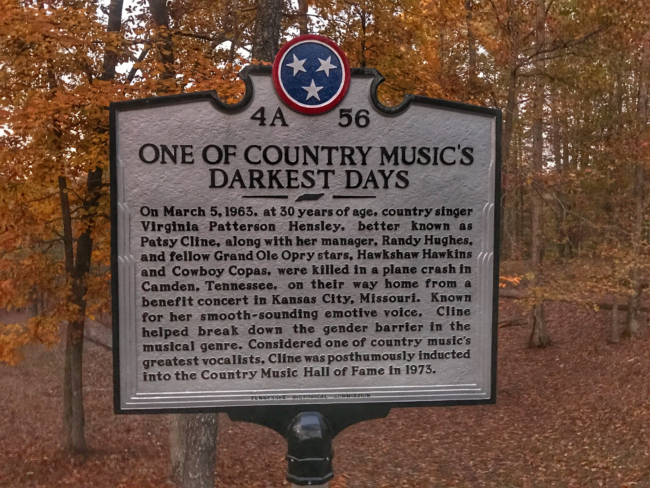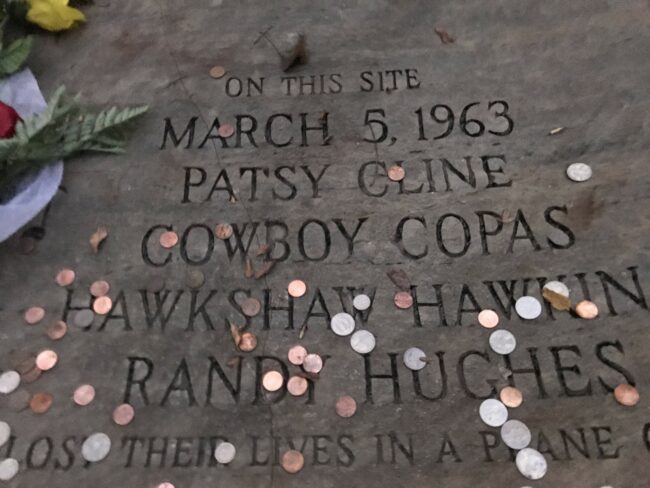 Overall, the passport is a terrific idea and a fun way to explore some of country music's best attractions and sites.  To learn more about the passport and how to win prizes for collecting all of the stamps on the Tennessee tourism website.