Are you thinking about visiting Chicago for the first time? I just recently spent a few days in the Windy City for the first time in over 20 years! My road trip from St. Louis to Chicago and left me wondering why it took me so long to return! I had an absolute blast rediscovering the city and it definitely won't be two decades before I make another visit.
I'm going to share a few things that I learned during my recent trip and also suggest some fun attractions that everyone has should experience on their first visit to Chicago. You can also watch my short video below that highlights all of the experiences I enjoyed!
Chicago Attractions
First of all, Chicago has so many things to see and do! You'll definitely want to plan ahead and think about where you want to visit and what kinds of experiences you want to have.
Consider purchasing a Chicago CityPASS to get a huge discount on admission prices to some of the city's top attractions like Shedd Aquarium, The Field Museum, and the Art Institute of Chicago. It also eliminates the need to buy individual tickets and you'll simply scan the one barcode as you enter places.
There are other museums around the city that range from historic to downright quirky. I stopped into the Museum of Illusions for a quick tour. If you're a fan of art that plays tricks on your mind and optical illusions, this is the place for you. They'll even put your head on a platter.
There are a few things that anyone visiting Chicago for the first time just has to do! The first is a photo with one of the city's most iconic sculptures – Cloud Gate. Most people refer to it as "the bean". It's located in Millennium Park and shows reflections of the city's skyline in all directions.
Another must-do is a visit to the Willis Tower (formerly Sears Tower) and experiencing the SkyDeck. You'll hop into an elevator that takes you up to the 103rd floor in about a minute. (Your ears will probably pop from the lightning fast ride!) Once you arrive at the top you're free to roam and view Chicago from all directions through the giant floor to ceiling windows. For an incredible photo-op, you can stand on "The Ledge" — a glass floor that extends off the edge of the building.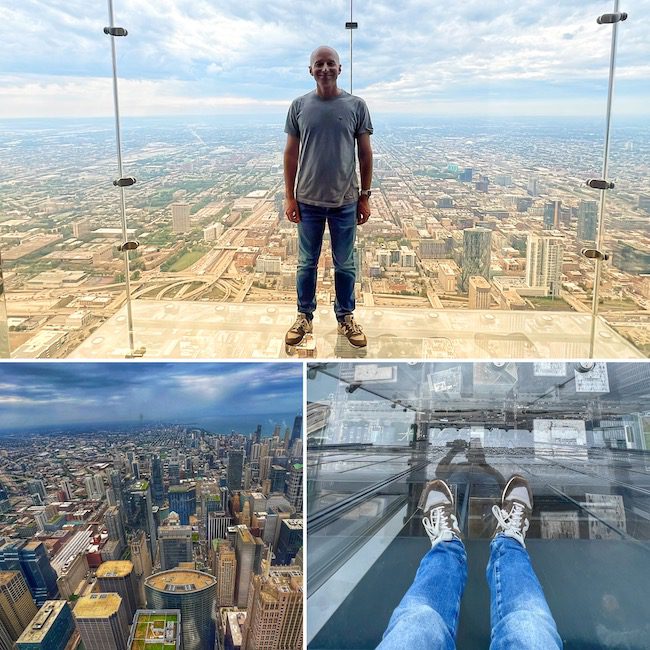 The third must-do experience on a first time visit to Chicago is an architecture cruise on the Chicago River. Chicago's First Lady Cruises offers a really informative and enjoyable 90 minute ride up and down the river while you stare in amazement at all of Chicago's gorgeous skyscrapers and historic buildings.
Food To Try When Visiting Chicago
Depending on who you talk to, there are several "must-try" favorite foods of Chicago. Deep Dish pizza gets a lot of buzz though most locals will tell you they rarely eat it. If you want a fun tour and history lesson about pizza in the city, check out Chicago Pizza Tours.
To be honest, the one food experience I heard over and over before my trip wasn't pizza or hot dogs, it was ice cream. The Rainbow Cone debuted in Chicago back in 1926. It has five flavorful layers: orange sherbet, pistachio, palmer house, strawberry, and chocolate. I must say — it was pretty amazing. I ate the entire thing. (Though I had mine in a cup since my teeth are sensitive. The girl behind the counter told me it still counted if I skipped the cone.)
Walking Around Chicago
I worked off some of the calories as I walked over to Buckingham Fountain in Grant Park. You may recognize the fountain from the opening of the TV show Married With Children. The fountain has no relation to Buckingham Palace or England, by the way. It does have 1.5 million gallons of water and performs regular shows each hour.
Speaking of walking, Chicago is incredibly walkable! You can enjoy the Chicago Riverwalk or a stroll along Lake Michigan between Navy Pier and the museums on the south end of Michigan Avenue. There were lots of people roaming around during the day and into the early evening. I felt pretty safe though it's always smart to be aware of your surroundings.
The city has plenty of taxis, Ubers, and public transportation options if you aren't able to walk long distances or you're wanting to travel to a place like Wrigley Field that's more than a few miles from downtown.
Where To Stay in Chicago
If you're able to afford it, it really pays to stay downtown near the bustling hub of the city. It will make getting to places by foot much easier and save the hassle of parking. Chicago is full of hotels, many with historic ties.
I stayed at the Chicago Athletic Association Hotel directly across from Millennium Park. The hotel was once the premier athletic club in the city with big shots like William Wrigley as members. The interior is absolutely gorgeous and cozy. It's a fun spot for locals to hang out as well – with fireplaces, multiple restaurants and a top floor patio that overlooks the park across the street.
The fine dining option in the hotel is called the Cherry Circle Room. It's an intimate setting with the lights way down low and a cool bar that curves along the room. I was treated to dinner here one night and it was absolutely incredible. The staff at the hotel couldn't have been more friendly.
Fun Fact – the Chicago Cubs baseball team got their logo from the Chicago Athletic Club. You'll notice it on doors and on walls throughout the building. You can take a quick tour of the hotel and the room I stayed in by watching the video below!