One peek inside the winter homes of Thomas Edison and Henry Ford in Fort Meyers, Florida and you'll think their families never left. Both homes are beautifully decorated for the holidays. Even the dining room tables are set for a lavish Christmas meal.
Thomas Edison bought property here in the late 1800s and built a winter getaway to escape the cold New Jersey winters. Years later, Edison's good friend, Henry Ford purchased a house next door after previous visits to Fort Meyers.
Today, the property consists of the main Edison winter home; a guest house; the Ford winter home; a botanical garden; a museum; and Edison's lab which was used in researching domestic grown trees for rubber.
Visitors can enjoy guided or self-guided tours around the estate and look directly into the houses through modified doors and windows. The best feature of the Edison house is the spacious, wraparound porch. The Edison family enjoyed spending time outside and the porch provided a perfect opportunity for shade and a beautiful view of the river on which the property sits.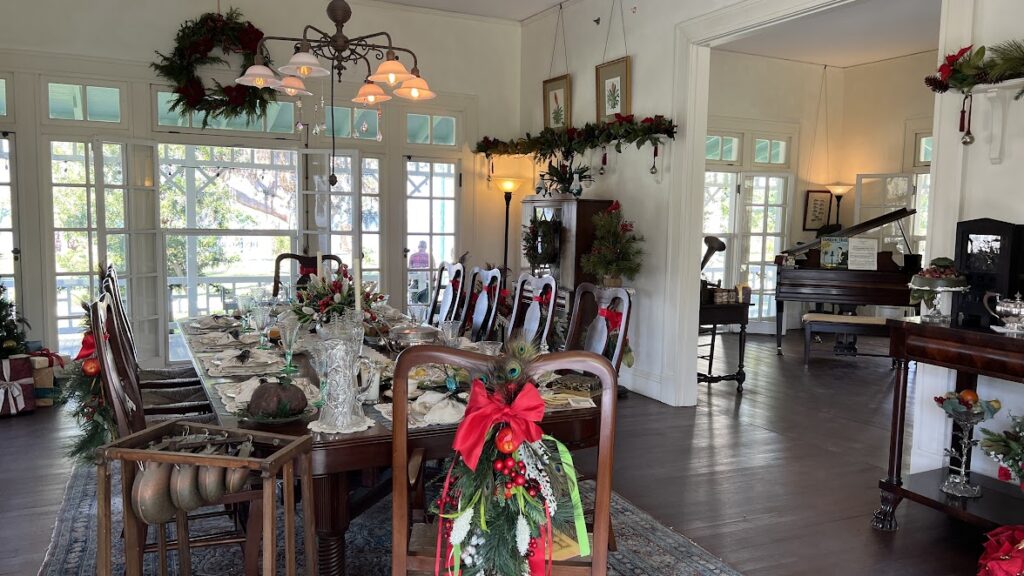 Henry Ford's home is slightly more modest though the interior woodwork makes it feel a bit more warm and cozy than the Edison house. However, the Edison home is more authentic as it was deeded directly from the family to the City of Fort Meyers with many personal items still inside.
On the other side of the street, visitors can explore a museum loaded with some of Edison's notable inventions. There are also random exhibits like a car gifted to Edison from Ford; rare phonographs; and various documents and photographs. The museum leads to Edison's research lab which visitors can view through metal fencing.
The estate is open to visitors all year long (except for Thanksgiving and Christmas Day). You should plan on spending at least two hours to see everything. For a complete list of hours and events, check out the official Edison and Ford Winter Estate website.