It's always fun to stumble upon cool places across the country like Moon Marble Company in Kansas City, Kansas.  Besides busting the stereotype that there's nothing to see in Kansas,   Bruce Breslow invites visitors into the complex world of marbles – one you probably didn't even realize exists.
Breslow, the owner of Moon Marble Company answered 10 questions for Bill On The Road after watching him work his magic while creating a brand new marble in front of an audience of KC tourists.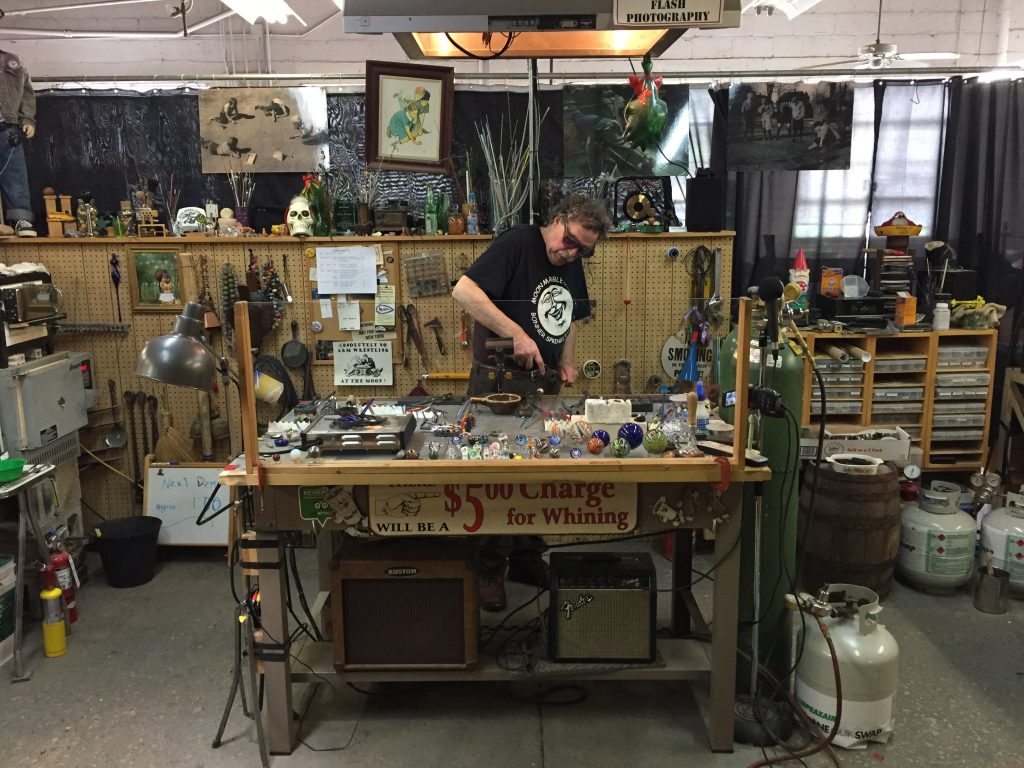 What's one thing that the average person probably doesn't know about marbles?
Probably that they are used in so many ways aside from the obvious. We sell a lot to chain saw carvers and alligator companies for eyeballs.  They are used for many industrial purposes, such as agitators in tattoo inks and paints, fish hatcheries use them as an egg laying medium. They are used in water filtration, wine making and as ballast. Just today I sent some to an oyster grower in British Columbia for a process called oyster upwelling.
How did you become interested in creating marbles?
I am a self-taught crafts person in many areas. As my interest in marbles grew I researched the history of how marbles were made and went about teaching myself how to do it.
How many times have you burned yourself while making a marble?
A few times. Luckily nothing serious.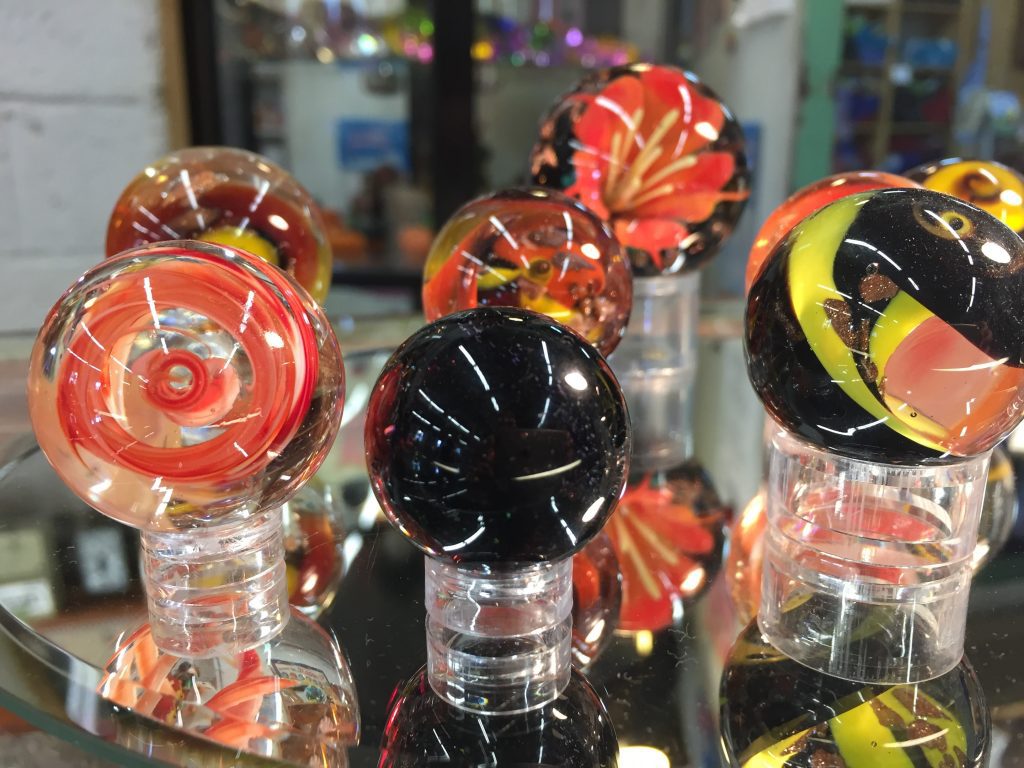 What makes one marble more expensive than another?
In the handmade marbles it is a combination of the materials used (some of the glass can be quite expensive), the difficulty of the design and the time and practice in executing it, as well as the popularity of the artist.
Your business card title says "Artist/Owner" – which is more important? Being the owner or the artist?
Not sure what he would say to that one. As an artist I have a need to express my creativity so that outlet is very important. However I also take pride in the business that I've created.
 
Do you create other things besides marbles? 
I've worked with wood most of my life and operated Bruce's Woodworks up until the marble store took over my time. I also create music; I play guitar and harmonica.

I noticed your family is involved in the business – are they artists, too?
My son Ben graduated from SCAD last year and has been helping out in the wood shop part time since then.
You have a really fun store that includes games and toys – what do most people get the biggest kick out of when they visit?
I think the nostalgic aspect is what most customers enjoy. We have toys and games that cover many eras from peoples childhoods whether they were born in the early 1900's or just a decade or two ago.

What's one thing people should know before they visit Moon Marble Company?
There are no requirements. We just hope folks feel welcome and leave with a smile on their face and maybe a few marbles in their pocket. (After checking out of course)

What's your favorite part about being in Kansas City, Kansas?
Bonner Springs Kansas is about as centrally located in the US as you can get. We are just a couple of miles off I-70 which is pretty easy access for cross country travelers. Also the KCK tourism folks have always been good to us, helping to promote Moon Marble when the opportunity arises.
To learn more about Bruce and the Moon Marble Company in Kansas City, KS visit: moonmarble.com