Driving through Oklahoma, you'd be completely forgiven if you figured there was no reason to pull off the highway and explore the city of Tulsa.  Unfortunately, there's nothing that really screams "come see me" like an iconic skyscraper or flashing neon lights.   Maybe that's because the locals want to keep it a secret, or maybe it's because Tulsa hasn't tried to be a must-see destination before.   At least until now.
The town that had its original glory days with the historic oil boom in early 1900's is quietly showing up on the radar once again as a place to be.   In other words, it's good once again to be 'livin' on Tulsa time."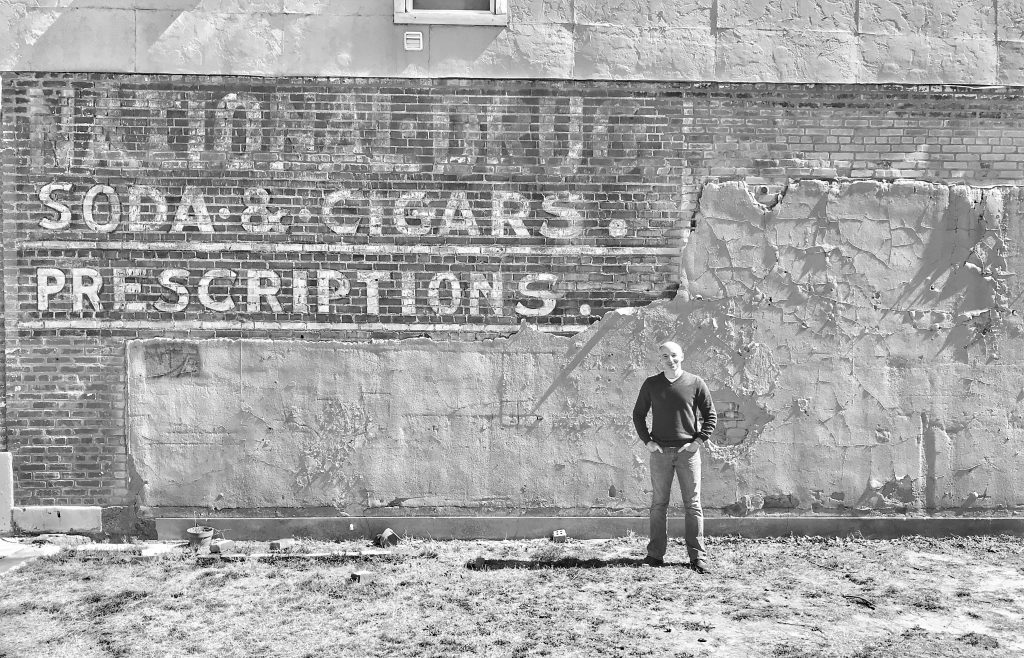 My first visit to Tulsa was a short one – in for just a few hours to do a story on one of the most respected art museums in the country, Philbrook.  The former mansion of Waite Phillips (Phillips 66 fame) was donated to the city in 1932.  I was so impressed that I included it in my book 100 Things To Do In America Before You Die.
Tulsa is a town just waiting to be rediscovered.  Many of the historic downtown buildings with rich history and designs that could never be duplicated today, are being re-purposed with new businesses moving downtown.  Places like Glacier Confection, a specialty chocolate and candy shop have sensed the renewed interest in Tulsa enough to open a big, brand new, state of the art gathering spot that looks like a flashy Hollywood nightclub for chocolate lovers.  (Though unlike a Hollywood nightclub, you'll actually want to see behind the scenes – which you can do through huge glass windows that show the chocolate making process.)
A quick drive through town and you may feel like you're in a place that's already seen its best days.  Slow down a bit, and you'll notice the changes – new hotels, new lofts, beautiful murals covering up once aging brick walls, and terrific new restaurants.
Over on South Trenton, Teresa Knox is busy leading the effort to restore an old church.  The building is known as The Church Studio where musician Leon Russell and other famous music acts once recorded songs.  (Willie Nelson, Bonnie Raiit, Eric Clapton, and Tom Petty to name a few.)  Today, it's vacant, and undergoing serious construction efforts to bring it back to life.   Knox is a huge fan and has sunk a considerable amount of her own money into the project and locals hope when completed, it's another stop for tourists.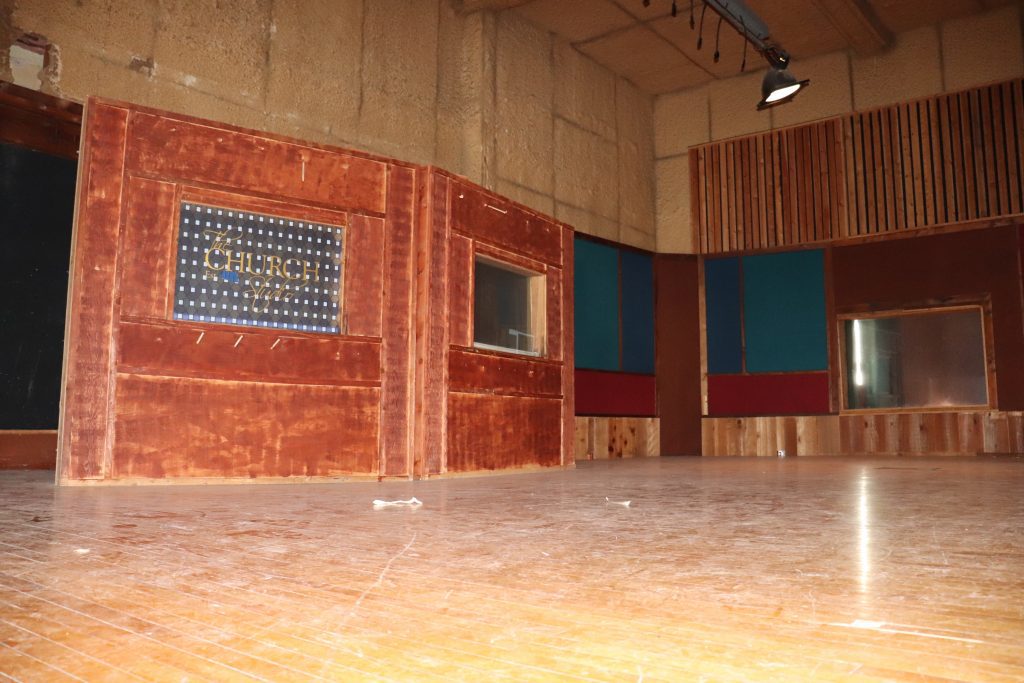 Located along Route 66, Tulsa still has some of the vintage flavor of America's mother road.  There are also quirky attractions that make for great selfie stops.  The Blue Whale of Catoosa, a gigantic art piece and favorite of road trippers is located just outside of town.  The Golden Driller, a 75 foot high sculpture on the Oklahoma State Fairgrounds, is probably the city's most popular photo op for tourists.
If museums are your thing – in addition to Philbrook, the Gilcrease Museum of Art is worth of a stop as well as the Woody Guthrie Center downtown.  The man best known for penning the lyrics to "This Land Is Your Land" is honored with an inspiring tribute to Guthrie and efforts to bring equality to all Americans through music.   The current special exhibit featured personal collectibles from Marty Stuart that included rare items like the handwritten lyrics to "Wichita Lineman".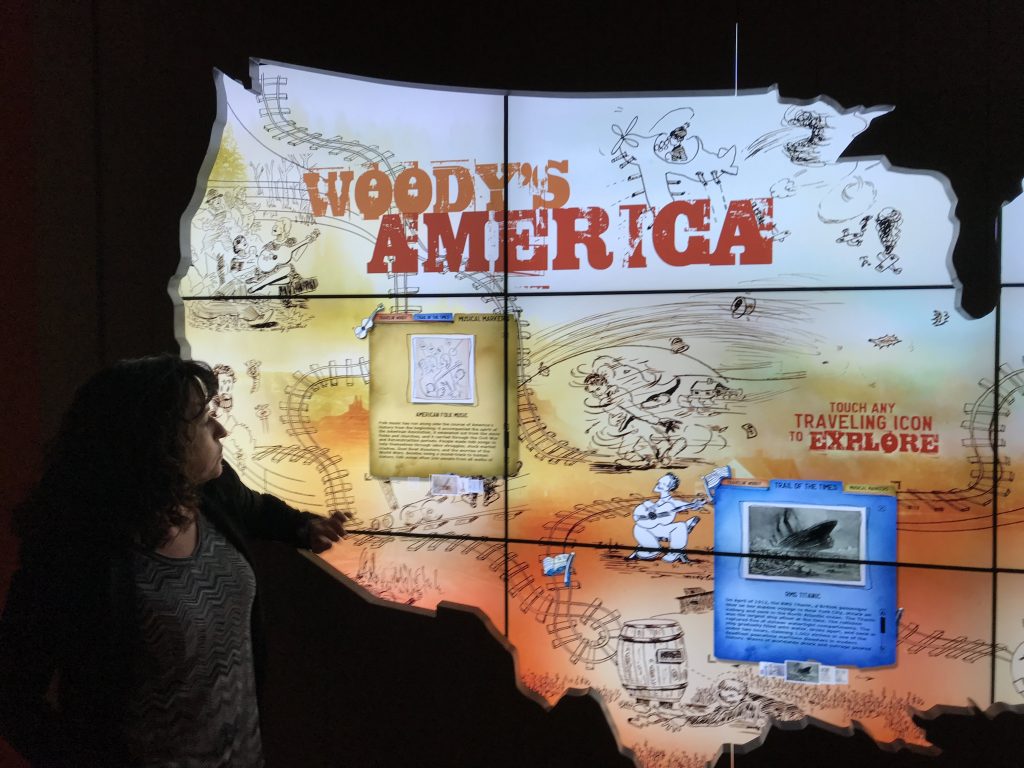 Tulsa even has a great minor league baseball stadium for its hometown team – The Drillers.
Down below the city streets are a series of tunnels that many locals don't even seem to be familiar with.  Underneath many of the buildings constructed during Tulsa's heyday you can find routes that take you from place to place – if you know where you're going.
Kelly Gibson not only knows where she's going, she seems to know every person that appears at the end of each tunnel.  Bubbly and full of stories – Ms. Gibson owns Tours Of Tulsa and took me underground for a short history lesson of early Tulsa.  While her tour is a terrific idea for visitors, it's also a great idea for locals who may not even realize all of the grandeur that exists downtown.
One last stop before my whirlwind visit to town – a swanky joint known as The Bull In The Alley.  You literally have to look for a bull, in an alley, up above a door to find the entrance.  Good spot for drinks, or a meal for a special occasion.
Finally, as most of you know, I am not qualified to write about food.  I'm definitely not a "foodie" and don't personally travel to places for meals like so many of you.  One thing I am qualified to write about however, is pizza and calzones. (Some would argue they're essentially the same exact thing)  Thankfully, we popped into Bohemian Wood Fired Pizza for a quick lunch and I ordered a three-meat calzone.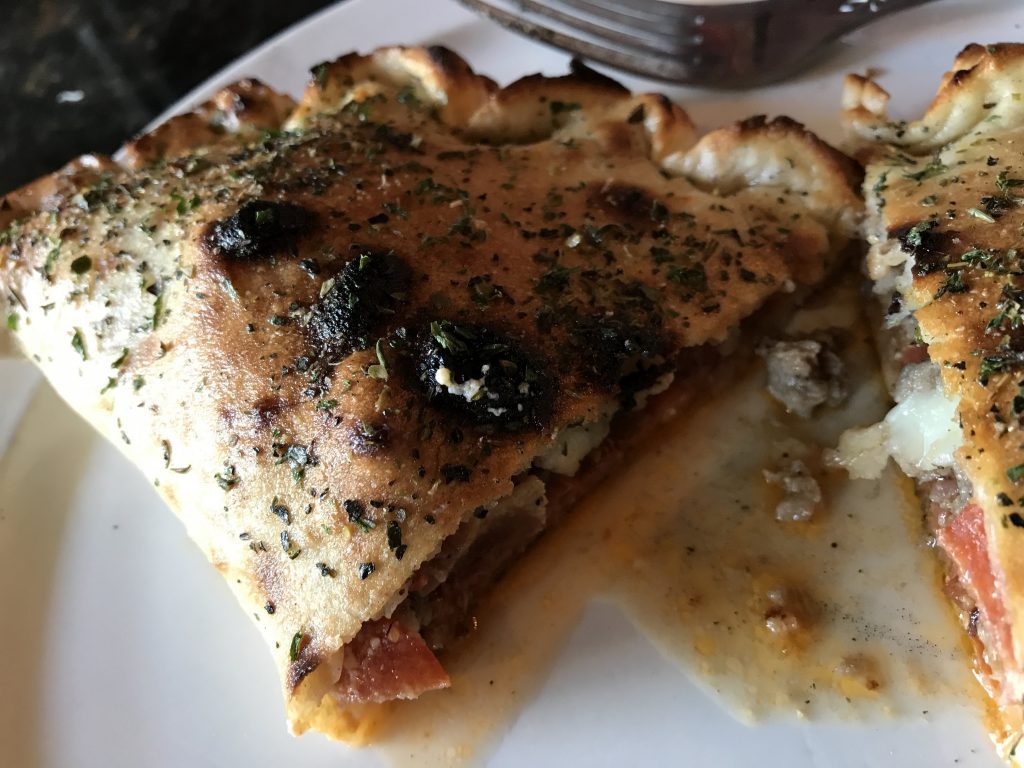 Of all the places I've eaten calzones around the U.S. (and almost always wind up disappointed), leave it to Tulsa to have the best calzone I have ever eaten – anywhere!  It was so good, I wanted to order a dozen to bring back home with me.
Maybe I'll start traveling for food after all.   Thanks for a fun 36 hours, Tulsa.