Santa Barbara has a lot to love and it was definitely one of my favorite stops during an epic California road trip. This place has everything – outdoor activities, history, great restaurants, shopping, and more. I could have stayed there for weeks! If you're heading that way, give yourself plenty of time to make the most of your visit. If you're on the fence or still need some inspiration, here are 8 things that I loved about Santa Barbara, California.
1. Beautiful History
Two of Santa Barbara's most historic spots are also the city's most photographed locations. The Santa Barbara County Courthouse is absolutely gorgeous and chances are you'll see several newlyweds posing for pictures on the grounds while you're visiting. (I'm pretty sure I wound up in at least half a dozen couple's wedding photos during my visit.)
Be sure to take the elevator all the way up to the beautiful clocktower for 360 degree views of the area. You'll definitely want to spend some time walking around the Spanish-Colonial inspired building including the mural room downstairs. Guided tours are available if you have the time.
The other photogenic building that's not to be missed is Old Mission Santa Barbara. I visited on a weekend and the grounds were full of people enjoying picnics and walking their dogs. The roses were in full bloom in the gardens across the street. It's another gorgeous setting for photos! Tours of the Mission are available for a small fee.
2. Santa Barbara Has Incredible Food!
If you love to travel for food – Santa Barbara should definitely be on your list of places to visit in California. There were SO many places to dine around town and I had the chance to enjoy several of them.
Toma Restaurant & Bar is one of the most romantic waterfront restaurants in Santa Barbara. They had an amazing menu and everything I ordered was absolutely delicious. I ate every bit of the calamari appetizer and then finished off some of the best lasagna I've ever had. The owners were top notch and the servers were friendly. This place was a winner for a fine dining experience during your visit.
Another winner, though far less formal, was a place called Lucky Penny. They specialize in wood fired pizzas which are really good. However, it was their salads that get the prize, in my opinion. You can see a glimpse of the Caesar salad I ordered in the photo above with mixed field greens, cherry tomatoes, olive oil croutons, parmesan, lemon caesar vinaigrette, and basil. It's an outdoor setting located in what's known as the "Funk Zone" where you order and take a seat at patio tables.
Here are some other notable restaurants in Santa Barbara to consider: https://santabarbaraca.com/itinerary/10-must-try-santa-barbara-restaurants/
3. You Can Catch Some Beautiful Sunsets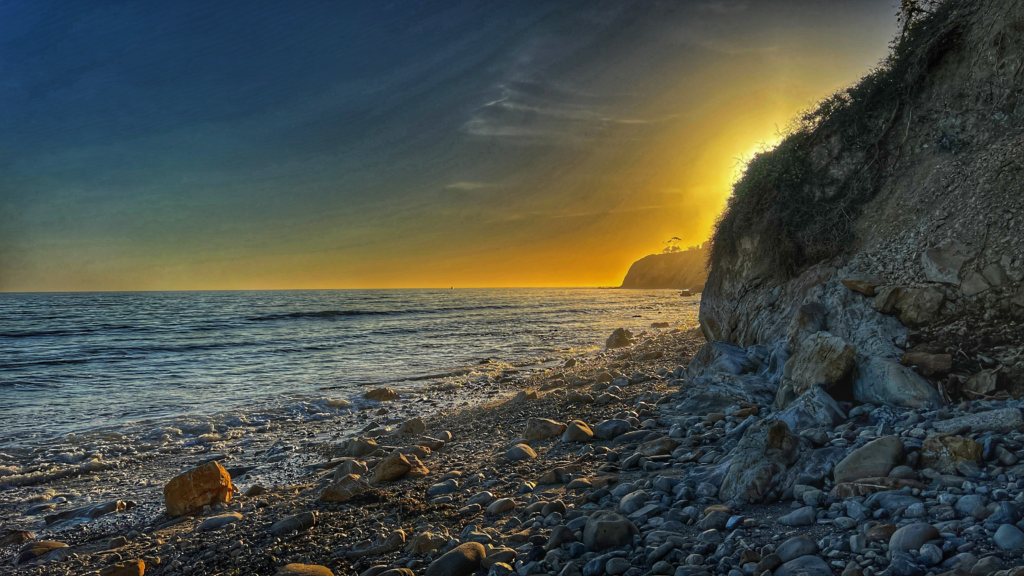 Santa Barbara has a lot of very pretty scenery and you're likely to enjoy the beautiful golden glow of the sky each evening of your visit. I caught the sun setting near Shoreline Park but there's a better option if you're willing to walk a little farther. Park your car and then head up the street to a trail called "Thousand Steps" which will take you to a rocky beachfront. (Don't worry, there aren't literally 1,000 steps.) You'll be able to watch the sun set behind a large bluff and shouldn't be too crowded.
4. They Really Love Flowers!
I have grown to really appreciate beautiful plants and flowers during my travels and Santa Barbara has incredible flowers everywhere! Whether you're in a restaurant, walking down the street, at a park – they have great flowers all over town. If you love taking photos of them like I do – you'll stay busy for awhile.
5. They Have Beautiful Tile Everywhere!
Maybe it means I'm staring at the ground too much – but I couldn't get over how many places had incredible tile designs on walkways, stairs, and along the side of buildings. It's one of the things that made Santa Barbara such a wonderful spot to spend a weekend – everywhere you look you'll see something unique and beautiful!
Look at some of these stunning designs!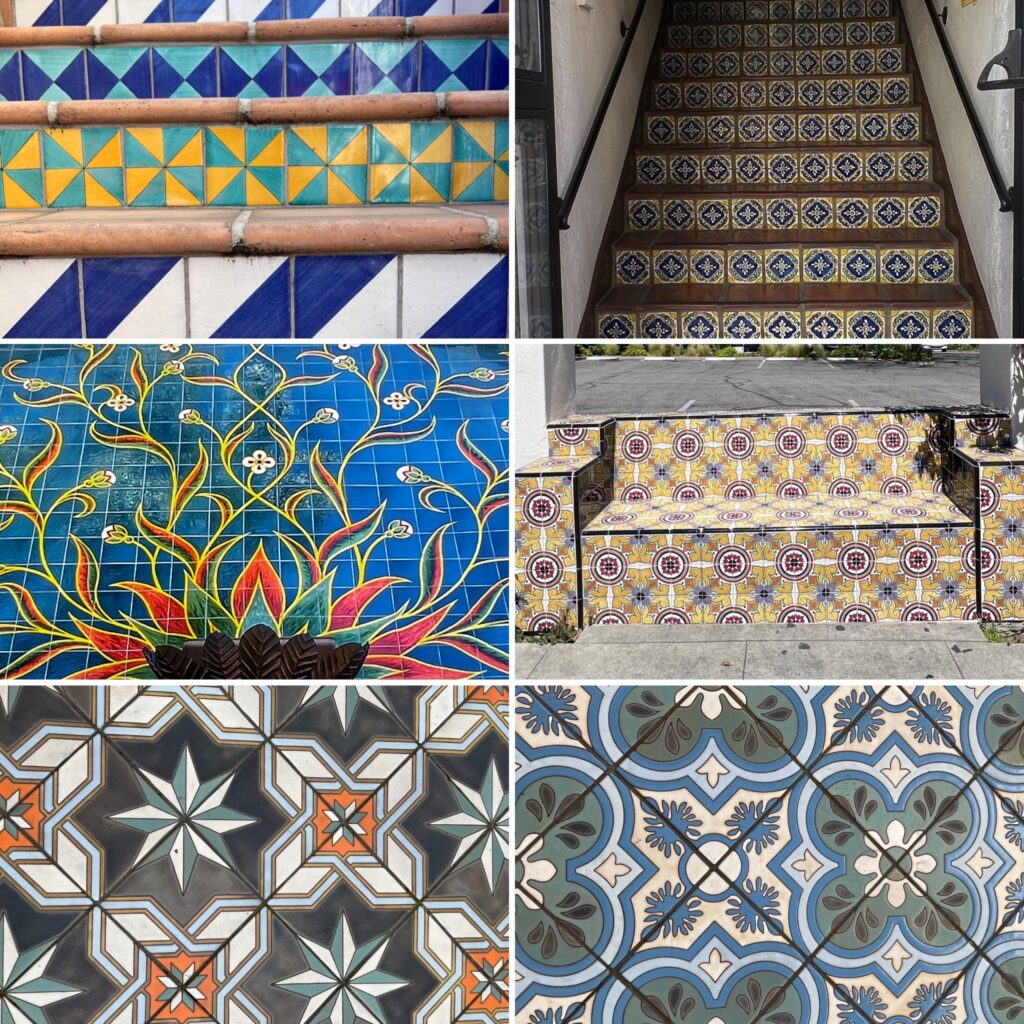 6. Escape Downtown and Go For A Horseback Ride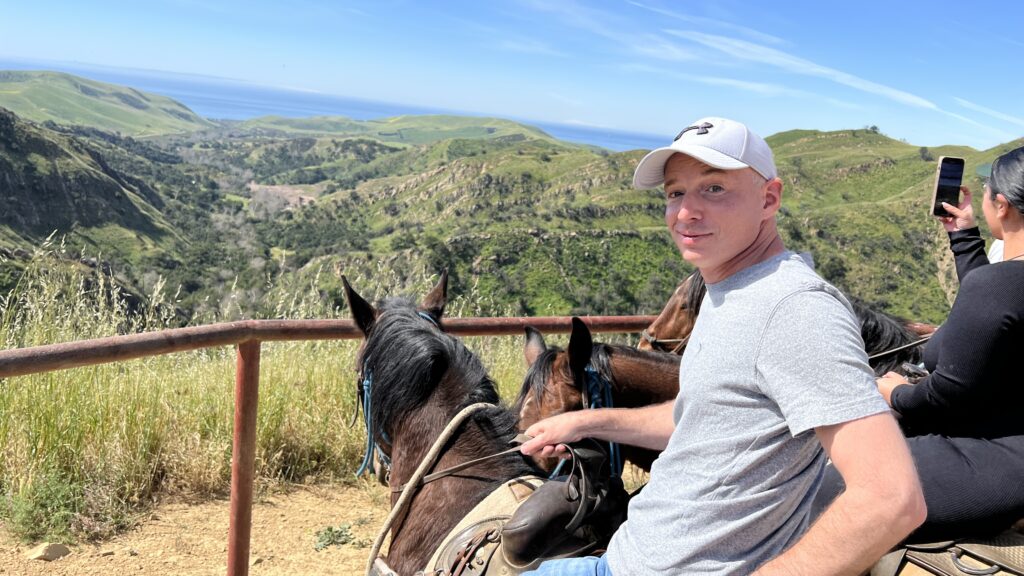 Even if you've never been on a horse before, the crew at Circle Bar B will have you feeling comfortable enough for a ride on the trails in no time! This was such a fun experience – and believe it or not – a first for me! I had been out riding on mules before (at the Grand Canyon) but never explored trails by horseback.
Circle Bar B is the oldest public horseback riding stable in the Santa Barbara South Coast. You can enjoy a guided tour around this beautiful mountain side paradise with views of the Pacific Ocean. I did a 90 minute ride, which was just perfect. More experienced riders can opt for longer tours. The groups are relatively small – there were just three of us along with a guide. The horses are pretty easy going and the views from the top are worth the ride.
You can even catch a glimpse of President Reagan's former ranch which sits on the adjacent property. Your guide will likely point out the helicopter pad which used to transport Reagan and his guests during his time in California.
7. State Street Is A Lot Of Fun!
Santa Barbara's main retail center is located downtown along State Street. You'll find many boutique shops, restaurants, bakeries, wine tasting rooms, and Santa Barbara souvenirs. Most of the street is closed to vehicles so you can safely stroll between sidewalks – though watch out for bikes!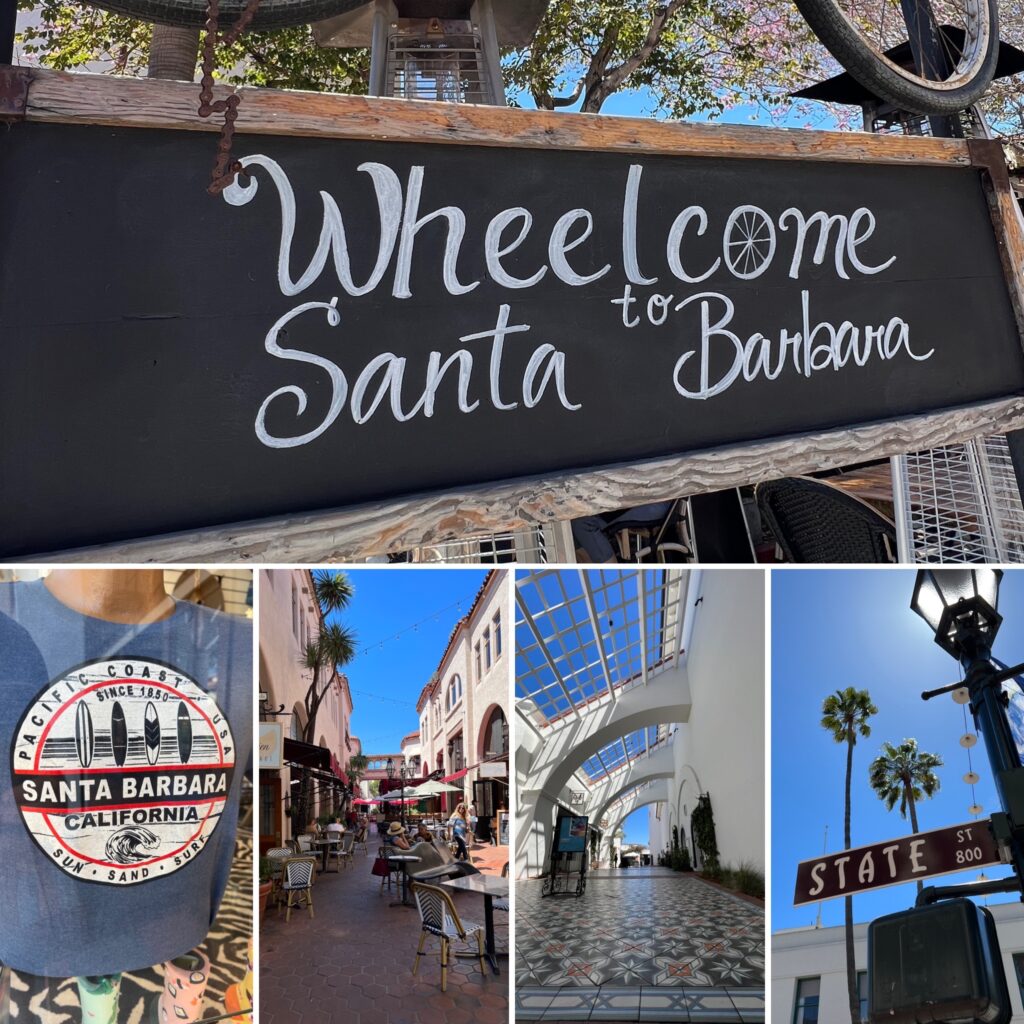 8. Santa Barbara Is Extremely Walkable
One of things I love most about a destination is when you can easily walk around. Santa Barbara is definitely a walkable place especially if you choose a downtown hotel like Avania Inn. You can easily get to Stearns Wharf, a historic fishing pier with shops and restaurants, State Street, and many other points of interest. Even if you're not staying downtown, you can use Uber or Lyft and then walk all over.
If you prefer to take a trolley ride to experience a taste of Santa Barbara, those are available with limited schedules through Santa Barbara Trolly Company. There are also several places around town to rent bikes as well!