I love small towns that pack a big punch. Hendersonville may not be one of the biggest dots on North Carolina's state map but they certainly act like a big deal. With a vibrant downtown, easy access to nature and history, and an insane amount of great food and drink options easily accessible to travelers – Hendersonville is a real road trip treasure. If you're thinking about visiting Hendersonville, here are 9 things I learned during my visit that should convince you to give this place a pin on your travel map for a future road trip.
1. This Is Apple Picking Country. Yes, Seriously.
Who knew that western North Carolina was a prime spot for growing apples? There are apple orchards all over the place near Hendersonville! I had the chance to visit several of them during my early fall visit which happens to be the most popular time for picking apples. Each orchard had its own charming personality with all of them offering tasty treats like apple flavored donuts, pies, ciders, or even slushies.
Some orchards have figured out how to keep visitors hanging around for the entire morning or afternoon. Ever fired an apple cannon? Or maybe you just want to sit back and relax while your kids have a blast climbing on a giant replica of a John Deere tractor that includes a slide. Jeter Mountain Farm has a food truck, large marketplace, playground, and event space for weddings or gatherings. Don't forget about the wagon ride around the sprawling property to see where all of the magic happens.
2. They Have A Pinball Museum and You Can Play The Entire Collection!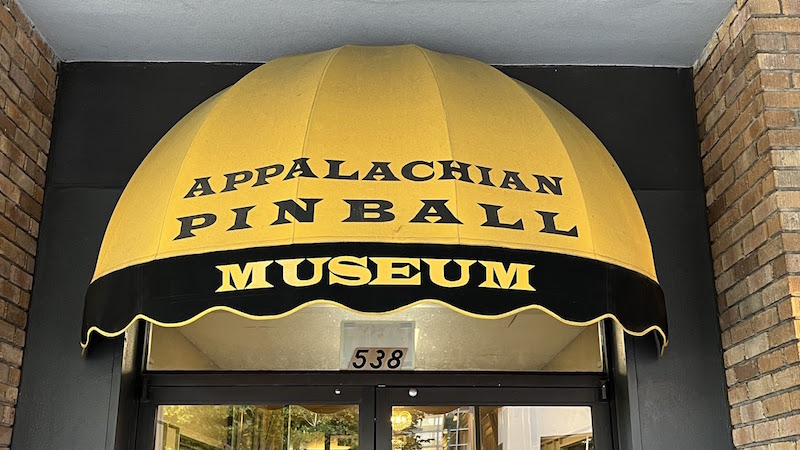 Did you know that pinball was once illegal? Here at the Appalachian Pinball Museum in Hendersonville, NC – their collection includes several vintage machines that were once considered a "game of chance". Only in 1947 were the flippers at the bottom invented, making it more of a skilled pastime. Even with the "flippers" – New York City's ban on pinball machines didn't end until the early 1970s.
Included in the museum's great collection are pinball machines with great themes like The Wizard of Oz, KISS, Jurassic Park, Aerosmith, The Walking Dead, The Addams Family, and Elton John.
Best part? For $12, you can play most of the machines for as long as you want, ALL DAY.
3. Waterfalls Are Right Around The Corner
Hendersonville is a great spot if you're coming to North Carolina in search of some of the states most beautiful waterfalls. Less than 30 minutes from downtown, you can find easily accessible hiking trails in Dupont State Forest and some of the region's most popular waterfalls. Included in the mix are High Falls, Hooker Falls, Bridal Veil Falls, and Triple Falls.
Triple Falls is a popular spot for movie fanatics as the spot was featured in the blockbuster 2012 film The Hunger Games. In one of the story's pivotal scenes, the 125-foot waterfall serves as a backdrop.
4. You Can Fly Through The Forest
Hendersonville is completely surrounded by some of the prettiest views in the south. In nearby Saluda, The Gorge Zipline gives travelers a chance to experience unique views of the Green River Gorge by traveling through the trees on a popular series of canopy zip lines.
The experience is billed as "the steepest and fastest zipline canopy tour" and offers a thrilling tree-based ariel adventure. Having participated in quite a few zip lines over the years, I can attest that The Gorge Zipline is a pretty well-oiled machine with fun guides, and smooth zip rides. You really are high up in the trees of the forest and can see some pretty remarkable views of the canyon as you glide from tree to tree.
5. You Can Drink All The Cheerwine Your Heart Desires
While it's not made here in Hendersonville, Cheerwine is a North Carolina staple. The soft drink is so readily available here, that many locals I met didn't even realize that you can't get it in other parts of the country. (Except perhaps in bottles at the Cracker Barrel County stores.)
The beverage is most similar to the taste of a Cherry Coke and is burgundy in color. It's been produced in the town of Salisbury, North Carolina since 1917. And it's delicious!
6. There Are Great Bed & Breakfasts
There's something about a good bed and breakfast that gives your vacation or road trip a little more personality than staying at a hotel or motel. Hendersonville has quite a few bed and breakfast options around town including the 1898 Waverly Inn where I stayed during my visit. The 15 room house sits at the end of Hendersonville's downtown business district making it perfect to walk to local shops and dining. If you're a pickleball player like me – there were a couple of courts directly across the street in the public park.
While the Inn's front porch is normally reserved for enjoying its comfy rocking chairs, occasionally the space is used for local concerts while guests sit in the front yard. Of course, it goes without saying – the best part is starting off the day with a delicious homemade breakfast.
7. This Town Has Restaurants Galore!
I'm always stunned when small towns put some of the larger cities to shame by having a wide variety of dining options in such close proximity. Hendersonville's downtown area in particular has some really incredible restaurants that may surprise even some of the most traveled visitors.
For example, Postero is not a restaurant you'd expect in a small town. With the Chef's kitchen out in the open for all to see, the dishes that are served here are not only creative but beautifully displayed. As a somewhat picky eater, I took notice of the restaurant's menu which had a message printed on the bottom that must have been placed there for people like me. It read: "It really is better if you order it how we make it." (I believe that's code for – don't make a bunch of changes!) I only made one slight change to my order and totally cleaned my entire plate.
I had the chance to dine at other places around town as well: Mike's On Main Street – a classic 50's style diner with American food and milkshakes; Shine – a nice variety of food in a comfortable setting with a "seasonable menu experience" that includes an impressive bar; and Campfire Grill which sits on the outskirts of town in Flat Rock.
Campfire Grill is a cozy spot with a complete camping theme woven through the menu and in the restaurant's decor. The owners are big believers in summer camps and their role in shaping the minds of young people. A portion of their profits go to send less fortunate kids to summer camp each year. Their "counselor" burger features a bacon jam on it that is pretty tasty.
8. The Mountain Views Are Not To Be Missed
Anyone that's been to this part of North Carolina will tell you that the mountain views here can life changing. One of the best views in Hendersonville is located at Jump Off Rock – an easy to find landmark that offers up a breathtaking view of the region that can't be captured in a photograph.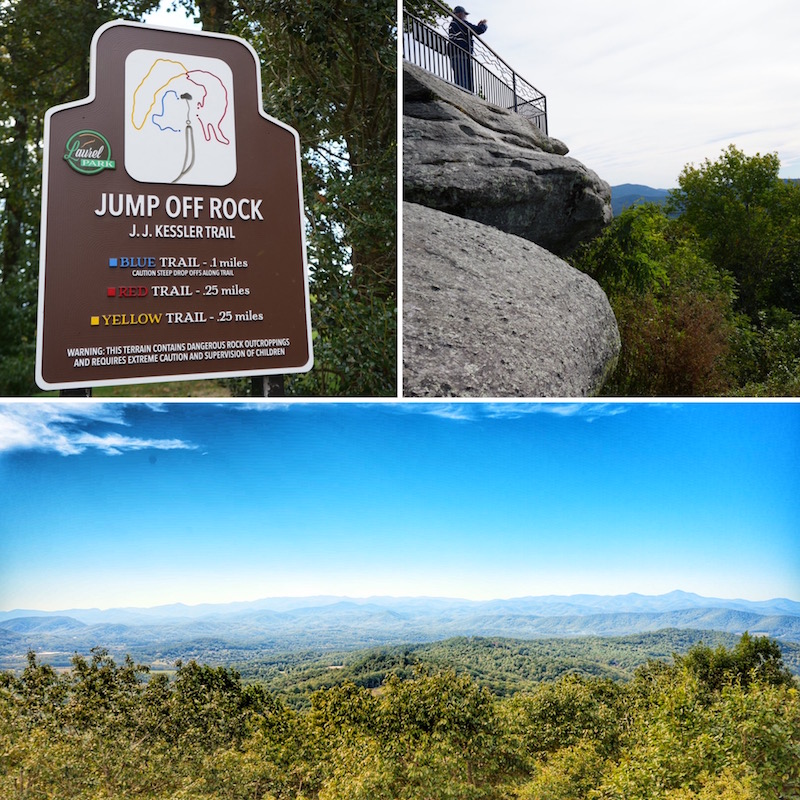 9. Carl Sandburg Lived Here
If you're a regular Bill On The Road reader or listener, you know that I'm completely honest with you. Some may find this shocking, but until my visit to Hendersonville, I had no idea who in the hell Carl Sandburg was. Apparently enough people do in fact know of him because the National Park Service maintains his former residence in the nearby village of Flat Rock.
Sandburg was known as "the poet of the people" and lived from 1878 to 1967. Among his noted works – a 6 volume detailed biography of Abraham Lincoln, which earned him a Pulitzer Prize for the effort in 1940. Visitors can tour his home and the grounds throughout the year – unless the weather is bad which it happened to be during my visit.
If you're looking for other things to see and do around Hendersonville, check out their local tourism website for other ideas! It's: visithendersonvillenc.org