On its first national tour since the 1970's – Destination Moon: The Apollo 11 Mission is appearing at four different museums across the U.S. before making a final, permanent stop in Washington D.C.    In 2021, the Smithsonian will house a brand new gallery, dedicated to telling the story of the Apollo 11 mission at the National Air & Space Museum.
I caught the exhibit at the St. Louis Science Center, the second of the four scheduled stops.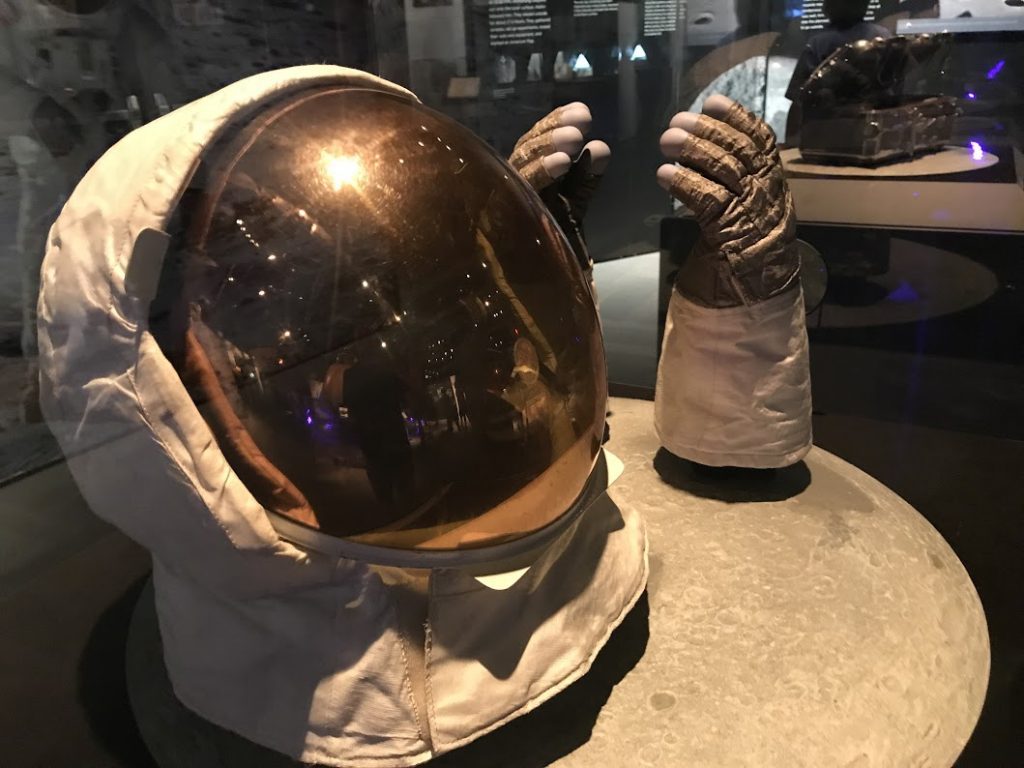 The collection includes one of a kind items like a visor and gloves worn by astronaut Buzz Aldrin while walking on the surface of the moon.   The most notable piece on display is the Columbia command module itself.   The module stands 10 feet, 7 inches tall and weighs more than 11,700 pounds.
Visitors enter the exhibit through a replica of a typical 1950's living room, with mid-century furniture and a black and white television broadcast playing news clips about the space race.   Around the corner, a video presentation tells the story of President Kennedy encouraging Americans to rally behind a mission to the moon.
There are lots of interactive portions of the exhibit, including video games where your goal is to safely land a spacecraft.  There are also plenty of fun photo opportunities with a mock command center, and mission control consoles.   Guests can also climb inside a replica module and see what it's like for an astronaut to navigate through space.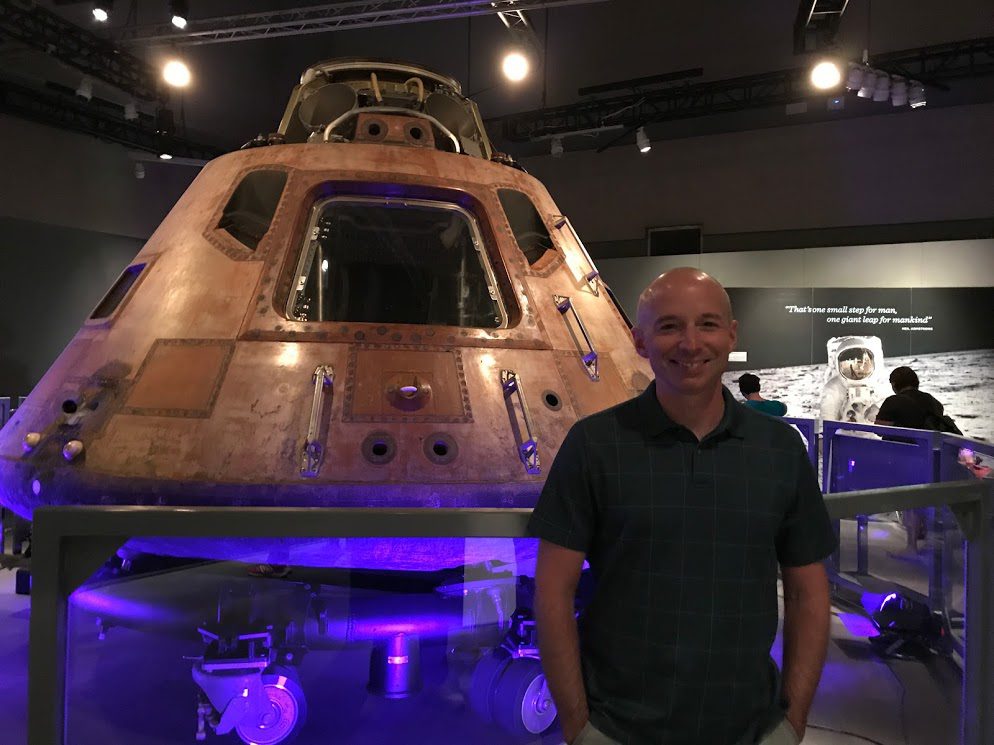 Some of my favorite parts of the exhibit:
-A map of the stars that was used by Buzz Aldrin.  Except that he didn't use it as a map – he apparently used it as a window shade to block out the sun.  (He had already memorized where all the stars were and didn't need it.)
-A lunar globe – which looks just like a regular globe, but details the entire surface of the moon.
-The F-1 engine injector plate from the spacecraft that was recovered from the bottom of the Atlantic Ocean in 2013.
-A survival kit that was carried on-board in case of an emergency landing on Earth.  The tools were supposed to help them survive for up to 48 hours.
The exhibit leaves the St. Louis Science Center on September 3, 2018.
Next stops:
Heinz History Center in Pittsburgh, PA – September 29, 2018 – February 17, 2019
The Museum of Flight in Seattle, WA – March 16, 2019 – September 2, 2019