Watching fish boil, singing the Ghostbusters theme song in the back of a trolley, and hanging out with goats on the roof of a restaurant.   It may sound like the agenda of a guy who downed one too many glasses of cherry wine – but in reality, it was just part of my first visit to Door County, Wisconsin.
For years, I had heard about their charming small towns, historic lighthouses, and postcard worthy waterfronts – but it was never along the route of any previous road trip.  Thankfully that changed this summer.
There's nothing that I can tell you about Door County that hasn't already been documented.  Everyone knows it's beautiful, everyone knows it's a mid-western treasure.
Instead, I'll just share a handful of personal experiences from my visit.  Hopefully, you'll be inspired to make some great memories of your own.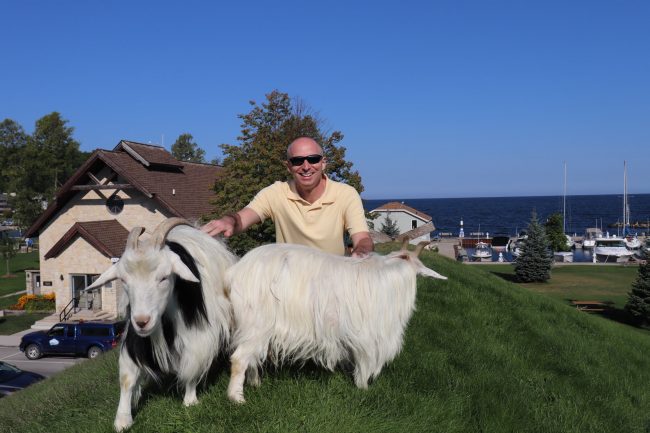 I'll start with the experience that apparently made most of my travel writer friends jealous.  I didn't realize it at the time – but, not just everyone gets the chance to go up on the famous roof of Al Johnson's Restaurant.  And yes, that's me pictured up there with two goats.   (In case you're wondering which one is me – I'm not the whitest one in the photograph for a change.)  The place is located in Sister Bay, which is one of the small communities within Door County.
The goats on the roof are certainly part of the experience – but the food down below is just as memorable.  For the first time in my life, I dined on Swedish pancakes.   Don't feel bad if you have no idea what the difference is from a regular pancake, because I certainly didn't.  As you see below, they are square in shape, but the biggest difference is they are a bit thinner – and man are they delicious!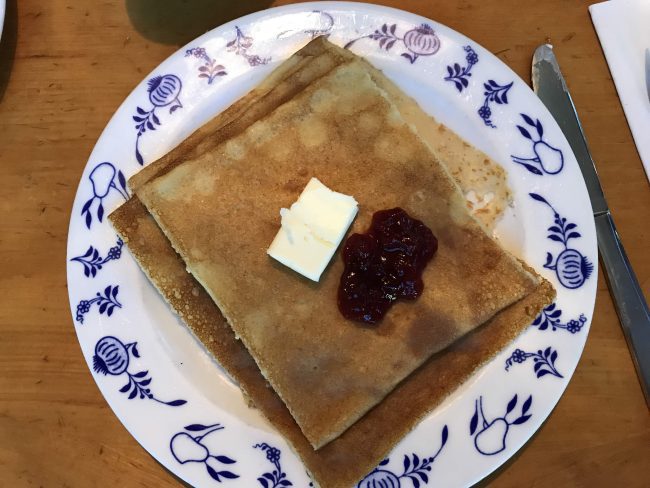 So it wasn't all about food during my visit.  Okay, maybe it was.  My first night in town I was treated to a traditional Door County fish boil.  I've learned to like fish more as I've gotten older – but wasn't sure if I'd like it boiled.
The whitefish is not de-boned ahead of time as it would obviously fall apart as it cooks.  Depending on where you go – the bones may or may not be taken out for you.  For a real authentic experience, we went to a place where the bones were left in – and yours truly had to figure out how to gracefully remove them.  (From the fish, and then from my mouth as I missed most of them.)  Yes, you also take off the skin.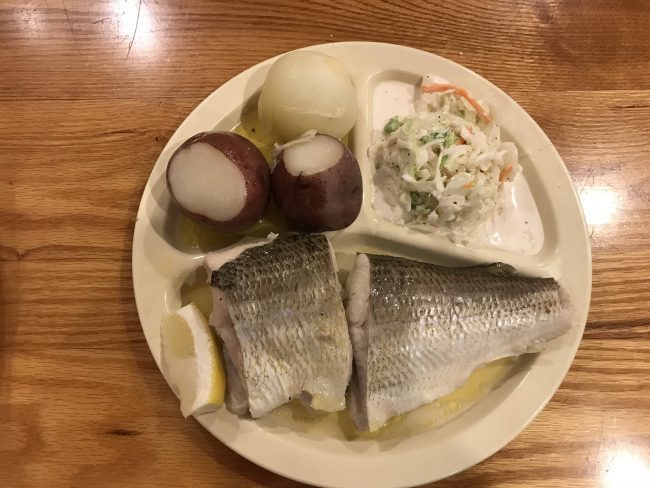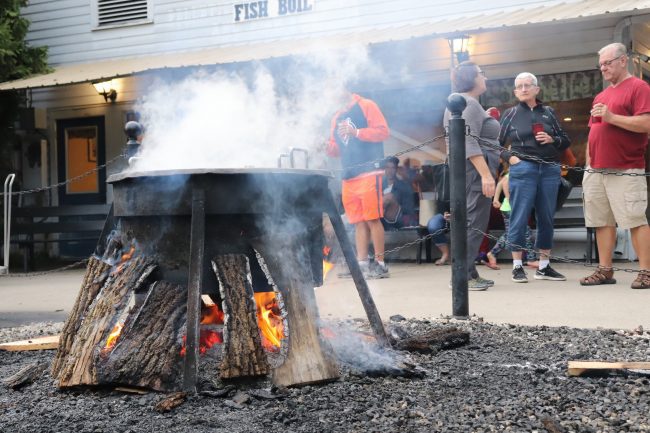 More food?  Sure, why not!  Another must-do is grabbing lunch at Wilson's Restaurant & Ice Cream Parlor.   It's very old-school, with all the staples of a classic American diner.  The place was packed, the service was great, and they even put actual cherries in my Cherry Coke.  But, of course.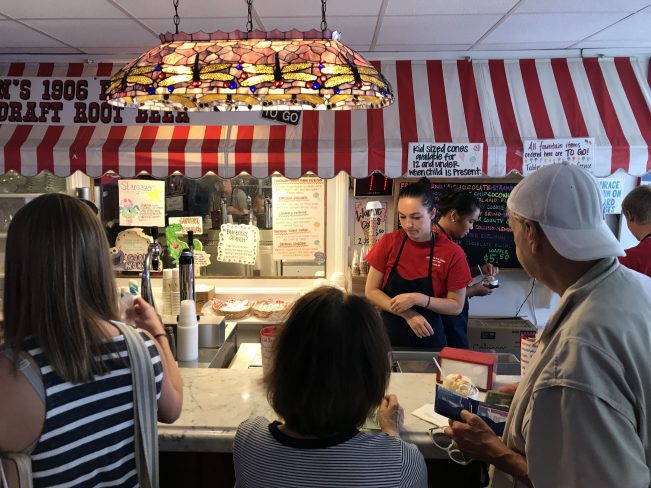 In addition to eating non-stop, there are other things you can do in Door County.  While I was only in the area for a couple of days, my options were pretty limited since I wanted to get a basic overview instead of any one specific activity.
While I didn't have time to do any boating, kayaking, or any other number of water based outings – you can bet I'm making a list for a return visit.
A few of the things I did manage to experience while I was in town included checking out lighthouses, numerous beaches, and even a local ghost tour!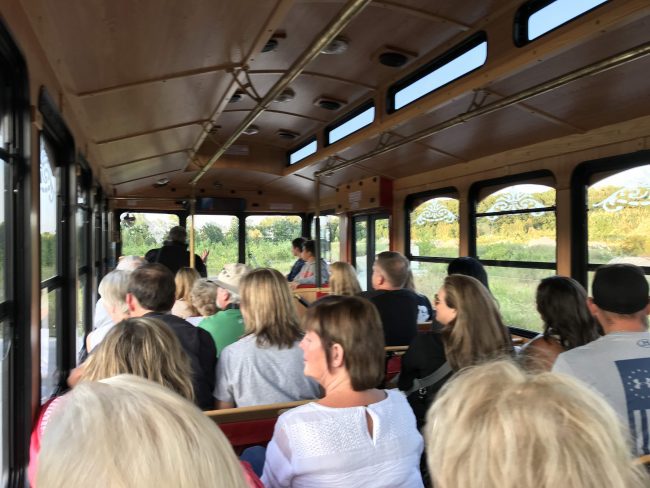 I am definitely cynical when it comes to ghost sightings, however the Ghost Tour Of Door County was a lot of fun!  The tour departs from the Door County Trolley Station in Egg Harbor and lasts just over two hours.  The guide was entertaining, and the sound system on board was surprisingly amazing.   The stories were interesting and I enjoyed the stops along the way – even if I didn't really buy into any of the ghost sightings.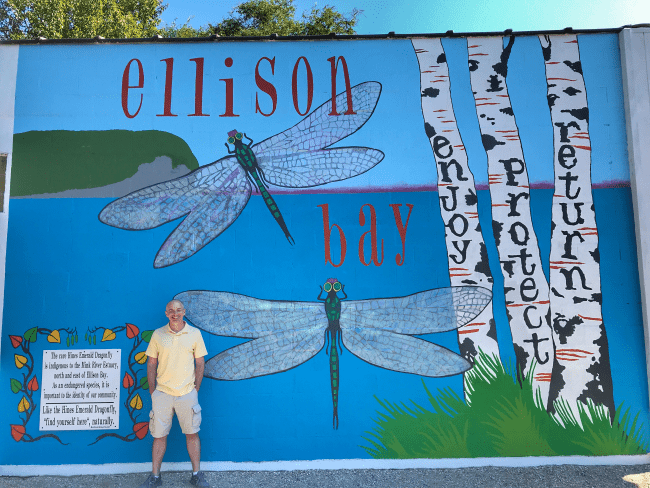 Door County is full of parks, unique shops, galleries and of course – places to buy all things cherry related!   In fact, if you time your visit right – you can actually pick them on your own as part of your trip!
If you've never been to the area, or it's been awhile – add it to your list for upcoming road trips!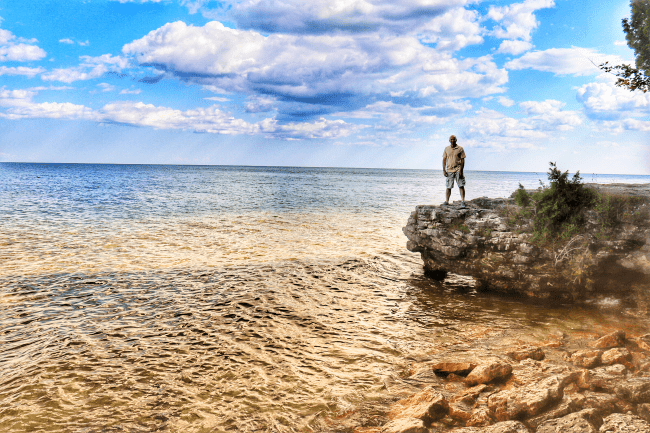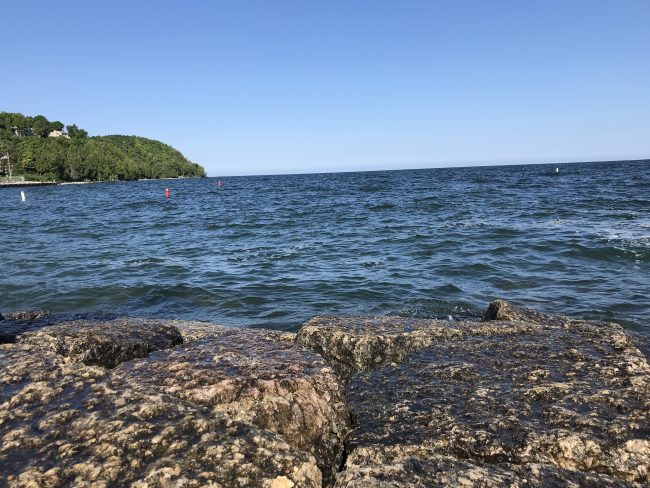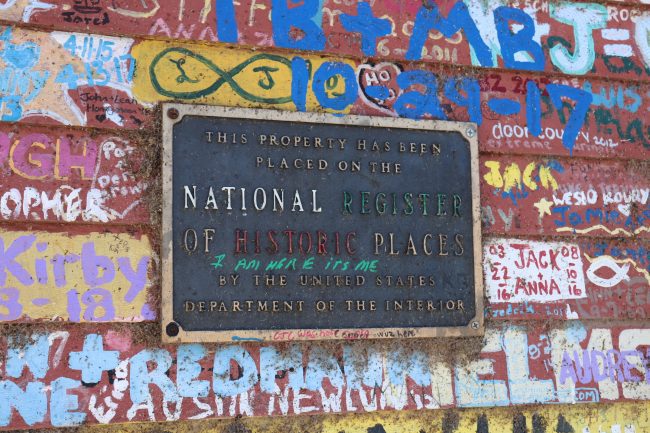 For more information about visiting Door County, you can always check out the local tourism website!