While traveling across the southeast we've all had to make the dreaded drive through downtown Atlanta, Georgia and there's a good chance you've passed through neighboring Henry County and didn't even know it.
Located south of the state's capital city, Henry County is full of great experiences to add to your next southern road trip! Whether you happen to be an animal lover, a sports fan, or a history-loving thrill-seeker, there's something special awaiting all who decide to pull off the interstate instead of barreling through.
Here are some of the experiences I enjoyed during my visit and a few suggestions to keep in mind on your next road trip through the Peach State.
Finding Filming Sites From Movies & T.V. Shows
Georgia has become a hot-spot for film and television productions in recent years due to a generous tax credit from the state. As a result, many of your favorite shows and movies have been produced in counties largely around Atlanta. In Henry County, for example, the popular zombie series The Walking Dead filmed portions of Season 6 in some fairly obscure places.
Fans will remember a pivotal scene from the series where Glenn is trapped underneath a dumpster surrounded by "walkers" (which is what zombies are referred to by characters on the show) and thought to be dead. This ordinary looking back alley in the town of Hampton is where they filmed that scene as well as others. According to the website TWD Locations – Hampton was home to at least a dozen scenes from the show.
In addition to The Walking Dead, films like Anchorman 2, Spiderman: Homecoming, Smokey & The Bandit, The Hunger Games: Catching Fire also filmed scenes here. This handy guide from the Henry County Tourism Office points out many of the region's notable filming locations.
Take A Walk On The Wild Side at Noah's Ark Animal Sanctuary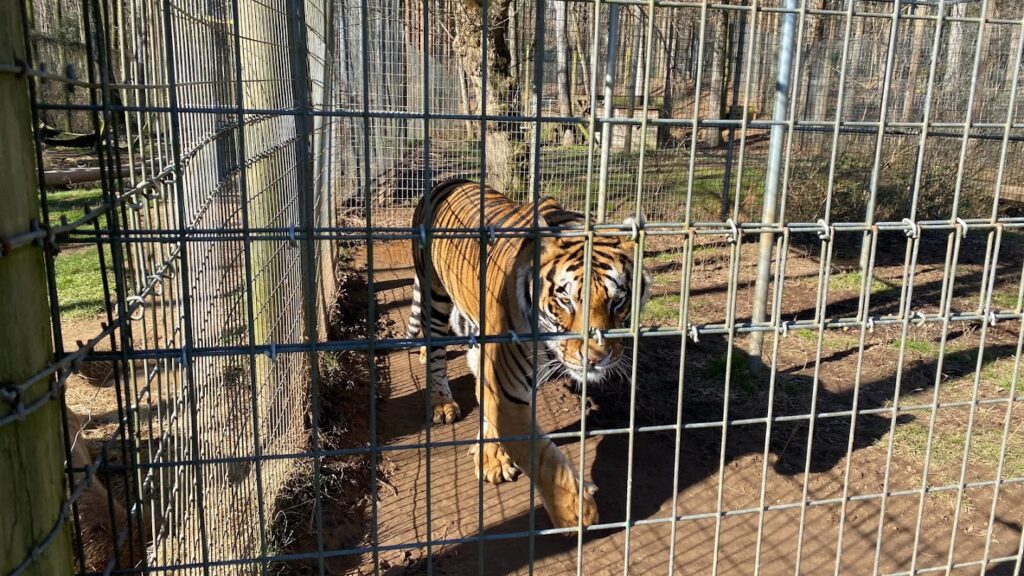 Any animal lover will certainly enjoy a private guided tour of the Noah's Ark animal sanctuary in Locust Grove, Georgia. The park is home to over 1,500 animals that are rescued from abuse or taken in from other unfortunate scenarios. The animals include tigers, bears, monkeys, pigs, goats, birds and more. Some were rescued from the circus, medical research facilities, or from owners that couldn't take care of them. Many of the animals at Noah's Ark are in the "senior citizen" category – which makes the organization's efforts even more important.
While self-guided tours are available for free during operating hours noted on their website, a "wow" tour gets you much closer to the animals and a chance to hear the back story of the animals you'll see.
Unlike many other animal sanctuaries I've visited during my travels, this one is probably the most wide-open and spacious. It's definitely worth a stop if you are passing through the area.
Take Flight with A Veteran at Army Aviation Heritage
Talk about an unforgettable experience! The Army Aviation Heritage Foundation pairs the general public with military veterans who share their stories and talents during ride-a-long opportunities in one of two Army helicopters. Visitors can ride in an open-door Bell UH-1 Huey helicopter or a Bell AH-1F Cobra attack helicopter. Each offer unique vantage points; the Huey with the wind whipping through the open doors and a clear view down below, and the Cobra where you ride alone (with the pilot, of course!) and brave the incredible dips and dives that the helicopter is capable of.
The organization is run mostly by volunteers and you'll pay a fee for the experience. You can visit their website to learn about scheduling and other information.
BarnBeautiful
For the artsy amongst us, BarnBeautiful is a must-visit in Henry County. Located In a small shopping complex in Stockbridge, Greg Horton takes the wood from old barns and converts it into beautiful furniture and art pieces – along with the history of the barn from which it came. The showroom features an art gallery that highlights local artists of all types. The store features pieces from not only Greg but also local veterans and other professional artists. (Video coming soon!)
While you're in the neighborhood, check out the historic Floyd Chapel Baptist Church where Martin Luther King Sr. once attended and gave a sermon.
Tour at Atlanta Motor Speedway
Located on 850 acres in the town of Hampton, the Atlanta Motor Speedway is Georgia's home to NASCAR races and other big events. The track, which was recently repaved for the first time in decades, is a focal point for true racing fans visiting Henry County. However, the average tourist will still be amazed by the size of the track and the functionality of the complex. Motor Homes use the parking lot between races as a place to camp, high schools have used it for graduations, and its doors have been opened during past natural disasters as a place for shelter.
Check out the speedway's website for information about when on-the-track rides will resume and tour times.
Featured Photo: The French Market & Tavern in Locust Grove, GA
For other experiences and things to see and do within Henry County, Georgia – be sure to check out the local tourism website: visithenrycountygeorgia.com