Traveling anywhere with your parents for more than 24 hours can be a daunting experience.   "It's 9:00 in Saint Louis" my Dad explains as he gets ready to make a phone call from our room at Salt Fork Lodge in Cambridge, Ohio.   I argue that it's actually 8:00 in Missouri as Ohio sits in the eastern time zone of the United States.  "But, my phone says it's 9:00 and I certainly didn't change it when we got here."
15 minutes later – I give up trying to explain how a cell phone automatically adjusts the display time.  Welcome to this edition of "Road Trips With Your Dad."
This Summer, I received an invitation to spend a week in the state of Ohio and explore several state parks and lodges.  I'd be part of a group of bloggers from around the world and together we'd experience what the Buckeye state has to offer for travelers.   This was the first time I've ever traveled with a group of strangers as I usually operate on my own.  To make things more bizarre, at least at first, everyone on the trip was writing about traveling with children – as they all write for blogs and magazines dealing with kids and traveling as a family.  
"Oh, and I'm pretty sure I don't have any children" – I shared with the group to polite laughter as I was the last writer and only non-parent to introduce myself at a dinner on our first night together.
By week's end – I'd come to enjoy my time with all of them and even walked away with a handful of new friends that I'll most likely remain in close contact with.  One of my fellow writers – a blogger from Michigan named Dani, turned out to be as close to a sister as I'll ever have.   Despite the fact that she is a Kansas City Royals fan – we agreed that after days of sharing stories about our family and childhood – we could possibly have been separated at birth.   Speaking of birth – she was just a few weeks away from delivering her fifth child.  She was one of  about twenty people along for the ride as we all set out to experience Ohio. (And one of two pregnant women in our group about to give birth!)
The trip was one I'll never forget – five days of bonding with my Dad, experiencing the surprising beauty of Ohio and discovering that Bigfoot could have been right outside my cabin door the entire week.
Ohio doesn't have a national reputation of beautiful landscapes and scenes perfect for a painting.  It should.  Ohio is typically a state we only talk about every four years during a Presidential election.   Or whenever LeBron James holds a press conference.  But, Ohio is simply incredible to soak in while driving through miles of back roads and exploring the hills outside of the state's major cities.
Ohio has 74 state parks – all available at no charge.  The parks include 170,000 acres of land dedicated to recreation.  Everything from golfing, camping and boating to hiking, biking and swimming attracts visitors all year long.  Ohio is one of just 7 states that do not charge to visit their parks.   For travelers on a budget – which includes 99 percent of us – that's huge.  And don't think that free means they aren't worth anything.  Quite the opposite – they're fantastic.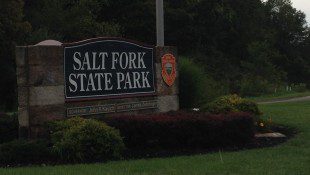 Our group was welcomed at three of the Ohio state park lodges during our week-long trip.   Our first stop was Salt Fork Lodge in Cambridge, Ohio.  Salt Fork was the quintessential park lodge – with just the right amount of  "modern" yet not too fancy as to forget you're in the middle of the woods.  Speaking of modern – all of the lodges had complimentary wi-fi access and it worked well.  I can't say that about a lot of the expensive hotels I stay at across the country.  We spent our first three nights at Salt Fork Lodge and found it to be warm and welcoming.
A first class golf course, boating, horseback riding and a seasonally operated beach and mini-golf course were located in the park. A pontoon boat ride in Salt Fork Lake just beyond the lodge property was great fun and the first of many activities during the week exposing us to Ohio's incredible beauty.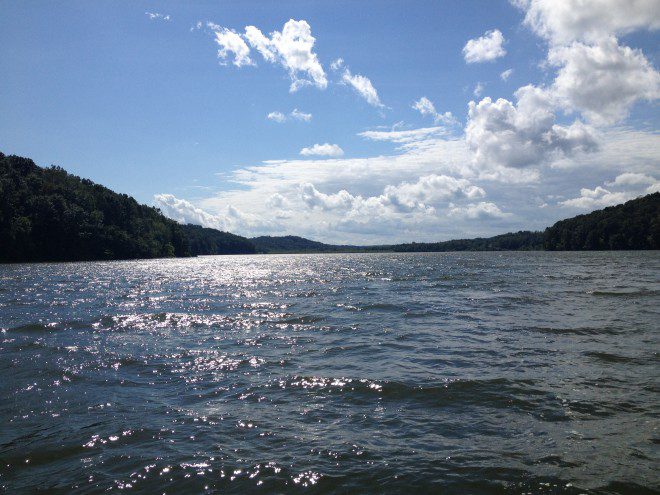 A short trip from the lodge landed us in downtown Cambridge.  We were introduced to many of the small town's charming business owners and tourism managers.  As I travel around the country – finding places like Cambridge is truly refreshing as it reminds me that "small town USA" still exists despite the media's best attempts to portray us a nation going down the toilet.
Cambridge is also known for its life size Charles Dickens replicas that line the streets of downtown during the holidays.  They also have great wineries like the Terra Cotta Vineyards, a bustling downtown and small but interesting museums like a shrine to western star Hopalong Cassidy.
One of our stops along the way was an animal park called The Wilds.  My Dad best described it as "kind of like Jurassic Park".   It's an enormous space – in the middle of nowhere – encompassed by beautiful views and miles of green grass and hills.   It's here that animals like deer, zebra, rhinos, giraffes and camels are free to roam without limitations found in a zoo.  Guests can hop on board a tour bus and explore the park, getting up close to over 300 animals and witness them roaming freely.
During our visit – we were able to pet a rhino, watch giraffes tower over us and my personal favorite – seeing camels block our bus while eating the rear view mirrors. (Watch below…)

Back at the lodge we learned that Salt Fork State Park had a reputation for Bigfoot sightings.  Turns out that people from all over the world come here to search for the elusive creature.  Skeptical though not completely dismissive – the lodge staff told tales of sightings by co-workers and past guests.   Nonsense or not – Bigfoot brings in tourists and tourism dollars to the park and lodge.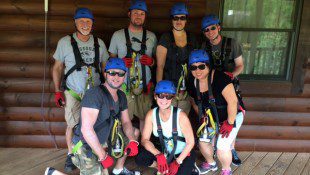 The only creature I saw during my stay was a deer, hoping to be fed from my third story balcony.
During the week we stayed at two other lodges run by the Xanterra Parks & Resorts group – one at Mohican State Park in Loudonville and the other at Maumee Bay just outside of Toledo.
While in Loudonville, half of our group spent the afternoon in a canoe while my group climbed ropes and battled aerial obstacle courses 50 feet above the ground at Mohican Adventures – just a few miles away from Mohican State Park.  It was thrilling but exhausting – although I'm proud to say that I didn't fall once.  Although, I was surely the slowest of the entire group.
At dinner, the Mohican State Park Lodge treated us to entertainment from an area bird sanctuary where bloggers took "selfies" with an owl as we dined on food from local farmers who talked about their farm to table missions – bringing locally grown food to places like the lodge and saving on gas needed to transport food from hundreds or thousands of miles away.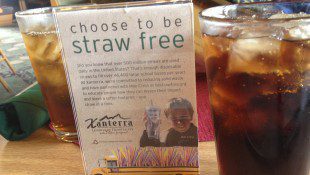 The entire Ohio Parks system really seemed to walk the walk in terms of caring for the environment.  One day at breakfast, our server asked us if we really wanted to use a straw, pointing to a card on the table that showed how much landfill space is used each year from straws.  The guilt worked – I didn't use a straw the remainder of the week.   The showers and bathrooms also used communal bottles of soap, shampoo and bath gel – instead of the typical tiny bottles used at hotels.
Maumee Bay Lodge, located on the shore of Lake Erie was truly the gem of the bunch that we explored.  Perhaps it was General Manager, Patrick Czarny that wowed the group with his passionate and genuine love of the Toledo area that sealed the deal.  Although, this wasn't exactly a competition as all three of the lodges and state parks had great features and scenery. But, Maumee Bay was my personal favorite.
Taking us on a tour by golf cart – we followed along past a beach, outdoor volleyball courts, bike paths along Lake Erie and a fun nature center where we learned about animals and critters that call Ohio home.  Birds are a big deal here as well – with thousands of watchers from around the country visiting each Spring to observe birds fly across Lake Erie.  I spotted at least a couple of bald eagles soaring over the country road as we ventured off to a nearby vegetable stand for some home grown Ohio sweet corn.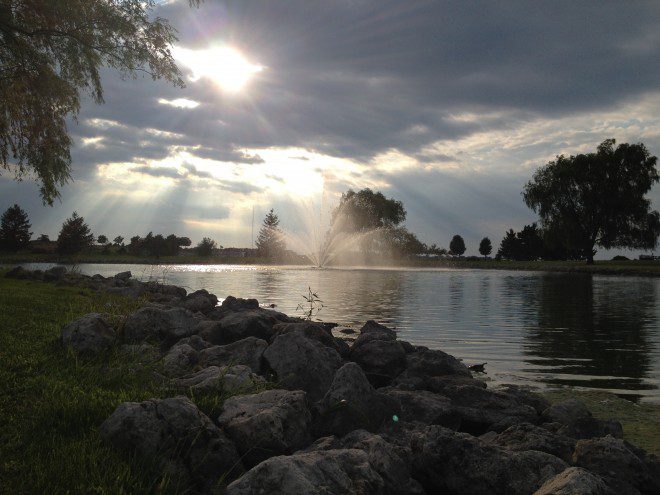 Just a few miles away is downtown Toledo where you'll find a nationally recognized art museum, The Toledo Zoo and the home of the world famous Toledo Mudhens – known best as a reference during the TV show Mash in the 1980's.   The National Museum of the Great Lakes is also an interesting spot that features history and trivia about Lake Erie and the other surrounding Great Lakes and some of the over 8,000 ship wrecks that have occurred here since the early days of boating and sailing.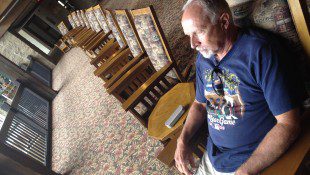 As I mentioned at the start of this piece – I was able to bring a guest on the trip so I brought along my Dad.  We enjoyed touring the state and even discovered a new love of Ping-Pong.  Each of the lodges had some sort of game room along with swimming pools, tennis courts and more.  But, it was the ping pong table that became a focal point and a nightly competition between father and son. One that I'm ashamed to say, I failed at more than I care to admit.
By week's end – I was more than happy to be exhausted and quite thankful I plunged blindly into a week of adventures with complete strangers from around the world.   I think all of us were surprised at how much Ohio had to offer and how the state's serene beauty had been kept a secret somehow from the rest of the country.