Seeing the Grand Canyon in person is one of the most incredible travel experiences you'll ever have. That first glance into one of North America's most beautiful natural wonders is something you'll never forget.   Having said that, you'll want to plan ahead for your first time visit to the Grand Canyon. There's a lot more to the experience than just showing up and looking down.
Things To Know About Visiting the Grand Canyon
1. Getting Here
When it comes to which rim you should visit – there's no right or wrong answer. The south rim is the best bet if you are the average traveler and want flexibility to see the canyon any time you choose. (The north rim is closed part of the year because of weather conditions and safety concerns.)
Simply driving to the Grand Canyon is one option. With a little planning and even a small budget, there are other ways to make your trip even more memorable.
2. You Can Take A Train
The Grand Canyon Railway has been bringing tourists to the south rim of the Grand Canyon since 1901. Leaving from the Grand Canyon Railway Hotel in Williams, Arizona – the ride is about two hours long. The train has seating for just about any budget – from no frills to a luxury dome. During the ride – guests are treated to western style entertainment. (On the trip back – a guy had our train car singing "The Gambler" by Kenny Rogers)
The view from the back of the train was my favorite part – so cool to see the tracks covered in snow, though completely melted on the return trip a couple days later.
3. You'll Want To Stay Awhile
Grand Canyon National Park has options for any type of budget or preference – from camping to a high end hotel with a view of the canyon from your balcony window. Dining options are just as varied with the highest end dining at the famous El Tovar.
"Leave it as it is. The ages have been at work on it, and man can only mar it. What you can do is to keep it for your children, your children's children, and for all who come after you, as one of the great sights which every American should see." – President Theodore Roosevelt
4. Seeing The Canyon
There's a great scene in National Lampoon's Vacation where Clark (played by Chevy Chase) takes a short look at the Grand Cayon with his wife, nodding his head a few times and then hopping back into the car.  (And yes, that scene was actually filmed here – although the scene where he robs the clerk right beforehand was filmed in Hollywood.) Trust me, your first time visit to the Grand Canyon should be much more than a couple of minutes!
If you really want to experience the Grand Canyon, simply looking at it from the rim and hopping back in your car will not do.
There are several hiking trails that allow visitors a path to the bottom of the canyon. Don't get me wrong – most of you won't go all the way to the bottom. That requires being a serious hiker and lots of stamina that the casual tourist isn't going to have. But, that doesn't mean you can't hike part of the way down – even a mile or so down will give you spectacular views that can't be seen standing at the rim.
Bring a backpack – along with a water bottle, some snacks or fruit that's easy to pack away and dress in layers, depending on what season you go. I was there at the end of Winter – I started the hike with a jacket and sweatshirt while heading down and was in just a tee shirt by the time I came back up.
Shoes are important too. They should be comfortable and have some traction – again, depending on the season. Walking down in the Summer months won't be as much of an issue. In February – there will most likely be some snow and ice and it's dangerous to hike down the paths without proper traction or at least hiking polls.
One thing that I heard over and over before the trip was that water is your friend! Drink lots of it. Before your trip, during your trip and after. The elevation really messes with your body. I found hiking down to be a breeze, despite some battles with icy walkways and mud. It was the hike back up that caused my heat to beat like it was going to jump out of my chest. I'm not a marathon runner or a body builder – but I'm definitely not "out of shape". Experts say that there's really no way to train for a hike into the Grand Canyon. Just take it easy. Take your time and remember as you go down, you're going to have to make it all the way back up. That was front and center in my mind for both of the hikes I did that week.
Once again – even a short walk down the pathways will give you incredible views of the canyon that you won't see up at the top.
Another cool experience is chatting with complete strangers as you make your way down or back up. You'll find tourists from all over the world. I enjoyed a nice chat with a man from El Salvador, hiked back to the top during my second hike with two girls from Germany and played photographer for families from Ohio to Japan. (It's always fun to volunteer to take a photo of a family or couple so one person doesn't get left out – plus it's a great way to meet new people!)
5. Sure Footed Mules
I'm man enough to admit that I was a bit anxious about riding on a mule – a century old tradition at the Grand Canyon. The animals are said to be smart, "sure-footed" and strong. Over and over I heard the claims that nobody has ever died on one or fallen off the edge during a ride.
In short – there are several options if you want to experience a mule ride. You can take a ride along the rim or actually go down into the canyon. Our group rode them along the rim. This part is a mixed bag. Once you're actually on the mule – they're pretty much on auto-pilot. It does pay to be strict with your animal however per the guide's instructions, as they'll completely take advantage of you and stop for a snack or play in the snow. You won't be in any danger but you'll have much better piece of mind if your mule follows in line and keeps up. Generally speaking though – the mules follow one another and that's that.
The mule ride along the rim will give you some great views and you'll stop every so often and hear stories and history lessons along the way.
Depending on your tolerance and perhaps your overall interest in riding – the experience was a bit long for my personal tastes. I feel like I "got it" about 45 minutes in. The entire experience is about three hours. If you enjoy riding horses, (I don't) and have patience (I don't) – you'll really enjoy the ride. The rush is when those mules are within a few feet of a literal complete drop-off into the Grand Canyon.
The folks that run the tours were both professional and great interacting with the public. At one point, the wrangler hops off his own mule and takes photos for each person in their saddle, with their own camera. That's pretty classy.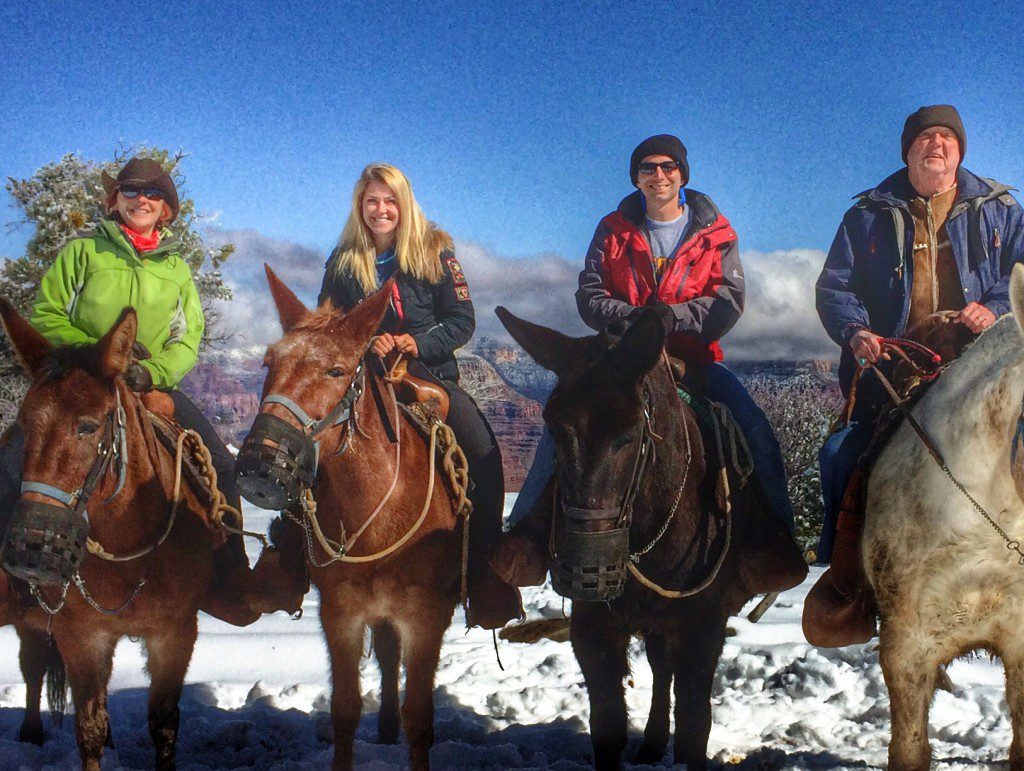 6. Conclusion
While your trip to the Grand Canyon can be spectacular just showing up on a whim – it really pays to do some homework and plan out your trip.  There's so much to see and do that will get you in touch with one of America's most gorgeous natural treasures.
For more information about visiting the Grand Canyon, riding the Grand Canyon Railway or lodging at Grand Canyon National Park – you can view the following websites:
Grand Canyon Railway: www.thetrain.com
Grand Canyon Lodges: www.grandcanyonlodges.com