Columbus, Ohio rolled out the red carpet and recently welcomed the Midwest Travel Writers Association to town!  I was fortunate enough to attend the conference and visit the city for the very first time.  Though we were only in town for a few days, we were treated to a whirlwind tour with a great variety of activities and meals.
From cheering on the minor league Columbus Clippers to watching fellow travel writers dance along with the incredible music at Shadowbox Live – our trip to C-Bus was packed full of fun.
Here are just a handful of the things I discovered during my visit
Columbus Is Fashionable. I Am Not.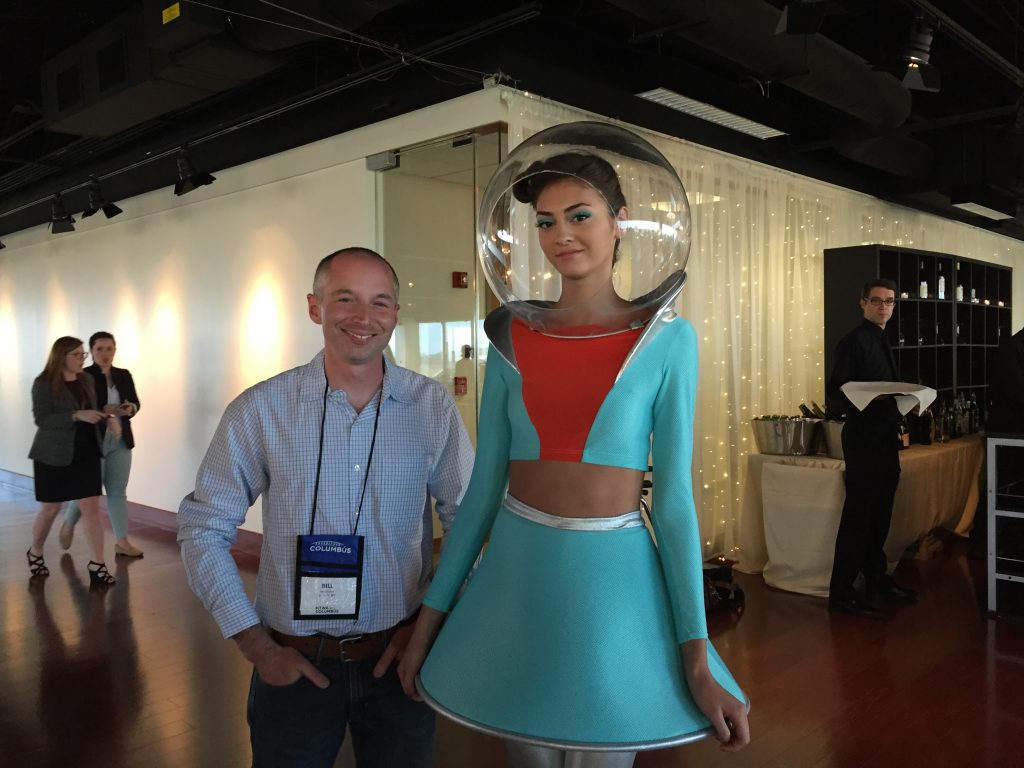 Look at me.  Do I appear to know the first thing about fashion or design?  I'm the guy that brags about a $5 pair of pants I found on sale at Kohls.
Columbus however has a reputation for being a hub in the fashion industry.  Locals will know this but people living outside the state probably find that revelation surprising.   The city is home to the headquarters of Abercrombie & Fitch, Express and Victoria's Secret.
There are more fashion designers per capita here in Columbus than anywhere else in the U.S.
They Know How To Do Breakfast.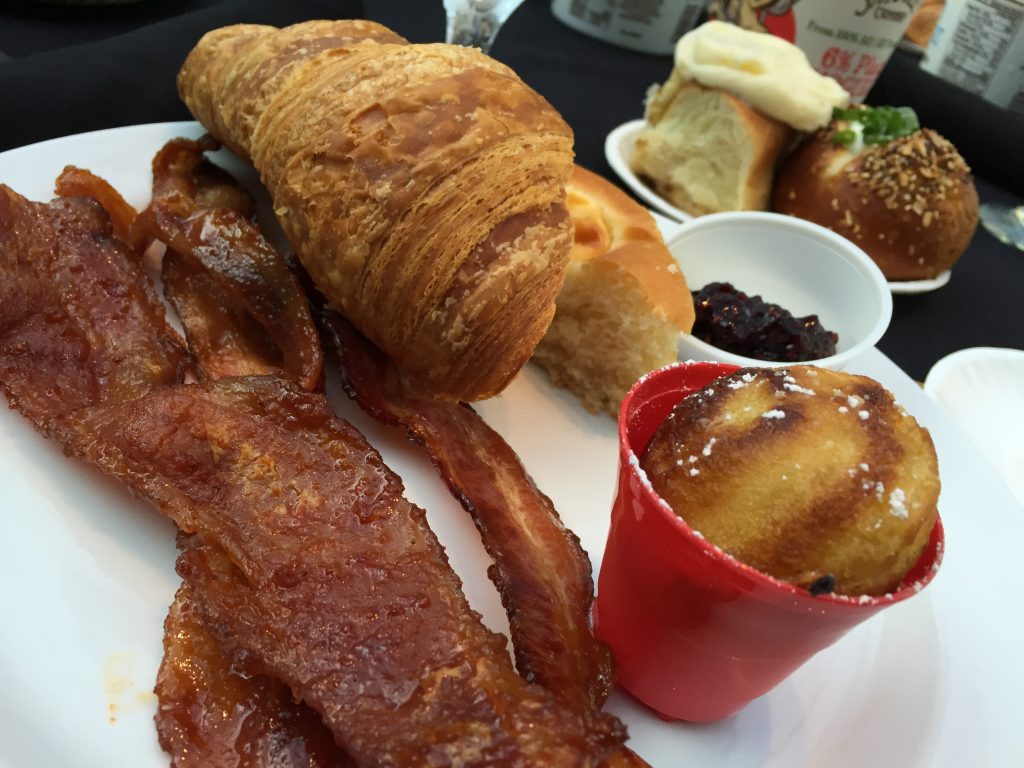 During our visit to Columbus, we met Nick Dekker of Breakfast With Nick.
Here's a guy that's made a career out of being fascinated with the most important meal of the day!   Mr. Dekker organized a giant room full of breakfast options from around the city and admits that it was just a small sample of what Columbus has to offer in terms of breakfast dining.
We enjoyed farm to table goodies like sweet & spicy bacon and locally produced milk and yogurt.  There were pancake balls, giant cinnamon rolls and pretzels.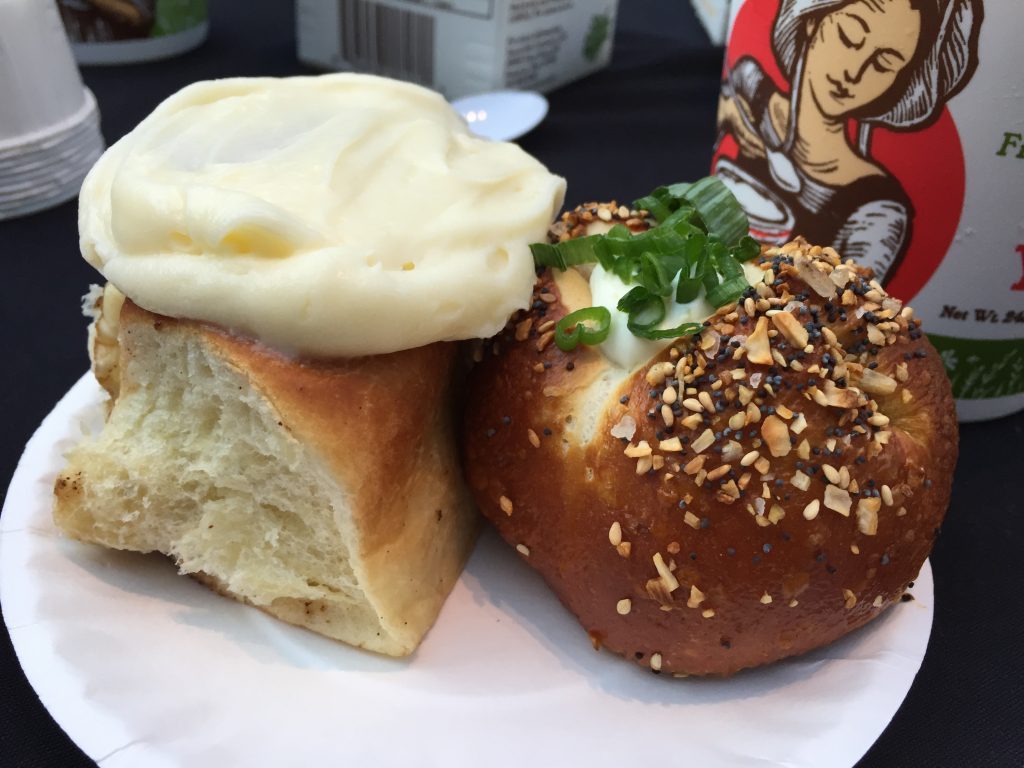 My favorite treat was a croissant from Pistacia Vera.  I could eat one of these things every single day for the rest of my life.  I met Anne, one of the owners, who seemed humbled when I told her how incredible her product is.
Some of the other participants and Columbus breakfast options included:  Katalina's, Fox in the Snow, Snowville Creamery, Kolache Republic, Flowers & Bread and One Line Coffee.
I Look Good In Goggles.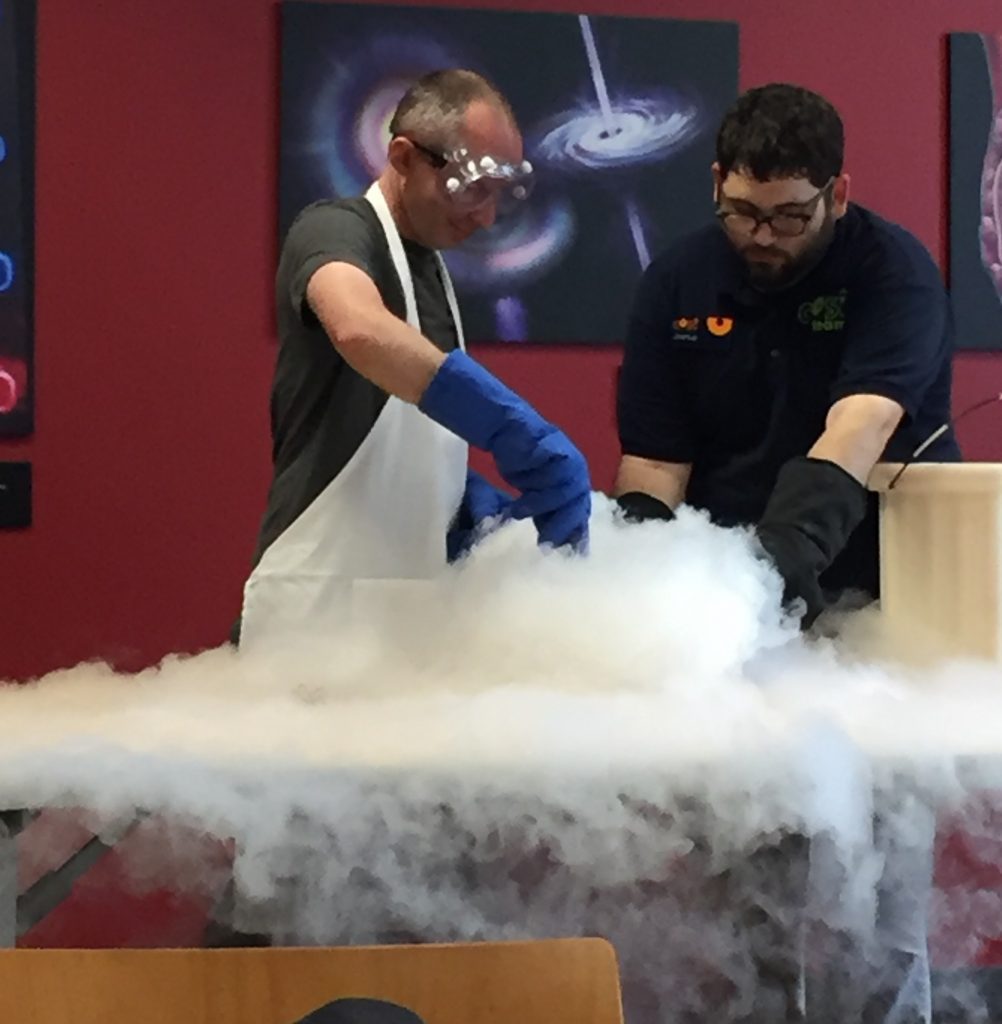 After a walking tour of COSI (Center Of Science & Industry) we headed to a classroom for a special hands-on science demonstration.
Always eager to jump at the opportunity to wear oversized protective goggles – I volunteered to help with the special experiment.  After adding the components for chocolate pudding in a giant bowl, a bucket of liquid nitrogen was poured into the mix.  My only task, while wearing thick gloves to prevent frostbite, was to stir the ingredients until it became ice cream.
It did.  And, oh I also may have tried stirring the opposite direction and got the mixture all over the poor guys table.
COSI is ranked as one of the top attractions for tourists in Columbus.  The displays are largely geared toward kids like most science museums but there are some interesting things adults would enjoy.   The IMAX theater was a fun break in a busy day where sat back and stared up at the stars.
I Can Paint And Drink. Just Can't Spell.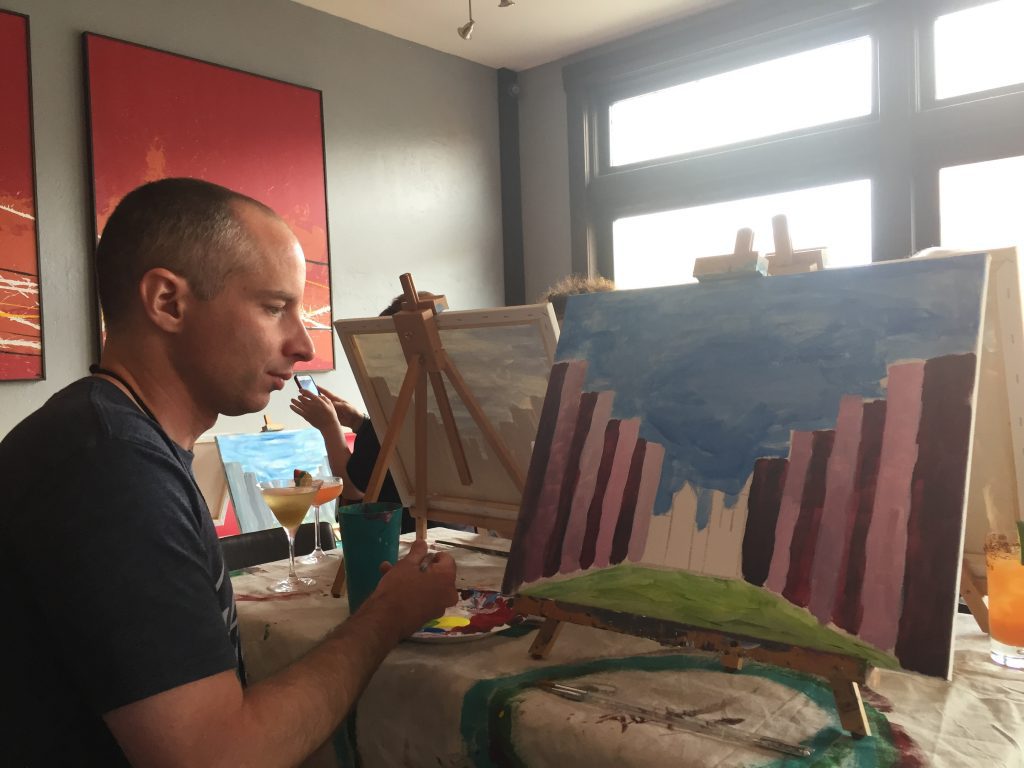 Painting, drinking and spelling.  In the words of singer Meatloaf: two out of three ain't bad.
Megan Sharbaugh is a founder of Studio 614. She coached several of us travel writers to paint a picture of the popular Columbus entertainment district Short North.  (Some of us did better than others.  I'll let you be the judge.)
The Short North is an area full of art galleries, dining options and unique locally owned shops.  One cool place was a toy store called Big Fun that sold old toys that were mostly out of their original packaging. (You know, from normal kids like you and me that actually played with our toys.)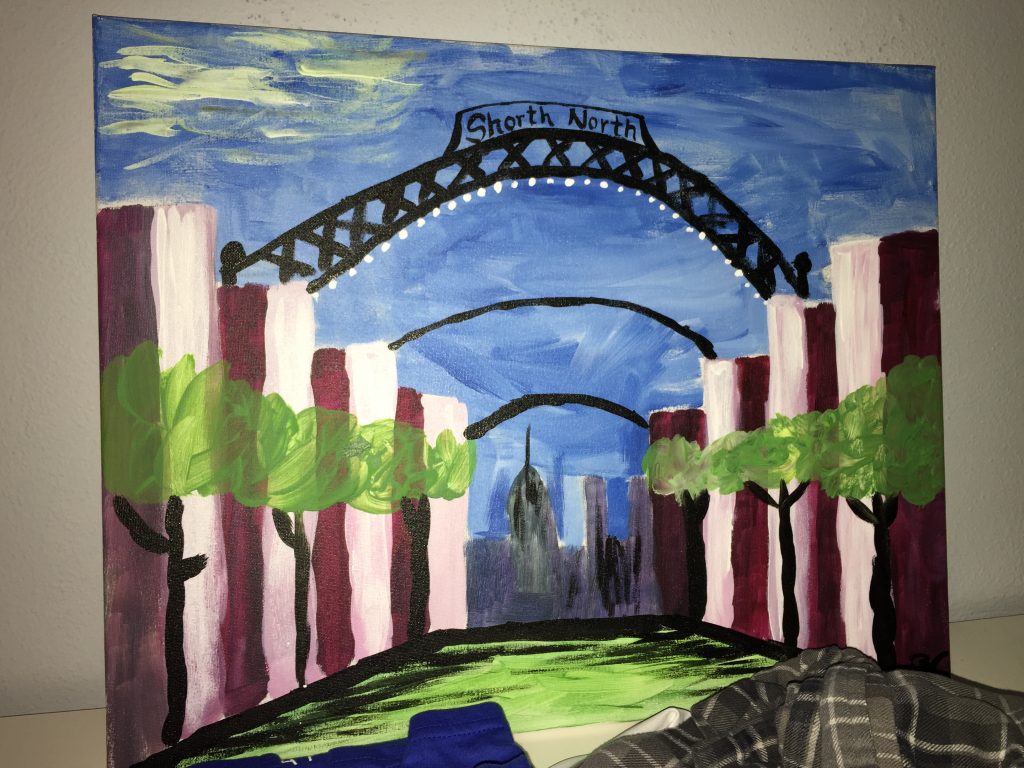 While painting our own version of The Short North we enjoyed custom cocktails from Denmark – a cool bar across the street from the Columbus Convention Center.  The drinks were good, but didn't do much to help my painting.  Certainly didn't prevent the glaring error in my masterpiece, shown above.
But… how 'bout those trees!?
Baby Polar Bears Are Awesome.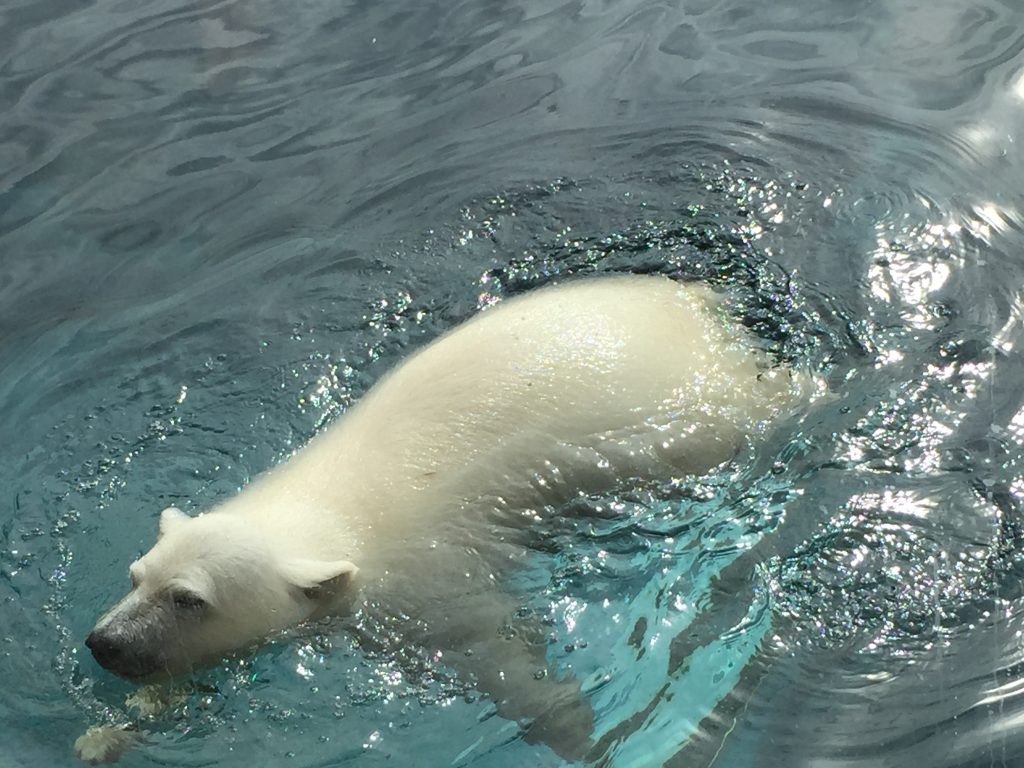 Yes, they'd probably eat you alive in the wild but that doesn't make a baby polar bear any less adorable.
Nora is about 6 months old and the crowds at the Columbus Zoo couldn't get enough. She played with a plastic ball and swam back and forth between her habitat and the giant glass exhibit wall where hundreds of guests huddled together and snapped photos.
We were able to sneak down below the exhibit to watch Nora attempt to eat, or shall I say, catch her lunch.  The fish were plentiful but Nora just couldn't quite grab one.  Not yet anyway.
For more things to see and do in Columbus, Ohio you can visit: Experience Columbus.