When I first wrote about visiting Milwaukee back in 2014, I was so impressed that I couldn't believe more people weren't familiar with this mid-western gem.  In fact, it was the first article I'd posted as a travel journalist that went viral – crashing my website and filling my inbox with notes of thanks from Milwaukee residents – past and present.
Four years later, after a return visit this spring, I'm still impressed. The coolness of Milwaukee isn't as much of a secret to travelers these days.   Everyone knows there are tons of festivals, great restaurants and nice people that love their beer and cheese.  But, visitors may be surprised to learn how many fun, or even "quirky" things you can do here that will make your road trip even more memorable.
Here are some of my favorites: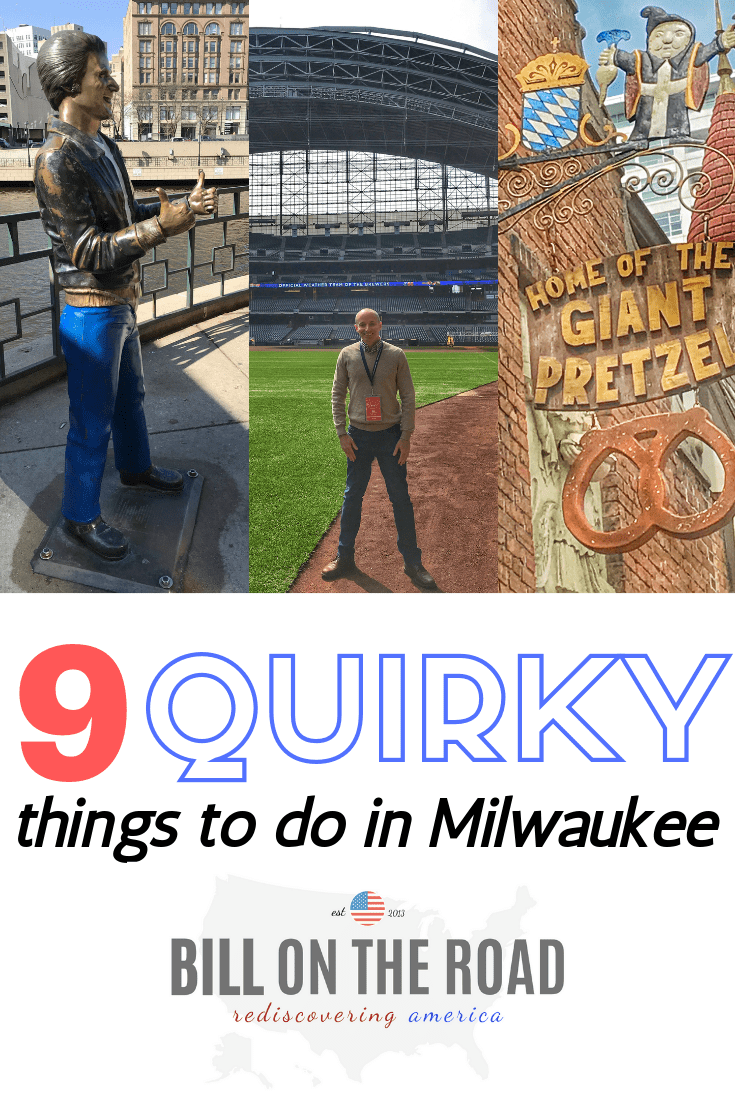 Watch The Art Museum's Wings In Action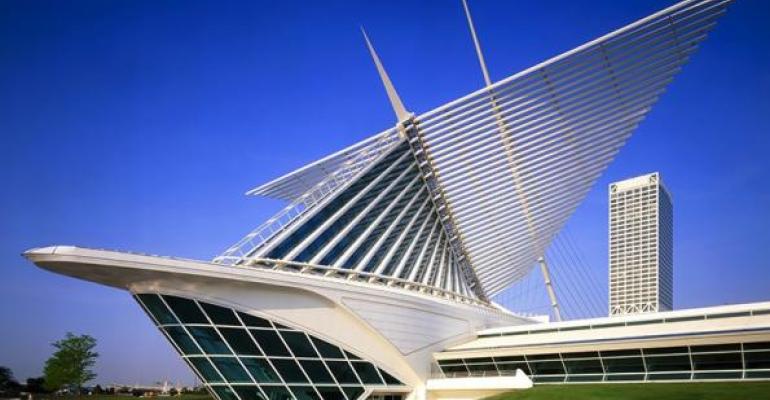 The Milwaukee Art Museum is one of the most recognized landmarks in the city due to its signature steel wings that open and close throughout the day. The Burke Brise Soleil consists of 71 fins made of steel, that open at 10 a.m. and close again at the end of the day.  At noon, the wings close and re-open.
It takes about five minutes for the 90 ton,  217-foot long structure to move into place.  Just hope you're not in town on a windy day, because the wings stay closed when the wind exceeds 23 miles per hour.  
Make Your Own Cheesehead Gear!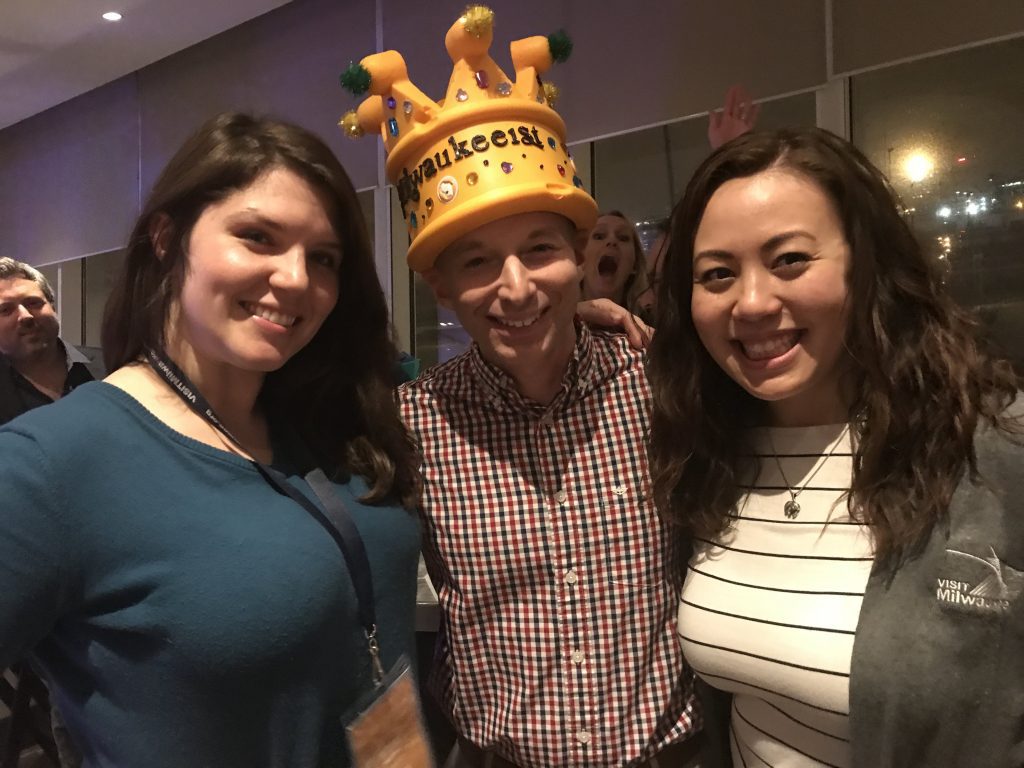 No other state embraces their love of cheese quite like the good folks of Wisconsin.  While "cheesehead" was first used as a derogatory term to poke fun at dairy state residents, it was quickly embraced by locals.
Foamation is the Milwaukee based company that has been making those Cheesehead hats, bow ties, cups and even Christmas ornaments since 1987.  (You can see my Cheesehead crown I'm wearing from a recent visit.) Take a tour of their factory and even create your own foam cheese masterpiece to take home!
Fun Fact – the first Cheesehead or "cheese hat" wasn't worn during a Packer's game, it was worn at a Brewers game!
See The Holes In Miller Park's Press Box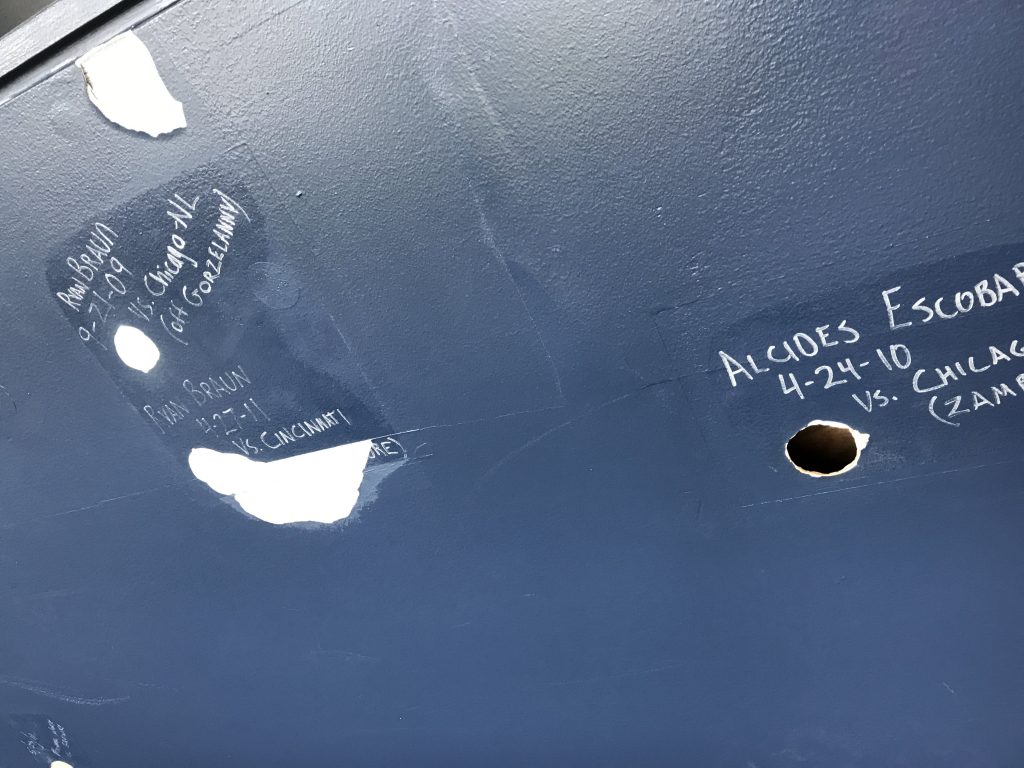 One of my favorite things to do in a city with an MLB team is to tour the stadium.  As part of the Miller Park tour, you'll have the chance to sit in the dugout, stand on the field and visit the stadium's press box.
If you follow baseball, you know it's not unusual for an occasional foul ball to fly into a stadium's press box or broadcast booth.  What makes the Milwaukee stadium a bit unusual is that the local press in document each ball that soars into the booth and damages the walls.
Try And Eat A Giant Pretzel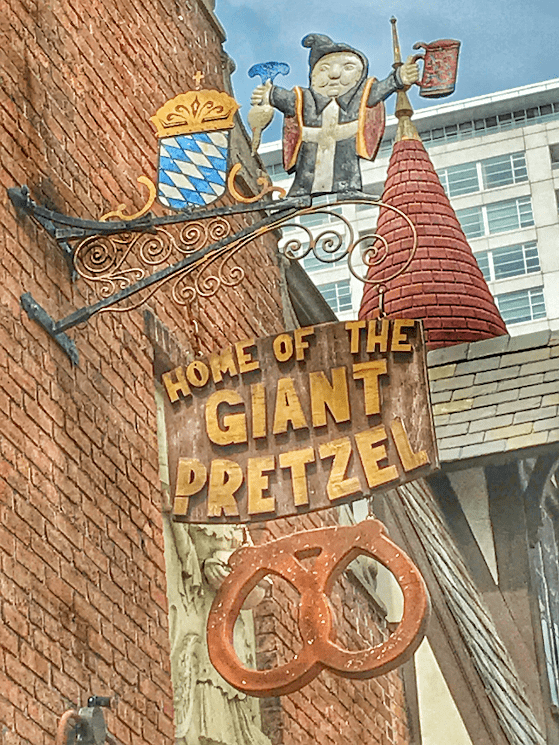 Mader's is a longtime local institution and known for its giant pretzels.  Famous folks like Katy Perry, Will Ferrell, and even former U.S. Presidents have dined here during their visits to Milwaukee.  (Be sure to check out the wall of autographed photos)
Mader's is one of the stops you may enjoy when experiencing a Milwaukee Food Tour.
See The First Harley-Davidson Motorcycle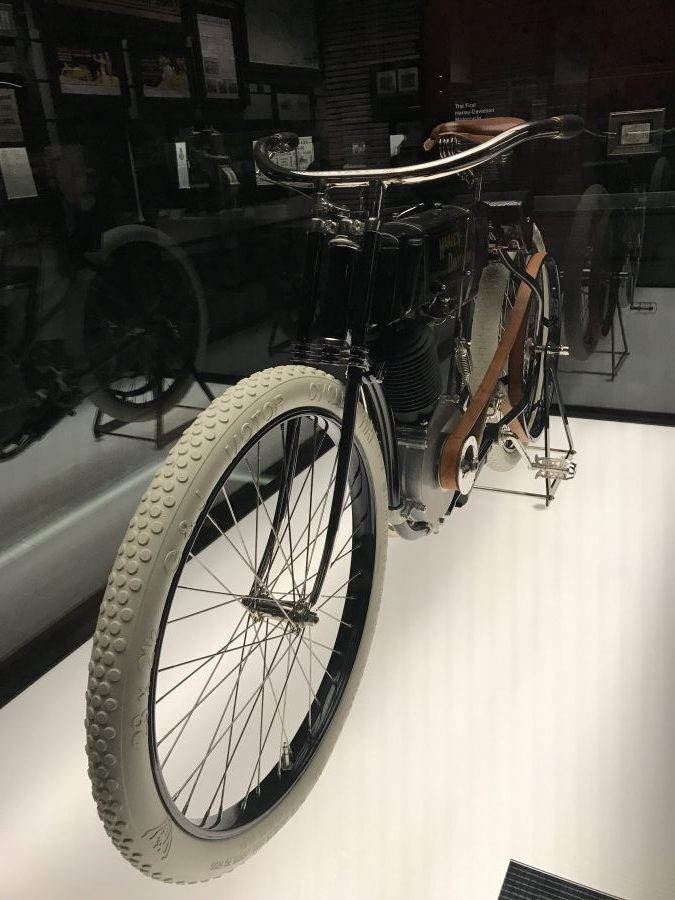 It's pretty cool that that you can see the oldest known Harley-Davidson motorcycle at Milwaukee's Harley-Davidson Museum.  Known as "Serial Number One" – the bike is just one of the many interesting displays inside the complex that even non-riders will enjoy.
Enjoy A Magic Trick At The Safe House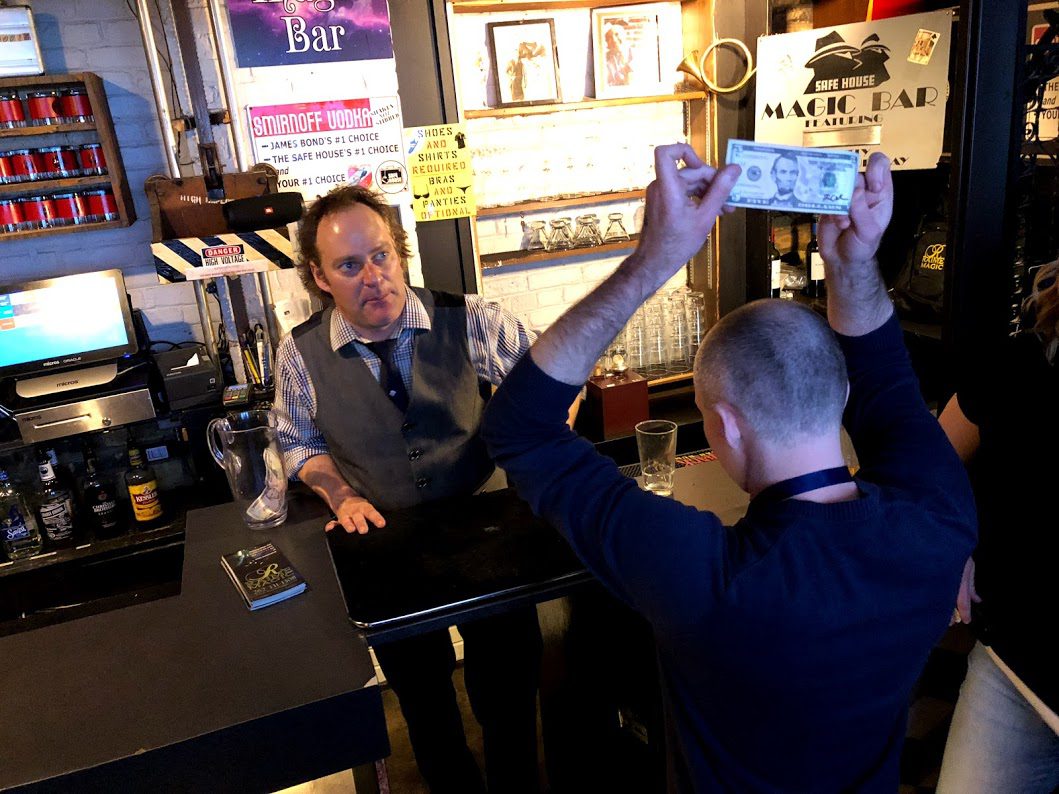 Do you know the password to get into Milwaukee's only spy themed establishment?  If not – that's okay! Once  you find it, a special agent will make sure you're cleared to enter Safe House.  Once inside, get ready for a one-of-a-kind experience including the chance to partake in some great magic!
During my visit, the in-house magician did some crazy tricks with my $5.00 bill that left our group in disbelief.  (You can see me holding up the money to the rest of the observers.)
Pose For A Photo With The Fonz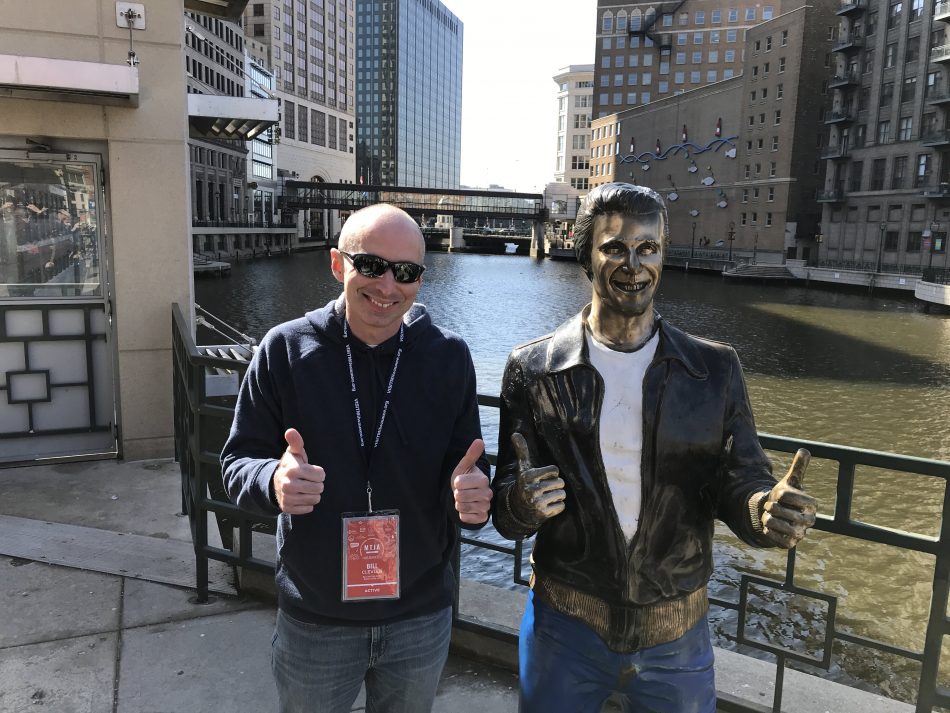 Milwaukee is home to the classic TV show Happy Days which of course starred actor Henry Winkler.  Winkler played the role of The Fonz who was known as a hip, smooth talking, ladies man.  The statue, which shows Fonzie giving his signature thumbs-up pose, was unveiled in 2008 and is located along the Riverwalk
See Six Frank Llyod Wright Homes – In A Row!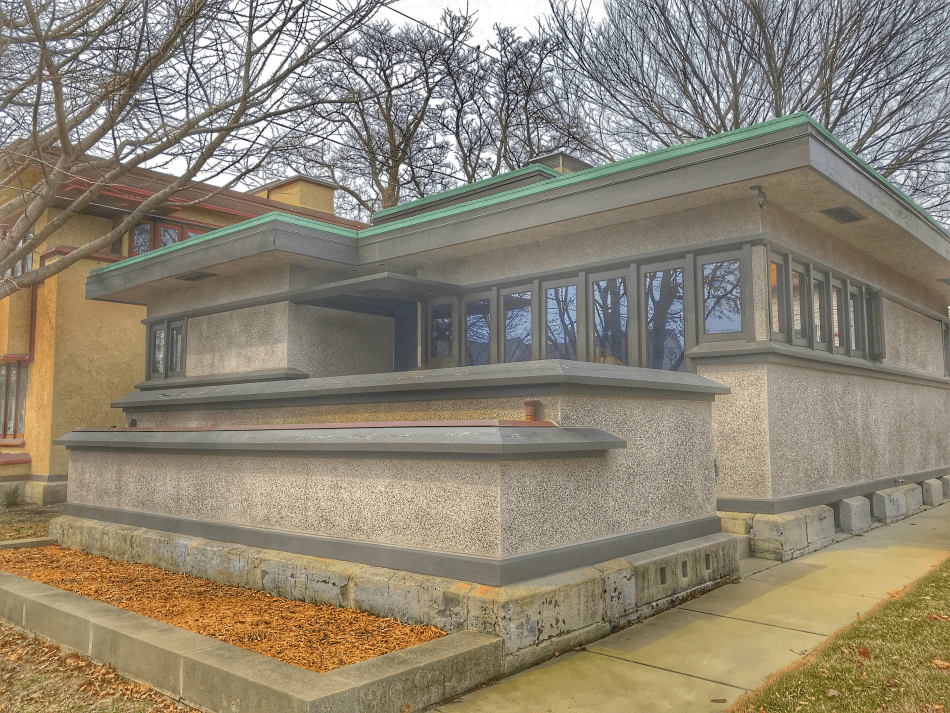 Frank Llyod Wright is known for designing some pretty amazing (and often expensive) homes.  The Burnham Block features six homes in a row designed by Wright that were examples of prefabricated, affordable living spaces.  While it's believed more of these homes exist around the U.S. – very few have been discovered.  This is the only place to date where you'll find this many all together on one street.
Currently, only one of the homes has been completely restored (pictured above) and is available to tour through the non-profit group Frank Llyod Wright Wisconsin, Inc.
Have A Drink At Wisconsin's Longest Bar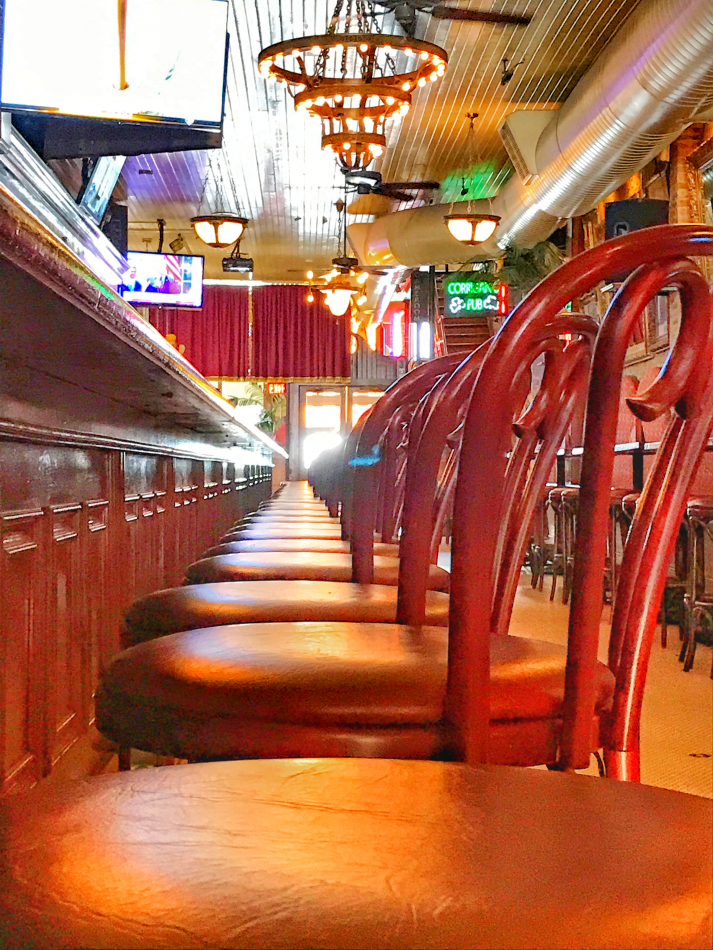 When it comes to grabbing a drink in Milwaukee – go big, or go home! The bar at Buck Bradley's can seat about 40 people at one time.  It's the longest bar in Wisconsin and also the longest east of the Mississippi river.  It's a popular spot before and after events downtown and the food and service is known to be top notch.   The original building opened in 1854 as a furniture store.
Of course, the fun doesn't stop there!  Milwaukee is full of great food, lots of things to do and great people!
---
Love road trips? Buy a signed copy of Bill's book 100 Things To Do In America Before You Die!  The book includes 100 uniquely American experiences and makes a great gift for your favorite traveler!  Learn more and buy a copy right here on billontheroad.com!