Today, millions of Americans will enjoy a day off from work and school in honor of the civil rights icon, Dr. Martin Luther King, Jr.   Though there are many that get credit for fighting for equality among all races in the United States, none are more cherished than Dr. King.
As travelers, there are more than a handful of ways to learn about his life or be reminded of his unique role in American history.
These are a few of my favorite spots to tribute MLK.
If you can't fly then run, if you can't run then walk, if you can't walk then crawl, but whatever you do you have to keep moving forward.
ATLANTA, GA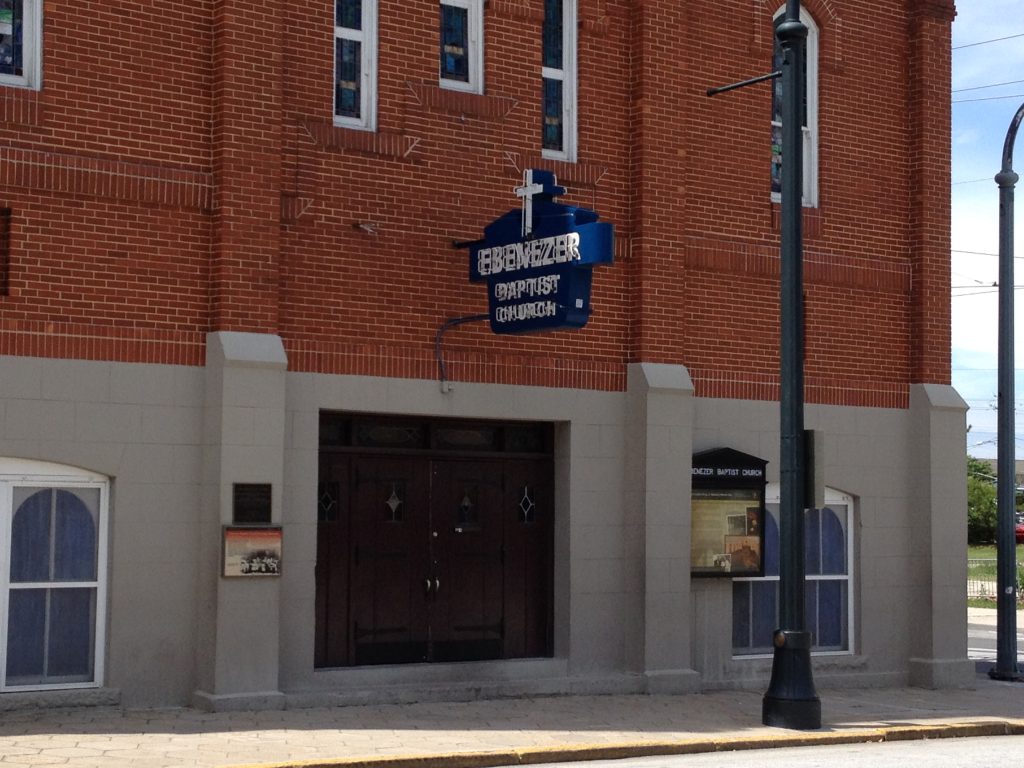 One of the most inspirational experiences I've enjoyed on the road occurred in Atlanta inside the original Ebeneezer Baptist Church.  At the age of 19, he started preaching.   He eventually became co-pastor along with his father.  He held that title until his death in 1968.
The site is operated today by the National Park Service and has largely been restored to original conditions.   Upon entering the church sanctuary, you're invited to sit in one of the pews and listen to a recorded sermon playing over the speakers.
During my most recent visit, I happened to be the only one in the building for a short time.  Hearing his inspiring words, while gazing up at the pulpit with light beaming in from the stained glass windows, was truly remarkable.
Around the corner from the church is the final resting place of MLK.  The tomb is surrounded by a reflection pool with an eternal flame on the opposite side.
Tours of his boyhood home are also available, free of charge.  Space is limited, so its best to arrive early.
450 Auburn Avenue, NE
Atlanta, GA 30312
Hours 9A-5P
Free Admission
The time is always right to do what is right.
MEMPHIS, TN
After many visits to Memphis, I finally had the chance to tour the National Civil Rights Museum. 
As I wrote in my article, this place is absolutely fantastic and one of the largest museums I've ever been in.  It's almost overwhelming.  There are no shortage of inspiring stories to learn about inside, but the most obvious is the tragic tale from April 4, 1968.
The museum is built behind the Lorraine Motel where MLK was shot and killed by James Earl Ray.  Visitors are not allowed to physically stand on the balcony but a wreath notes the spot where King had been standing.  The room (#306) where he would eventually die from gunshot wounds is behind glass panels.
I am huge proponent of standing in historic places – and this definitely fits the bill.  There's an eerie and dejected feeling that comes over you as you glance down to see tourists looking back up at the infamous balcony.
450 Mulbury Street
Memphis, TN 38103

Hours: 9A-5P (*Closed on Tuesdays)
Fees:  $16 (Adults) / $13 (Children)
I have decided to stick with love. Hate is too great a burden to bear.
Washington DC
Dedicated in 2011, the Martin Luther King Jr memorial honors his legacy near the National Mall in Washington DC.   King is only the 4th non-president to receive such an honor.
The monument is titled The Stone Of Hope.  Visitors can read through text from some of his speeches and sermons on a 450 foot long inscription wall.
If you want to stand in a special spot, be sure to walk over to the Lincoln Memorial where King delivered his trademark "I Have A Dream" speech.
Montgomery, AL
You can visit the home where Dr. King lived while he was pastor of the Dexter Avenue Baptist Church in Montgomery, Alabama.  This is also the city where King led the now famous bus boycott in 1955.