If you're road tripping through southern California – don't just zoom by the city of Oxnard! Oxnard is located northwest of Los Angeles and about an hour southeast of Santa Barbara. You'll find beaches and beautiful weather – but there are plenty of other things to see, do, and oh yeah – eat in Oxnard.
Here are five ideas to enjoy and make the most of a day in Oxnard!
1. Taco Trail
Imagine how much faster Lewis & Clark would have made it to Oregon if they had tacos all along the way. Oxnard has an abundance of delicious Mexican restaurants and places to grab yummy tacos! The Oxnard Taco Trail is a mobile app that's free to download and earns you discounts at 15 different restaurants that serve tacos. Even if you're visiting for just a day or a weekend – you can still sign up and enjoy the perks!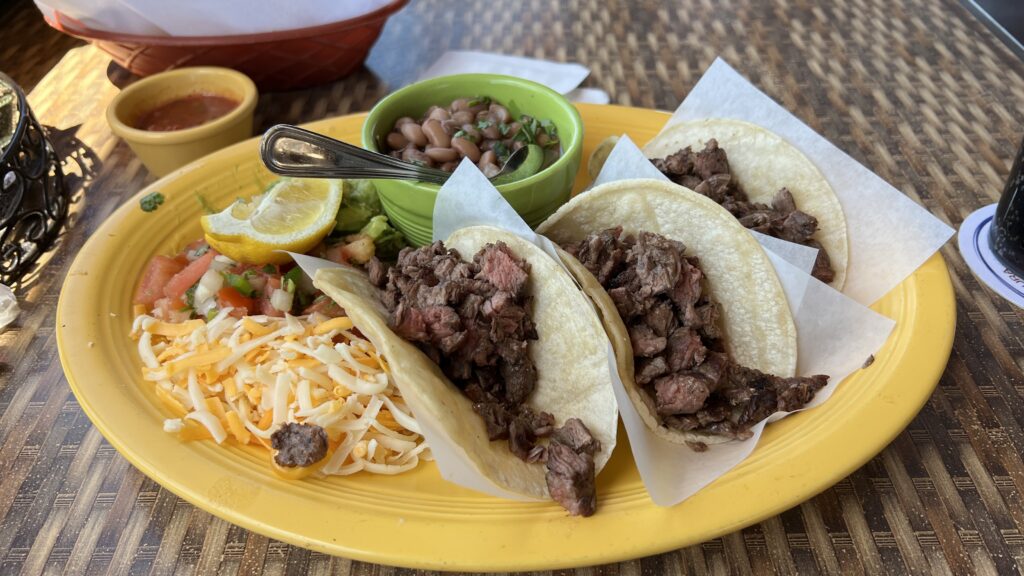 One of the spots I checked out was Yolanda's Mexican Cafe with a beautiful patio view of the water and boats. It's a great place to enjoy dinner and the sunset as well. I ordered three steak tacos and they were definitely worthy of being part of the Oxnard Taco Trail!
2. Murphy Auto Museum
Oxnard is fortunate to have two wonderful car museums: Murphy Auto Museum is open during the weekends with about 50 classic cars and rare vehicles. Not only that, you'll find a large collection of diecast cars and collectible toy cars on display as well. Every third Saturday is a special cars and coffee event where car enthusiasts can gather. It's an affordable stop – only $10 for adults and the staff is made up of volunteer car enthusiasts.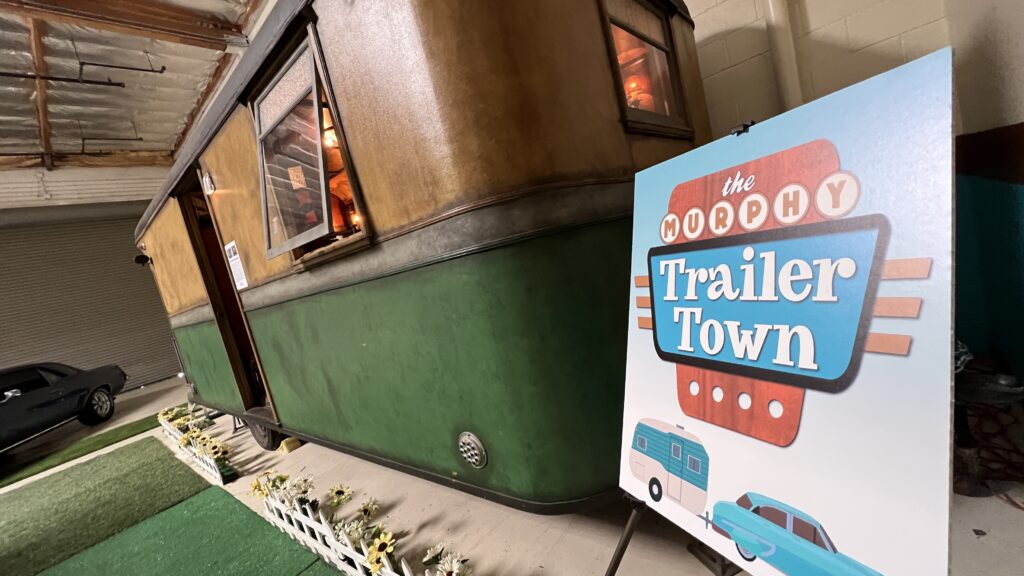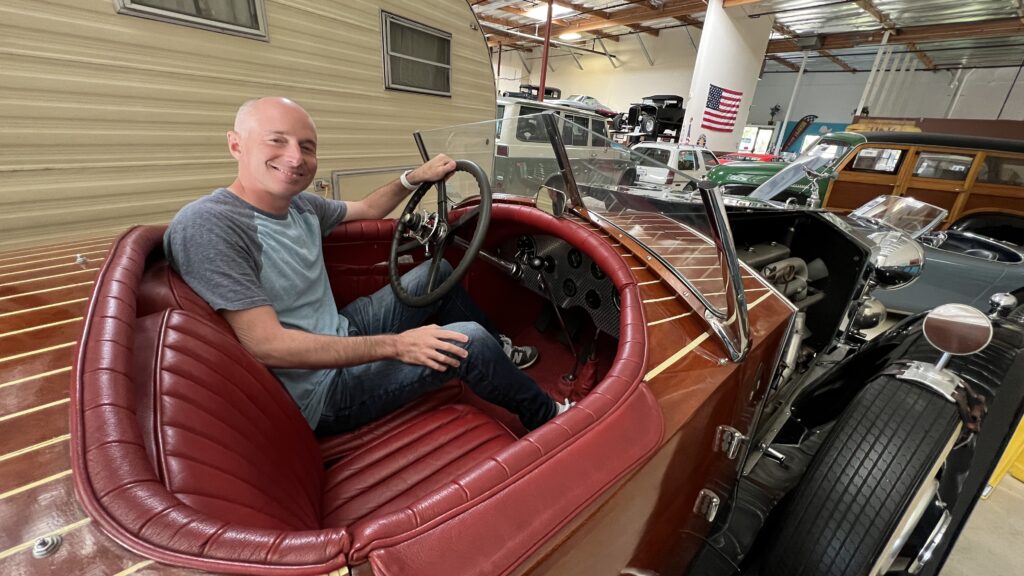 As a traveler, I enjoyed seeing some vintage camper trailers in the mix. If you get a chance to visit with "Fireball" Tim when you're at the museum – be sure to enjoy some of his stories about designing cars and art. He's a cool guy!
3. Find Oxnard's Collection of Murals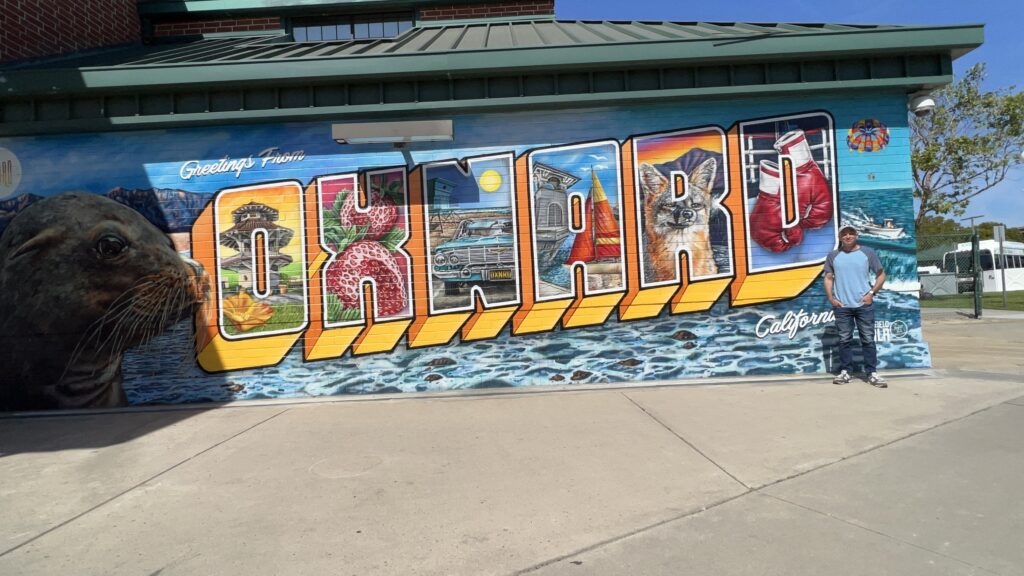 As murals are really starting to catch fire around the country, covering up old or ugly walls, locating them on road trips is becoming a fun activity for some travelers. Oxnard has quite a few. There's a list of the most popular murals around town on the Visit Oxnard website.
If you're looking for a fun postcard mural during your time here – it's easy to find at the Oxnard Transit Center. Just park and walk behind the the train depot near the train tracks. While you're there, pop inside to see some really great art and murals all around the ceiling of the building.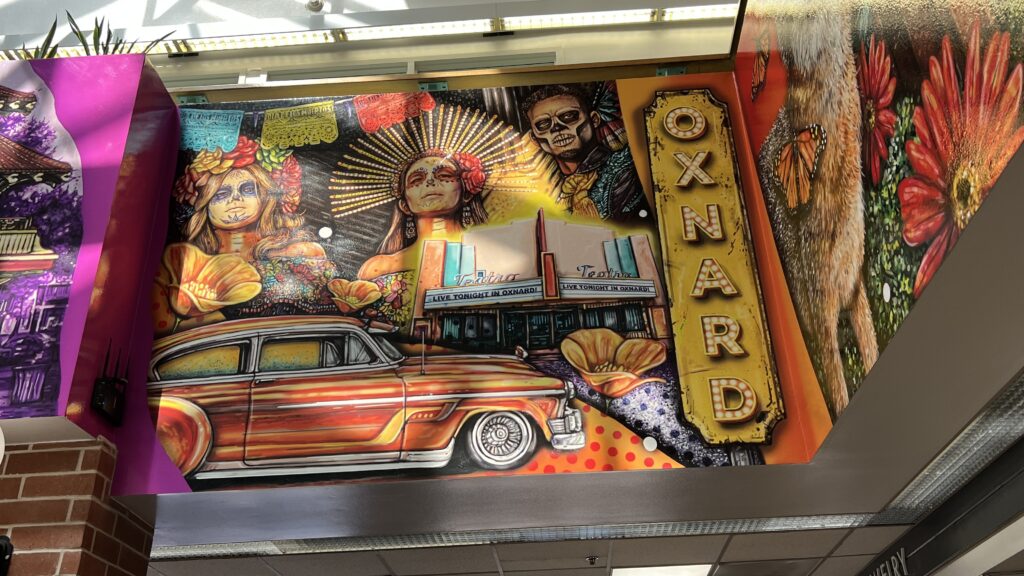 4. Mullin Automotive Museum
 The Mullin Automotive Museum is ranked as one of the top auto museums in the world with a rare collection of vintage Bugattis and other stunning classic vehicles. All of the cars on display are from the personal car collection of businessman and philanthropist Peter Mullin.
Being that I know almost nothing about cars – even I was blown away at the beauty of these vehicles. Only downside is the museum is only open twice a week – Fridays and Saturdays. Walk ins are welcome but they'd prefer an appointment through their website.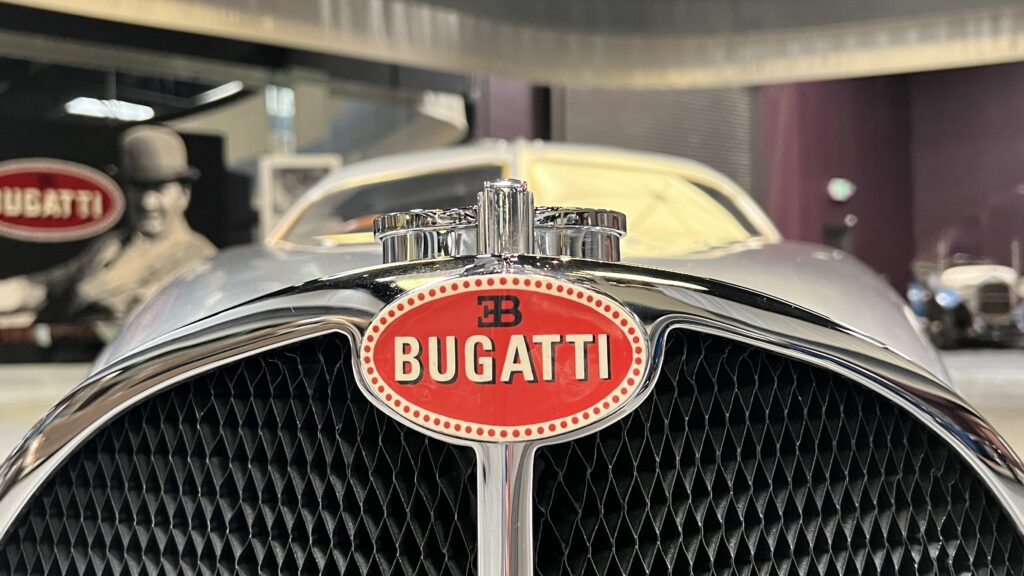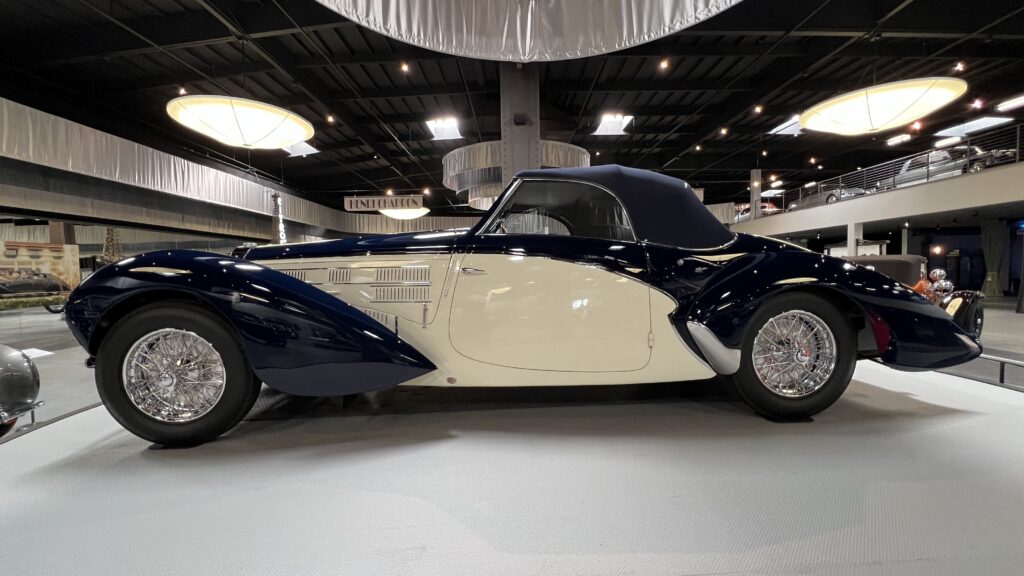 5. Heritage Square
Heritage Square is essentially a time capsule that preserves what Oxnard used to be at the turn of the century. The square opened in 1991 and features eleven homes, a church, water tower, pump house and storehouse – all of which were moved to a single block and restored to their original condition. Serving the community as an event and cultural center and major tourist attraction, Heritage Square houses over 25 businesses including a Restaurant, Wine Tasting Room and a Visitor Center/Gift Shop.
You can book an official tour through their website or simply show up and take a stroll around the square.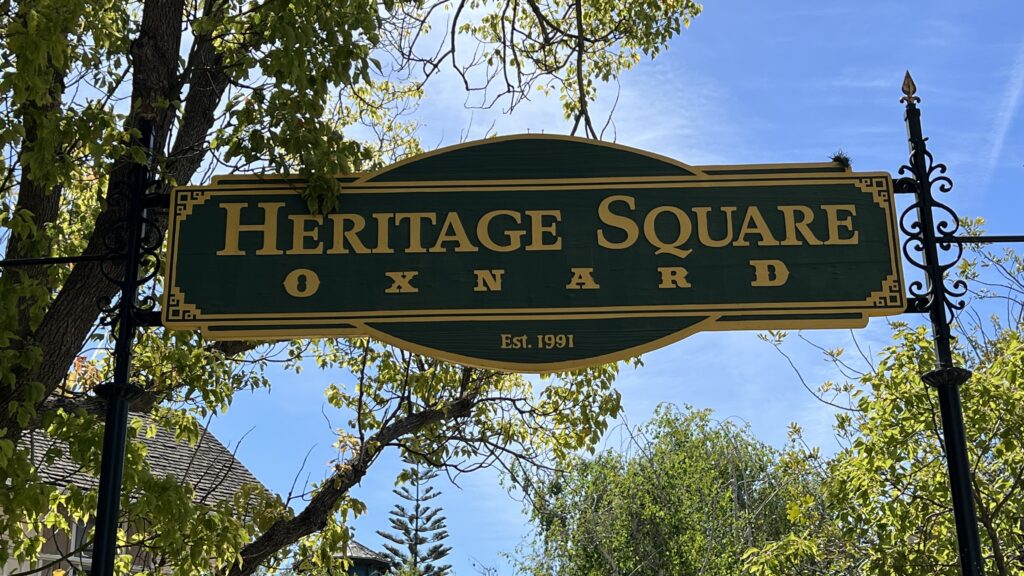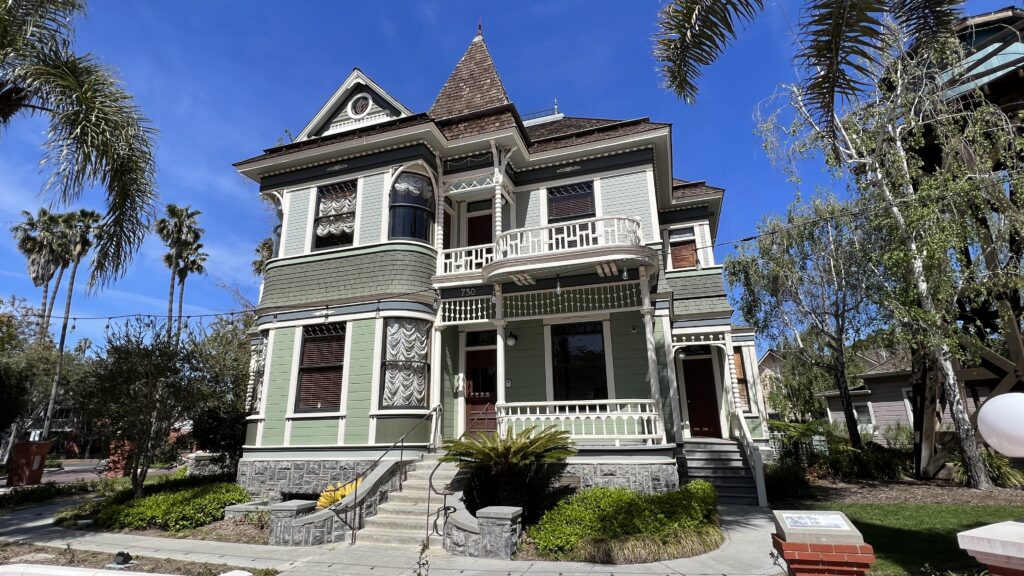 Looking for other things to see and do in Oxnard? You can visit the city's official tourism website for lodging and attraction information: Visit Oxnard
My home base during my visit to Oxnard was Homewood Suites By Hilton and the location was perfect! The large rooms included a hot tub, faux fireplace, and small porch that overlooked the pool. Breakfast and parking were offered for free!