While sitting at a table inside the Country Boy restaurant, our companionable waitress points out where Reba McEntire usually sits when she stops in for lunch. Just down the street, there's a small house where Justin Timberlake jams with his band when he's in town. Famous faces are nothing new in Franklin, Tennessee. Locals (the ones without mansions and record deals) leave them alone and treat them like neighbors. "If someone asks where a famous person lives – we usually just give them wrong directions" joked one native resident.
During a whirlwind stop in Franklin – most people certainly seemed to treat me like one of the neighbors. Even though I don't live anywhere nearby. But if you had to pick a neighborhood to call home, you can't go wrong with the atmosphere in the city's historic downtown. There's the Grilled Cheeserie with unique takes on the classic American sandwich and a nifty gift shop owned by the daughter of Hank Williams Jr. The beautiful marquee of the Franklin Theater lights up the street at night and you never know who might be staying at the elegant Harpeth Hotel around the corner.
If you only have one day to explore Franklin, here are a few suggestions to make the most of your visit.
Start with a Good Southern Breakfast
You have plenty of options for a cup of coffee, a quick pastry, or even a delicious donut to start your day in Franklin. But it would be a sin to not indulge in a good old fashioned southern breakfast while you're in town. I'd suggest a visit to Puckett's Grocery & Restaurant in downtown Franklin. It's a local hangout during the morning hours where people still gather to gab, talk about the weather, and discuss the gossip of the day.
Walk Around Downtown Franklin
Hopefully you have a pair of comfortable shoes because there's a lot of ground to cover if you want to explore downtown Franklin. There are nearly 100 businesses along Main Street where you can shop for clothes, pick up a unique gift, or grab a bite to eat. Starting with the town's public square – you can find things to interest just about anyone.
You can pop into Landmark Booksellers and find a rare book, or just to glance at a beautiful lamp that once belonged to country music legend George Jones.
Eat… Again!
Head on over to the village of Leipers Fork to grab a bite to eat and explore some of the cool art galleries and shops. Don't be surprised if you happen to spot a famous face passing through as many well-known celebrities live nearby. The Country Boy Restaurant is a great idea for lunch – the fried chicken is bigger than your head – and the staff is beyond welcoming.
Just down the street is a small house known as "Millville" where Justin Timberlake is known to sometimes jam with his band. He owns the house along with a childhood friend who once used it as a creative space for his clothing line. You can actually rent it for the night – if you've got $550 to spare per night.
Leipers Fork has a great community vibe – with the "Pickin Corner" at Serenite Maison where anyone can have a seat and play instruments hanging from the wall. A large front porch with the most comfortable rocking chairs I've ever sat in exists for local events – as long as everyone is invited.
Take A Drive!
You've been on your feet a lot, so take a few minutes to sit down and enjoy a relaxing drive along the Natchez Trace Parkway which crosses through Franklin. The Parkway is maintained by the National Parkway and stretches over 400 miles through Tennessee, Kentucky, and Mississippi. Hop out at Timberland Park and take a (safe) look over the bridge or enjoy an easy walk down the short trail from the parking lot for a cool view of the bridge. Of course – down below the double arch bridge is a popular spot for selfies and travel photos.
Stop By The Factory At Franklin
If time permits – this is a super fun stop to see the transformation of a former stove factory built in the 1920s into a hip shopping, dining, and meeting venue. The Factory is home to a local favorite – Five Daughters Bakery. On the back side of the building, several artists have set-up shop, and you can grab some fun Franklin and Tennessee themed souvenirs to take home.
The popular series CMT Crossroads is also filmed here.
Spend The Night at The Harpeth Hotel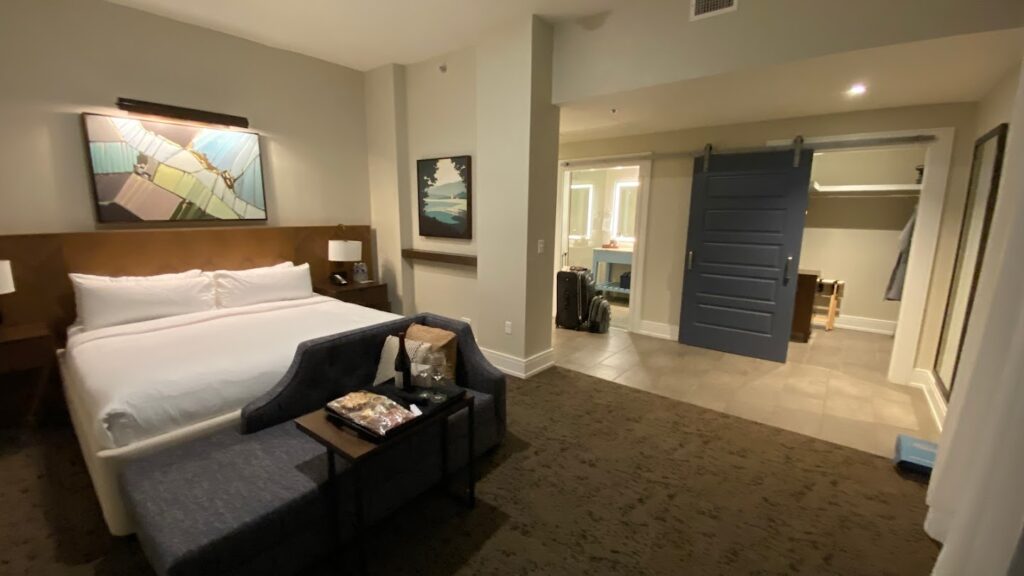 The Harpeth is a beautiful hotel that is a recent addition to downtown Franklin and the only hotel within walking distance of the town square. It's a perfect spot to make the most of your road trip to town. Each room has a view of the central courtyard with lavish stairs that lead to the second floor and a stylish outdoor space for gatherings. The rooms are beautifully decorated and quite spacious. There are two dining options on the hotel's main floor – including 1799 Kitchen & Cocktails.
If you're able to do all of that in a single day and still have time to spare – you're certainly better than me! For other ideas on things to see and do in Franklin – check out: visitfranklin.com. The local tourism site can guide you to popular Civil War sites around town and other entertainment ideas like shows at The Franklin Theater or where live music happens at night.