Driving into Fredericksburg, Texas on a sunny Sunday afternoon was certainly a pleasant surprise. You can imagine how many small towns I've visited across America and the look of awe that must have been on my face as I came upon what seemed to be a never ending Main Street of locally owned businesses. (The local tourism office puts the number at 150.)
Couples and families were strolling the sidewalks with bags of new treasures. There were kids occupied with ice cream cones on benches outside while their parents browsed everything from hand made soaps to varieties of wine produced in nearby vineyards. Fredericksburg really is the definition of a weekend getaway – with enough on Main Street alone to keep you entertained and occupied.
Shopping isn't the only thing Fredericksburg has to offer. In fact, one cool thing about the town's location is that it sits in perfect proximity to many other sights and attractions in the region – making it an ideal home base for an even longer visit to central Texas.
As I write this post, I'm actually still visiting Fredericksburg. I'm caught up in a freak winter ice storm that's paralyzed much of the region. The good news is – it's the perfect excuse to praise one of the town's lodging options. It's the place I've called "home" for the last four days – Cotton Gin Village.
These super cool cabins are rustic yet practical, with a hot tub, cozy living room, comfortable bed, and a fireplace. (If you're going to be "iced in" – is there a more perfect place?) But the best part is the people that work here! They are so friendly and have been such incredible hosts. While the roads are covered in ice and many businesses forced to close early, the owners are here taking care of the guests by delivering meals and firewood – the freezing cold and bitter temperatures!
So while I haven't been able to check out all of the great attractions in Fredericksburg, I still managed to see quite a bit before the storm rolled in. For starters, the town is home to the National Museum of the Pacific War. I spent part of the day wandering through the exhibits and seeing many of the museum's compelling artifacts. For me, the most shocking was a captured midget submarine used in the Japanese attack on Pearl Harbor. Of the five that were used, this is the only one that remains intact.
Fredericksburg also has a Pioneer Museum and many other historical sites that will delight any history buff to no end.
Down the road about 30 minutes is a piece of American presidential history. The ranch owned by Lyndon B. Johnson is open to the public for tours. You can drive around the massive estate and hop out to see the former president's childhood home and schoolhouse. A plane used by Johnson is on site as well as his final home that was commonly referred to as the "Texas White House".
If you have time, be sure to check out the visitors center which is located near the president's airplane. Johnson was apparently a huge "gift giver" and the museum has an entire storage room full of presidential gifts that were once given out. Everything from electric toothbrushes to playing cards and toys. All of them with the official seal of the President of The United States.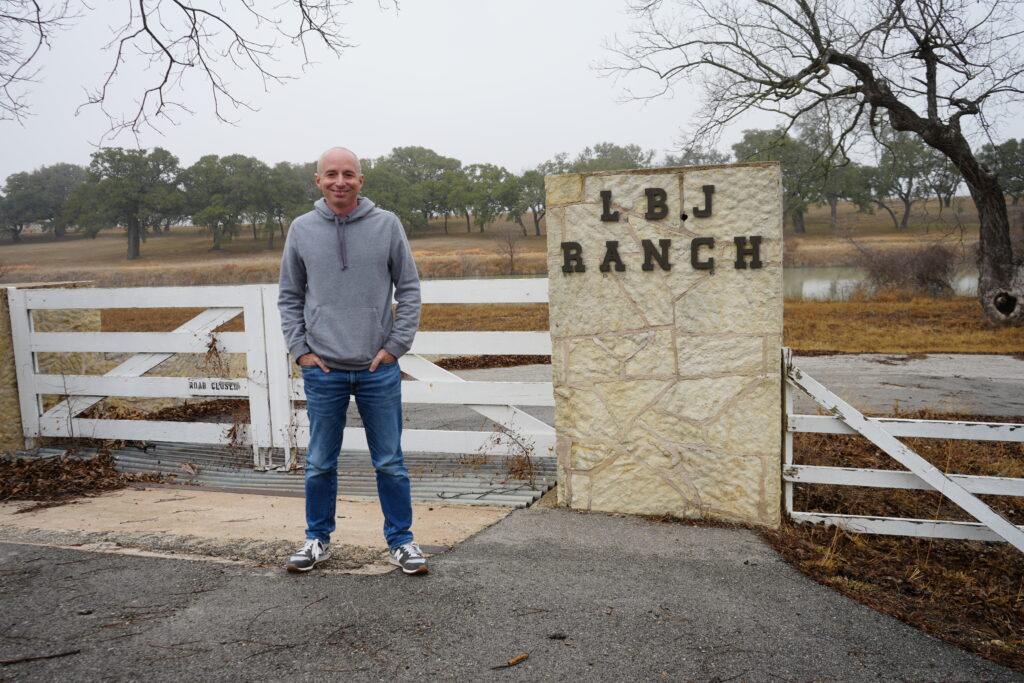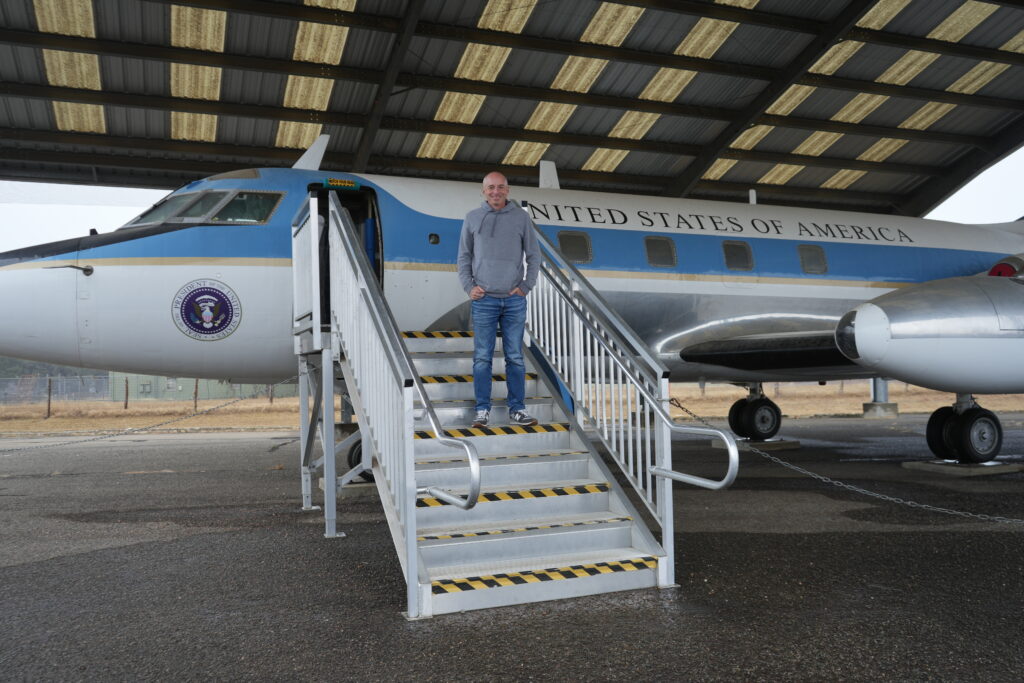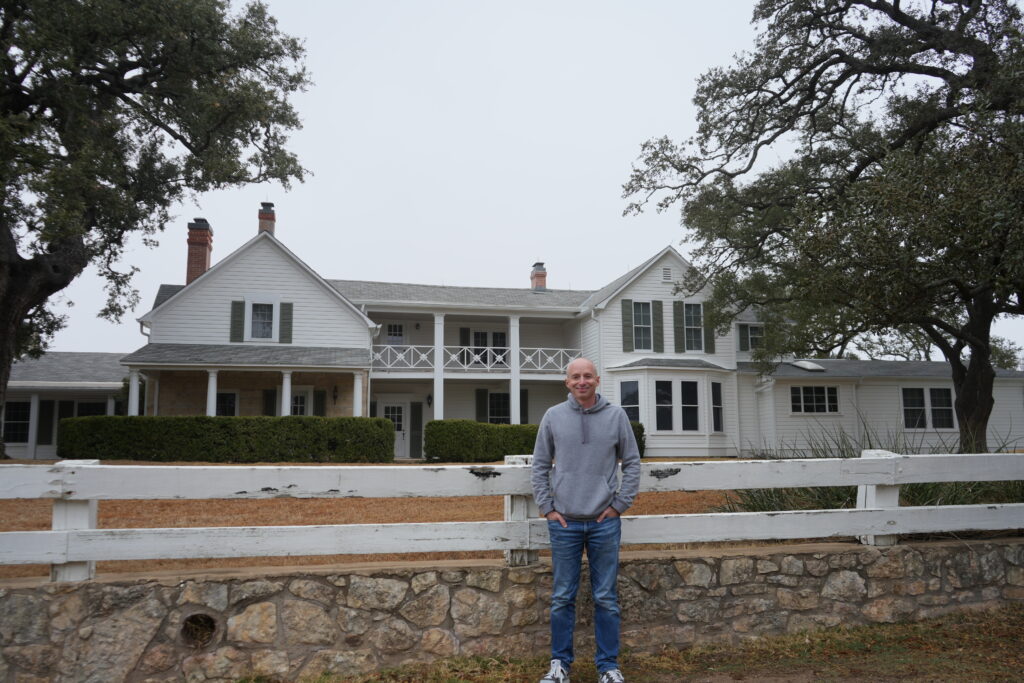 If you're a fan of classic country music, you may have heard about a town called Luckenbach, Texas. Luckenbach was immortalized with the lyrics of a hit song by Waylon Jennings back in 1977. It was established as a trading post back in the 1800s and over the years changed hands to eventually become a legendary dancehall and musical compound. People from all over the world make a stop to see it in person. An amusing side note – Waylon Jennings, despite making a fortune from the song, claimed in his autobiography that he had never been there and hated the song. (But, he knew it would be a hit, so he recorded it.)
Luckenbach is a short drive from Fredericksburg and a great place to enjoy some music and a cold beverage of your choosing! (Watch my short video tour below!)
One of the most popular attractions in the area is Enchanted Rock State Park. The pink granite mountain is located about 15 miles north of town and offers some incredible views for hiking and rock climbing. It has been designated as a National Natural Landmark and some consider the spot to be magical and even full of mythical legends. There's a minimal admission fee and reservations are required during busy tourist months.
If you're hoping to find a town full of chain restaurants and fast food spots – you're out of luck. A few do exist here and there but it's mostly locally owned restaurants in this town. And while I didn't get to experience many of them – the ones I did were fantastic! Perhaps the best meal of my visit came from a spot called Cabernet Grill. Full disclosure – it is literally 50 feet from the cabin where I'm staying and this meal (pictured below) was delivered to my front door.
When I tell you it was the best meal I have had in six months – I'm not being dramatic. It was absolutely amazing. I mean, look at it!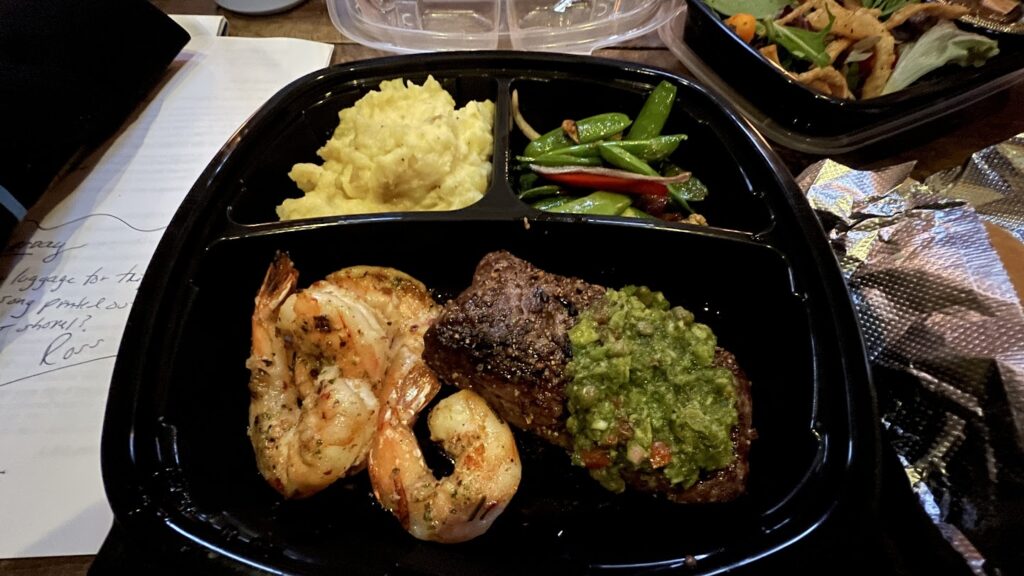 Fredericksburg has lots of great spots to wine and dine. You can see a full list here.
Other Ideas
Here are a few of the other cool things to see and do in and around Fredericksburg, Texas:
Fort Martin Scott Historic Site – A pre-Civil War military outpost that was operated from 1848 to 1853 by the U.S. Army.
Tour Local Wineries – Fredericksburg is right in the middle of Texas wine country and is a great home base to explore over 100 wineries in the area!
Longneck Manor – Get up close and personal with giraffes in this intimate 90 minute experience with caretakers. Tours are held twice per day with limited availability.
Pioneer Museum – A 3.5-acre museum complex that contains examples of early German structures and artifacts.