Bringing up the 2011 tornado that tore apart this southern Missouri town brought visible emotion to residents I met during a recent stop in Joplin.  One girl started crying as she recalled the gut wrenching sounds outside her bathroom window as the storm blew through her neighborhood.  Others talk about strangers helping one another and a real sense of community that seems to surface after one of these tragedies.  No matter who you talk with here, it's obvious this is still a town with a lot of healing left to do.
May 22, 2016 marks five years since one of the most destructive tornadoes in American history touched down, putting Joplin on the map in ways they never imagined or wanted.
At 5:34pm on a Sunday afternoon – an EF5 tornado blew through the city known best for its ties to Route 66 or connections to Bonnie & Clyde who appeared here during their infamous run from the law.  (The first photo of Bonnie was discovered here.)   But, on this dark day – the world would learn of Joplin as a small community at the mercy of mother nature through no fault of its own.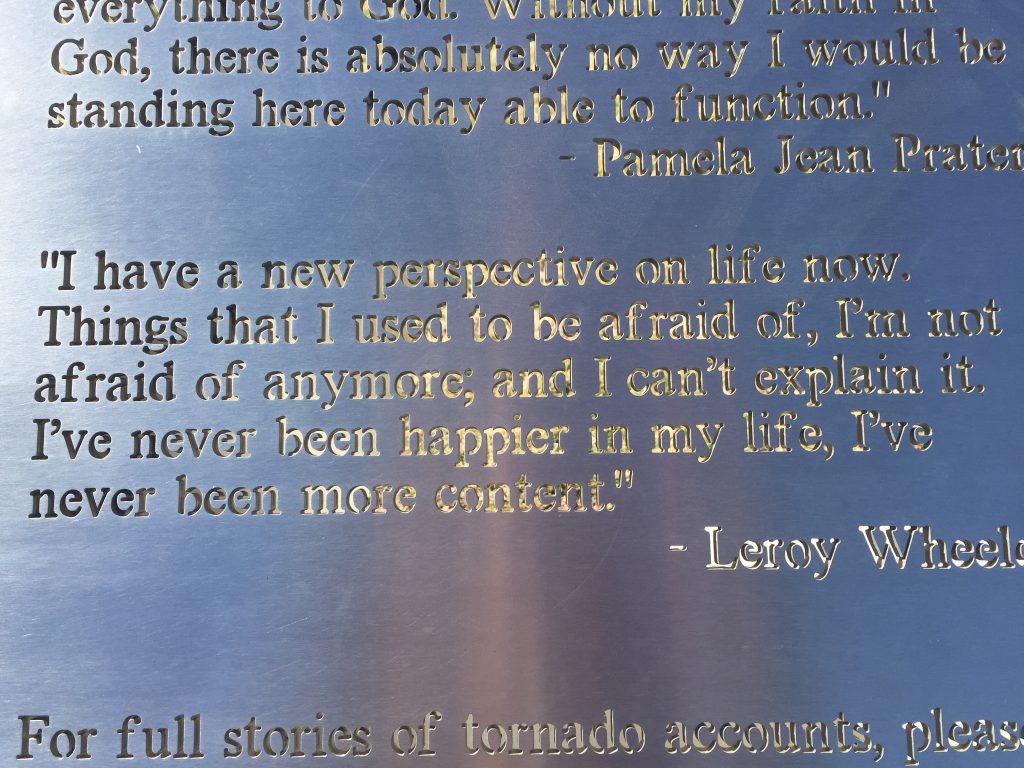 161 people lost their life and more than 1,150 additional residents were injured.  Entire city blocks were leveled.  Even today, it's largely obvious where the tornado came through town either through empty lots of land or brand new homes that seem slightly out of place.
There's a bizarre contrast between kids happily playing on slides and swings in a city park – just yards away from a memorial that features quotes from survivors and the names of all who died.   It's impossible to read the first hand accounts and not feel the emotion run through your body.  Even in the midst of sadness – there's fresh optimism from those who survived.
One resident opined: "I have a new perspective on life now. Things that I used to be afraid of, I'm not afraid of anymore, and I can't explain it. I've never been happier in my life, I've never been more content."
If you've never lived in the mid-west, the threat of tornadoes can be frightening.  Yet, anyone that's routinely in the path of these storms knows we tend to be jaded by alarms and sirens and typically run to the front porch to look at the sky instead of heading to the basement like we should.  Joplin residents were no different.  But, this storm was.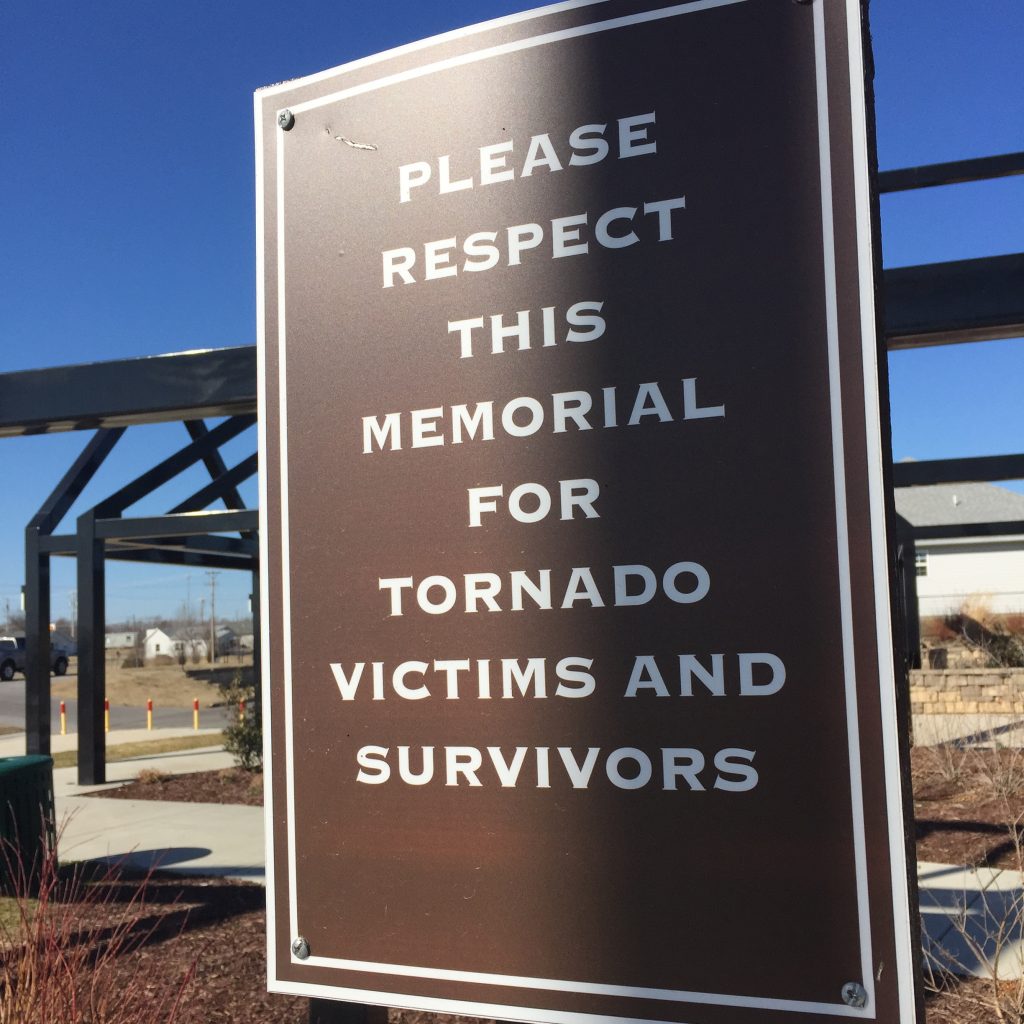 Melodee Colbert-Kean served as Mayor of Joplin from 2012-2014.  She remembers going outside to watch the action before she realized something was different.   "I went outside to watch and noticed a tree in my front yard bending all the way to the ground.  Then, I heard a second siren go off.  That's when I knew this storm was different than the others."
And, it was.
A third of the city was destroyed as 200 miles per hour wind created 3 million cubic yards of residential debris.  Over 7,500 city dwellings were affected or destroyed.  More than 1,300 pets were displaced from their owners.   This was a city thrust into complete chaos.
As we share recovery stories over a catfish lunch at her soul food restaurant, ME's Place – the former Mayor talks mostly about how so many people came together when it mattered most.
"When disaster happens, people band together.  I don't know what it is but we band together to help our neighbors, something we should do on a daily basis, but we don't.  Anybody you walked by – they were trying to help someone else."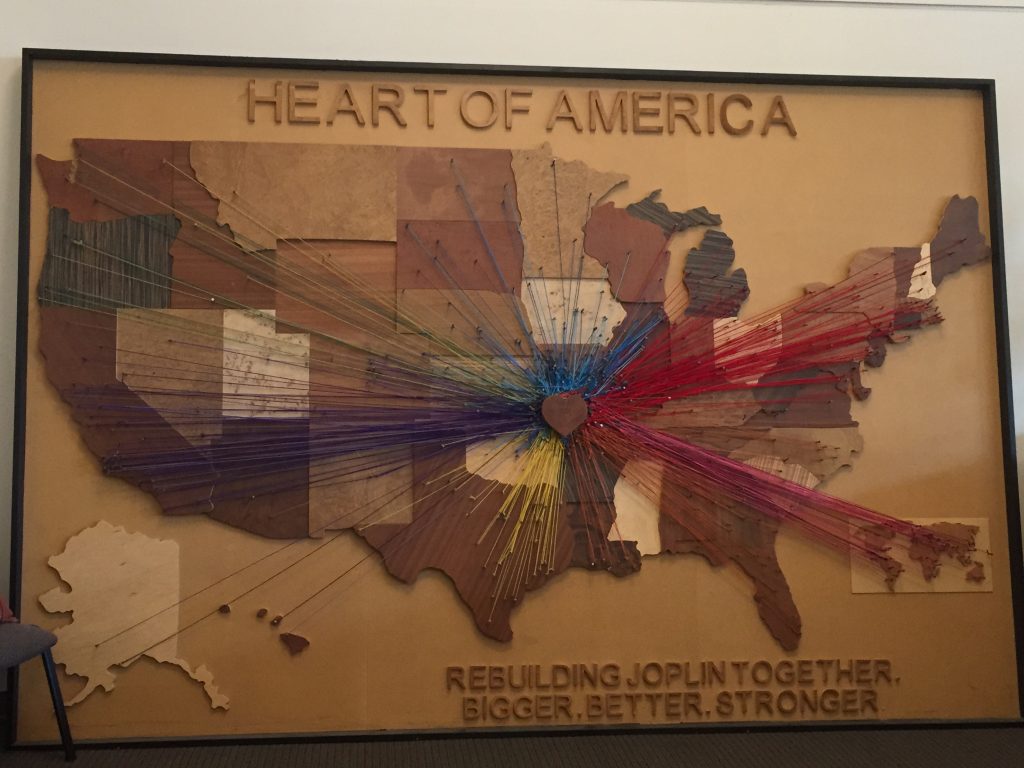 Even five years after the tornado, people from all over the world continue to help Joplin.  A beautiful map in City Hall artfully shows how many people have reached out to this community as volunteers – many of them immediately after the storm.
Mrs. Kean concludes: "People from as far away from Japan and India showed up to help.  That's what makes you believe in humanity"