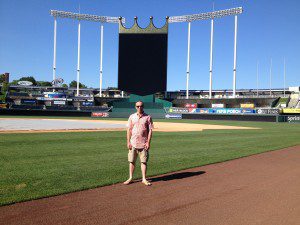 It's just a fact of life that everyone sings the lyrics of Wilbert Harrison's 1959 hit song when the topic of Kansas City pops into the conversation. Harrison made it a big hit but it was actually written by two men named Jerry Leiber and Mike Stoller.  Kansas City has been recorded over 300 times. No matter what version you like, you certainly know the lyrics – and if you've been to Kansas City – it's easy to understand exactly why people sing them.
Despite being just across the state of Missouri – it had been 25 years since I paid my neighbors to the west a visit.  My last memory of being in K.C. was sitting in Kauffman Stadium off of I-70, watching George Brett play baseball with the Royals as beautiful waterfalls sat atop the outfield walls.
Of course, I remembered incorrectly as my recent visit set me straight:  those aren't just waterfalls – they also have  fountains.  Fountains are all over the place in this busy mid-west city known for having almost as many of them as Rome.  Actually, I partially made that up – I have no idea how many fountains are in Rome.  In fact, nobody seems to know how many are here in Kansas City either.  Estimates are over 200 but nobody will let me quote them.  Once you start looking around – you'll notice they're everywhere.  Many are beautiful, some are old, some are new, a handful have a special meaning and others – well, I think they just exist to keep the water company here in business.
Since it had been over 25 years since my last visit – there was a lot of catching up to do.  For two and a half days, Toni Alexander of the VisitKC staff served as my tour guide and we still barely scratched the surface.  However, there were more than enough highlights from the visit to share with you if you're considering KC as a travel destination – so here we go!
[quote]"I'm going to Kansas City, Kansas City here I come.
They got a crazy way of loving there
And I'm gonna get me some." [/quote]
IT'S A BASEBALL TOWN!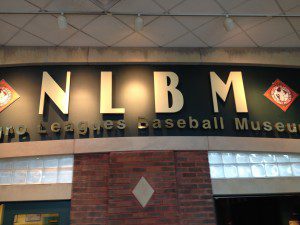 Okay, so as a life long Saint Louis Cardinals fan – I could never put KC over STL as far as "baseball cities" go – but, they certainly have at least two great institutions here that baseball fans will approve of.  The Negro Leagues Baseball Museum is a step back in time to a mixture of feelings – a time when black Americans were shunned from what was supposed to be an "all American" sport.   Some of the greatest players to play the game have their stories told here.  The most incredible display is a set of baseballs donated to the museum by singer Geddy Lee of Rush.   Lee, a white man from Canada made the ironic and generous donation of 200 baseballs each signed by different Negro League ball players.
Across town is Kauffman Stadium where I was greeted by proud tour guide, "Norma" who drove me around on a golf cart during an off day for the Kansas City Royals baseball team.  She showed off the fan friendly baseball stadium that included an incredible amount of space dedicated to groups and business suites.  The outfield features a display board that was at one time the biggest jumbo-tron in all of Major League Baseball.  (Thanks a lot, Seattle.)  A recent renovation made better use of the stadium's space and while the seating capacity is now less than before – the fan experience here is far better.  As the Royals are having a good season in 2014 –  seats for some games can be hard to come by.  However, Norma insists that fans here support their Royals no matter where they are in the standings. It should also be noted that the Royals are a first class organization that couldn't have been nicer to me during my visit.
If baseball isn't your thing – you can always walk across the street to Arrowhead Stadium and watch the Chiefs.  Fun fact: there's actually a tunnel that runs between the baseball and football stadiums. 
YOU BETTER LIKE BBQ!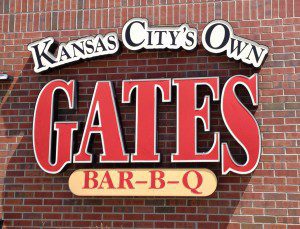 Kansas City residents will remind you every 30 seconds that they have the best BBQ in the nation.  While I am not a professional food critic (how is that even a real job?)  I can assure you that it's tasty!   Gates Bar-B-Q  – one of over 100 BBQ joints in town,  has grown to several locations in the area.  We were greeted by one of the family members, Arzelia Gates who sat down and shared a bit of the family business story.  She 's one of those people that can instantly make you feel welcome.  The long line of hungry customers streaming into Gates cafeteria style eatery indicates I'm not the only one who felt welcome.
There were several types of sauces that restaurants seemed to offer in Kansas City but it was the "sweet and tangy" flavor that was my personal favorite.   What sets KC BBQ apart from other cities?  According to the experts – KC prides itself on a slow and steady approach to cooking their meats.  Gates Bar-B-Q opened in 1946 but the BBQ roots of KC date back to the early 1900's.
I also tried something called "burnt ends" – which is a favorite dish among many Kansas City BBQ connoisseurs.
MUCH TO DO! WHERE TO START?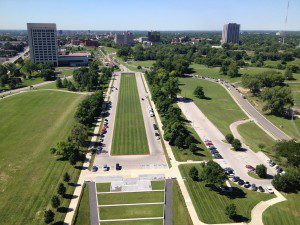 There's no possible way you can see and do everything that Kansas City has to offer if you stay for even a whole week.  Take in a concert at the Sprint Center downtown and check out the Grammy Experience next door that features hands on exhibits including a Yellow Submarine sing-a-long booth.   Across the street is Kansas City Live and the Kansas City Power & Light District.  It's a spacious outdoor area with a large stage, surrounded by bars, shops and places to eat.
There are copious hot spots for all ages and all interests – From Worlds Of Fun, to a night with the Kansas City Symphony – you'll never be bored.  History buffs will absolutely be mesmerized by the displays at the National World War 1 Museum.   A trip to the top of the original WW1 monument will give you a picture perfect view of the metro area.  It's both inspiring and heartbreaking – but a visit every American should make.
Kansas City's Union Station is the second largest working train station in the country. There you'll find revolving exhibits like the Discovery Of King Tut with exact replicas of items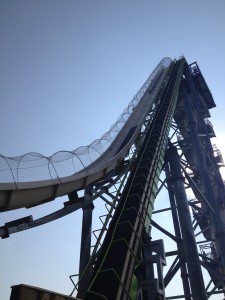 found in Tut's tomb in Egypt.  The town has a fond spot for art as well – the Nelson-Atkin's Museum of Art is gorgeous with a peaceful park setting and sculptures abound.  A fun, sort of quirky tourist stop is the Arabia Steamboat Museum which displays over 200 tons of recovered "treasure" from a sunken steamboat that went under in the 1800's.
Schlitterbahn Water Park has made news lately for their record setting Verruckt water slide.  It's the largest water slide in the world, standing an ominous 17 stories high where guests will be able to ride down the steep slope while buckled inside a 100 pound, 4 person raft.  Sadly, the water slide was not open during my visit but finally opened for business on July 9, 2014.   If you're too scared to try it for yourself, you can still view the massive slide, recently featured on a Travel Channel special, while you raft around the rest of the water park or play on one of the many slides already in operation.
ZOOOOOOOM.
Kansas City, Missouri and Kansas City, Kansas are at times separated by bridges and water but other times nothing more than a sidewalk or street.   In the not too distant past, Kansas City on the Kansas side was not really much of a destination.   Today, the area boasts new neighborhoods, shopping options and two great sports venues.   Sporting Park with professional soccer games and the Kansas Speedway across the parking lot that hosts NASCAR races and events.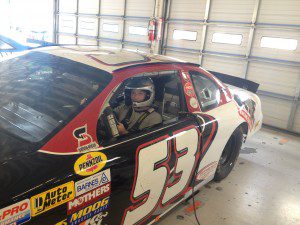 What a thrill to visit with Pat Warren, the President of the Kansas Speedway – who gave me a personal tour of the venue.  (Where we totally got to push the buttons that change all of the warning lights on the track. It's the little things, folks.) 
I climbed inside of an actual race car and immediately gained a new perspective on NASCAR racing.  To a fan of racing, this will sound ridiculous – but to the rest of us, you forget that these cars don't have doors.  Climbing inside seemed simple enough at first.  Until you strap on a helmet and any other protective gear.  Once tucked inside – it's incredible to think that people can drive these things at such high speeds and have a clue as to what's going on around them.  You have almost no room to move, your head is strapped into one position and the steering wheel proximity to your face is not for the claustrophobic.
Finally it was on to the serious business of speeding around the race track.  Mr. Warren was kind enough to drive us around the raceway at speeds of over 100 miles per hour.  It was certainly a bizarre feeling, zooming around the track without a single person in the stands.  One funny moment – my GoPro video camera, attached to the car by suction cup, actually flew off the car after we surpassed 100 miles per hour.  To the credit of GoPro – there were just a couple of scratches and the camera still works.  And no, of course, I wasn't recording at the time but did manage to capture some video going around the track.
SHOP 'TIL YOU DROP.  THEN, SHOP SOME MORE.
Above all of the attractions, BBQ,  events and things to see – Kansas City may be the shopping capital of America.  I swear the town has as many stores as Larry King has ex-wives.   It's actually quite stunning to witness storefront after storefront in the various neighborhoods around the city.
As far as shopping goes – it probably doesn't exist if you can't find it here.
And I really hope it's not another 25 years before I find myself back in Kansas City.