Yankee Candle is arguably the most well known brand of scented candles in America. And now, you can visit the world's largest Yankee Candle shop located right down the road from the company's headquarters in Deerfield, Massachusetts!
Yankee Candle has been around since 1969. Sort of. The founder, a sixteen-year-old named Mike Kittredge melted crayons into a candle that year for his mother as a gift for Christmas. By 1975, his small business had grown enough to open the first Yankee Candle Shop. Hundreds of stores and hundreds of scents later, Yankee Candle is a household brand. Fast forward to today and Yankee Candle Village is one of the top tourist attractions in western Massachusetts.
Visitors can spend hours inside the massive Yankee Candle Village which includes a sampling of most every scent the company offers. It's visual overload as you take in the sight of colorful jars as far as the eye can see. But it's not just candles and scented products you'll find here. You can buy everything from pizza pans and beer steins to Christmas ornaments and handbags.
The themes and product placement throughout the store is quite impressive. You'll find a Bavarian village and a Christmas themed section that includes an animatronic reindeer with snow that falls from the ceiling on cue. For other holidays, like Halloween, there's an entire space dedicated with custom products and decorations.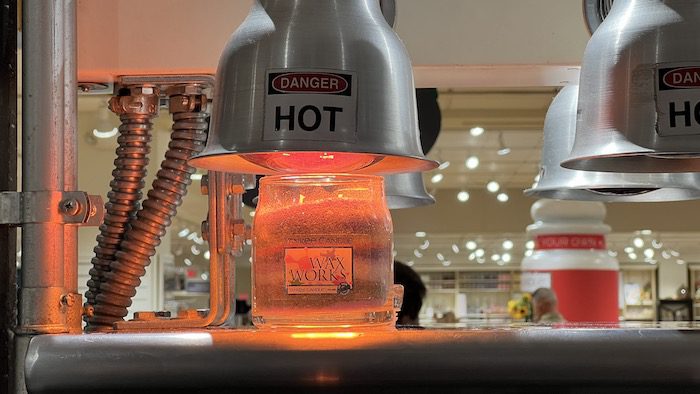 What makes Yankee Candle Village a great tourist attraction are the hands-on experiences that are offered to guests. I was delighted (and surprised) to receive a "key to the village" when I came to tour the complex on a recent road trip. The key, which is only given out once per day, allowed me to try the various experiences at no charge. Plus I was able to walk around the store with a gigantic yellow key hanging from my neck all morning!
One of the experiences included a custom candle making session where you're able to choose from various scents and then mix them together as you see fit. You'll smell the mixture and mix the scents until it's just perfect for your tastes. Another experience lets you build a layered candle. The third experience allows you to take a picture from your cell phone and add it to any Yankee Candle in the store. I chose a photo from a visit to San Francisco where I'm standing on the sand near the Golden Gate Bridge to compliment my sand scented candle.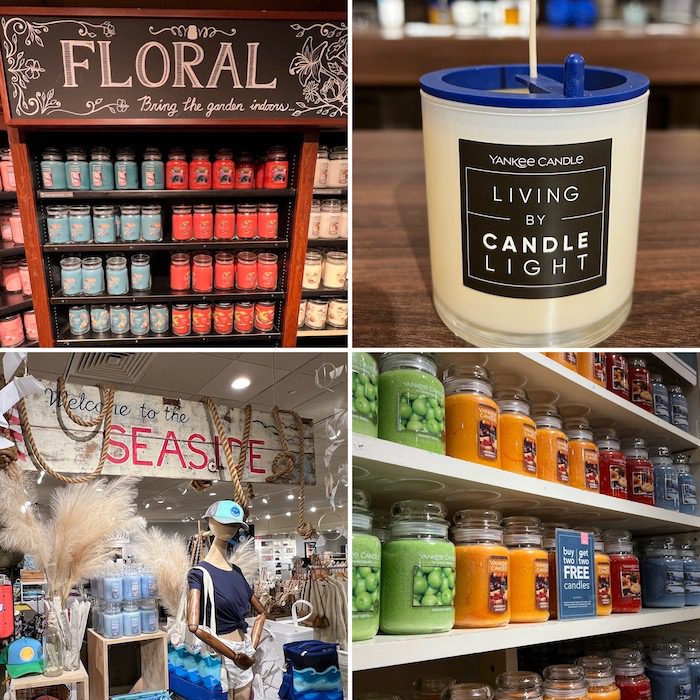 Yankee Candle Village also has an outdoor area for entertainment and hosts as many as 40 events throughout the year. (There was a band playing during my visit!) Visitors can enjoy food and drinks at several dining spots on the property. If you have a sweet tooth — you'll find no shortage of candy and homemade baked goods inside as well.
Added bonus – I found every employee I interacted with to be super friendly and kind! I was most impressed at how polite and helpful the younger employees seemed to be. These were bright kids that had big goals in life. It was a real pleasure spending time chatting with them as I surveyed the complex.
The Yankee Candle Village is located just north of Springfield, Massachusetts in the town of Deerfield. It's about ten minutes from historic Deerfield and the Deerfield Inn. Deerfield is about 100 miles west of Boston. You can check out their website for upcoming events and other information about planning your visit!