When I was a child, Kermit The Frog was my hero.  Watching Jim Henson's most popular creation hosting The Muppet Show probably inspired me to become a host, entertainer and broadcaster.  The first toy I remember from my youth was a Kermit plush doll.  I still have a wooden box with Kermit The Frog painted on it along with "Billy" – the name everyone called me until I grew too mature for my own good and insisted on being named "Bill".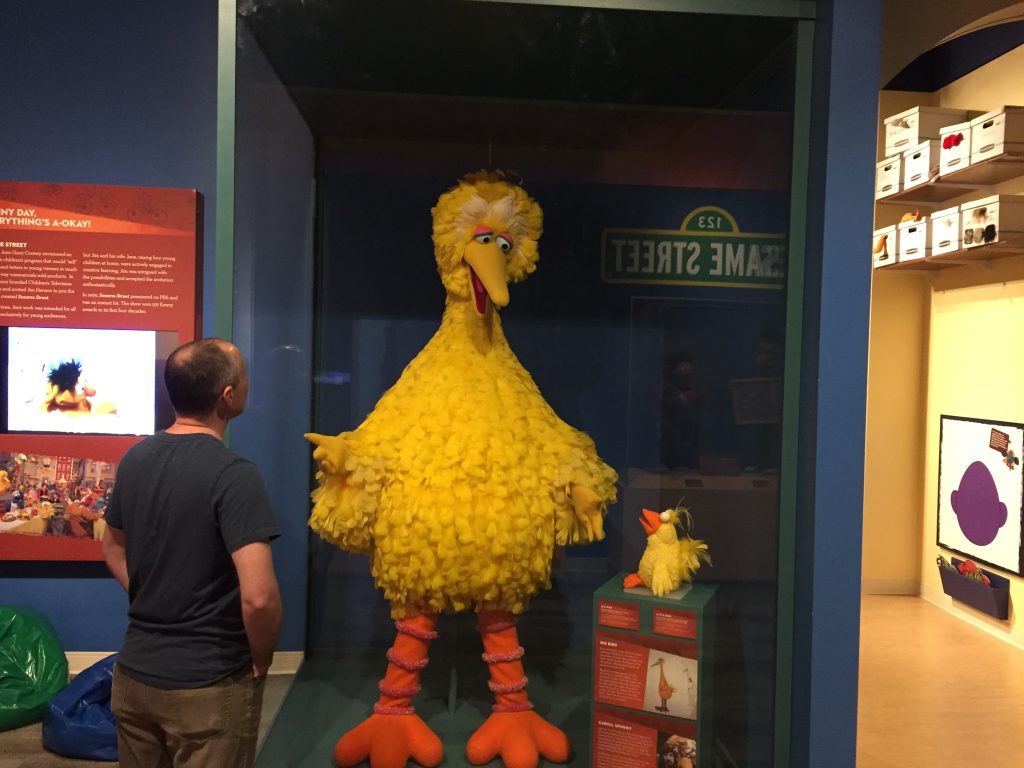 The Center For Puppetry Arts in Atlanta, Georgia recently received an incredible donation from the family of Jim Henson.  Over 500 artifacts, including original Muppet characters are now part of the museums permanent collection.  The first batch of Henson creations are now available to view up close in the new Jim Henson Collection – a newly built wing of the museum that's known for telling the story of puppetry both in the U.S. and around the world.
Curators with the museum say that people have been known to cry when they see the real Muppets up close.  It's a special childhood link for most visitors.   While I didn't personally shed any tears, I found myself in complete awe of seeing these characters in person that I've adored for so long.
"You're never leaving that place, are you?" was the reply text message from my brother when I sent him a photo of me and Kermit.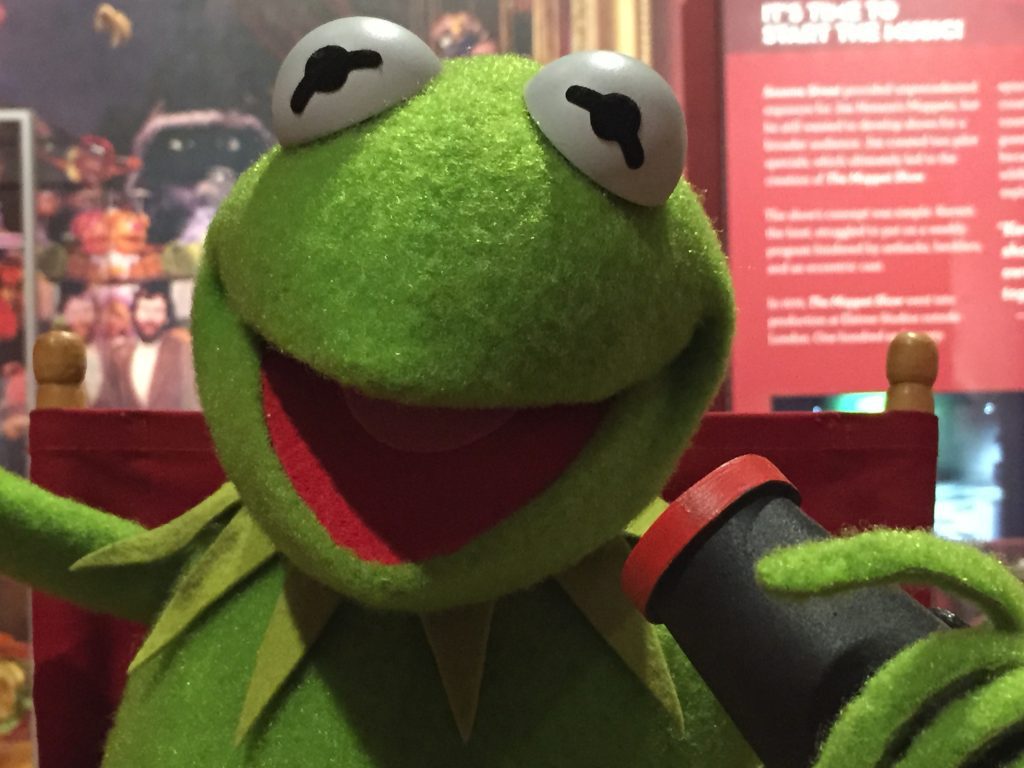 Like most things on television – the Muppets aren't nearly as big as you'd imagine.  Even without the helping hand of a human to bring them to life – they still seem alive and full of personality.
Not all of the Muppets are out for visitors, in fact,  just about a dozen of the full collection.  That allows the center to keep things fresh by constantly rotating what's on display.   But, the ones that they did select for the debut of the Henson Collection are perfect.
You'll see Big Bird, Elmo, Bert & Ernie, Oscar the Grouch and Grover.  You'll also see Kermit, Miss Piggy, Scooter, Dr. Teeth, and the piano playing dog – Rawlf.
The Henson family also donated Jim's work space – including a desk and other Muppet workshop tables and gadgets used while he was alive.  Looking at the creative process is just as fun as seeing the final products.  Mr. Henson would use all sorts of odd things to create the perfect puppets.
"The Henson family has always had a close connection to the center" according to Kelsey Fritz who handles the exhibits here.  Mr. Henson and Kermit The Frog were here to cut the ribbon when the building first  opened.  The huge collection required some adjustments, including an expanded storage facility to handle all of the characters and other items.
Fans of Fraggle Rock, Dark Crystal and other Henson productions won't be disappointed – you'll find characters from those series as well.
The most common phrase heard in the Henson collection?  "Big Bird is such a big bird!"  Sounds hilarious but people are apparently stunned at just how big he is.
In addition to the Muppets on display – the Center For Puppetry Arts also features iconic puppet characters like Gumby, Punch & Judy and cool one of a kind artifacts including a first model of costume pieces from The Lion King.
The center also teaches young children about learning through puppetry.  A very cool satellite TV production team interacts with school kids from all across the country.  Students are able to create a puppet of their own and then play along with puppet masters who join them via satellite from Atlanta to put on an original show.
After conveying some of the good natured ridicule from friends about my love of Muppets at this stage in life,  Ms. Fritz adds "You're never too old for puppets!"   Turns out that's true – as the Henson collection is most popular with folks that are older and grew up watching these beloved characters on television.
The Center For Puppetry Arts is located in Atlanta, Georgia.  Their website is: puppet.org.