Washington's Olympic Peninsula is one of the most beautiful places in all of America. The fact that it's so far away from most of the U.S. is part of what makes it so special. Much of the land is protected or even untouched with beautiful lakes, rivers, and beaches. Everything from snowcapped mountains to lush rainforests make visiting the Olympic Peninsula a bucket list destination for nature lovers.
It's not difficult to enjoy a variety of sights and experiences by "looping" around the peninsula. In just four days, I was able to see quite a bit – though an entire week would be perfect if you have the time.
Ten Things To See in the Olympic Peninsula
1. Sol Duc Falls
It's a 1.6 mile out and back hike to reach Sol Doc Falls in the Olympic National Forest. It's often referred to as the most impressive of all of the waterfalls on the peninsula. It's located about an hour from Port Angeles and you can expect the trail to be busy. There are several viewing areas to watch as many as four separate channels with water flowing into a narrow canyon below.
Sol Duc Falls is just one of the many waterfalls you can find as part of the Olympic Peninsula Waterfall Trail.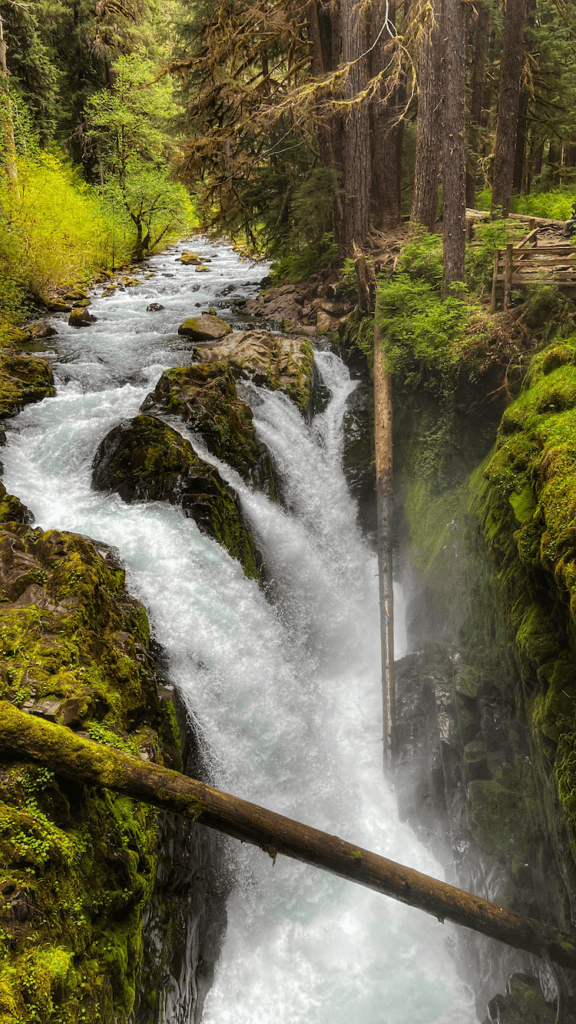 2. B&B Lavender Farms
Sequim is known as the "Lavender Capital of North America" and the largest lavender farm in the area is B&B Lavender Farms with over 14,000 plants! This family owned lavender farm is incredibly welcoming to visitors and their free tour is really fun and informative. I had a chance to visit with some of the family members during my visit and they were so friendly! There's also a gift shop with all kinds of products made on-site like lotions and soaps.
3. Lake Quinault
Lake Quinault is the southern gateway to Olympic National Park and a great spot to enjoy the outdoors. You'll find giant trees, waterfalls, and beautiful views in every direction. The area receives as much as twelve feet of rain each year and is home to some of the largest trees in the world.
The historic Lake Quinault Lodge was built in 1926. Its sits peacefully on the southeast side of the lake and is a relaxing getaway for exploring the area. The lodge has an upscale restaurant and spacious rooms. There are eight miles worth of interconnected hiking trails. Visitors can hike to view "champion trees" that are recognized as the largest living individuals of their species including the world's largest Sitka Spruce Tree. The tree is more than 1,000 years old, 191 feet tall, and 17.68 feet in diameter.
4. Olympic Discovery Trail
The Olympic Discovery Trail is a 130 mile, combination combined-use path and on road route. It begins in Port Townsend and ends at the Pacific Ocean in LaPush. While biking along the trail you're sure to see plenty of wildlife and other beautiful sights like mountains, lighthouses, and of course – the water.
You can hop on the trail at multiple trailheads along the way including at the Port Angeles City Pier. There you'll find lots of parking, places to eat, shopping, and a visitors center.
If you're looking for a wonderful home base for your bike ride or Olympic National Park adventure, consider Maitland Manor in Port Angeles. It's a quick ride to the trail and an easy drive to the Hurricane Ridge Visitor Center at Olympic National Park. The luxury B&B offers top notch, state of the art accommodations along with a gourmet breakfast to kick off your day of adventures!
5. Hoh Rain Forest
Known as one of the seven wonders of Washington State, the Hoh Rain Forest is one of the largest temperate rainforests in the U.S. Located on the western side of the Olympic Peninsula, hikers of any skill level can find trails to simply enjoy the beauty or to be challenged with a moderate or strenuous hike.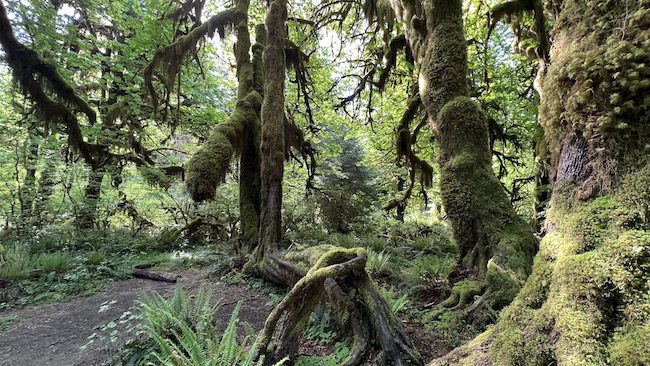 6. Hall of Mosses
This is an easy trail (less than a mile) that loops you through the rainforest with education signage along the way. The trail guides you through old growth forest and features a grove of maple trees draped with abundant club moss.
Warning that parking can be difficult in busy summer months. Best to visit early morning on a weekday if possible. Bring your poncho just in case!
7. Lake Crescent
Lake Crescent is a stunning, 624 feet deep, glacier-carved lake, and one of the most iconic destinations of Olympic National Park. The crystal-clear lake is outlined with a stunning forested mountain range and offers a variety of hikes, activities, lodging, and viewpoints. One of the top destinations is the Lake Crescent Lodge, which is a top lodging venue within Olympic National Park and serves as a trailhead for popular hiking trails like Marymere Falls and Mount Storm King.
Even if you do nothing more than pull the car over and spend some time sitting along the shore, it's absolutely worth seeing in person.
8. See Hand Carved Totem Poles in Blyn
Whether you're stopping for the night or passing through, it's worth taking some time to see these incredible hand carved totem poles around the town of Blyn. The Jamestown S'Klallam Tribe has been carving totem poles for over 25 years. More than 35 totems grace their tribal campus.
9. Madison Falls
It may not be as big as some of the other waterfalls (50 feet) around the peninsula but I really liked Madison Falls. Located along the Elwha River, it's not as crowded as most of the other waterfall trails and it's easy to get to from the parking lot. Plus there's an accessible friendly trail. It's less than 10 miles from Port Angeles making it totally doable, even if you've only got a couple of hours to spare.
10. Forks
I spent the night at the Quillayute River Resort during a stop in Forks, Washington. The town proudly calls itself "the rainiest town in the continental U.S." – though it didn't rain at all during my time there. (The record is 162 inches of rain!)
Forks is an ideal stop to explore scenic beaches, hop on a kayak, fish, or hike through the Hoh Rainforest. You even take a free logging tour to learn about the forest industry.
The Quillayute River Resort is a very peaceful setting with a limited number of rooms and plenty of space to enjoy some rest and relaxation.
For other road trip ideas on the Olympic Peninsula, visit: OlympicPeninsula.org