Greenville, South Carolina is one of my favorite cities! When the opportunity came up to make a return visit, of course, I jumped at the chance! The people of Greenville are super friendly, there must be 200 places to wine and dine downtown and of course – the stunning Falls Park is worth the visit on its own.
During the brief visit, we stayed at the Swamp Rabbit Inn – a really cool Bed & Breakfast just minutes away from all the action in downtown Greenville. Even in the pouring rain we were able to quickly walk into town so I could do a guest appearance on Greenville's popular local TV show Your Carolina.
Wendy Lynam owns Swamp Rabbit Inn. She recently sat down with me for a session of Q&A x10. She talked about everything from when to visit Greenville to the honesty of guests observing "the honor system".
1. Your inn is fantastic and more state of the art than most. How did you come up with your overall design?
I wanted to create a space that felt like a home away from home but didn't feel like grandma's house or a hotel. I had never been in an IKEA before I designed the inn but wanted the space to have a fresh, funky feel – something different and memorable. IKEA was the perfect choice and the furniture has stood the test of time and the design delights our guests!
I always found the B&B experience to feel somewhat intrusive and never really gravitated to b&b's for that reason. I think the main reason I wanted to have self check in is so guests could can and go as they please and are supported by a staff that works behind the scenes.

2. What exactly is the Swamp Rabbit Trail?
The Swamp Rabbit Trail is a rails to trails paved greenway that runs from downtown Greenville through Travelers Rest, SC. The full length of the trail is currently 22 miles but further trail expansions and spurs are in the works. The trail is built upon the old rail bed of the Swamp Rabbit Railroad line.
You can pick up the trail just out our front door at both our Swamp Rabbit Inn in downtown Greenville and in downtown Travelers Rest. We are at both ends of the trail so if you want a cosmopolitan Southern city or a hip small town we've got you covered.
3. You obviously attract a lot of guests who love to ride bikes but what if someone wants to visit that doesn't like to ride?
We do indeed cater to cyclists with bike stands in the rooms and on site bike rental at our Greenville location but the majority of our guests come to Greenville for other reasons. Our location is perfect for guests who want to explore everything downtown Greenville has to offer – the restaurants, Falls Park, shops, The Peace Center, the ballpark are all within walking distance of the inn. We are two blocks off Main Street in downtown Greenville and right on Main Street in downtown Travelers Rest which also has great restaurants, shops and even a craft brewery!

4. Each morning you offer a special breakfast treat that is absolutely delicious. What is it and where does it come from?
Ahh yes, the Kringle. It comes from O&H Danish Bakery in my hometown of Racine, WI. We have it shipped in.
5. What do you think about Greenville being mentioned so much in the news and iin tourism circles as a place to visit?
It really is a wonderful destination in a beautiful setting. There are so many great restaurants to choose from and it is very easy to get around and everything is walkable. Very hassle free and relaxing! Pretty perfect for a getaway!

6. Some of your policies are based on "the honor system". Are people pretty good about following the rules?
Owning this inn and my other vacation rentals has restored my faith in humanity! Our guests are wonderful and the honor system works!
7. Falls Park is one of the items in my book 100 Things To Do In America Before You Die. Do you notice a lot of guests visiting to specifically enjoy that beautiful park?
Yes, Falls Park is usually everyone's first stop! It is stunning year round.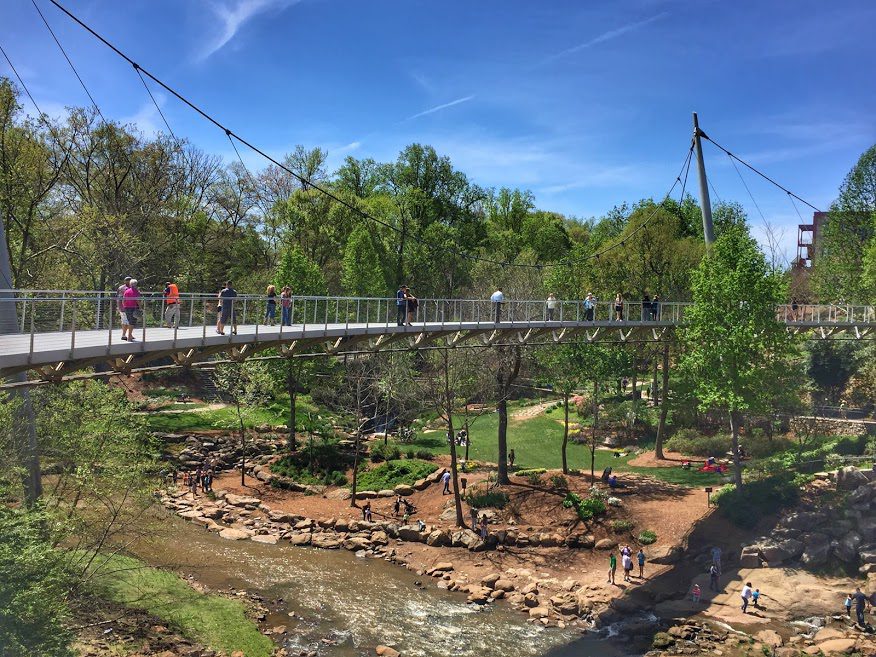 8. What did you do before opening the Swamp Rabbit Inn?
I was raising my children and had an online marketing company that I ran from my home office. I now also sell real estate and I am planning to get into real estate development.
9. Do you have any frequent guests or repeat visitors?
Yes we do! We have a doctor that stays with us frequently and people who are in Greenville on a regular basis for work. We also have groups of friends and families that gather annually at the inn. There is a really fun bike group that has stayed with us every year since we opened (3 years now) and they have planned activities on every day. We love our VIP guests and being a part of a tradition and love being the setting where memories are made.

10. When is the best time for people to stay with you?
Anytime really! We have pretty mild weather most of the year and a strong business community and a lot going on in Greenville. We stay pretty full year round. I would say my favorite weekends are Artisphere (May), Euphoria (September) and Fall For Greenville (October) festivals and the Hincapie Gran Fondo for cycling in October.