It's rare that you can explore two of America's most iconic drives – Route 66 and the Great River Road in a single day.  Southwest Illinois' new tourism brand Great Rivers and Routes is reaching out to travelers who love a good road trip – or two.
While it takes a bit of planning and a full tank of gas, it's absolutely possible to have a great day of sight seeing on both famous stretches of highway.
Where you begin is entirely up to you.  If the weather cooperates, your best bet is to drive up Route 66 from the old Chain of Rocks Bridge to the town of Litchfield or Girard.  Grab some lunch and then head back toward Alton where you can spend the late afternoon on the River Road and catch a beautiful sunset along the way.
If you have more than a day, your options are limitless.  Book a room in downtown Alton and take your time soaking up the history and views.  If you're like me – on the move with not as much time to spend in one place, here's what I was able to see in a single trip to southwest Illinois.
Old Chain Of Rocks Bridge 
Full disclosure, the bridge was actually closed down to visitors while I was in town – but that's just temporary.  Having said that, I still drove over there.  There's ample parking and once repairs are finished (by the start of summer 2019) you can walk or ride a bike out onto the old bridge that once connected Illinois and Missouri on Route 66.
World's Largest Catsup Bottle 
Don't ask me why they spell it "catsup", but that's what it says on the world's largest bottle of it.  (No one could confirm or deny if there's actually anything inside of it.)   This is not directly on Route 66 but a super easy side trip to Collinsville, Illinois.  It's worth a quick stop, especially if you like quirky things like I do.  There's a gravel lot directly behind it, and a grassy area across the street where you can get a photo or two.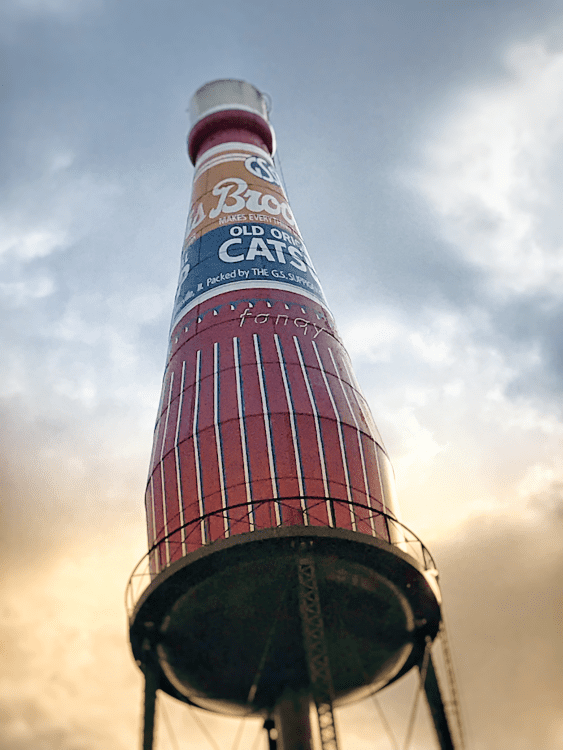 Pink Elephant Antique Mall 
I really wish I had more time to spend looking around the antique mall because they had all sorts of stuff.  I found figurines, pink flamingos, and even a glass plate with the faces of Dwight and Mamie Eisenhower.  The employees were incredibly kind and there's even a candy shop on one side, with an ice cream stand on the other.  The fudge was incredible!  Be sure to take some photos of the giant pink elephant by the road or the other fun statues that greet you in front of the building.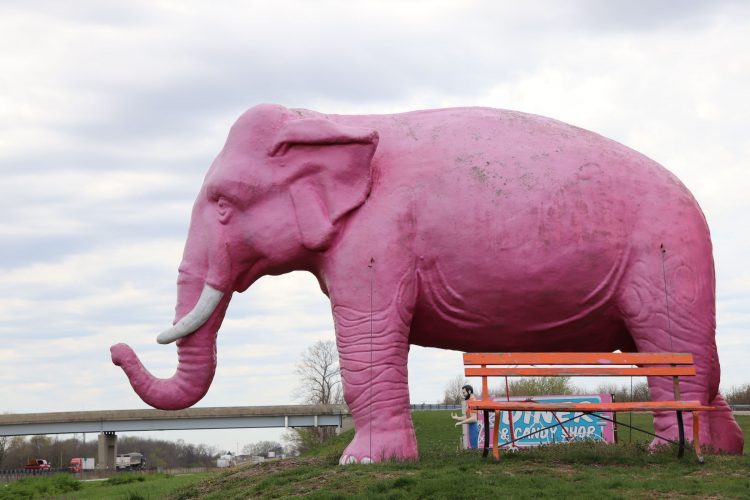 Litchfield Visitors Center 
This wasn't a planned stop but I noticed the sign on the road promoting a "Route 66 Visitors Center" so I pulled off the highway and found it.  (You'll  be traveling on highway 55 most likely, and it's a quick 5 minute detour to the original mother road that ran through town.)   You'll find a really nice museum with some history about the town and some great memorabilia.   The museum is directly across the street from one of the oldest restaurants still operating on Route 66 – The Ariston Cafe.  The cafe started operating on Route 66 in 1934.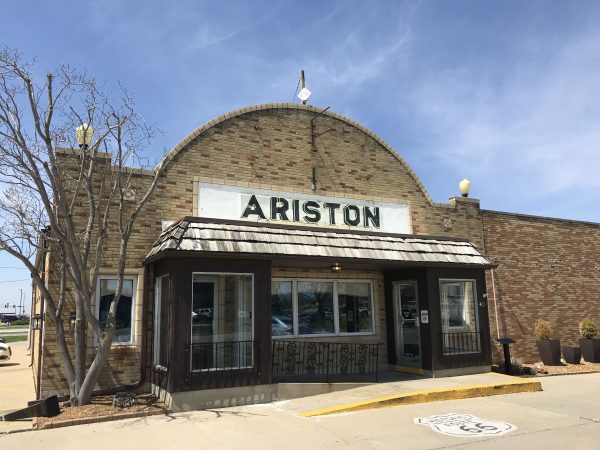 Doc's Soda Fountain 
I was starting to get hungry so I drove up to the small town of Girard, Illinois to find the beloved Doc's Soda Fountain which is about a block off of Route 66.   The building was originally a pharmacy when it opened in 1884.  (A lot of the original "stuff" is still located inside the restaurant)   The soda fountain part opened in 1929.  The service was terrific and my lunch (including a root beer float) was great!   At this point it was about 1:30 – so it was time to head back to downtown Alton to check out a couple sights before hitting the rive road.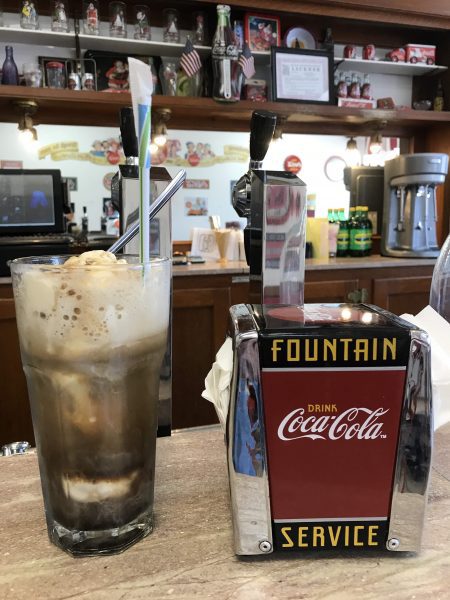 Robert Wadlow Statue 
It took exactly one hour to drive back down from Girard to visit the statue of Robert Wadlow, the world's tallest man.   Mr. Wadlow was just over 8 feet, 11 inches tall when he died at the age of 22.  (He was over 6 feet tall by the age of 9.)   Glance down at the shoes on the statue – size 37!  Next to the statue is a replica of a chair he used.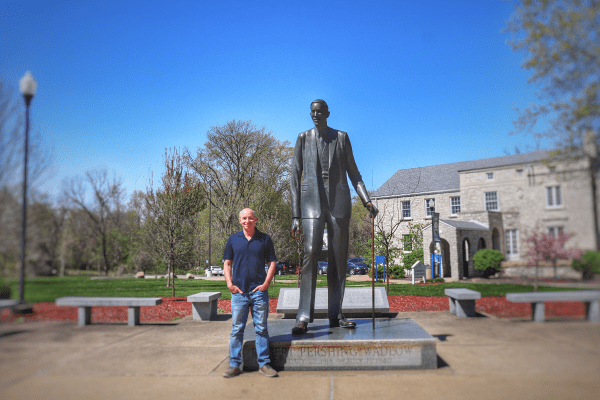 Lincoln/Douglas Debate Site
About two miles from the Wadlow statue is the historic site of the final Lincoln/Douglas debates of 1858.  Both men were campaigning for the Illinois Senate seat that Douglas held.  Imagine this scenario working out today – the first candidate spoke for an hour straight.  Then the other man got to speak for 90 minutes!  Followed up by a 30 minute rebuttal by the first candidate.
Lincoln wound up losing the race.  Too bad nothing ever became of him after that.
Oh, wait.
The Great River Road 
On to the second part of the journey – the Great River Road!  With sunset around 7:45, I had about three hours to spend driving before it was dark.  If you wanted to grab a quick bite to eat for dinner in Alton, you'd have a little less time.  Or you could drive up the River Road to the town of Grafton and eat, watching the sun set up there.  (Grafton is about a 20 minute drive.)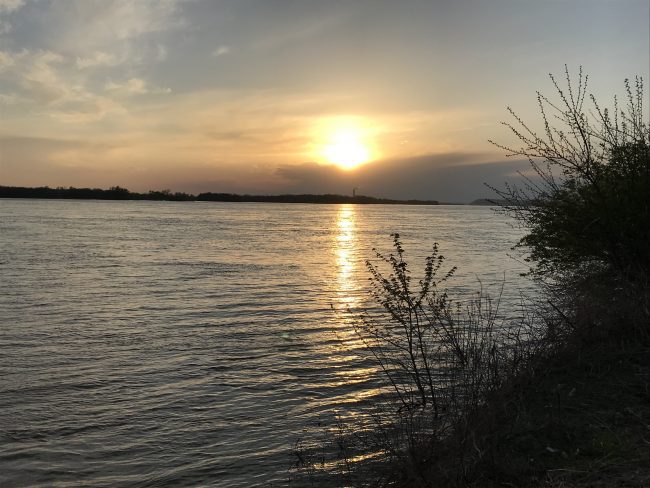 If your trip is multi-day, you should definitely continue to explore beyond Grafton as far north as the town of Bellevue.
Here's a list of current restaurants in the area.
Here's a list of all the towns along the river.
The river road is unique because three rivers: Mississippi, Missouri, and Illinois and meet in the same place.
If time permits, there are a few other cool sites to consider checking out.   The National Great Rivers Museum and the Lewis & Clark State Historic Site are both interesting stops if you have more than a single day to visit the region.
–
Love road trips?  Grab a signed copy of Bill's guide book 100 Things To Do In America Before You Die.