The last time I stopped in Oklahoma City, I was doing a story on the American Banjo Museum.   As most of you know, I'm a big fan of quirky, unique places and it certainly fit the bill.  That was four years ago and a lot has changed in Oklahoma's capital city – so I decided it was time to add it to my list of road trip destinations.
People often tell me they're surprised at the things I find out on the road, seemingly shocked that I come up with interesting trip ideas in places they never thought about visiting.  Of course, it's not rocket science – anyone can find fun things to see and do if they bother to do some research.   But, then again, I guess that's what I'm here for.
Oklahoma tends to be one of those places that people plan to drive through, instead of drive to.   That's a mistake.
Like many U.S. cities its size, Oklahoma City is undergoing a rebirth of its downtown and the city's neighborhoods (they call them districts) are also growing.  Look no further than the endless construction that's unavoidable just about everywhere.  (A lot of it is due to the forthcoming Oklahoma City Streetcar that will link many of the districts together with a modern transit system similar to the one that recently launched in Kansas City.)
I spent an entire weekend getting reacquainted with OKC and found it worthy of a road trip destination.
It was busy.  This is always a good indicator when your restaurants are full and it's hard to find a parking spot.  Clearly, there were lots of things going on downtown.   Lots of folks were soaking in the sunshine at the Myriad Botanical Gardens.  It also appeared to be a popular spot for photos. (I had to excuse myself three separate times to walk around people that were having professional portraits taken inside.)
My first night in town, I enjoyed dinner at a place called The Jones Assembly.  Thankfully, I had reservations because there was a line of hungry locals waiting outside.   The bar/restaurant is a beautifully refurbished 20,000 square foot property that was once a Ford Model-T assembly plant.  There's a performance stage for music acts and if I didn't know better, I'd tell you 400 people work there.  (I swear, I saw a new employee walk by every 10 seconds.)    It's definitely a well-oiled machine and the food was great.
Oklahoma City is becoming a favorite destination for food lovers.  In addition to The Jones Assembly, some other fun spots to consider while in town: Cheever's Cafe,  The Mule,  Vast, Whiskey Cake, and if you're in the mood for legendary waffles:  Waffle Champion.  (Full disclosure, they have become so popular, it's typical to see lines of people outside, wrapped around the building.  This particular travel guy isn't known for standing in lines, so I passed on the opportunity.  But, feel free to e-mail if you would like a review of the dollar store granola bar I ate that morning instead.  The guys doing valet parking at The Ambassador Hotel next door vouched for the delicious waffles, however.)
Story continues below.
---
Get geared up for your upcoming road trips with a signed copy of 100 Things To Do In America Before You Die!  Bill Clevlen's latest book highlights 100 uniquely American experiences to put on your bucket list!  Click here to get yours today!
---
There were two museums I was looking forward to exploring during my visit – and neither one disappointed.  In fact, both the Oklahoma City Bombing Memorial Museum and the National Cowboy & Western Heritage Museum were more impressive than I anticipated.
During my last visit to OKC, I took time to visit the site of the 1995 bombing of the Alfred P. Murrah Federal Building downtown.   The memorial site is exactly what it's supposed to be – thoughtful, somber, reflective.   The museum component is so well done, I actually felt a sense of guilt that I was enjoying the experience so much.  The exhibits tell the story of the days leading up to the bombing and the aftermath that followed.  Some of the artifacts were downright creepy.  A burnt car plate from the vehicle that exploded and the shackles Timothy McVeigh wore in prison were definite eye openers.
One exhibit in particular was touching.  You walk into a boardroom and hear actual audio from a recording that day inside the building, at the time of the explosions.
As I mentioned during one of my radio reports, if you don't walk out of this museum with tears in your eyes – you obviously don't have a soul.
The Cowboy & National Western Heritage Museum was a more upbeat, fun stop.  Somehow I missed this one on my last visit to town.  The name is a bit misleading since it's more than just a museum about cowboys.  In fact, the amount of art inside will actually blow your mind.  The museum tells a variety of stories about "the west" through exhibits and artifacts.  Coolest piece? Ronald Reagan's "presidential cowboy boots".
Learn more about the National Cowboy Museum in this episode of my travel series: The Roundabout.
Oklahoma City Fun Facts: 
It's the birthplace of the parking meter.  (Thanks a lot!)
The OKC Capitol building has a working oil well on the grounds.
The first shopping cart was invented and used there in 1937.
OKC is the biggest city in the state of Oklahoma.
Did you know country music singer, Vince Gill went to high school in Oklahoma City?  The Grammy award winner and newest member of The Eagles went to Northwest Classen High School, where a statue of him stands outside the performance center.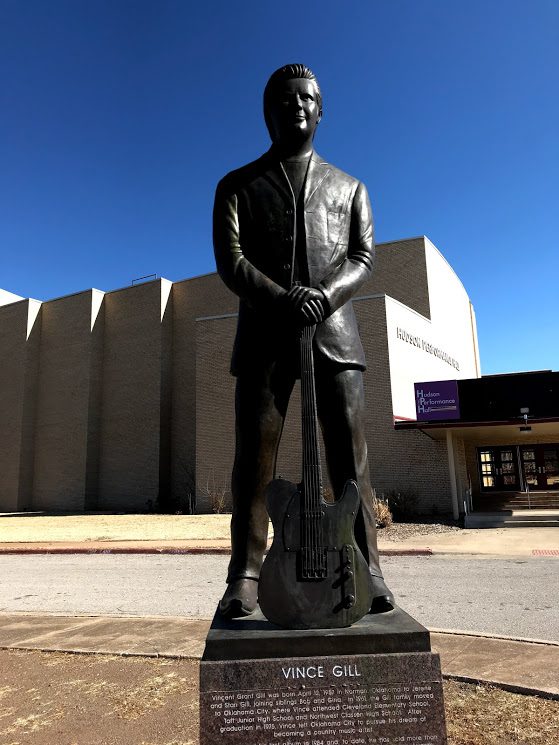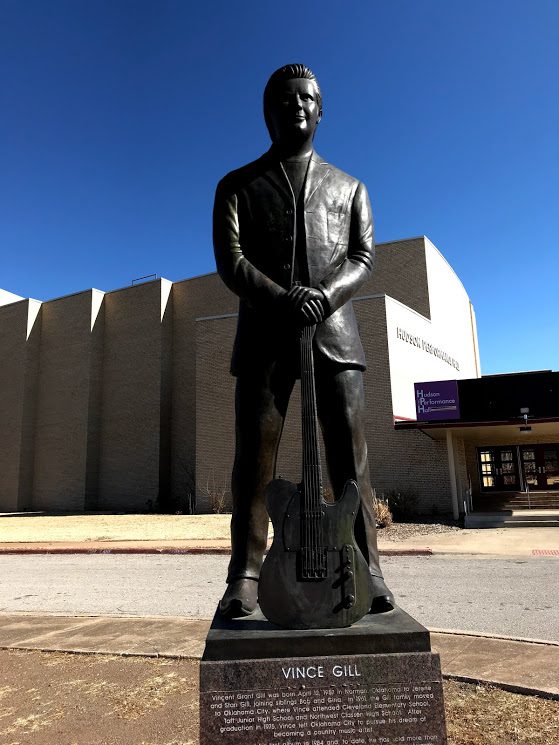 If you're looking for a place to stay while visiting Oklahoma City?  The Ambassador Hotel was my home away from home over the weekend.  Spacious rooms, nice staff, and great location!  Caught this great photo of the front of the building.
Learn more about visiting Oklahoma City:  VisitOKC.com
After your visit, if you're headed south of Oklahoma City on highway 35, you should also consider a visit to the Action Figure Museum!