For as many times as I've traveled through Florida, I've only experienced a couple of places on the eastern side of the sunshine state. In 2022, I decided to change that and highlight some of the lesser known places along Florida's eastern shores and first up – is Amelia Island.
Amelia Island has everything you'd need for a Florida vacation: shopping, great dining, not-too-crowded beaches, along with a bit of history and recreation.
Eating On Amelia Island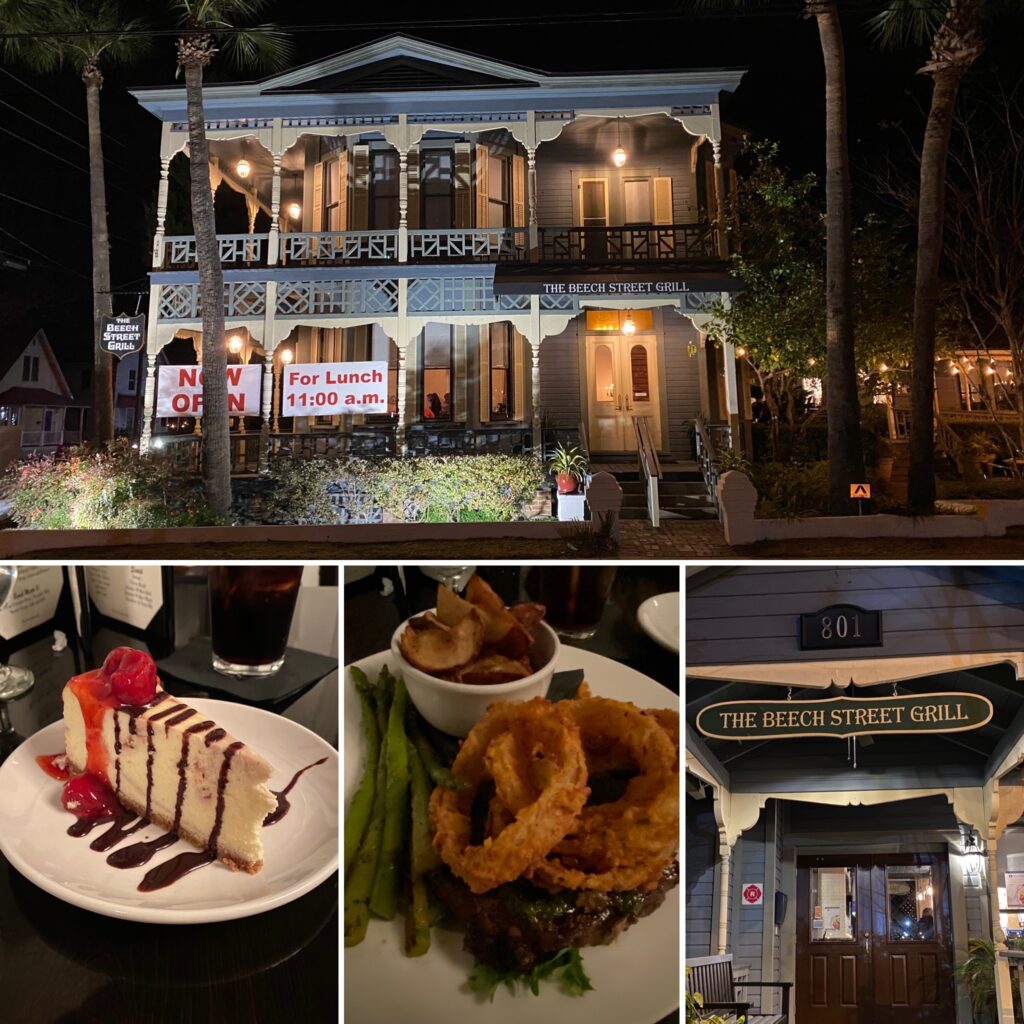 If you travel to eat – you're in luck. Amelia Island has restaurants for all tastes and budgets. Knowing that many of the folks that follow Bill On The Road travel on a tight budget – I'm always on the lookout for places that give you a lot of bang for your buck. One place I discovered was OPS Pizza Kitchen & Cafe. I actually found their casual little Italian joint on Instagram and fell in love with a picture of homemade lasagna and New York Style Pizza. The lasagna was good – but the pizza was outstanding! Another customer sitting near me mentioned that she just returned from Italy and agreed that the pizza was on par with the authentic thing. The lunch special was incredibly reasonable and the service was top notch.
I had heard about another local favorite called Tasty's Fresh Burgers & Fries. It's a fast-food joint that opened in 2011. All fresh and made to order. They offer burgers, hand cut fries, and shakes. It's more expensive than a typical fast-food chain but it's also local and the food was terrific. The cashier suggested their new neapolitan flavored milkshake which turned out to be a wise choice.
For a fast bite to eat, I grabbed a sandwich at 4th Street Deli & Salads. I tried the Italian option and it was huge! It was one of several walkable places to eat if you're staying in the historic district.
If your budget's not quite as tight – Amelia Island does have quite a few moderate and upscale dining options. The best meal I enjoyed while visiting the island was the newly reopened Beech Street Grill. Located in a building that's had many uses over the years – the upscale, while still affordable, restaurant provides a great date night atmosphere without having to put on a tie. The menu is relatively simple with great options including steak and fresh seafood. I opted for a ribeye steak and roasted asparagus with a cheesecake dessert that was worth the extra miles I'll have to walk. This will be a must-stop for a special night out when visiting Amelia Island.
Exploring Historic Downtown Fernandina Beach
You can enjoy an entire day walking around the island's historic district – picking up Amelia Island swag, looking at art galleries, or even a selection of savory smelling teas and spices at the Spice & Tea Exchange. Near the train tracks, look for the Amelia Island Visitors Center to pick up a travel guide and get suggestions on things to see and do from the local experts.
If you want to stay downtown and have a front row seat to all of the action, you can stay at a bed and breakfast like the Florida House Inn. The historic property has been around since 1857 and was originally a boarding house. Some of the famous guests over the years include Henry Ford, President Grant, and Laurel & Hardy.
Be sure to pop into the oldest bar in the state of Florida – The Palace Saloon. Check out the incredible ceiling and pose for a picture with a pirate outside the front doors.
Outdoor Recreation on Amelia Island
If the weather is warm – consider a ride on the water with CraigCat Catamaran Tours. The outdoor recreation company offers various tours and experiences for all ages. If you're a fellow pickleball fanatic – check out Omni Hotel for seven beautiful dedicated pickleball courts on-site. Fernandiana Beach's Central Park also has several pickleball courts – you can view their website for open play schedules.
If you enjoy a quiet walk and a more intimate look at the area's natural landscape, consider walking the Egan's Creek Greenway Trail. The trails are flat, easy to navigate, and you might just see some wildlife along the way. Watch out for alligators! The trailhead has free parking along the road.
Other Fun Things To Do on Amelia Island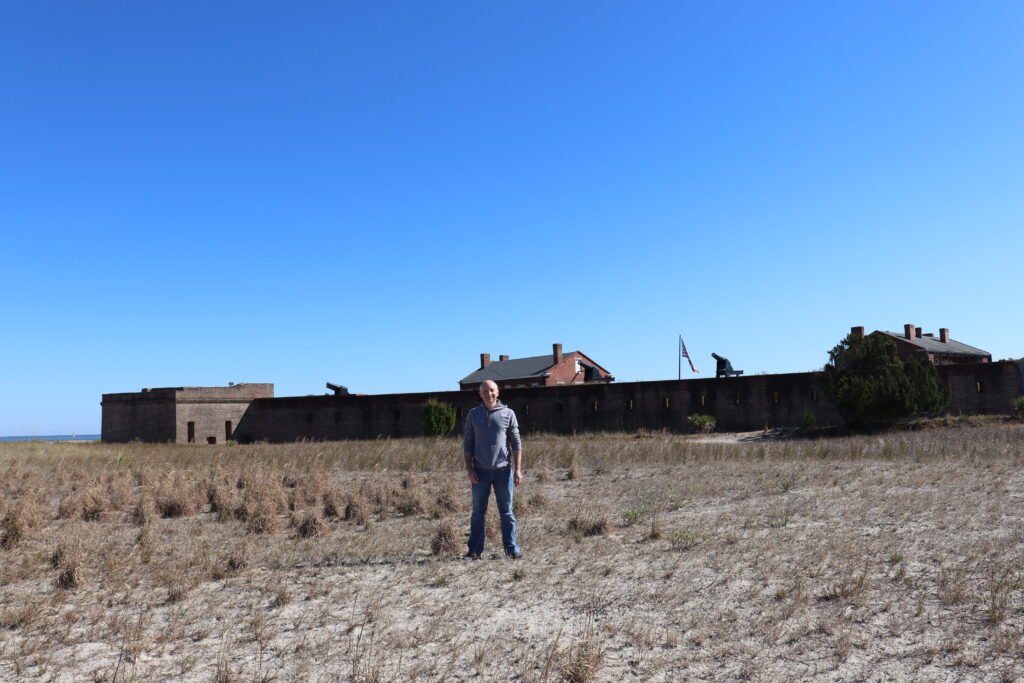 Even if you don't consider yourself a history buff – a walk around beautiful Fort Clinch State Park may convince you that history isn't always boring. You can step inside the walls of the fort and explore the various tunnels while chatting with some of the docents on-site dressed in period clothing. The surrounding trails within the park are top notch – and perfect for a relaxing bike ride.
A more typical history experience awaits you at the Amelia Island Museum of History where you can learn about the founding of the island and it's interesting background. For some family fun – consider a night of duckpin bowling at locally owned Duck Pinz. Duckpin Bowling is similar to bowling but the ball has no holes and the rules are slightly different.
And of course…. The Beach!
You didn't think I'd skip the beach, did you? While it's strange to see people drive their cars onto certain sections of it – the beaches were clean and enjoyable to walk on. There are several entry points for beach access – just check ahead so you don't wind up at a private entrance. The parking lots for beach access were small so as usual – arriving early is a good bet.
Need more information on a visit to Amelia Island? You can check out the local tourism website: Amelia Island CVB