Thirty miles south-west of Des Moines is one of the best representations for the phrase "small town USA" – Winterset, Iowa.  It was good enough for American icon John Wayne (though he was only born here) and it's good enough for more than 5,000 Iowans that call this home.
My first experience in Winterset was in the Summer of 2014.  I was filming a story on the John Wayne birthplace – a small white house within walking distance of downtown.   Though I was only in the area for a couple of hours – I made a mental note to visit Winterset and Madison County once again at the first opportunity that came along.
Thankfully, it only took a year for the path to Winterset to find its way into my GPS.  This time I'd be able to explore, meet the folks that make this town tick and as you'll soon discover – decide that I need to come back again for a third time – as soon as possible.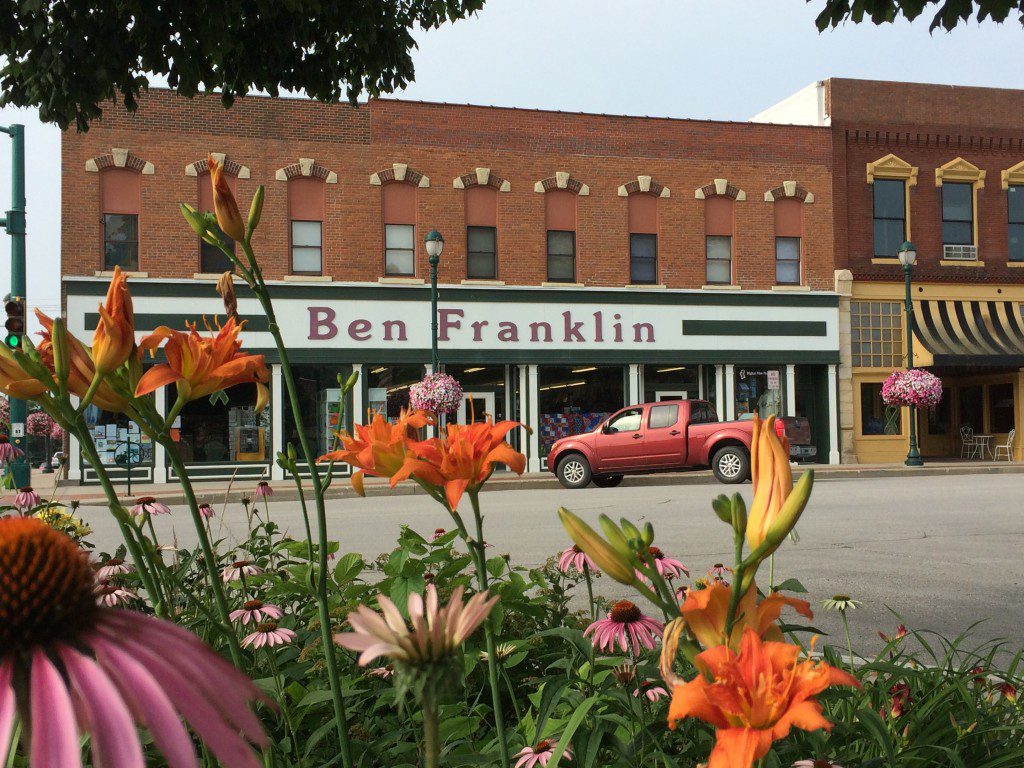 Brian Downes is the Executive Director for the brand new John Wayne Museum that opened its doors this Spring.  Mr. Downes, a former Chicago native, told me his initial feelings the first time he rolled into Winterset.  "It didn't even seem real. Downtown was almost like a movie set."
In fact, some parts of the area have actually been movie sets.  The classic Bridges Of Madison County film continues to make this area a hot spot for tourists passing through.  On a tour of our own we crossed paths with a family from Brazil that stopped by one of the iconic covered bridges during a vacation in the states.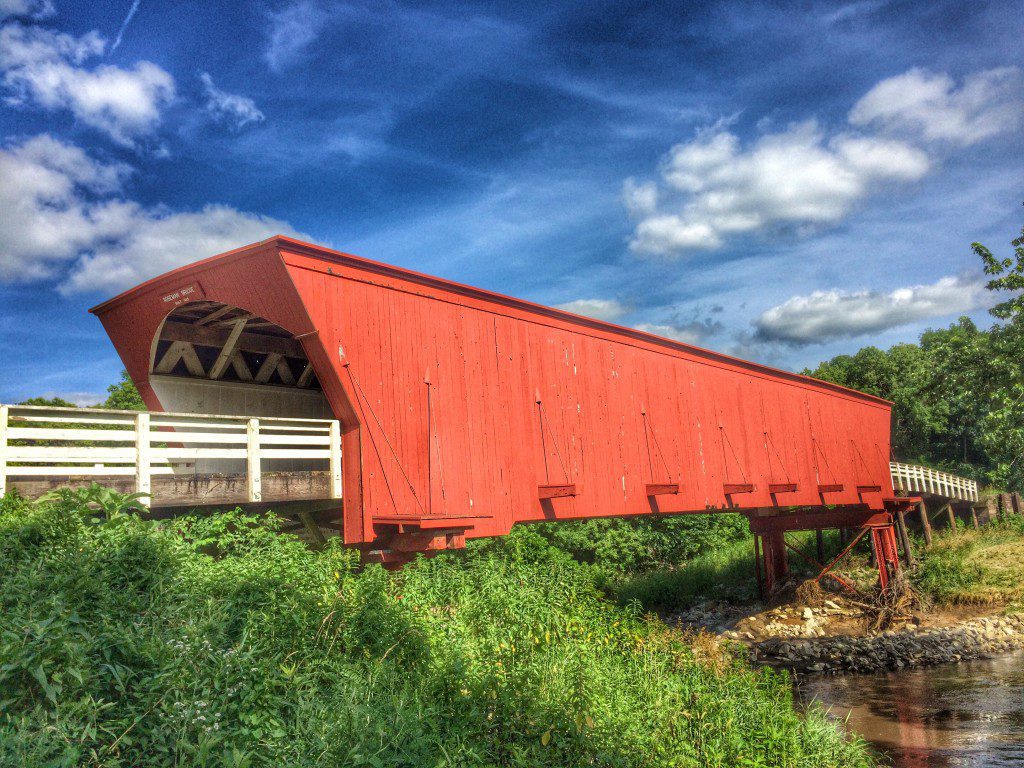 While most tourists will stop through to scope out those movie locations or a look at where John Wayne was once known as Marion Morrison – Winterset is a special place because of the people that make up this small community.
In what was certainly a first during my travels – I was invited to a backyard BBQ to celebrate my visit to town.  Kayla Hawkins is the Tourism Director for Madison County and owns the White Lion Bed & Breakfast along with her husband Mark.   She hosted the small gathering in the couple's backyard and made me wish every big city and small town showed this much hospitality and kindness.
Sitting around the table sharing stories and laughs with locals that quickly seemed like life long friends – made me realize that at the end of the day – I was born to be a small-town guy.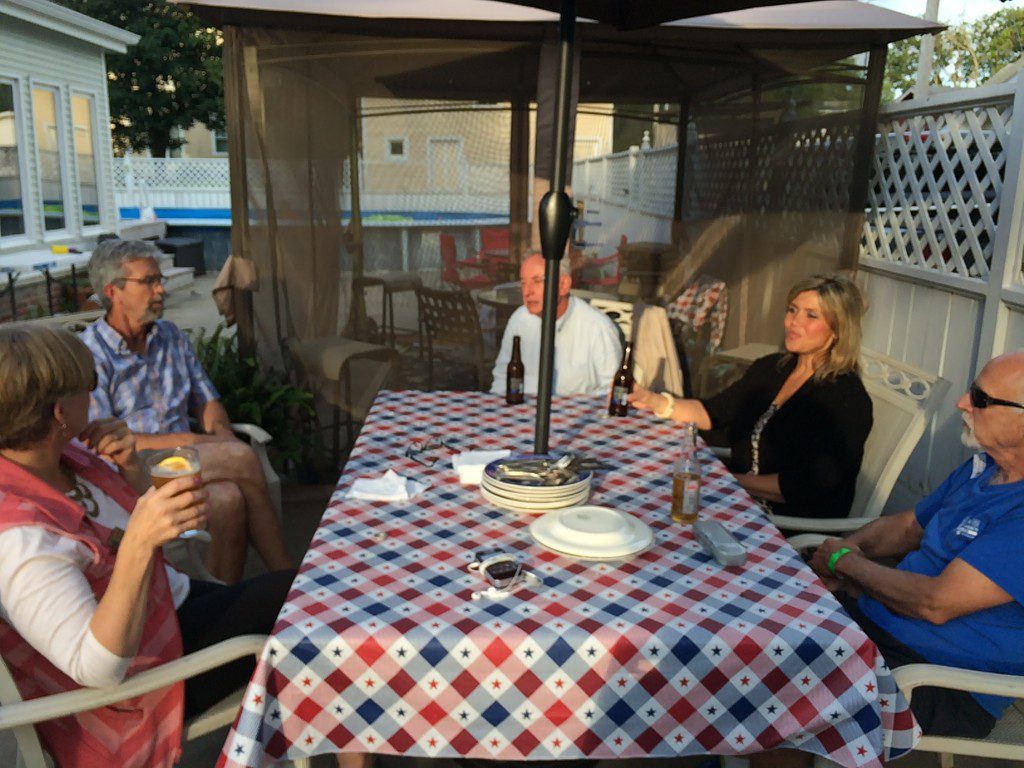 Corn Is Beautiful
Madison County is full of corn fields as you might imagine but it's actually quite gorgeous as you drive along these country roads where you might not see homes or even another car for miles.  There's also something unique about the sky in this part of Iowa – perhaps the fact that it's so flat – you can see straight ahead for what seems like forever.
Driving around the area you'll see barns, farms and tractors.  You might even stumble across a one room school house that's part of the national registry of historic places.  The North River Stone Schoolhouse was built in 1874 and is one of  many one room school buildings spread out across the state.  Inside you'll see the old wood burning stove that kept kids warm during the brutal Iowa winters and a list of test questions that students would be required to answer that attended class.  (Hint: You're going to fail miserably.)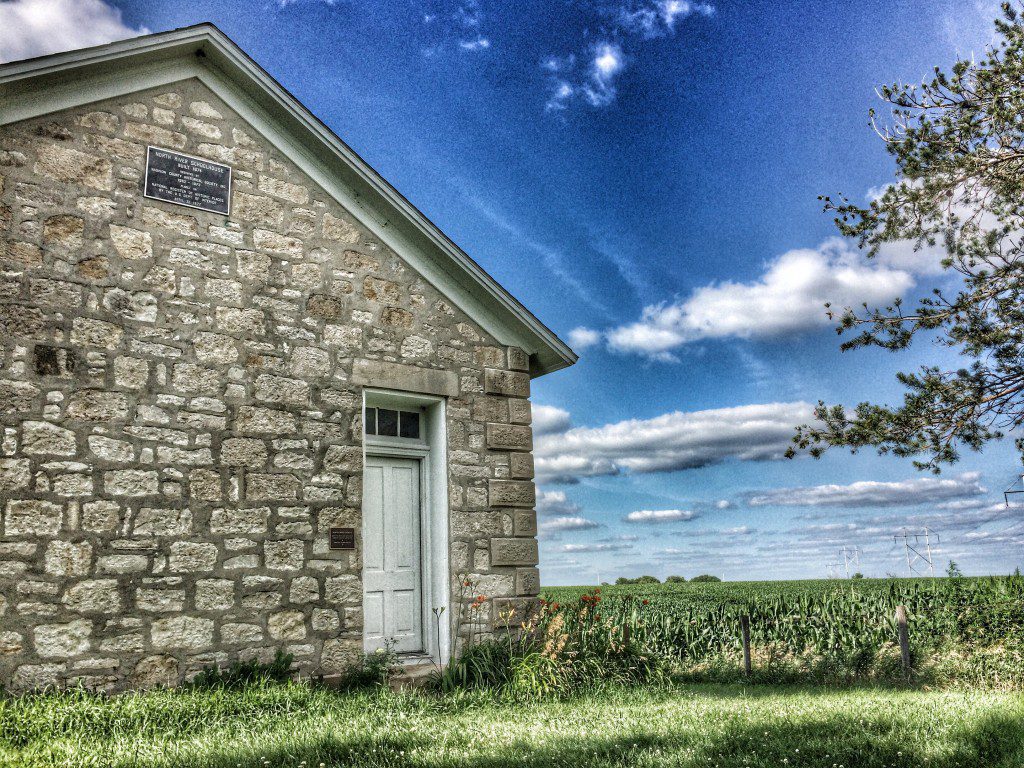 Back in downtown – it's really the new John Wayne Museum that's bringing tourists from around the world to Madison County. The open page of the lobby's guest book shows visitors today from Wisconsin, Oklahoma and as far away as Denmark. Inside the museum you'll find a number of fun artifacts that tell the story of Winterset's most well known native – including one of his cars, wardrobe pieces from films and hold your breath ladies – a display case featuring his toupee.  (Who knew?)
As political season heats up in early voting Iowa – the town draws its share of Presidential hopefuls.   Every four years, Winterset sees its share of vote seekers trying to spark their campaigns.  Now that the museum is open – they're sure to welcome candidates looking for a piece of that Americana magic John Wayne's name still brings to the table.  Donald Trump recently visited and look what happened to him.  Coincidence?

A short film inside the museum's replica theater is spectacular – even for folks that aren't familiar with the John Wayne movies.  Trivia tidbit – the seats inside are actually from the famous Chinese Theater in Hollywood.   Before you leave – you'll have your choice of just about anything you can think of with John Wayne's name or likeness on it in the museum's gift shop.
The birthplace of John Wayne is right around the corner and tours are available through out the week.

Like many small towns across America – there is such character (and actual characters) that make places like Winterset so desirable.   Seeing homes proudly displaying American flags,  strangers that make eye contact and say hello and of course – small businesses that will remember your first name the next time you walk in the door.
Mr. Downes was right – this place doesn't seem real.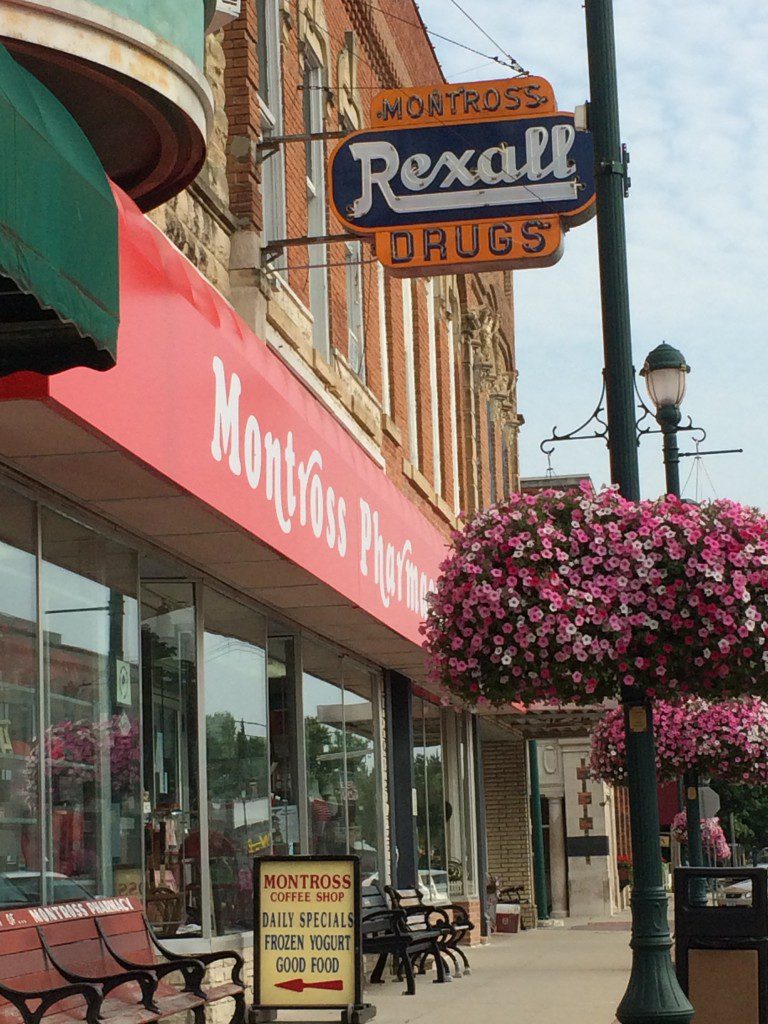 If you'd like more information about Madison County you can visit: http://www.madisoncoia.us/