As soon as you roll into the Temecula Valley you immediately feel transported to a place that you didn't know still existed in California. "It's the last frontier" as one shop owner told me. Not quite the wild west but a place where you can still feel that vintage California dream of decades gone by.
Add in the incredible scenery, dozens of wineries – each with their own flavorful story, and the promise of a great meal or sweet treat – and you have the perfect road trip destination. Weekdays are probably best as the town's charm is no longer a secret to visitors – from near and far – who flock here on Saturday and Sunday filling the sidewalks.
I spent just one day exploring Temecula though it didn't take long to realize there's so much to see and experience. Here are some of the things I learned and a handful of ideas to get your travel plans off to a good start.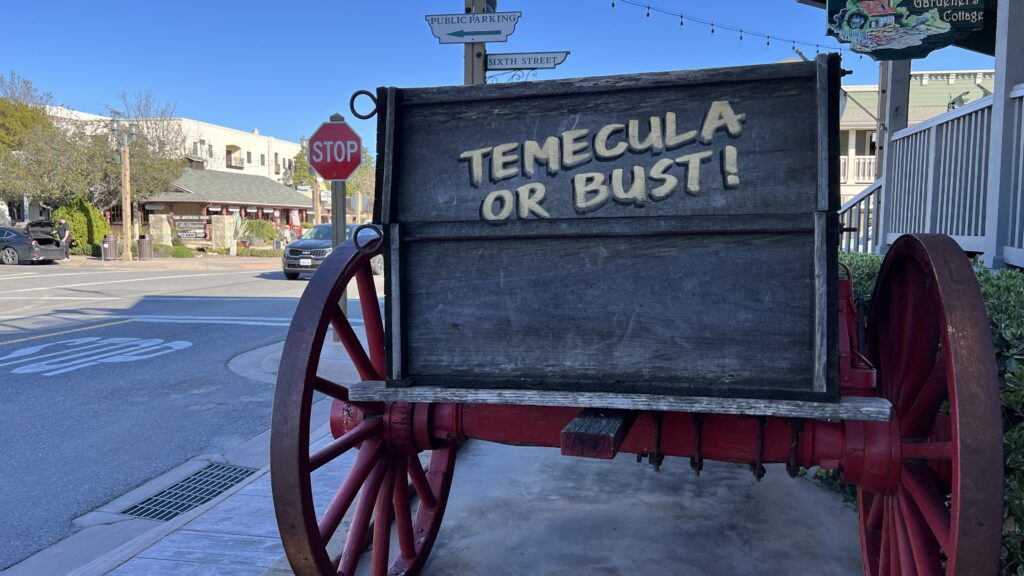 Old Town Temecula
In 1883, the Southern California Railroad started bringing commerce to the Temecula Valley and as a result many of the buildings you'll see were constructed around that time. Even the newer structures are built to preserve the town's historic vibe. You'll find lots of locally owned shops and restaurants as you walk the sidewalks. There are speciality stores with everything from gifts made with lavender to cheese! There are boutiques, venues for live music, and a performance theater.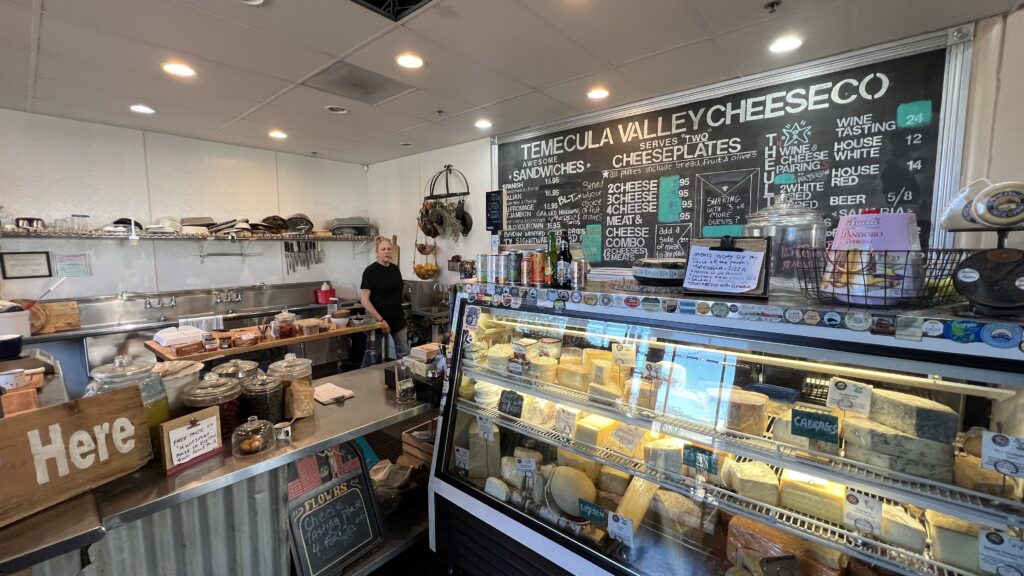 A staple in Old Town Temecula for a great breakfast or lunch is The Swing Inn. The spot has been around for decades and was just recently purchased by actor Dean Norris. (Breaking Bad, Better Call Saul, Under The Dome). I had the chance to have lunch with Dean during my visit to town and he's loving this new adventure in his life. He's incredibly gracious with the visitors who recognize him and ask for a photo or want to stop for a quick chat. We talked about growing up in the midwest and swapped stories about travel. He's a big fan of Old Town Temecula and dedicated to helping it thrive in the years to come. He chuckled with joy as he walked me through the kitchen and back to the giant smoker he recently purchased.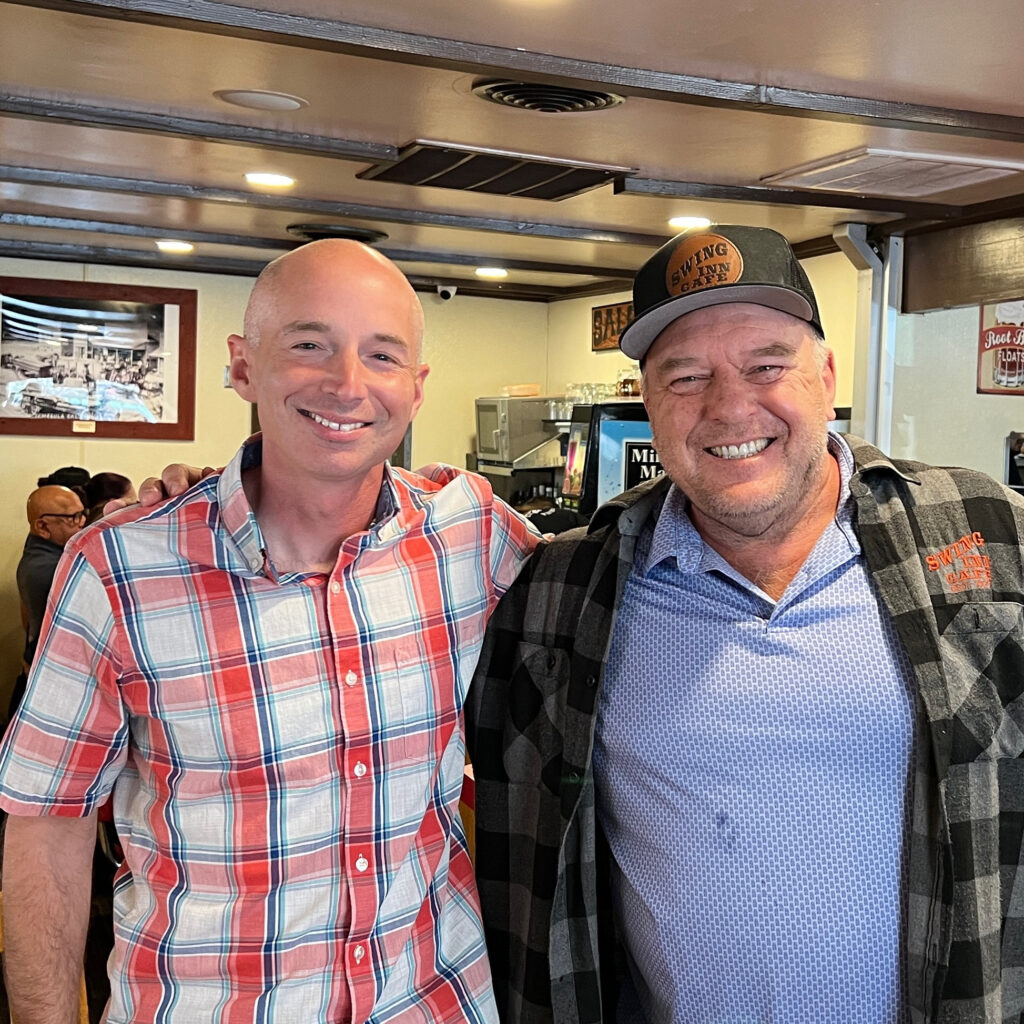 There are lots of dining options to choose from while you're in Old Town. Randomly, I chose a place for dinner called 1909. Turned out to be a great choice! The chicken sandwich was top notch and the service was great. Like many of the restaurants in Old Town, they had a nice outdoor seating section to watch the world go by and do a bit of people-watching while you dine.
Later, I grabbed some ice cream with a local friend of mine I've known since high school. The young lady behind the counter had to endure our inside jokes and "old people" humor while we chose a flavor.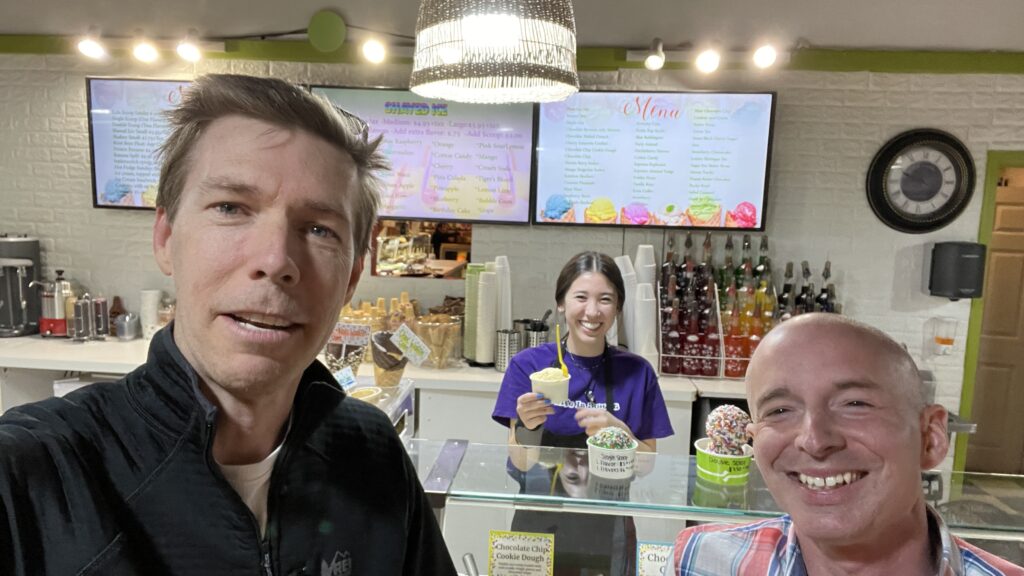 A Day Of Wine Tasting
While I'm not exactly a wine aficionado – I do love beautiful scenery and great stories. And if it means having a glass of wine while I'm enjoying both – all the better.
Temecula Valley is an ever growing and special wine region in southern California. The beautiful rolling hills and mountains create a perfect backdrop for a day of wine tasting and relaxation. The region grows a diverse variety of grapes that thrive in the inland climate with moisture from ocean breezes not too far away.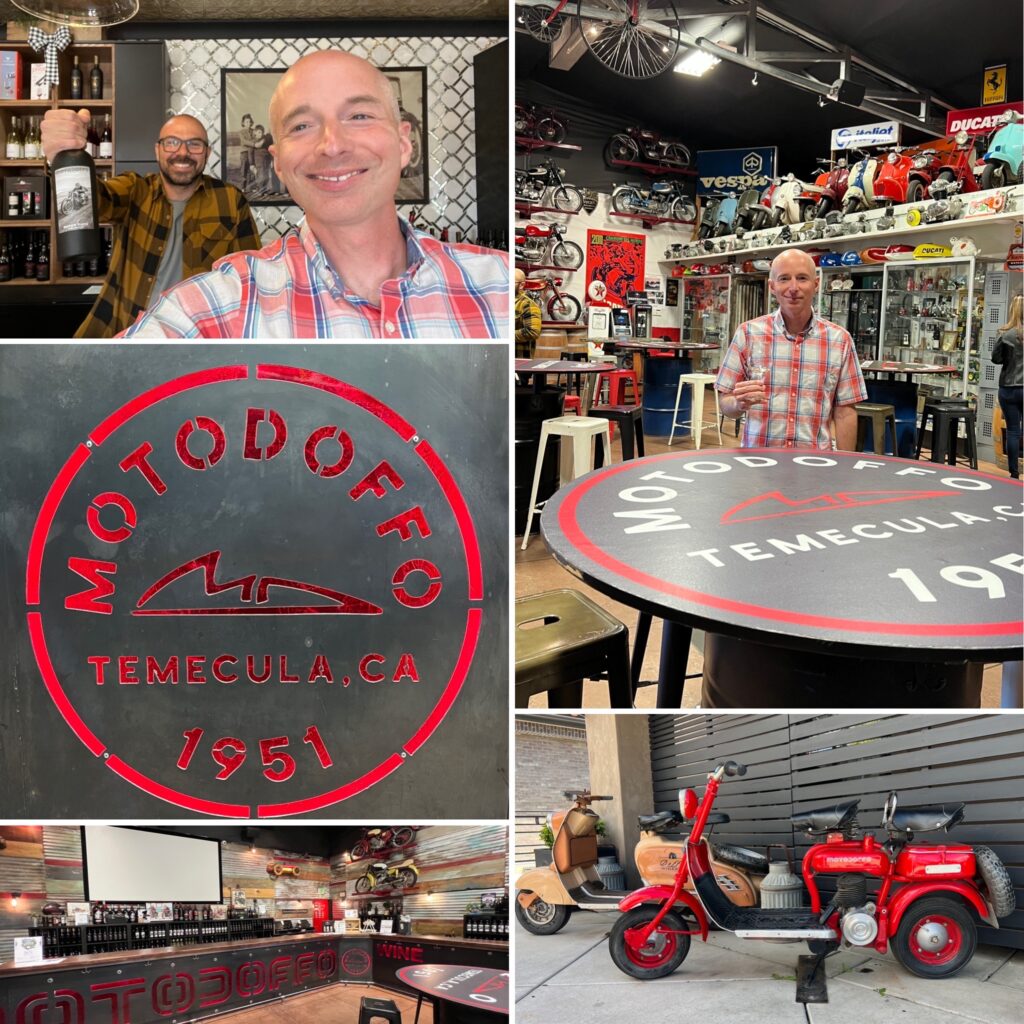 There are about 50 boutique wineries in the Temecula Valley that combined create hundreds of award-winning wines. They are also small enough that you're likely to run into the very people that work in the vineyards or own the property.
I spent part of the day visiting with Damian Doffo of Doffo Winery. Their family winery has been in Temecula for over 25 years. Damian shared great stories about his father coming to America as an Italian immigrant who couldn't speak english. One day, Mr. Doffo decided to start making wine in the backyard of their Orange County home. He also shared a love of motorcycles and racing which extended to the rest of the family.
Damian, a relatable but driven entrepreneur, didn't mind veering from business talk. We laughed about needing to wear glasses everywhere along with the best ways to shave our already bald heads. He joked around with a birthday party of visitors in town from Indiana.
Throughout the winery you'll see motorcycles on display as well as one-of-a-kind artwork and signs that celebrate their love of bikes and wine. It's a unique combination that makes for a fun visit.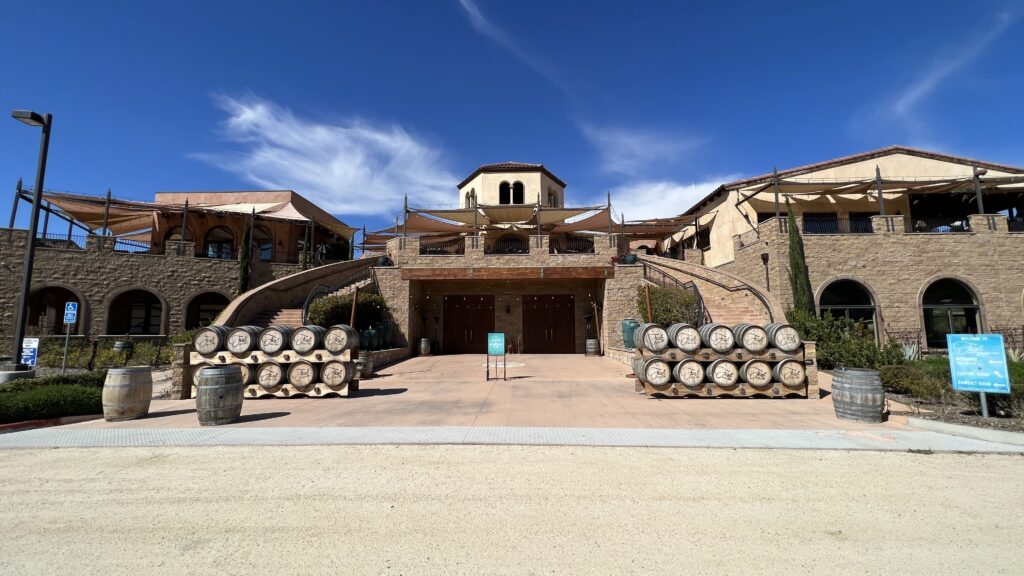 A later drive through the backroads I discovered Fazeli Cellars Winery for a slightly different dose of the Temecula wine country experience. The mammoth facility with dual winding staircases leads to stunning views and an upscale tasting setting for visitors. But not unlike the other wineries, you're still likely to bump into the owner – who just happened to be another entrepreneur who came to this country and achieved the American dream.
BJ Fazeli sat with me to chat on this clear, sunny day, as we looked through the arches on his winery's upstairs outdoor patio. Fazeli, who was born in Iran, continued to express his love for America and its many opportunities as we shared conversation. He had a hugely successful run in the world of infomercials – even coining the phrase – "But wait… there's more!" He's been a lover of wine most of his life and always dreamed of having his own winery. Fazeli's winery now produces over 100,000 bottles a year and most days you'll find him on site.
Mr. Fazeli, who is certainly worth millions of dollars asked questions about my own career and listened intently as I described my road trips around the U.S. Even going as far as to say he was "jealous" of what I get to do for a living.
After a day in Temecula – it was clear that this is a place for both dreamers and achievers – and you may never know which one you're talking to. That's the mark of a great community.
Looking for things to do or lodging information for your visit to the Temecula Valley? You can visit the local tourism office website: visittemeculavalley.com