Pigeon Forge is one of my favorite places to spend time in the state of Tennessee.  Over the years, the tourist town has reinvented itself with exciting new attractions while remaining a wonderful family friendly destination outside of the Smoky Mountains.  Compared to its closest rival, Gatlinburg – Pigeon Forge is more spread out, easier to navigate, and a bit less prone to causing flare ups of claustrophobia.
That's not to say it doesn't get busy because it does.  But, there are plenty of things to keep everyone entertained and amused without having too many people stepping on your feet.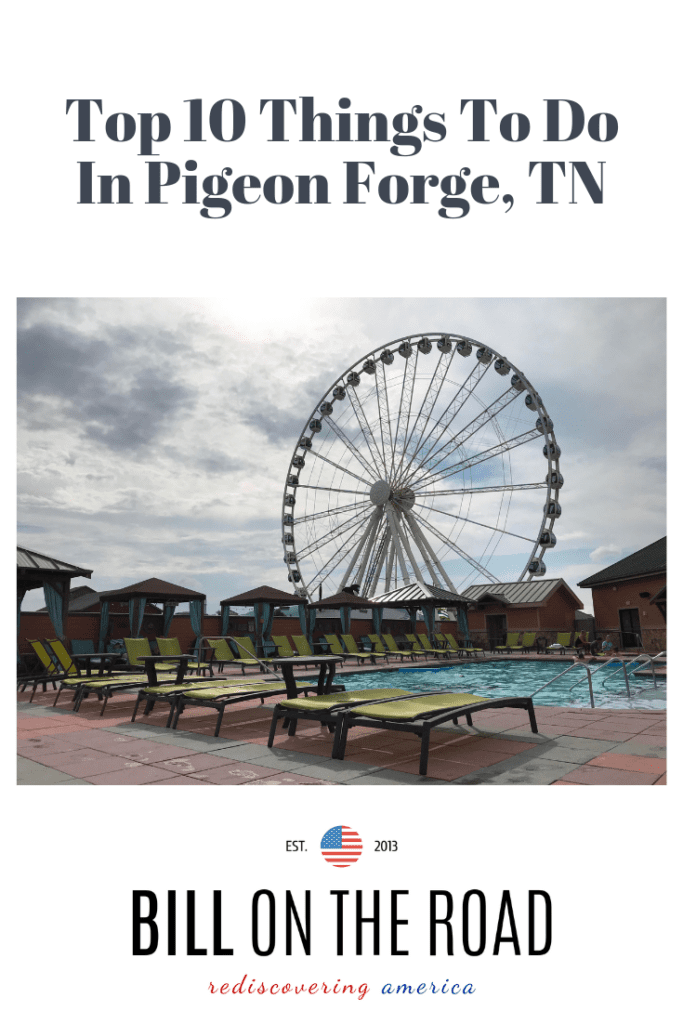 Great Smoky Mountain National Park
This may sound silly but I've actually seen photos from friends of mine that visited Pigeon Forge for vacation and didn't even bother to go into America's most popular National Park.  This should be at the top of your list! There's a reason more than 11 million people visit annually – it's beautiful!  Take some time to enjoy nature with a hike or just take half a day to drive around and stop along the way to soak up the views of one of America's most beautiful places.   Admission is free to the enter park.  Be a good steward and not a stupid tourist – don't feed any animals and keep the park clean!
Dollywood
If you've never been to Pigeon Forge (that's probably why you're reading this) you may think that a theme park named after Dolly Parton might be a bit cheesy or not worth the visit.  You'd be wrong.  Dollywood is a world class amusement park that has incredible rides, food, and entertainment!  Its newest roller coaster, Lightning Rod is absolutely incredible with a top speed of 73 miles per hour.  The theme park is also home to Chasing Rainbows, a museum dedicated to Dolly herself – complete with all of her awards, pieces from her wardrobe, and even her tour bus!  The newest addition to the park is called Wildwood Grove, which opened in May 2019.
The Old Mill
This is such a cool area of Pigeon Forge because you can actually learn about the town's history and step back in time – without get bored!  Grab a bite to eat at The Old Mill restaurant (it's amazing to see how much food they serve, and so efficiently) followed by a walk through the surrounding area.  You can shop for local art, grab a drink at the distillery, take a tour of a working flour mill, or make your own custom knife at Iron Mountain Metal Craft.
Alpine Coasters
I can't begin to tell you how much I love these mountain coasters!  I've been on them in other parts of the country and Smoky Mountain Alpine Coasters are near the top of the list!  Obviously the scenery is hard to beat but the ride is smooth and so much fun.  If you've never been on a mountain coaster – it's different than a roller coaster because gravity is essentially pulling you back down the hill and you can control how fast you want to go.  Of course, if you have any sense of adventure – you won't use your brakes at all but there's no judging here.  If you're afraid of theme park coasters – this would be a good alternative to try.  Don't get the wrong impression – they're just as much fun but a little less intimidating.
Crave Golf Club
I love playing mini golf but hate that it's so hard to find a really good course anywhere around the midwest where I live.  Most of them are boring with cookie cutter layouts that look like every other course.  Pigeon Forge has several good mini golf courses but the most unique is the Crave Golf Club that includes a sweet treat themed course on the roof top!  If you choose to shake things up a bit, each hole includes a challenge to add a bit more to the competition.  There is also an indoor course and a version of duckpin bowling that's fun, too!  Not to mention – there's a gigantic candy store with all of your own classic candy favorites.  What's not to love?
Titanic
During a recent travel journalists conference in Pigeon Forge, we were treated to an opening night ceremony at the Titanic museum.  I've been to both locations (there's a second one in Branson, MO) and they both offer different artifacts.  I learned during our event that the owners aren't just people with deep pockets – they are huge Titanic enthusiasts and their collections show it.   You enter the museum and are assigned a random name of someone that was actually on the voyage.  In the end, you learn whether or not your person survived.  There are some powerful visuals while inside the massive building that's shaped like an actual ship – including the replica of the grand staircase.  There is even a separate area where you can feel just how cold it was on that fateful night of its sinking and place your hand into cold water while you see nothing but darkness and stars overhead.
Dolly's Stampede
This of course used to be called "Dixie Stampede" until someone called the political correctness police and shut that down.  I'm reluctant to suggest this for that reason alone – but it really is kind of fun.  You eat your entire dinner with your hands which is bizarre.  The performers riding horses are absolutely incredible.  There's even a chance they'll invite you to come "on stage" and be part of the show.  During my visit, I was thrown under the bus by a few folks in our group who told the show host that I would be good at throwing horse shoes.  When I agreed to compete against another guy in a horse shoe contest – they said they didn't really use horse shoes, but instead weighted toilet seats.  Needless to say, I did not win any points for the red team, but I did get a bunch of high fives from people in the audience that apparently felt sorry for me.
See A Show!
There are quite a few options for entertainment shows in Pigeon Forge and quite frankly, some are much better than others.  (You can figure that part out on your own.)  We went to a show called the Smoky Mountain Opry and was surprised at how terrific the sound and lights were.  The show had some strong points – their comedian was pretty funny.  Almost all of the musical shows in town will have some sort of country music, and patriotic theme.  (Remember, when in eastern Tennessee you'll be in the belt buckle of the Bible belt.)   There are other options though that don't include singing like Paula Deen's Lumberjack Fued.  A few years ago I did a story on this performance when it was under a different owner.  If the concept is still basically the same – it's really fun to watch real lumberjacks compete against one another.  You'll be amazed at how talented they are
The Big Wheel & Island
It's a must to see the town from the top of the Ferris wheel at The Island in Pigeon Forge You'll be able to see it from pretty much the entire strip that heads through town and you'll definitely see it lit up at night.  There are lots of shops and places to grab a snack or drink and a cool fountain that dances along to music like the ones in Las Vegas.  Margaritaville is a popular place to hang out in The Island – especially if it rains.
Alcatraz East Is The Coolest Museum in Pigeon Forge
While I didn't have a chance to visit Alcatraz East on this most recent visit, it's still my favorite attraction.  It's absolutely fascinating to learn about some of the most famous criminals and crimes in American history as well as getting a real educated look at how crimes are solved.  There's a section of the museum that has old-school torture devices and don't miss some of the most famous vehicles associated with crimes.  They even have the white Ford Bronco that O.J. Simpson was riding in during the infamous 1994 slow speed chase.
Whatever you wind up doing in Pigeon Forge, you will have a great time!  Some of the nicest, most decent people I've ever met were from eastern Tennessee!